Believe it or not, all of these creative fashion transformations require no sewing and little or no money. You may have a shirt or article of clothing that you love, but it needs an update. You can create something new using something old and have a refreshed design in your fashion arsenal. We found these 10 awesome no-sew fashion hacks on Pinterest and put the list together here for you.
Bathing Suit Transformation
Do you have a plain one piece bathing suit and want something more interesting or intricate? Go from simple to sexy by following the instructions on how and where to make cuts and tie a plain one piece bathing suit. The result is a tantalizing transformation.
Halter Top from a T-Shirt

Directions Here
Whether it is an old oversized t-shirt you just don't want to part with or a garage sale find, something plain can instantly gain fashion and flair. Just make a few cuts, a couple twists, and a tie to transform blah into beautiful.
Wool Poncho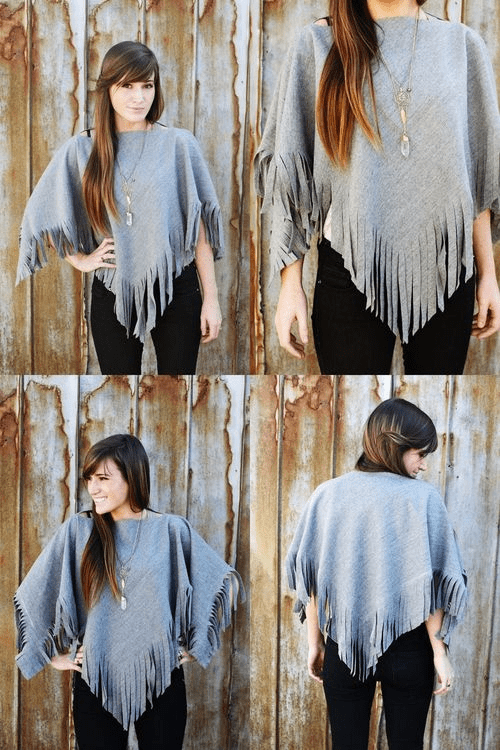 Winter is on the way here Down Under in Australia. Warm up on those chilly nights with a poncho. The great thing about this poncho is that you can make it yourself with any color and any kind of fabric you choose. Just pick a fabric that doesn't fray at the ends. Purchase a square yard of fabric, cut a hole for the neck and cut fringes at the bottom and you are ready to cuddle.
Fancy Poncho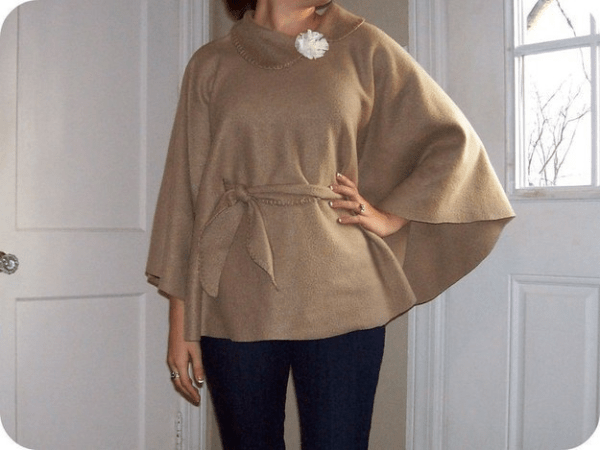 Can you believe that this adorable poncho can be made with just fabric, scissors, and a hot glue gun? With the step by step directions provided, you will see how easy it is to fold, cut, and glue your way into a fashionable item that will add some class to your wardrobe. Pair this classic looking top with something new like Neverland womens track pants for a look that is a great mix of something old and something new.
T-Shirt Scarf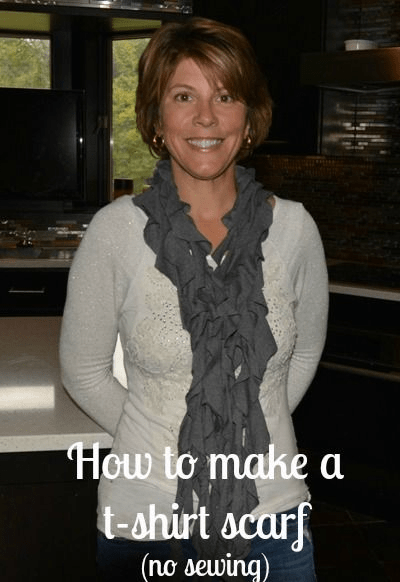 What can you make with an old t-shirt, scissors, a paper plate, and fabric glue? Hint: this t-shirt scarf! Everyone probably has an old t-shirt that they don't wear but yet keep around for nostalgic reasons. Now you can get use out of your memento and look good doing it too! This is just one of several DIY no-sew scarves we found, so if they are your thing, search for more styles you can make.
Winter Shirt into a Skirt

When winter turns to spring, instead of retiring an old long sleeve shirt or putting it away in storage, make a skirt out of it! No sewing necessary and no added expense for turning a winter shirt into a spring skirt.
Lace Insert in a Shirt
This is an innovative way to give a new look to that tired old shirt that everyone is sick of seeing but you aren't ready to let it go yet. An iron and hem tape is used instead of sewing. You will also need scissors and the extra lace fabric. You can cut out any shape you want, it doesn't have to be a moon, it can be a star, circle, or any shape that represents you and goes along with the shirt you are transforming.
DIY Cardigan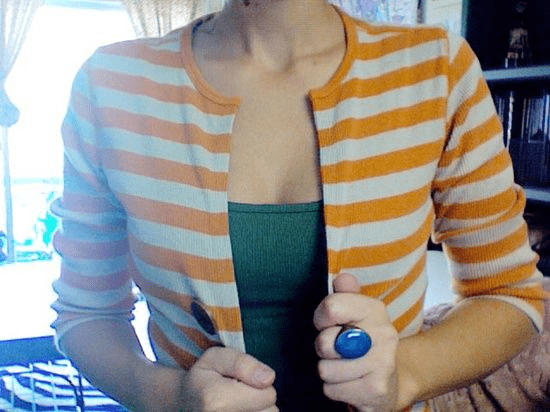 The layered look is fun and allows you to add color, style, and versatility into your wardrobe. If you have lost weight and have a shirt that is just too big but you don't want to part with it, then you can make it into a cardigan. Just cut down the middle and add some buttons for additional accent.
Denim Jeans Flowers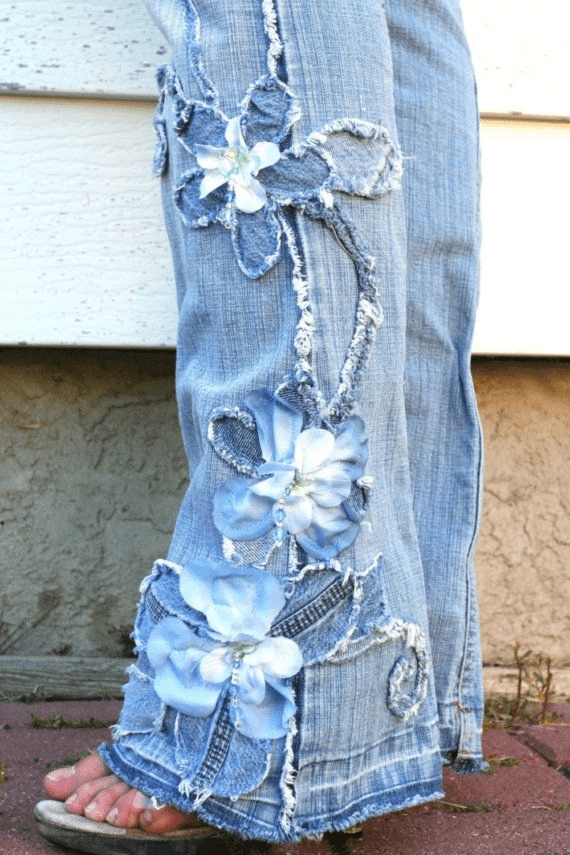 Plain old jeans can be new and fun again. Use an old pair of jeans or denim fabric to add flowers or other designs to your favorite plain jeans. It's a great use for jeans that don't fit anymore too. If flowers aren't your thing, don't worry, you can cut out any design you want.
T-Shirt with No-Sew Bows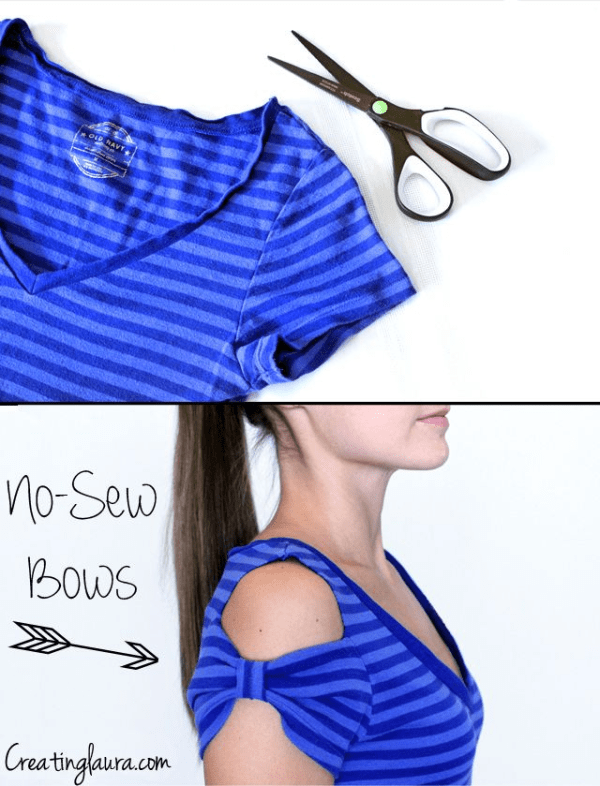 This is a quick and easy embellishment to a plain shirt to make it have character. When you cut bows into the sleeves of an ordinary old shirt, it becomes a blouse that is an interesting conversation piece.
DIY Dress from a Skirt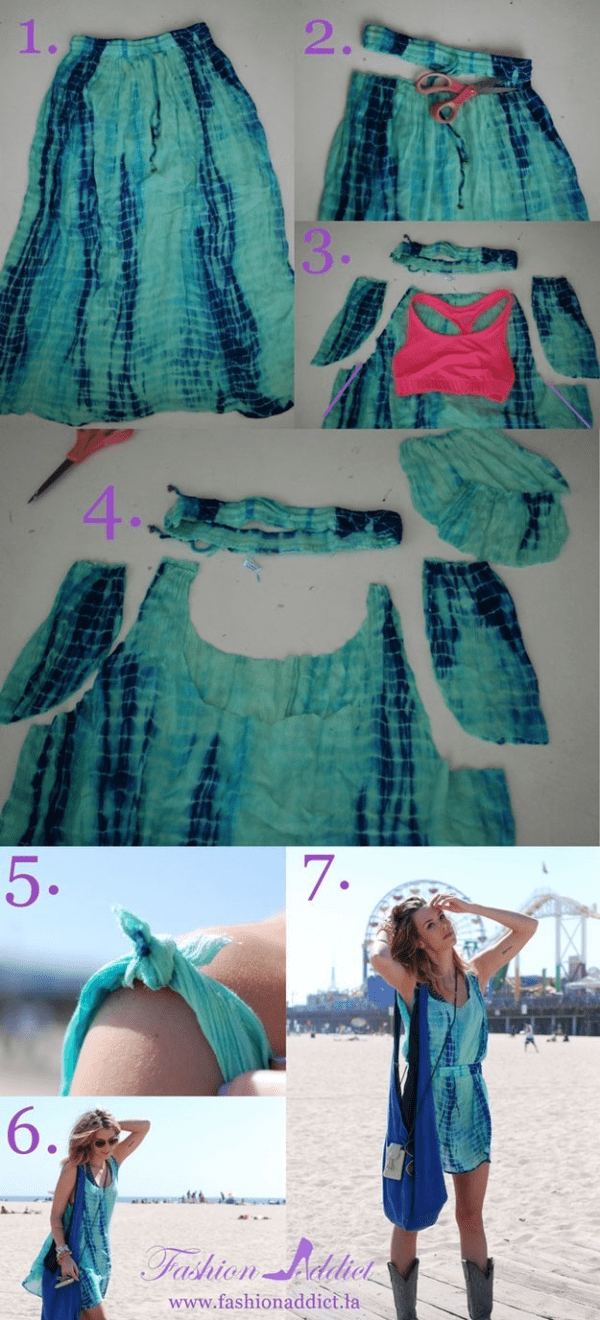 This is a perfect brand new use for a long skirt that you want to transform into something new. In this example, even though the design of the fabric on the skirt stands out so much, it looks completely different after it has been cut into a dress. This new outfit can be dressed up for a night out or just a beach cover up. It is transformed into a versatile new piece of your wardrobe.