Are you a fun of wearing jumpsuits? Most women are, especially during the spring/summer season. The reason is simple: they give you the dress effect, while still feeling comfortable wearing pants instead of a skirt. Styling a jumpsuit, however, can be a little tricky. In this article, we are going to share with you some handy tricks on how to style your one as a fashionista. Never forget that you can always put just one piece and make a complete outfit. There is nothing a woman can wish for more than not having to match two or even more different pieces in one outfit. Now, we leave you to explore the tricks and tips on how to style your jumpsuit and look mesmerizing.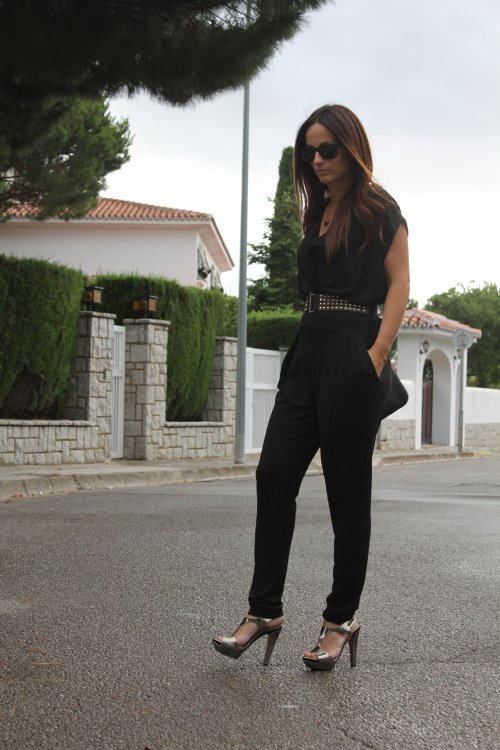 source
Find the perfect fit
One of the key points when shopping for a jumpsuit is to find the one that perfectly fits your body figure. This way you will create a polished look that will turn heads. Never wear a jumpsuit that is too tight or too loose.  A too-tight one will give off the Catwoman vibe to your look, making you feel a little uncomfortable. On the other side, the too loose one will make you completely lose your figure. It will overwhelm your body completely. The elegance in wearing a jumpsuit is choosing one that will perfectly fit your silhouette. Try to always show the right amount of skin in order to keep the elegance. Wide leg jumpsuits are very popular nowadays, especially during the summer season.  So, if you are searching for the right wardrobe staple for a stylish summer look, put a pair of them on your shopping list immediately.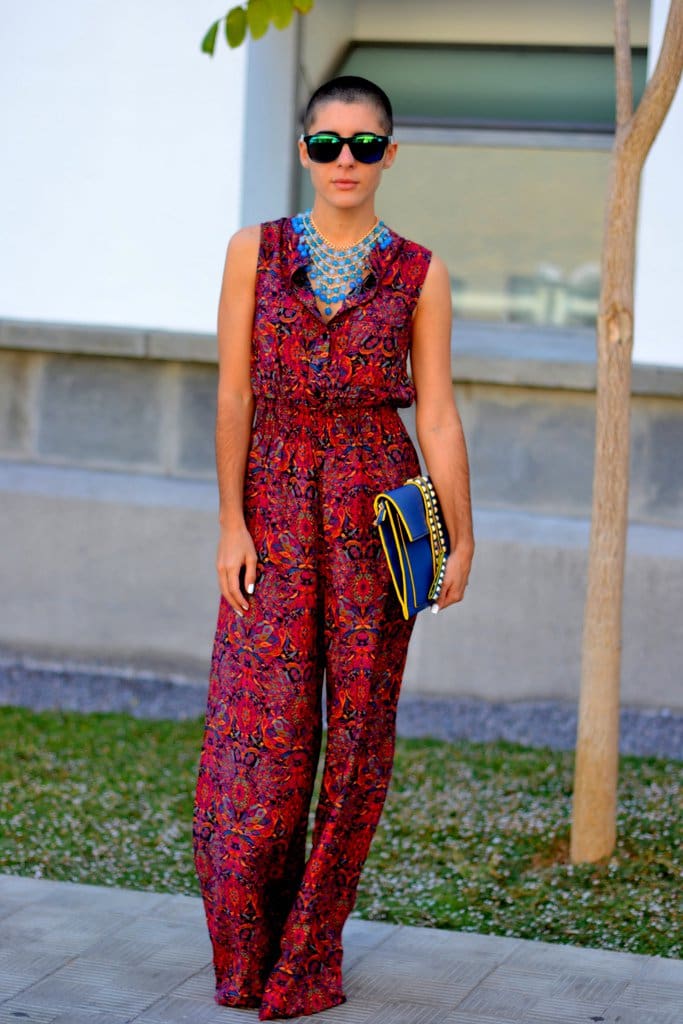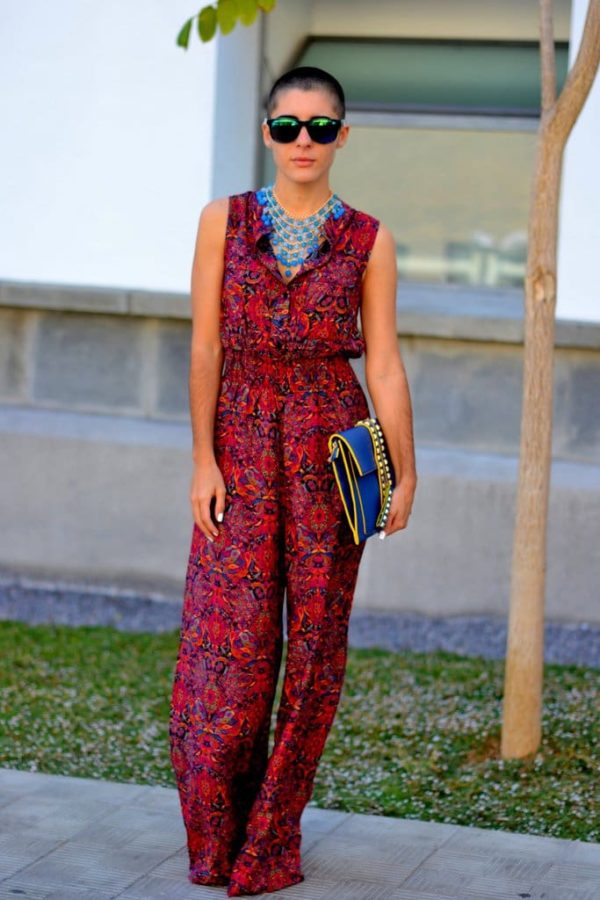 source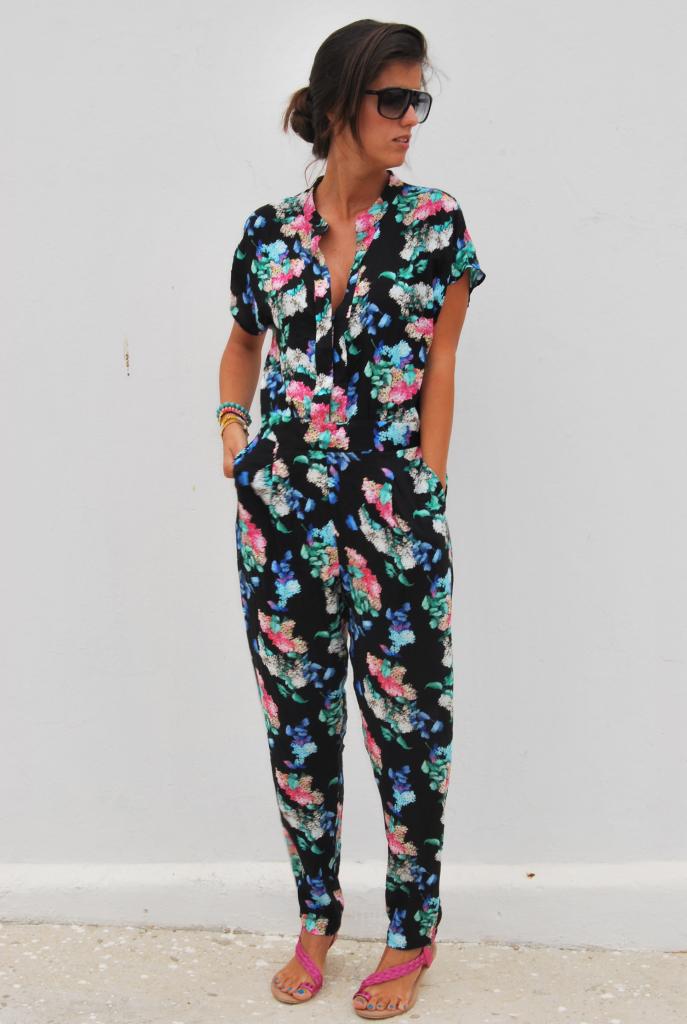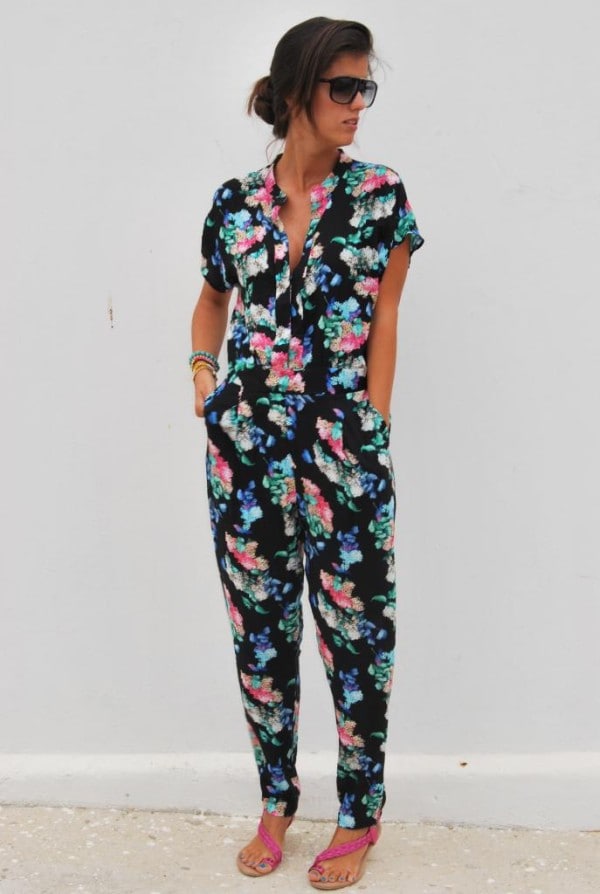 source
Define the waist!
One trick when styling a jumpsuit is to wear a belt in order to emphasize the point of not losing your figure. There are many jumpsuits that have either a cloth belt in the same color as the jumpsuit itself. For others, that doesn't come with a cloth belt, you can add your own belt to define the waist. This way you will add some femininity to your look. You can always choose a belt that is the same color crating the effect of emphasizing the waist without making your belt the statement piece of the look. Or, you can opt for a belt in another color (contrasting or complementing one!) this way adding a detail that will enrich the look.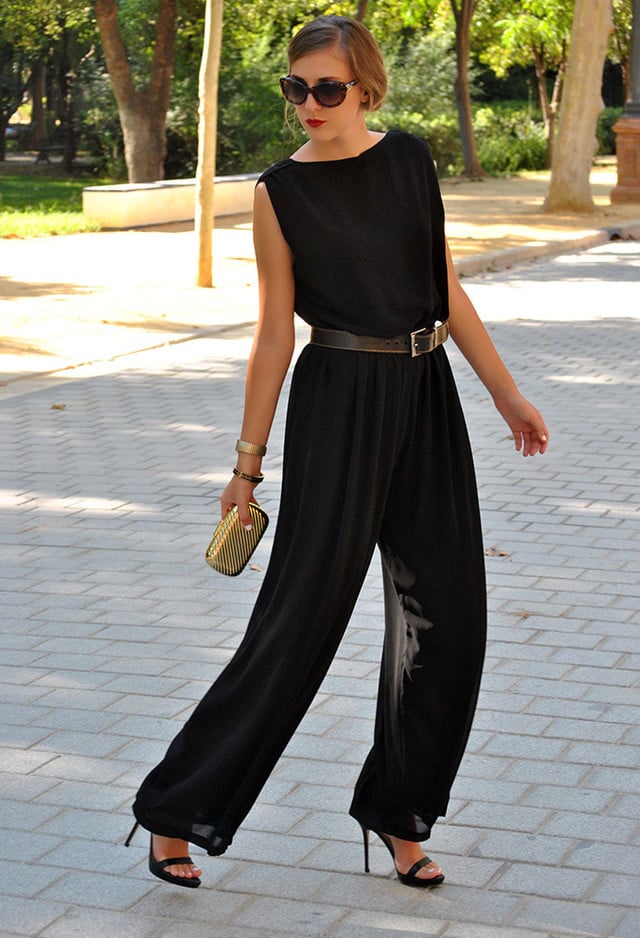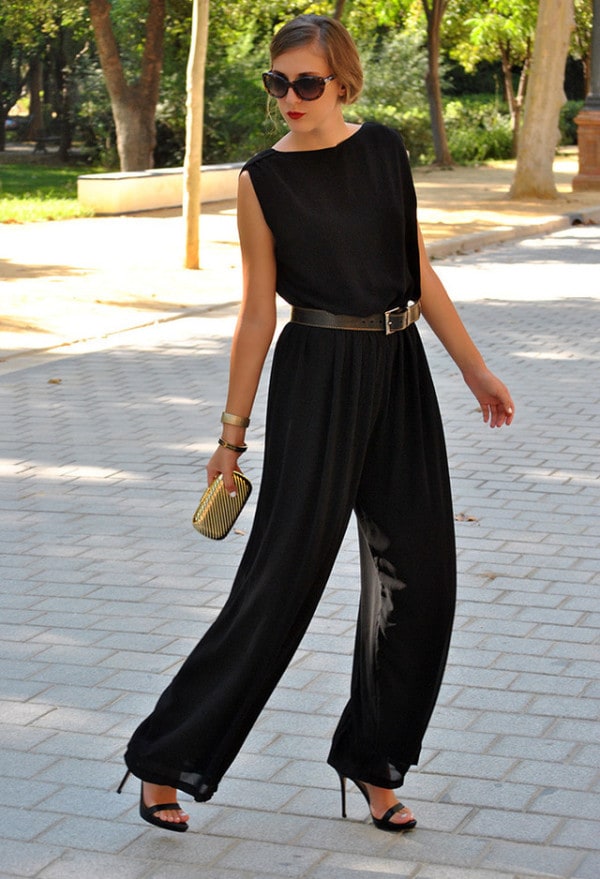 source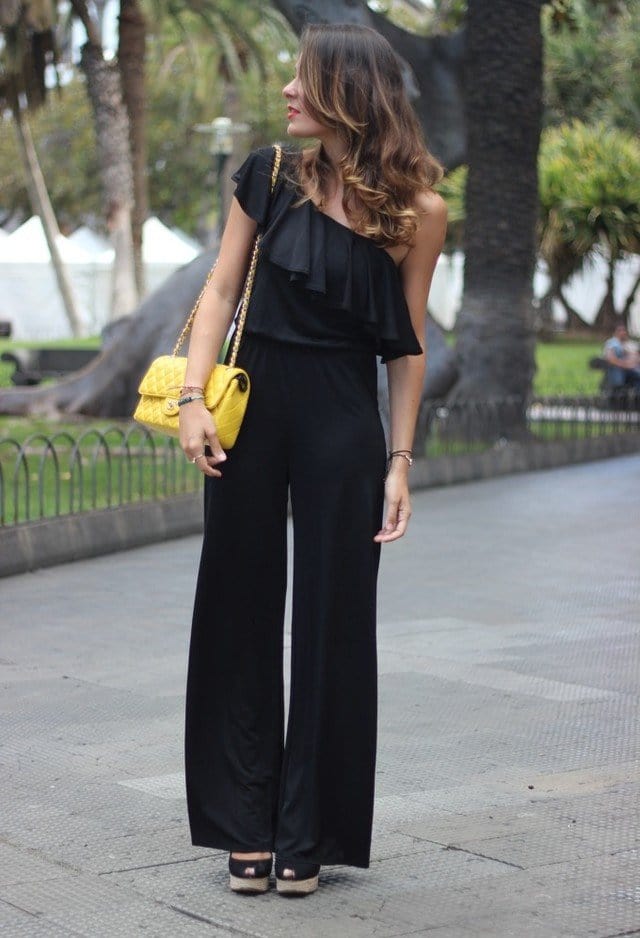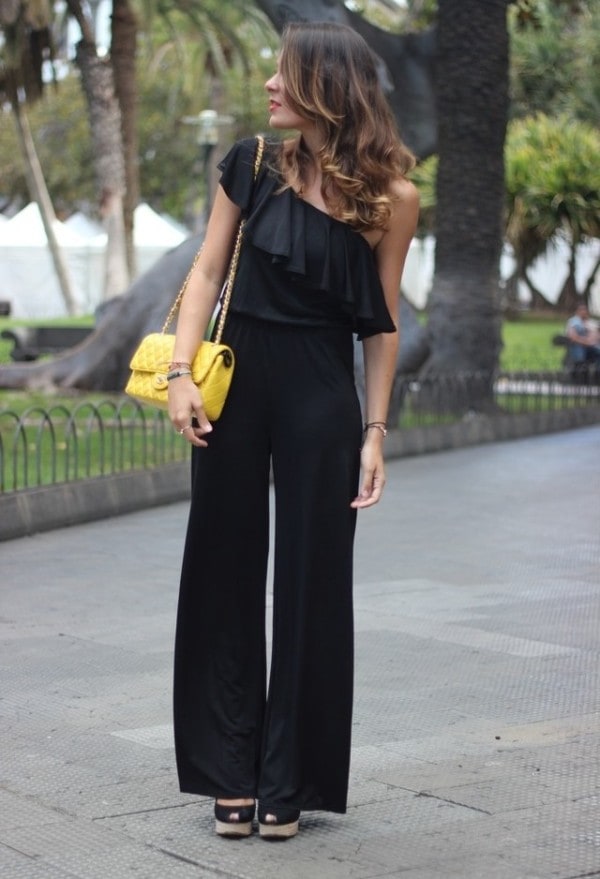 source
Wear a solid color jumpsuit
When choosing the right color for the jumpsuit, we recommend you always tend to go for a solid black, navy, forest, or dark-colored one. If you still dare to do bolder with the look, you can opt for prints and patterns. However, try to choose smaller prints, like polka dots or bright-colored jumpsuits. Green, yellow, or magenta pink is a perfect choice for the upcoming summer. But, black is always a slimming choice, never forget this! Vertical stripes are also a perfect choice since they elongate your body figure.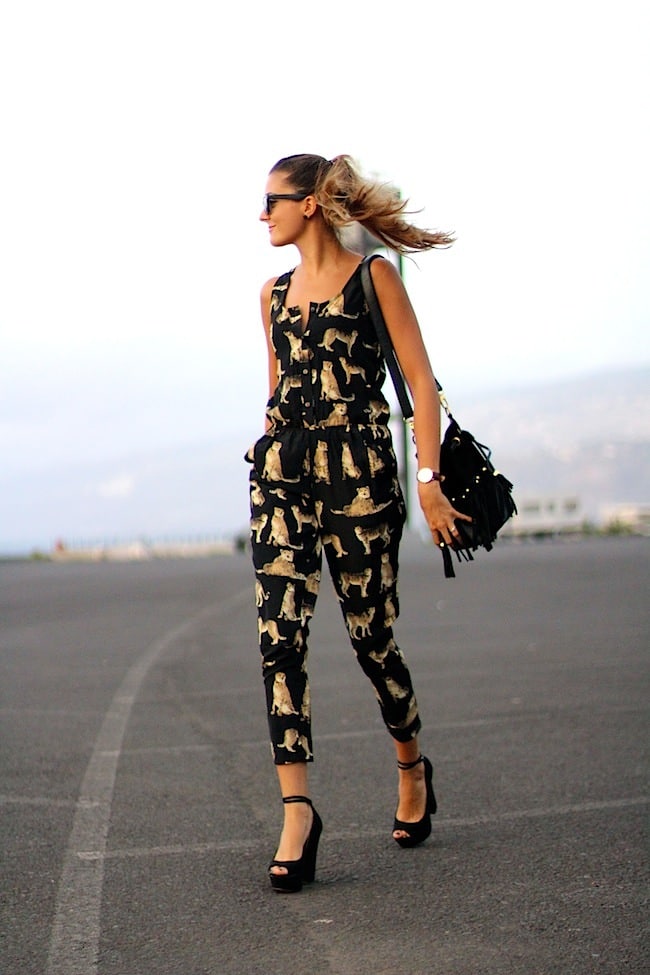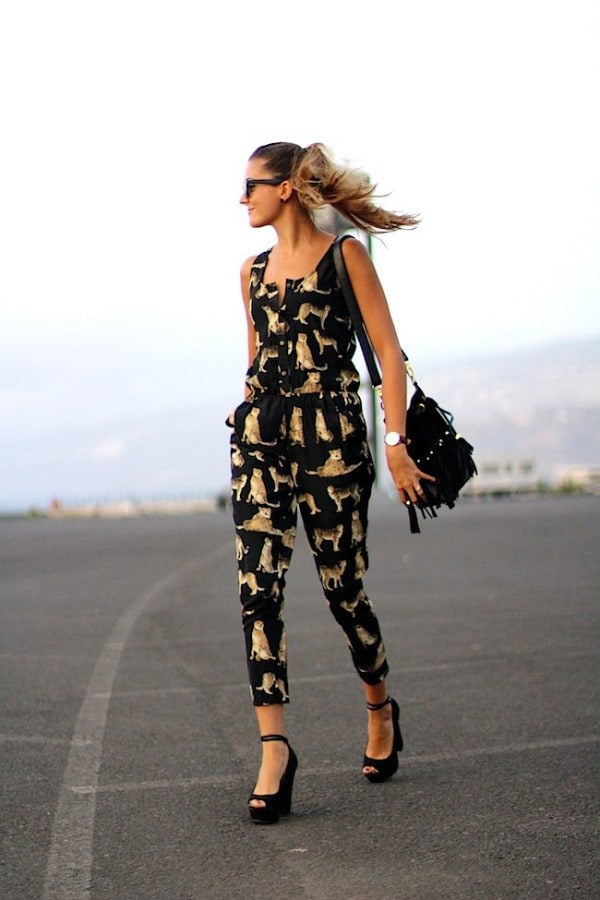 source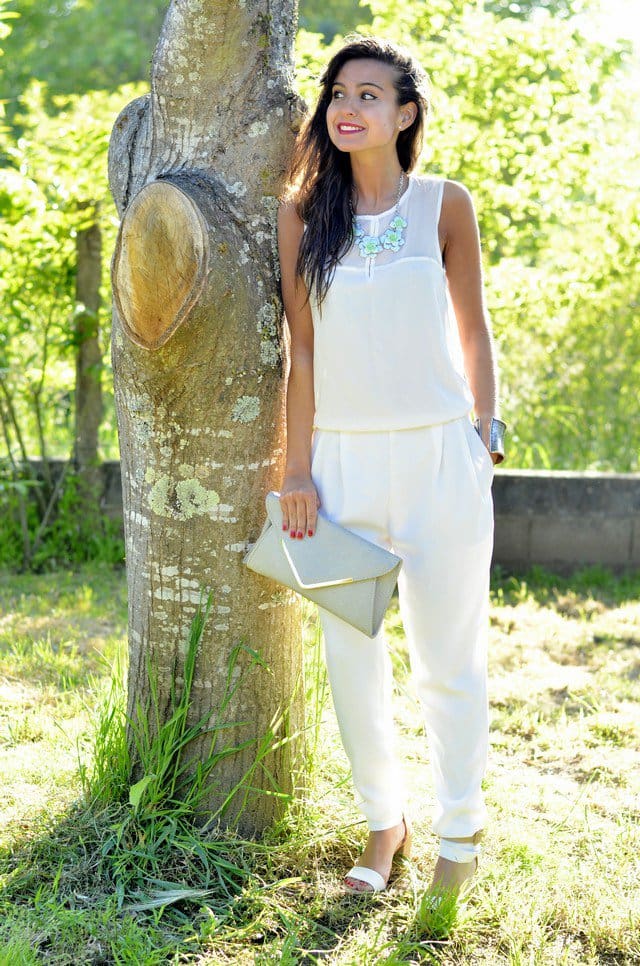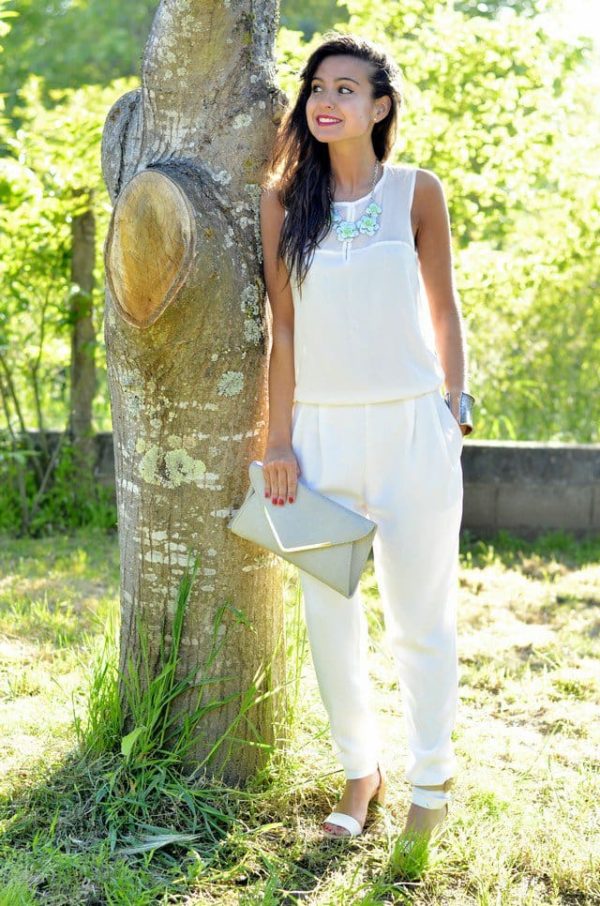 source
Pair with a blazer
One of the chicest ways to style a blazer is to wear it over a jumpsuit. This way you will add a dimension to the outfit. Add a little personality to your look by wearing your favorite blazer over the jumpsuit. The blazer will add a layer to the look making the entire ensemble more subtle. You will also feel more comfortable and of course warmer (which is very important for cooler days).
When choosing a blazer or a jacket for the outfit, you better opt for one that enhances the jumpsuit and perfectly suits the occasion. You can successfully rock such a look for cocktail parties, formal evening dinners, or nights out with friends. According to the occasion, you can select a blazer that either brings the look up a notch or makes it more casual. For a safe look no matter the occasion, go for the timeless all-black look. Monochromatic can never be the wrong choice, especially when it comes to neutral hues.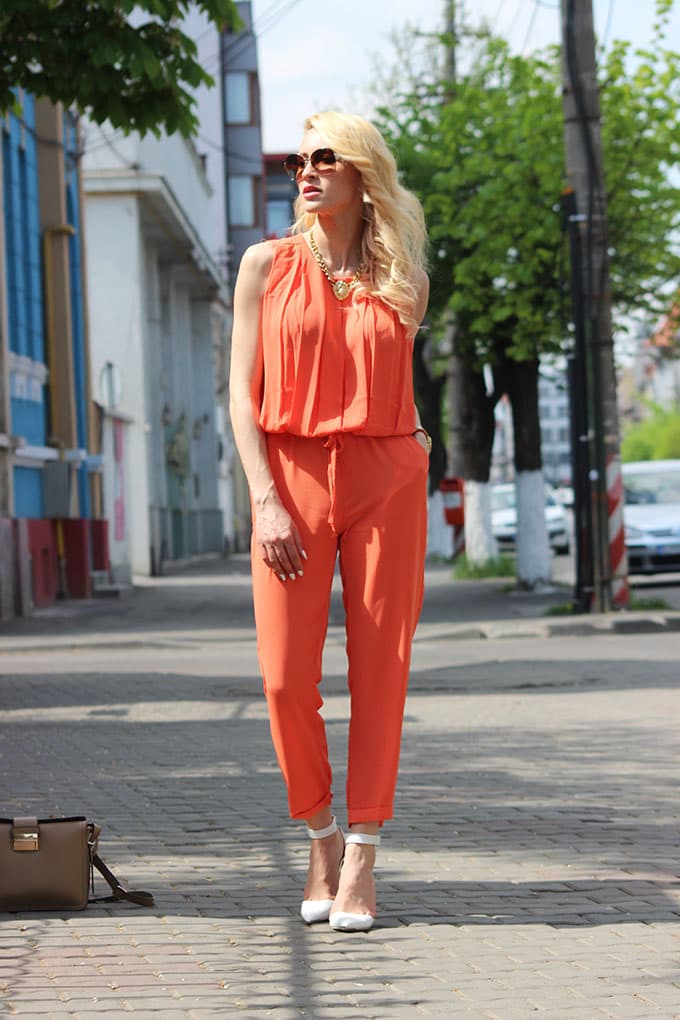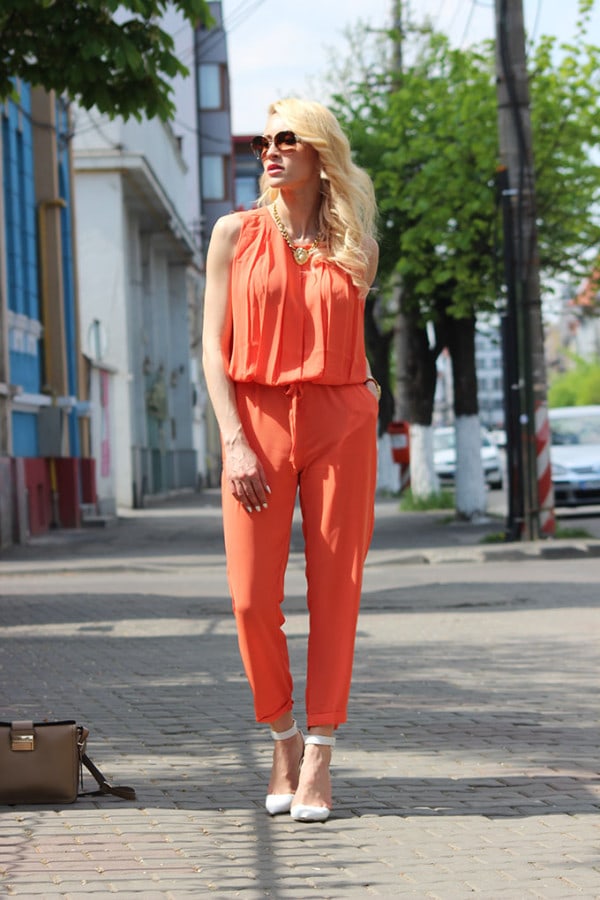 source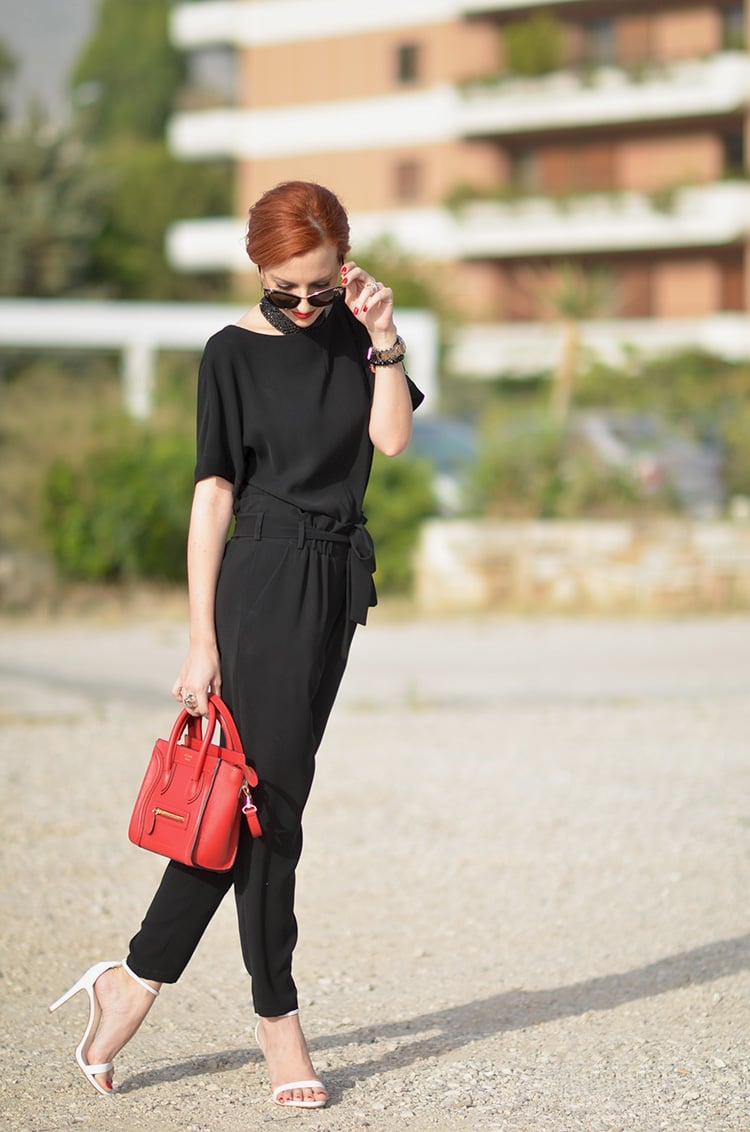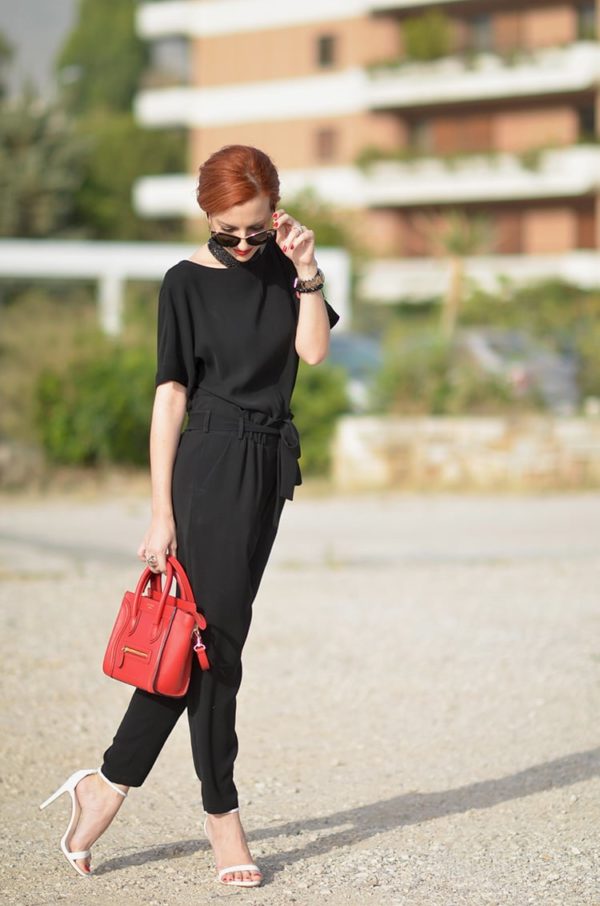 source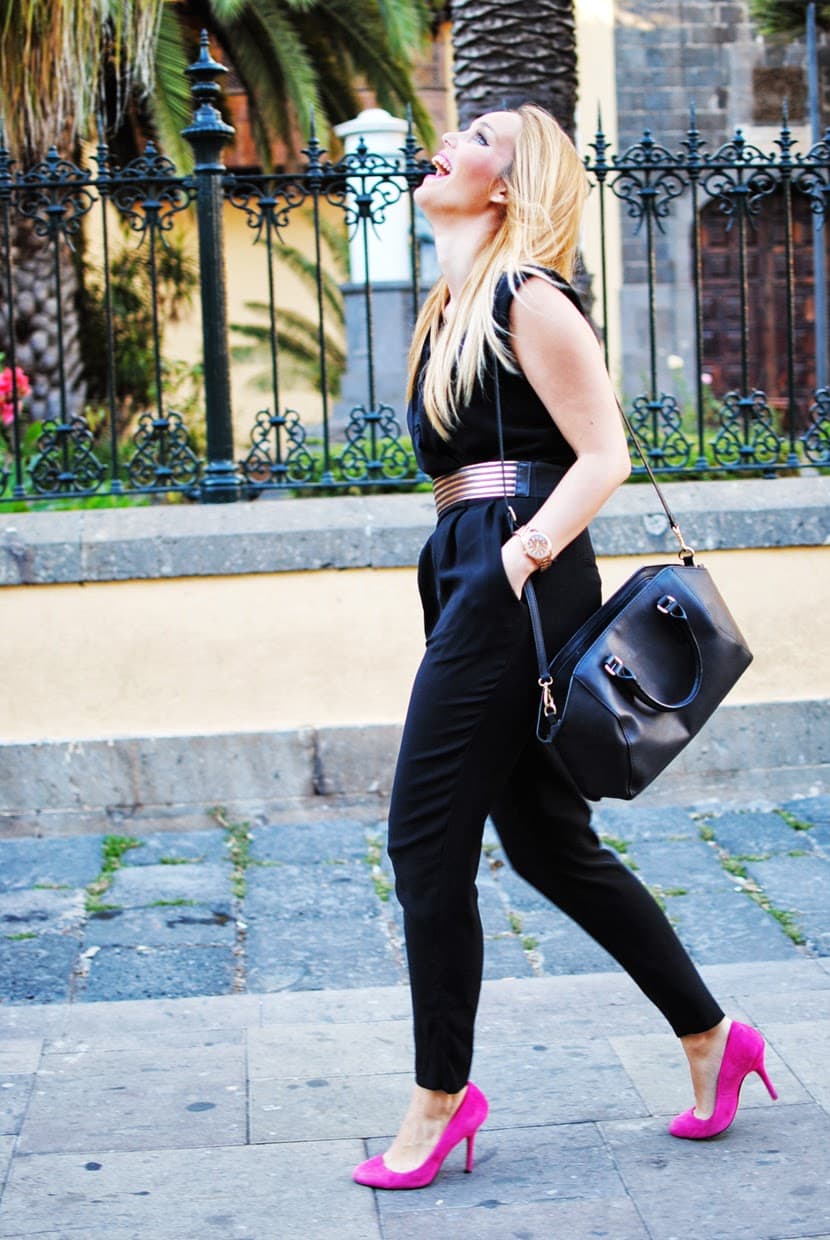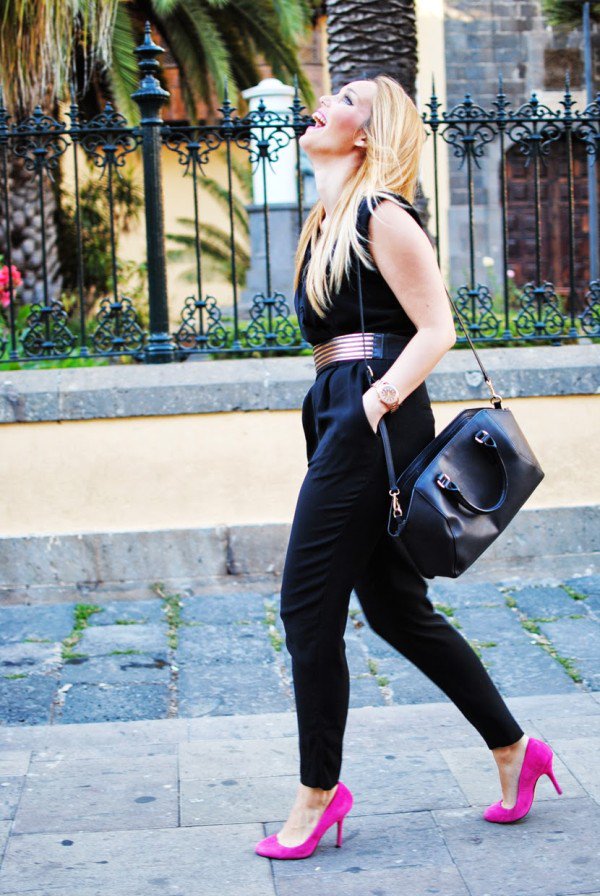 source
Wear heels with your wide-leg jumpsuit
When choosing a wide-leg jumpsuit, always opt for heels! This is an unwritten styling rule that you should never miss. Unless you are styling the jumpsuit for the beach! On this occasion, you can go for flats and sandals. For all the other occasions we recommend you to follow the previously noted rule. Heels will create the illusion of long legs, which is the dream of every woman. The shoes you wear with wide-leg jumpsuits need to be on the skinny side. Wedges slog or anything with a thick heel should be avoided when styling such an outfit. Keep this in mind especially when the fabric of the jumpsuit is light and airy.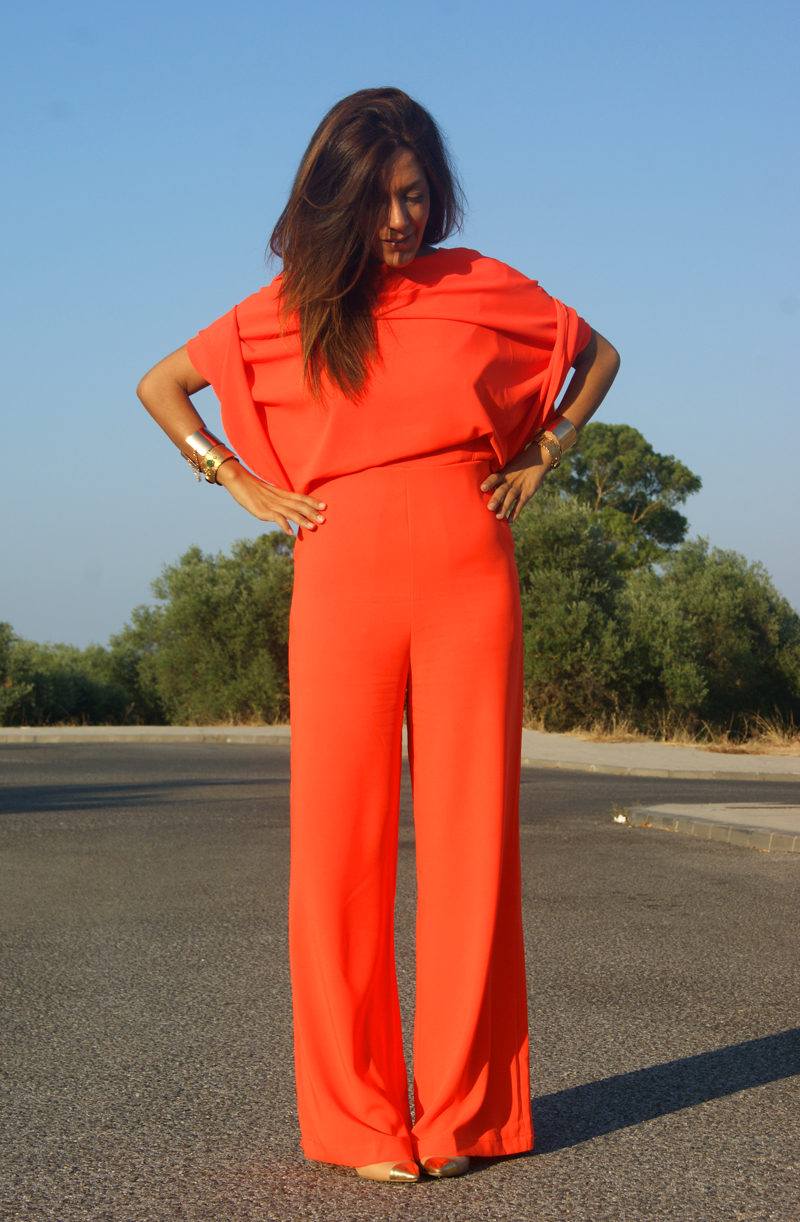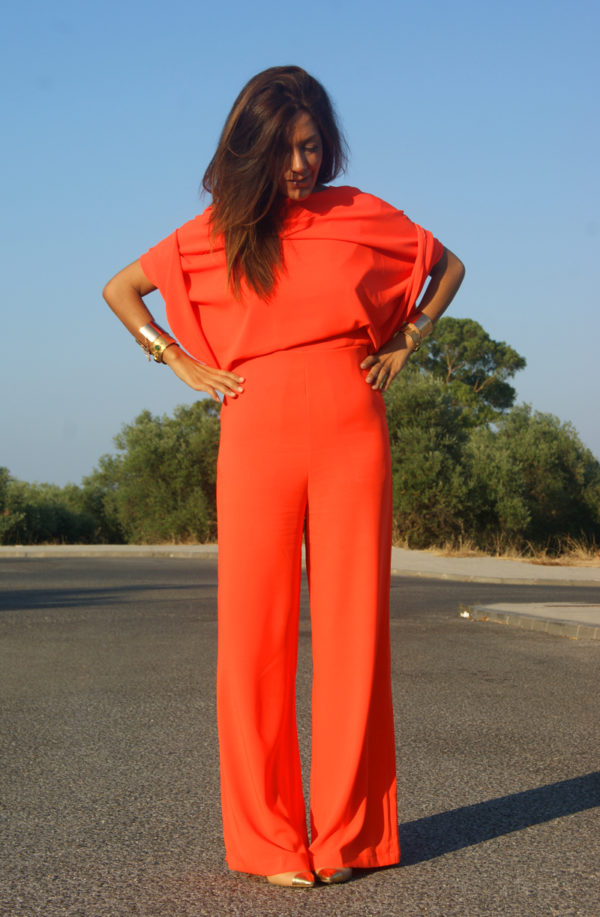 source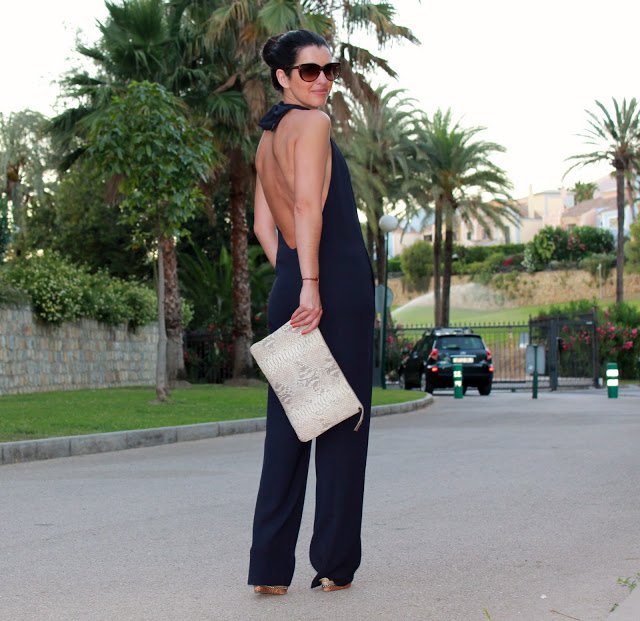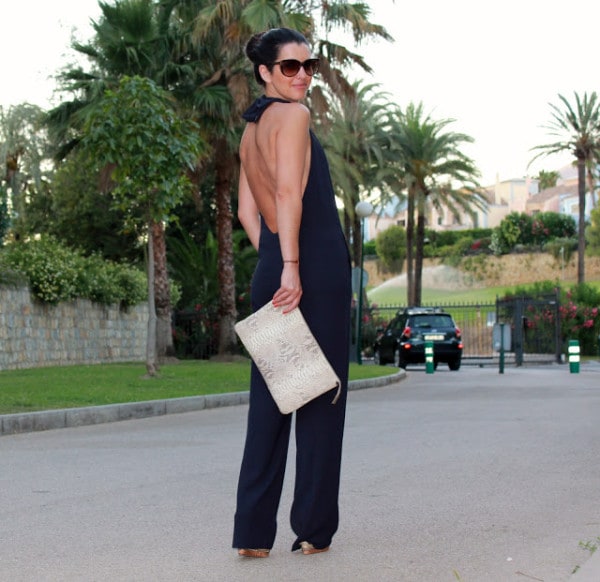 source