Need a review on the latest trends to upgrade your wardrobe? AllforFashionDesign brings this collection of top fashion bloggers blogger's outfit styles and combinations that are trending across globe and very much practical to be worn by normal girls .You can get many ideas from this collection as what to wear for different occasions and different weather seasons.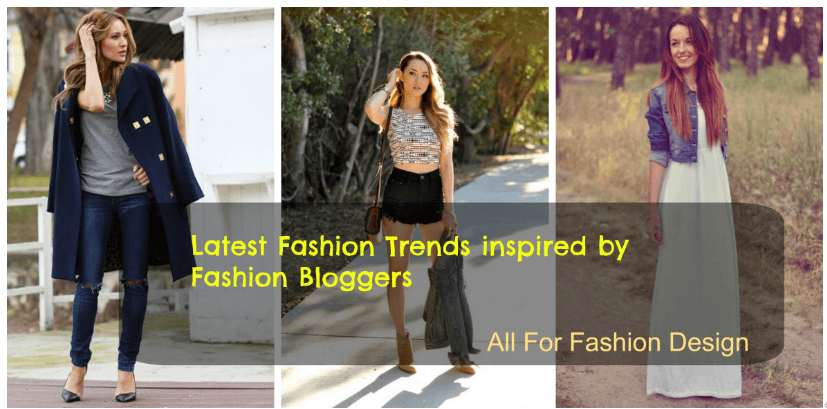 #1. Laced dresses.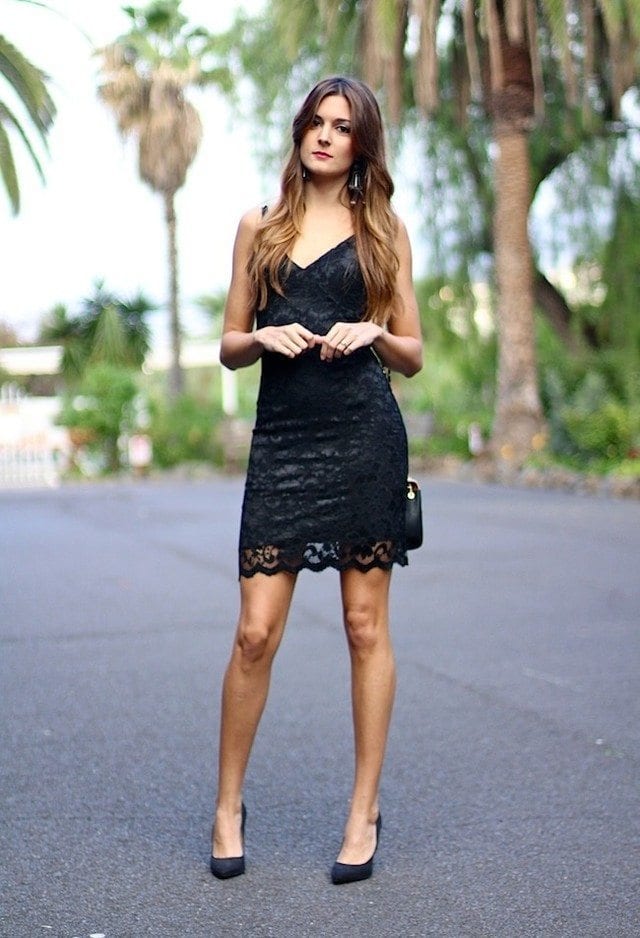 source
This is one dress you would find most celebrities and bloggers in.These dresses add elegance to outlook for occasional . Be it an office meeting or a wedding you'll manage to stun all those who dare gaze your way. These are some of the best choices for all sorts of parties and formal occasions. Dont compromise the quality of your dress .Buying two top women brand outfit is worth more than 10 normal clothes.Be a branded girl and make your wardrobe worth showing .
#2 . Floral Top with Leather Jacket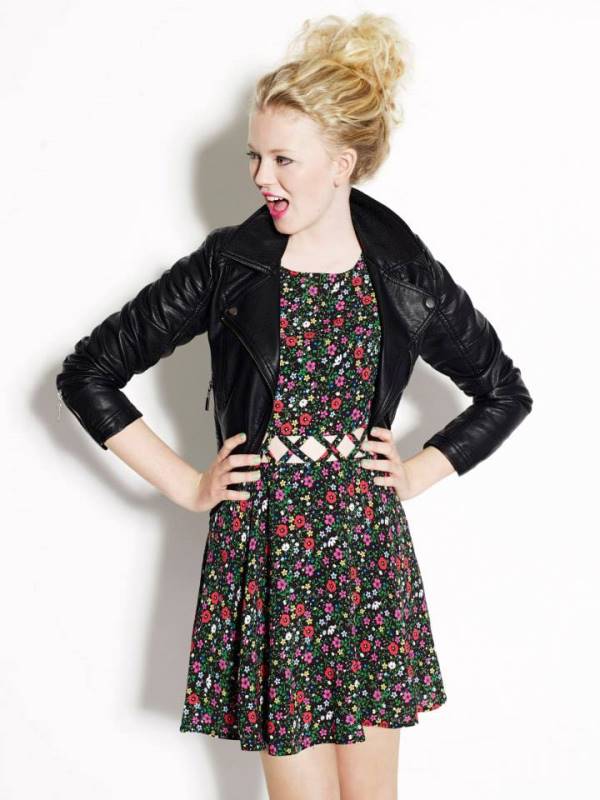 source
This trend goes both for winters and summers and it is sure to make you look classy. Just find any dress that you have which has flowers on it and find your best leather jacket to keep warm and cozy all the while looking smashing and young.
#3. Floral Jackets with colored jeans.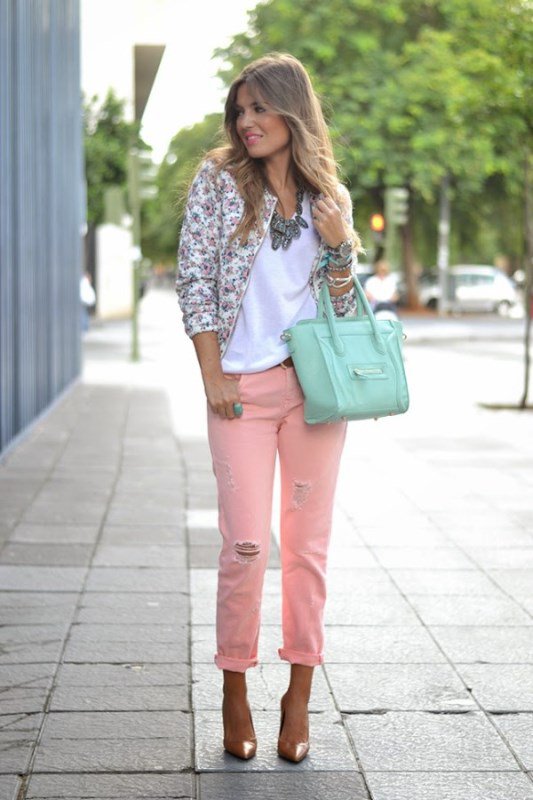 source
Nothing beats this classic combination of classy yet funky. This cute outfit for girls is perfect for spring summer season. The vibrant colors of the flowers are a very popular choice and match that with nice colored jeans and you're good to go.
#4. Long Coat with Ripped Jeans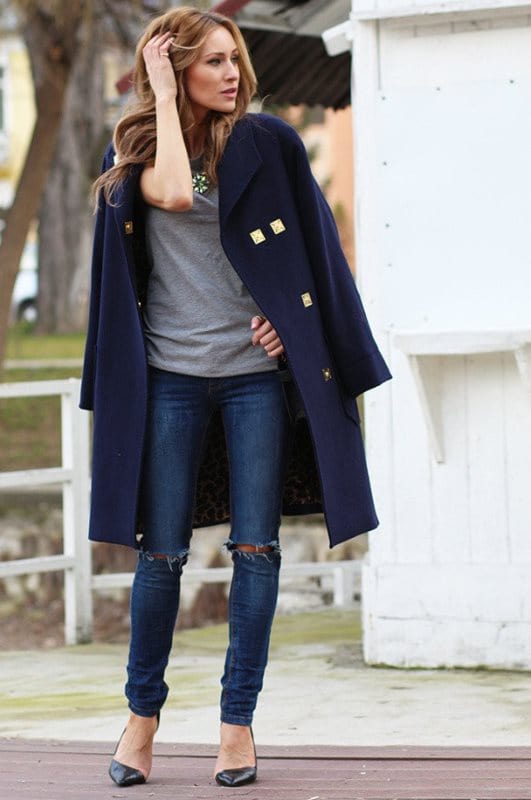 source
The color combination doesn't matter in this is one of the ageless fashion. No matter what age you are, you are going to rock this combination. Grey shirt, dark blue over coat, blue jeans and to give it the girly touch the sexy black heels.
#5. Shirt Wrapped Around Waist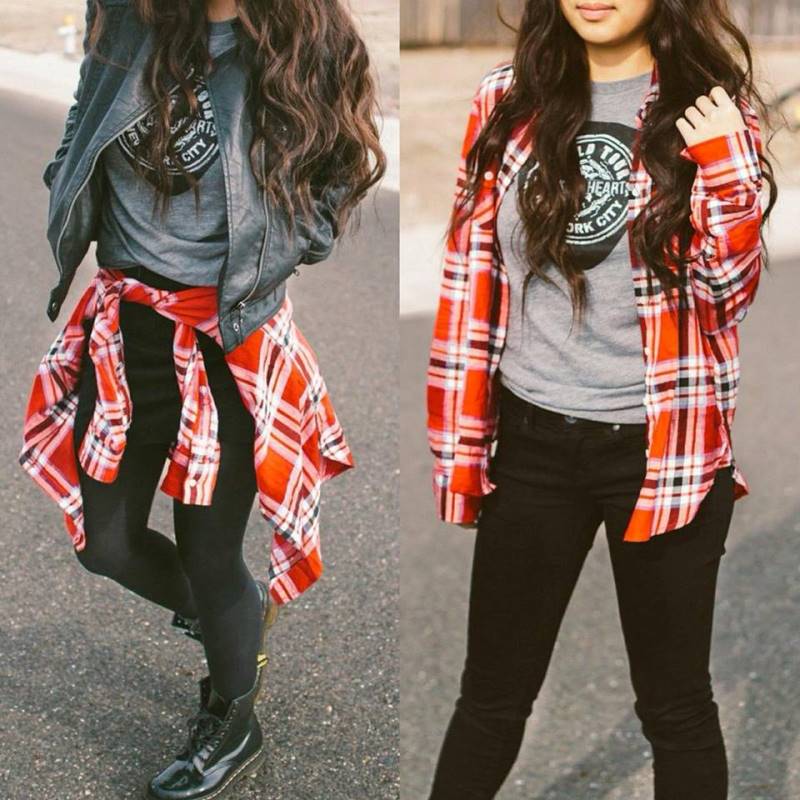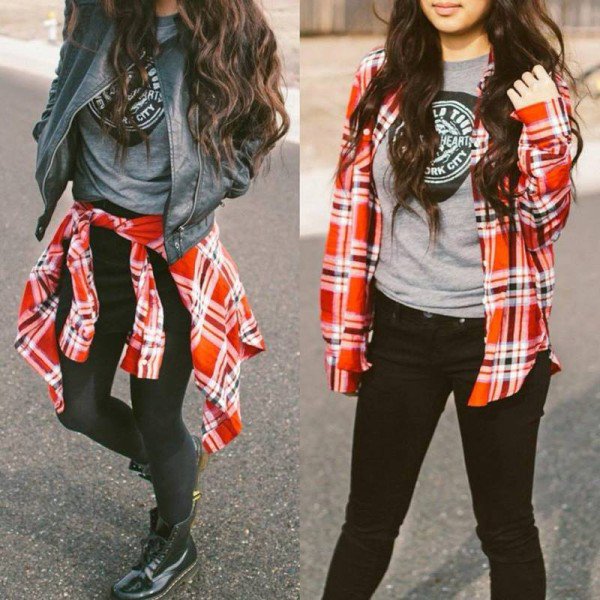 source
This is for all those tomboys out there. It is ageless and gives the guyish and masculine touch which some girls like. And it's not very difficult to put together.So if you are young and looking for teen girls fashion this is the perfect look for you to try . Grab any checked, oversized shirt that you have over your favorite T shirt and you're best jeans and some nice sneakers or shoes and rock the day.
#6. Crop Top with Ripped Shorts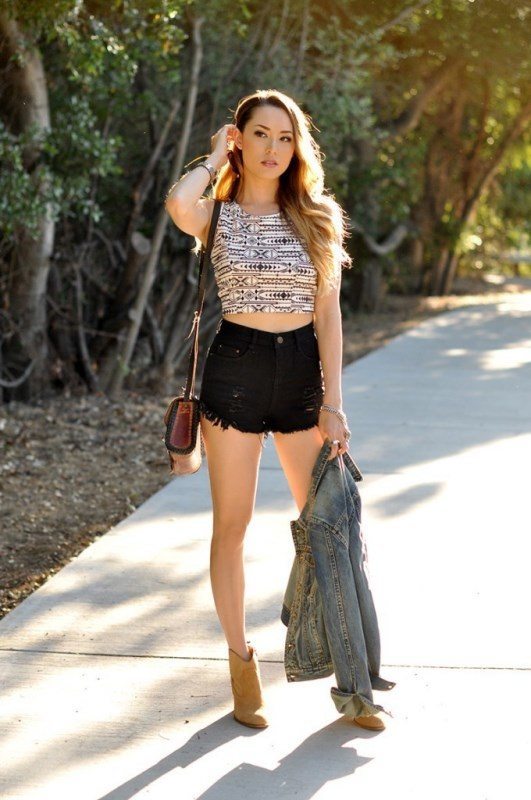 source
Another perfect look by famous US blogger Jessica (hapatime).So this is pretty simple as well but sure to make you look very nice and casual and young. If you have an over bearing personality you're definitely going to want to try this because it's very easy to put together and looks stunning.A perfect casual outfit for girls for daily routine.
#7. Floral Pants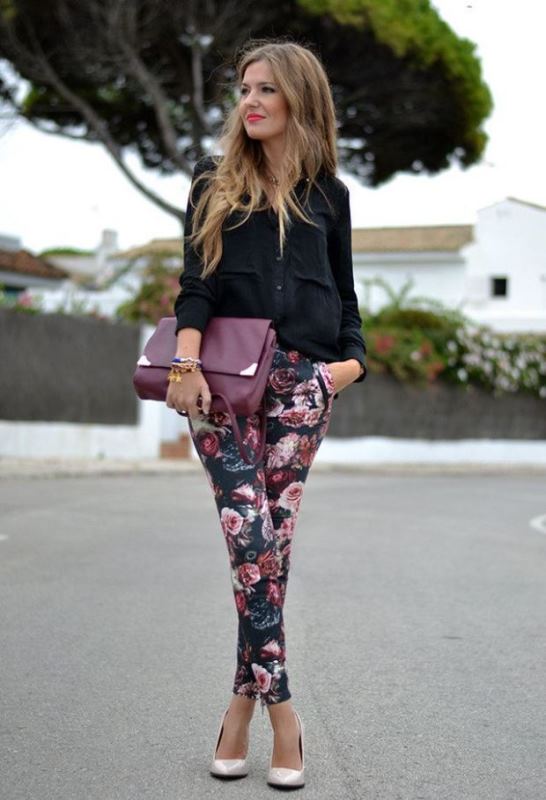 source
These are extremely popular and this particular combination is for all of the women out there who wish to walk with style and class. This not only makes you look formal with a splash of casual because of the printed jeans and on the finishing some nice vibrant pumps and your favorite necklace.
#8. The Laced tops and plain under shirts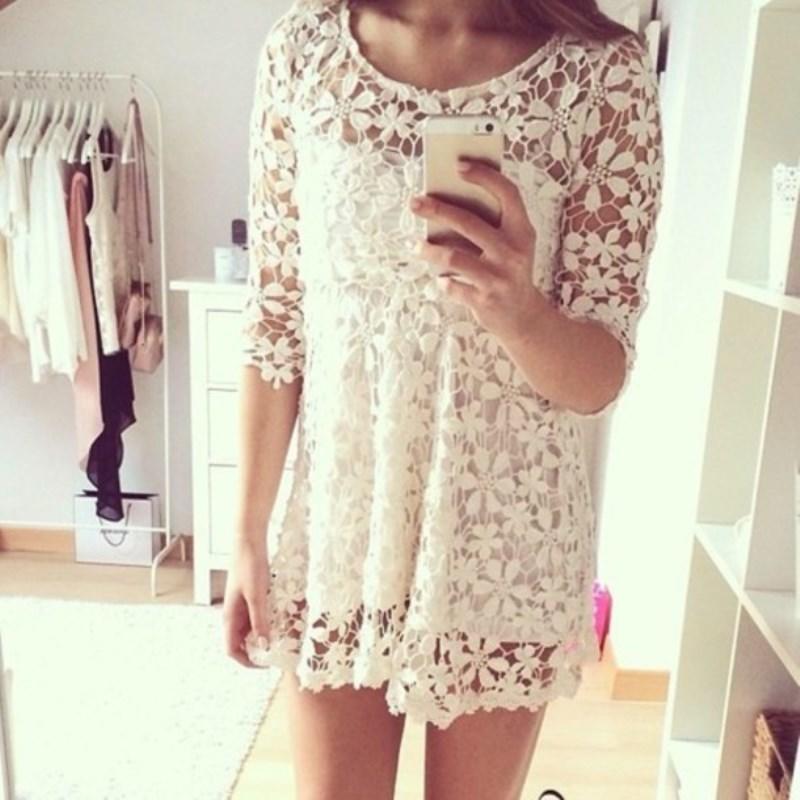 source
This is another light and classically chic wear for summers which is bound to put you in the eyes of everyone where ever you go. This has its own charm. Finish it with your favorite jeans or skirt, whichever speaks your style and go out with your head held high.
#9. The country Look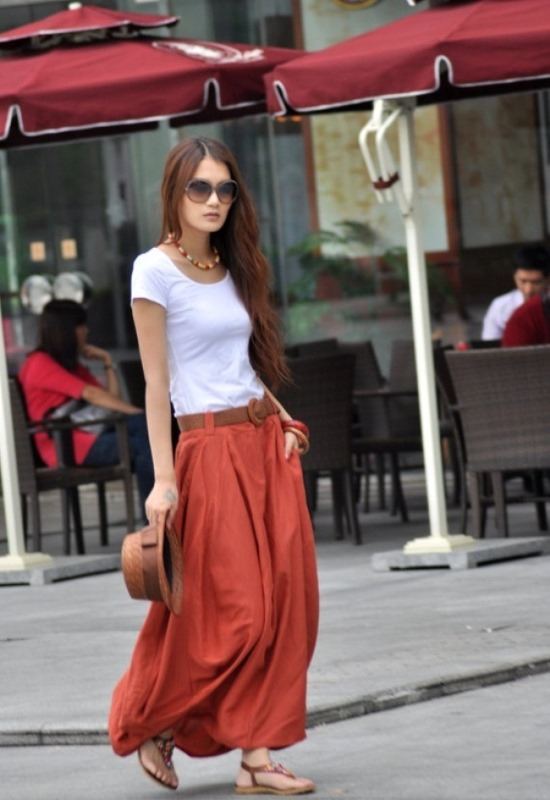 source
A simple white shirt and a flowy skirt can give you the perfect look of the country side. It brings with it cultures and traditions all the while making you stand out because this is sure to be something different and new. Top it off with some vibrant and elegant accessories.
#10. Denim Jacket with Maxi Dress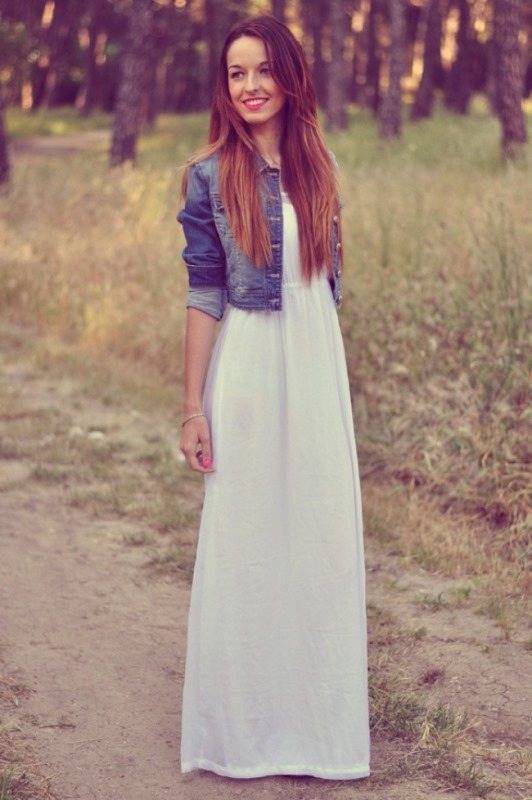 source
This is something you need on a picnic day. Let your hair down and wear your most comfy old dress and top it off with a sizzling hot jacket and enjoy the blend of old and new.
#11. Floral shirts with jeans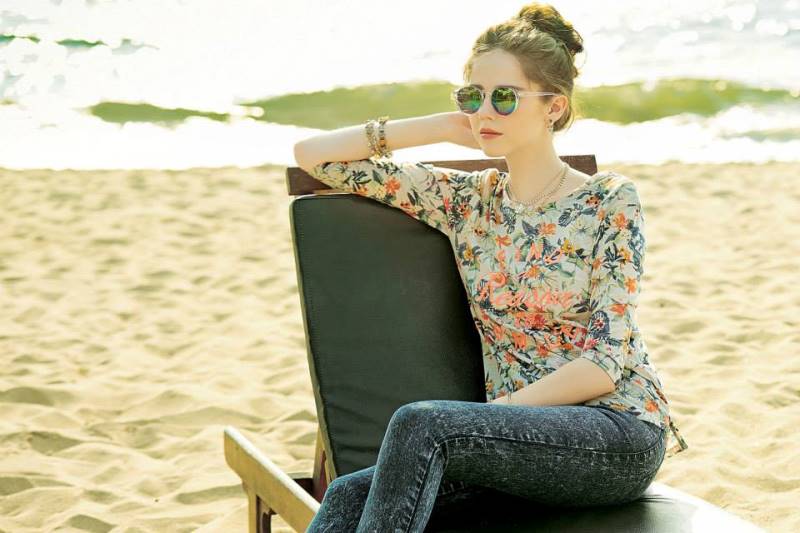 source
Now this is called brining the sexy back, looking light, vibrant and full of energy. Chose a nice floral shirt and put on your jeans and some nice heels, a couple of accessories and your best sunglasses and get ready to hit any place being sure of your stunning looks.A perfect summer outfit for teenage girls.
#12. Printed Tights with Long Boots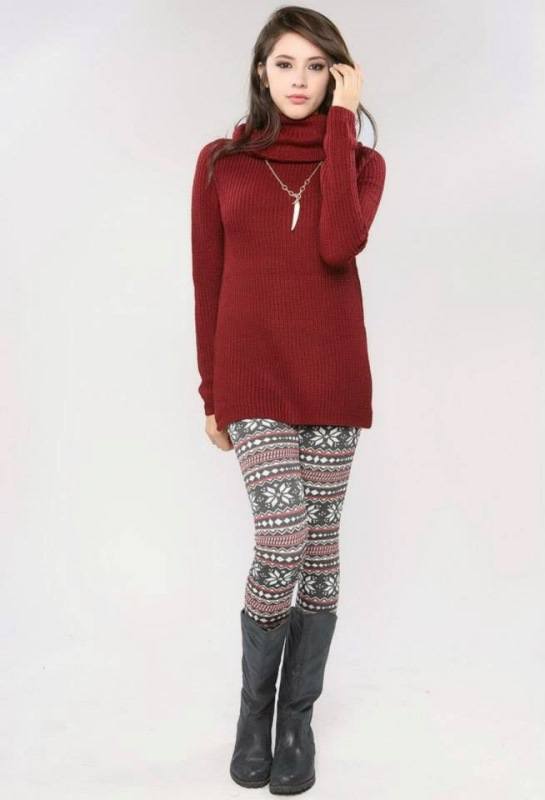 source
Probably one of the most popular choice for the winters as it is both good looking and classic and chic. The combination gives a nice sight to everyone who looks at you and you can top it off with your favorite necklace.
#13 – Modest Fashion
This look is for all the muslim women who are looking for latest hijab styles and hijab fashion . A lot of muslim girls who are maintain their own fashion blogs come up with many simple tutorials .This is a perfect street style look where you can look stylish and modest both at the same time.You can also wear this outfit for date that would make a really cute muslim couple or i must say a romantic muslim couple .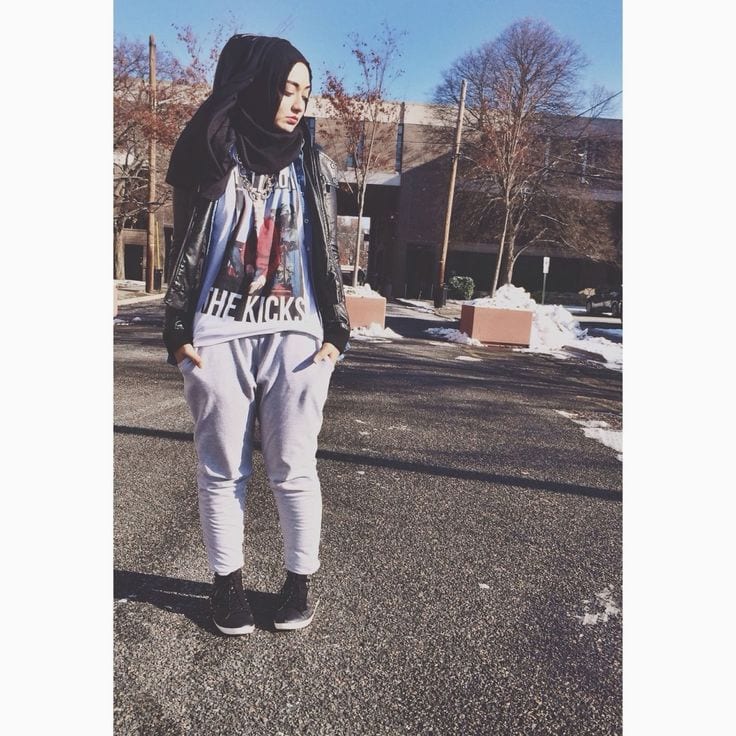 source
#14. The sleeve less top with Distressed Denim Shorts.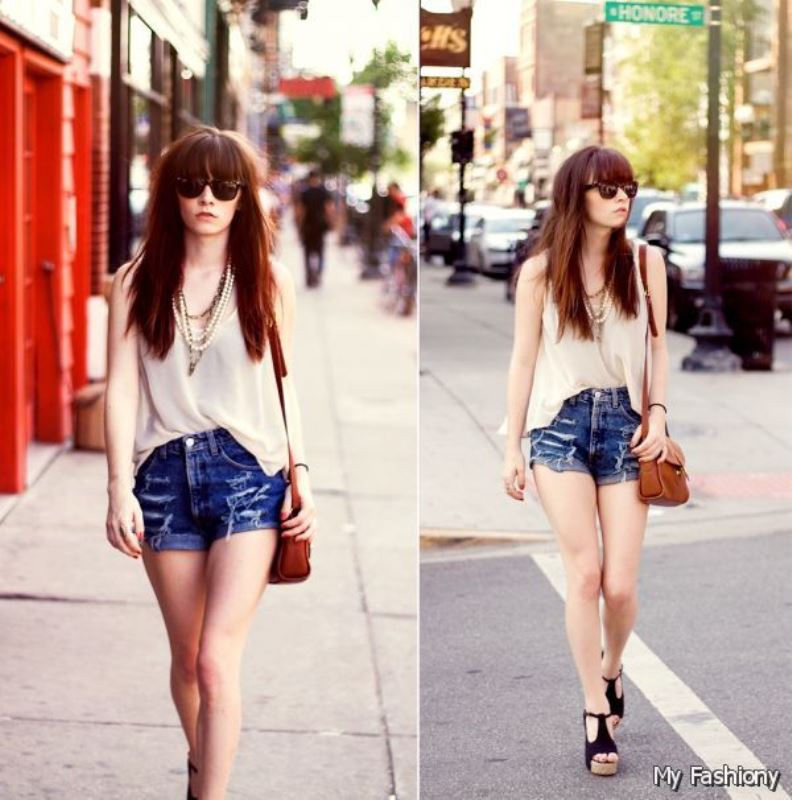 source
@myfashiony Images Source @Pinterest.com
  This one is another amazing combination of clothes which is sure to attract attention. You can put this together in a matter of minutes and look very hot even in the summers.