Has it happened to you to unsuccessfully search for some piece of accessories in your jewelry box? Most women can't find the pieces that they are looking for in all that mess that happened when storing jewelry in a jewelry box. In order to make things easier for you, especially knowing your busy schedule, we are presenting you with a solution to your problem. In this article, we are sharing with you some creative jewelry storage ideas that will help you store your jewelry so that they are on your hand any time you need it. These are all DIY jewelry storing projects, so if you like DIY projects you will certainly adore these ones. Scroll down the page to explore many different and useful jewelry storage ideas. We are sure you will find the one that could best fit your needs and space. Enjoy!
Framed jewelry storage
Since social media become so popular and we almost don't keep printed photos at home, many photo frames stay empty in some storage boxes in the garage. Don't you dare to throw them away! We have found a creative way to reuse them again. This is one of the cheapest jewelry storage ideas ever. All you need to do is to paint some old frame in your favorite color and choose some decorative aluminum or wooden sheet to hand the jewelry on. You can hand earrings this way. Give your earrings the fine-art treatment with this adorable DIY earrings hanger.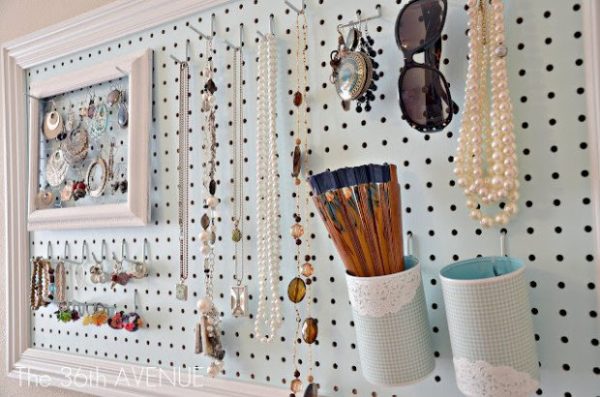 Old grater jewelry storage ideas
Do you have some old grater that you don't use in the kitchen any more? Don't throw it away! Reuse it as a jewelry storage item. Simply spray-paint it and voila, you are having your new jewelry hanger in less than 5 minutes. Choose a color that will easily fit in the rest of your room décor. You can also decorate the top of the grater with a piece of vintage lace or a ribbon, too.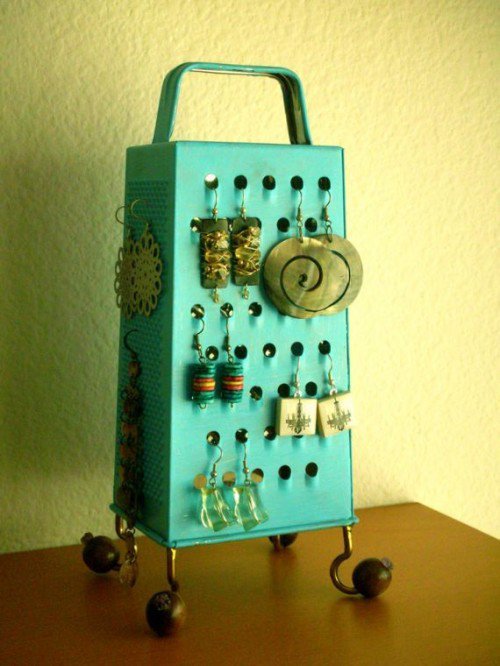 Twig jewelry holder
If you adore the rustic way of decorating your home, then you will certainly adore this jewelry storage idea. Take a branch for the nearest wood and transform it into a natural jewelry holder. This rustic way to display your jewelry will soon become you're the most favorite corner on your dressing table. Choose a branch sized to fit your jewelry collection as well as the available dresser space.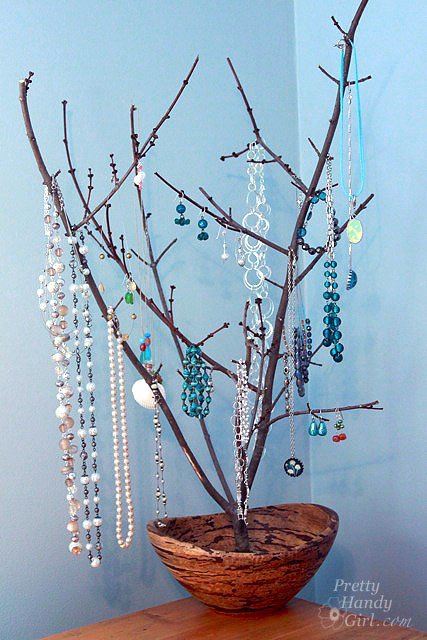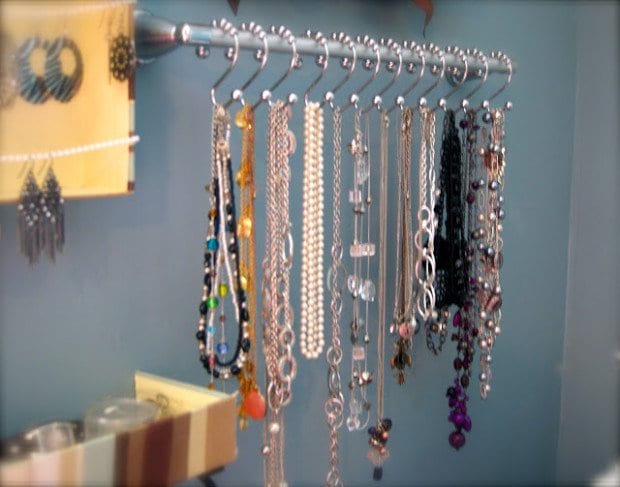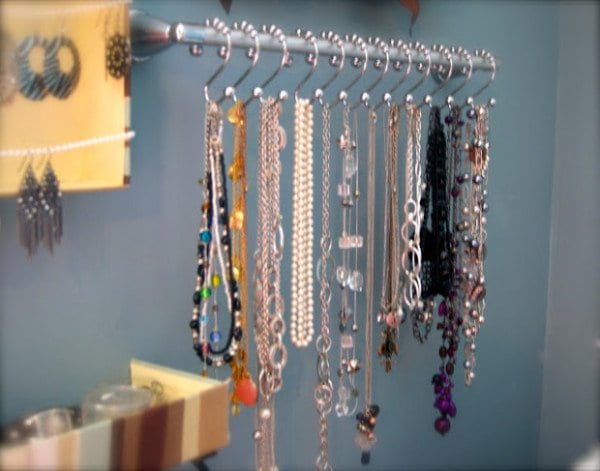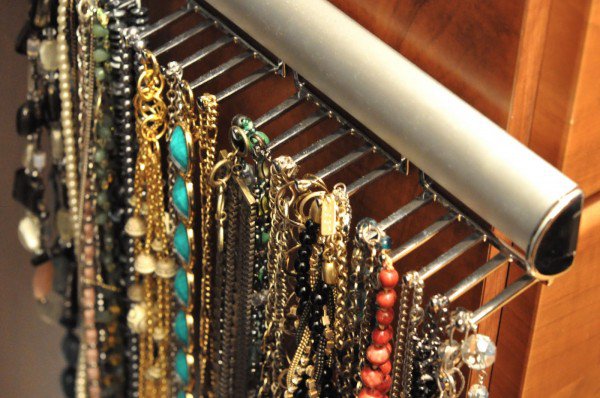 Clothes hangers jewelry storage ideas
We all have some wooden clothes hangers that we don't use for storing clothes. Well, you can use them for storing your jewelry. All you will need for your DIY clothes hangers jewelry storing project is an old clothes hanger (or more if you have more accessories that you want to store) and some loop screws. This is a super easy and quick jewelry hanger that won't take you more than 10 minutes to be done.  And, once you do it, you can store tons of jewelry pieces on it.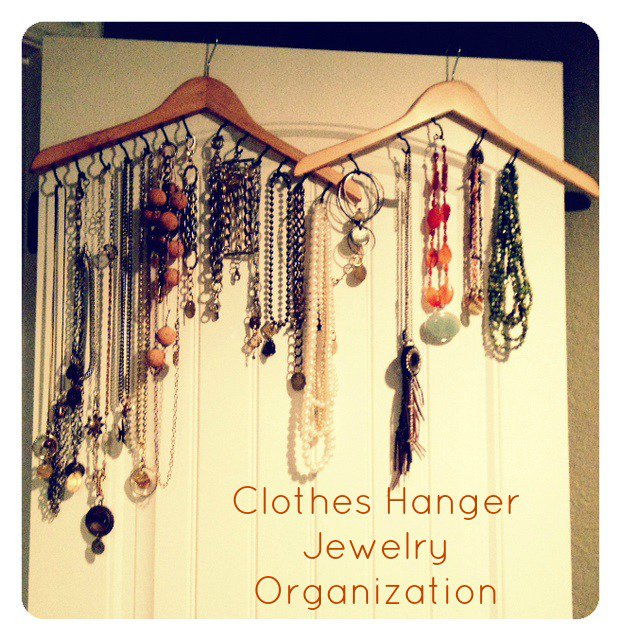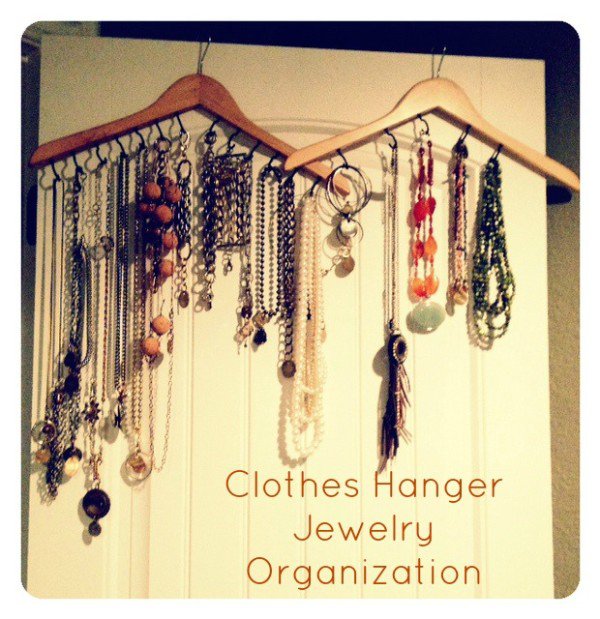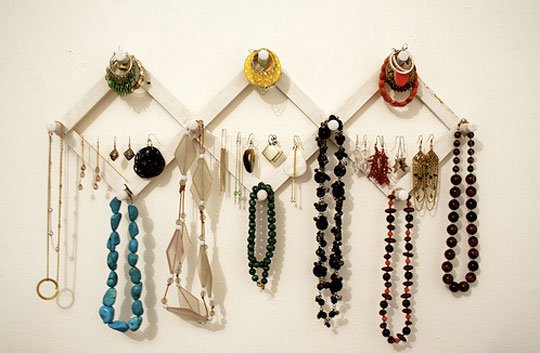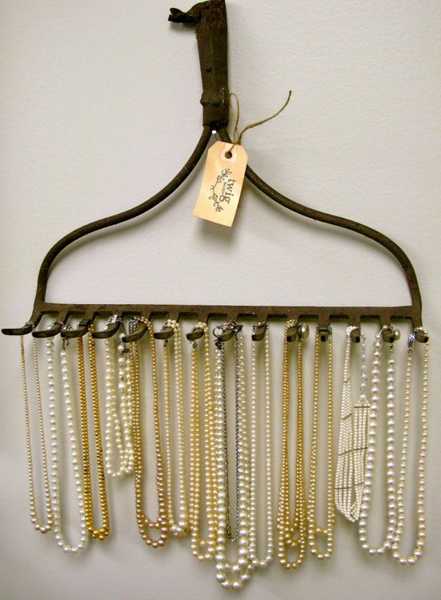 Driftwood jewelry hanger
Another among the most popular nature-inspired jewelry storage idea is the following one. All you need for this DIY project is a piece of driftwood and some hooks. Take the driftwood and place hooks on that you will later use to hand the accessories on. You can decorate your wood using wood paints. Or, you can keep it natural as it is and add a touch of nature to your room.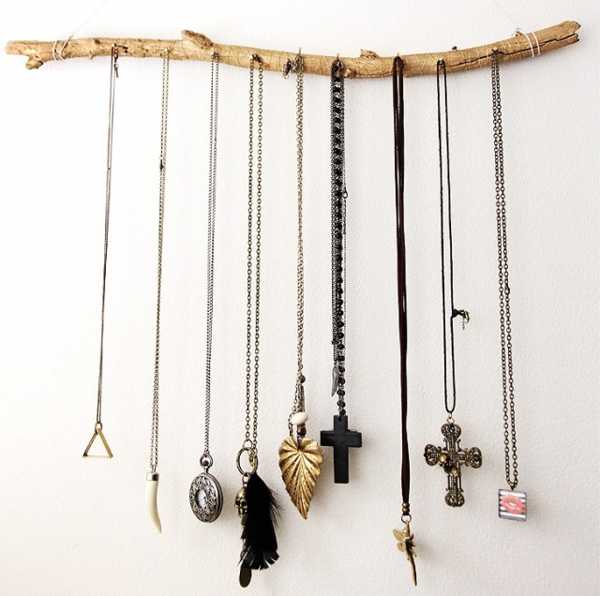 Recycle empty glass bottles to store bracelets
We all have some old glass bottles at home that we don't use anymore. Well, it is time to finally put them in use again. Take a few of them and clean them well. Then using glass paints paint them using your creativity for designing them. Once they are well pained and decorated, you can hand your bracelets on them. Make as jewelry storage bottles as you need. You can keep some in reserve if you get bored of the designs of the previously used ones.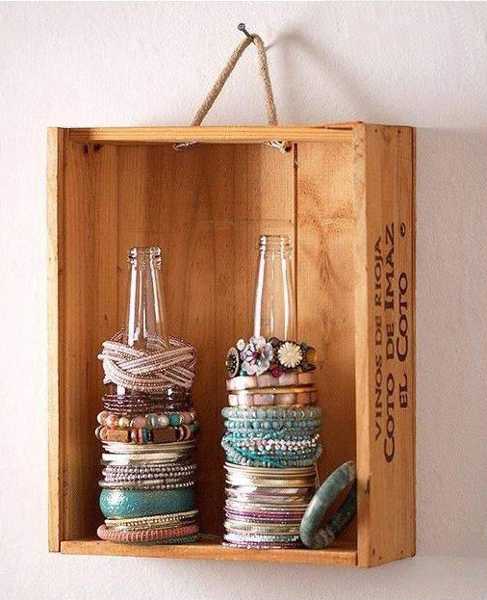 Stack plates jewelry storage ideas
Here is another DIY jewelry storing project that you can use with kitchen utensils that you don't use anymore. Take a few plates from your kitchen and stack them with brass candlesticks between them. This way you will create a quick and easy jewelry strand. You can store different jewelry pieces on each plate. For example, use the first one for storing your rings, the next for storing your bracelets, another for your necklace, etc…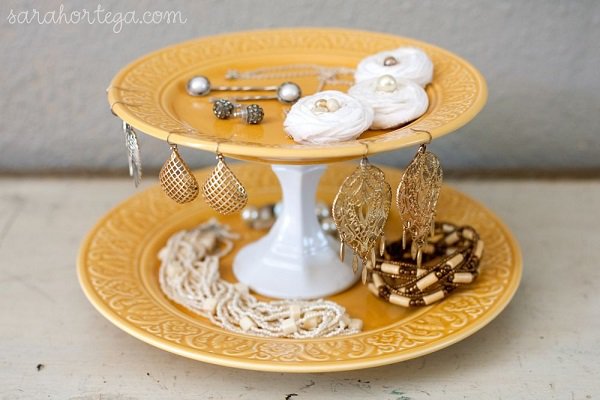 Magnetic jewelry display
If you want your jewelry pieces to be out on display, so you can easily find them anytime you need them, then this is the right choice for you. This jewelry storage idea is very practical and so easy to be done. You can use this idea for storing your stud earrings. The section that holds them is magnetic, so they can easily be detached for easy access.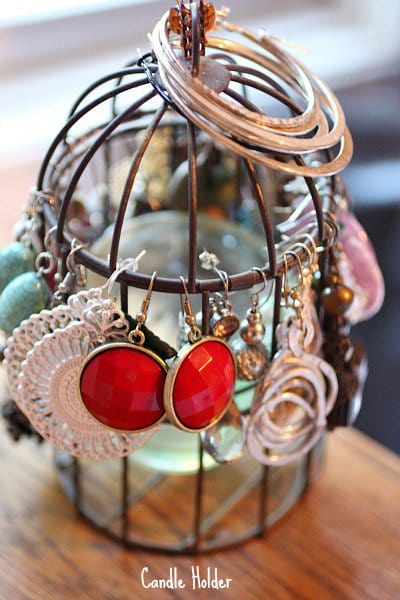 source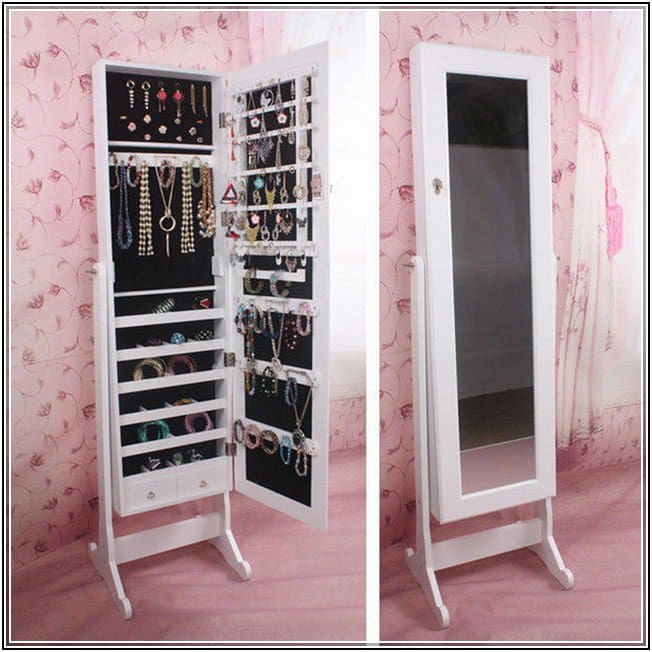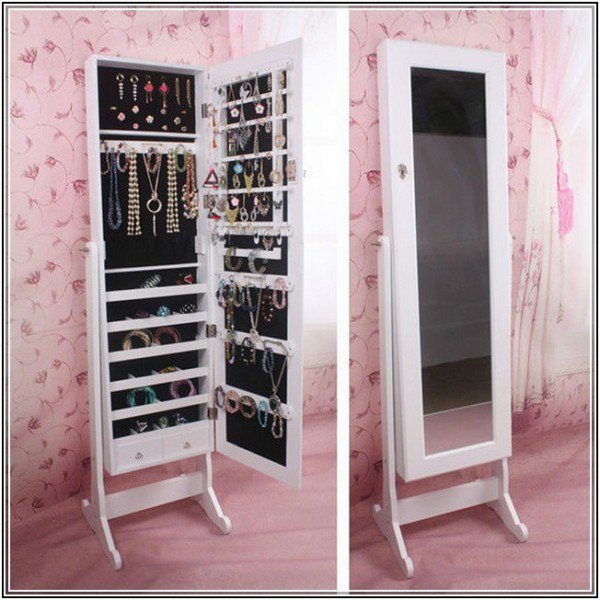 source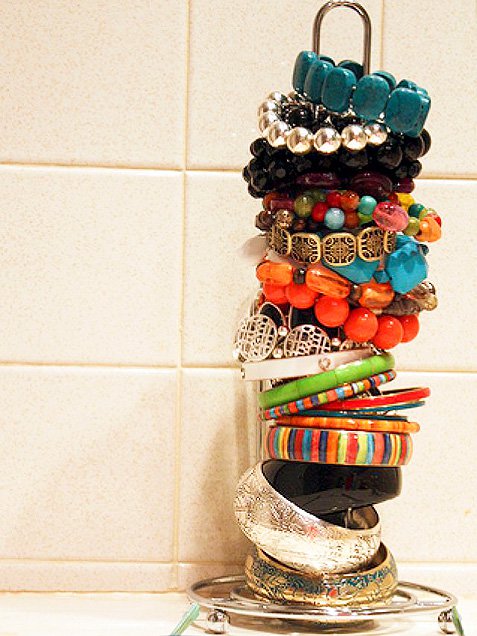 source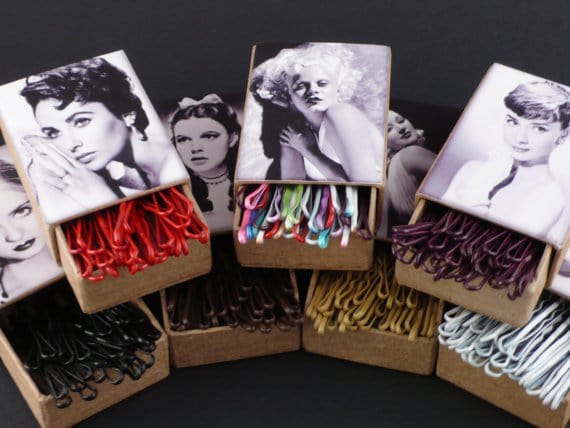 source