The world is becoming increasingly season-less and the fashion choices need to reflect that. The list of celebrities that have started wearing fur during the summer is growing bigger by the day and now includes Kim Kardashian and Kate Moss. Clothing isn't the only option – bags, a collar or even just the cuffs can work as well, but wearing fur is definitely a must for this summer. Luckily, fur works great with a lot of different outfits and it can fit great with almost any style.
Black dress
The all black outfit is a classic for a reason. It's elegant and can be used for almost any occasion. Fur is best used to add variety and eccentricity to the whole look.  A black coat with the fur trim is understated yet noticeable. Additionally, you can also get a fur purse as well for a more formal look. This outfit works well with gold, which always makes things more decadent. Gold earrings or bracelets matched with the right belt will break the monotony of the all black outfit.
Turtleneck
Black turtlenecks are slimming and elegant and with the right accessories, they can turn from something you just put on in the morning to an actual outfit. Gray slacks will give you a business look that seems both casual and professional. The best way to offset this mix is by adding little bright colors to it. A sleeveless red fur coat can make this outfit seem more youthful and playful especially with the right shoes. They, however, should have only a touch of red and you're ready for both work and party after.
Vests
Wearing a full-size fur coat can be a little intimidating for some people and carrying around a fur bag can sometimes make you look like a furry creature. Luckily, there are numerous ways to wear fur that can fit even those with a less bold sense of style. Vests are a perfect middle ground because they let you add variety to your wardrobe without being too flashy. You can wear them over any jacket and create a whole different texture or under any coat and keep things subtle and understated.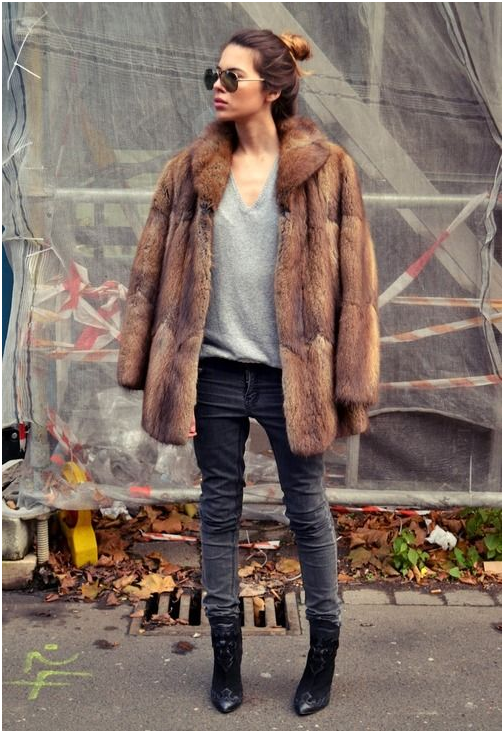 Shaggy
A Shaggy look may seem like you've just rolled out of bed and put on everything you've found on your way to the door, but it takes time and experience to create one. Denim is the best way to create a casual look, but you will need to balance it with something more serious. For instance, if you're wearing denim trousers and shirt, make sure that the purse is more elegant and understated. Now where the shaggy part! The fur jacket should be as loud and noticeable as you can pull off. Simple colors like grey or brown will only help emphasize the puffiness of the jacket more.
Sporty
Fur isn't exactly something you associate with a sporty look, but it can be done. The key is to keep the rest of the outfit simple and the fur color bright and cheerful. All black leggings, shirt, and a large bag give you that gym look and bright blue fur coat can create a contrast to that. The coat should stop just above the knees and be just puffy enough to maintain the practical look of the rest of the outfit.
Fur is a great choice for summer, it's daring and it will get you noticed, but it can work well with a lot of practical day to day outfits as well.