It's long been tradition to hold weddings in the spring and summer. The weather is usually cooperative, you're not competing with too many major holidays, and guests typically have more free time during those months.
However, as trends are always likely to do, those warm weather weddings are changing. More and more couples are changing tradition and having their big days in the winter. Why? In many cases a winter wedding is cheaper, as venues are likely to have discounted prices in the winter months. But also, some people just prefer the cozy intimacy that a well-planned winter wedding can provide. There's something unique and special about a snowy and icy wonderland that lends a very special feel to a winter ceremony.
If you're planning your wedding and are considering the winter months, here is are some tips on how to choose a venue that will not only accommodate your needs, but will do so in style.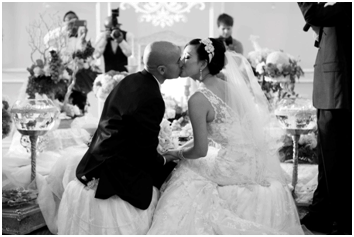 Talk with Your Planner
Another great perk about a winter wedding is that it's likely you'll have more of your wedding planner's time and attention. Off-season weddings mean that your planner can help you make decisions without too many distractions.
He or she is also likely to know the best venues that will blend seamlessly with your ideas and themes for your wedding. Are you looking for something rustic? Perhaps a mountain resort will fit your idea perfectly. Something more modern? An art deco style ballroom in a glitzy hotel might be the perfect location.
Consider Your Location
Where you live or where you plan to hold to your winter wedding plays a crucial role in many of your decisions. If you live in a northern state then it's likely that you'll have your ideas of shimmery white and sparkly silver and the snow that you hope will be a part of your big day. Just be certain that the space has adequate heating. You don't want shivering guests.
If you live in a warmer state that still doesn't mean that you can't have the winter wedding you want, it just might require some additional planning in the decor department to achieve the effect you're looking for. Anoush banquet hall in Glendale, California is the perfect choice when you want a wintery wedding while it's 70 degrees outside.
Think About Color
Most wedding venues tend to be basically decorated in neutral colors so as not to clash with the color scheme that you and wedding planner have decided upon. Once you have your color scheme in mind, you'll want to visit each venue to make sure that the colors will work for you.
Speaking of color, shades of white, silver, and pale gray are the perfect combination for a winter wedding. You might be tempted to go with red or green, but this might make your wedding feel more like Christmas, and that's the opposite of the goal. However, many brides do choose to add seasonal elements to their winter wedding, such as pine cones and wintery drinks like mulled cider or eggnog.
Consider the Size
Winter weddings tend to be more lavish affairs than their typically more casual summer counterparts. Additionally, since all of the activities you have planned will likely take place indoors, you'll need to make sure that your venue has adequate space for guest seating, dancing, food service, and cocktail bar.
Visit each venue with your planner, especially once you have at least a rough idea of how many guests will be attending. Perhaps do a simple sketch, with the assistance of the venue's manager, to assess the space and how it will suit your needs. You'll feel much more comfortable knowing that your guests will have ample space to mingle and celebrate your big day in style.
Every wedding is special and every couple should have the ability to plan and execute the event of their dreams, regardless of the season. If you've chosen a winter month for your wedding, be sure that you discuss your wishes with your planner, and then start looking at venues. Be certain that you choose the one that fits your style and can easily accommodate the number of guests you'll have. After that, it's time to have the sparkly winter wonderland of a wedding that you've dreamed of.