Making a fashion statement at work or a special event isn't just about selecting the right clothes or hairdo. Accessories also play a crucial role in completing your outfit and creating a polished look. For instance, a statement jewelry piece with complementary accessories is a surefire way to grab attention.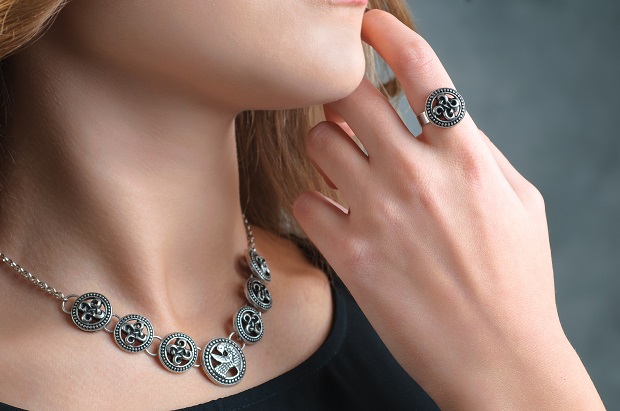 Statement jewelry is the epitome of bold fashion, designed to make a lasting impression with its grand and striking designs. Such pieces from a Raleigh jewelry store or any other shop where you live effortlessly become the centerpiece of any outfit, commanding attention with their size and sophistication. Whether you prefer dainty and elegant or bold and chunky styles, there's a statement jewelry piece to fit your taste. But with so many options available, it's crucial to know how to select the perfect statement jewelry to complement your outfit and the occasion.
If you're inexperienced in picking statement jewelry or if you're looking for updated guidelines, here are some tips on how to choose a statement jewelry piece that pairs well with every outfit and event:
The key to finding a suitable jewelry piece is considering the occasion. Every event has its unique style and flavor, and choosing the right accessory can elevate your look to match the atmosphere. For a more relaxed setting, opt for jewelry with a more understated look. When out for a stroll or hangout with friends, wear jewelry that doesn't overpower your outfit.
Small and delicate earrings provide a touch of sparkle without drawing too much attention, while a simple necklace adds a layer of elegance. A minimalist bracelet can be a great addition, but it's best to keep it low-key. Rings should be kept to a minimum. Wear them if they coordinate with your outfit or hold significance to you.
Your jewelry should match your outfit and the occasion for dressier gatherings like social events, birthday parties, or intimate dinners with friends. Go for eye-catching but not over-the-top earrings paired with a dressy necklace and rings. For formal occasions, choose more ornate jewelry, such as necklaces and bracelets. A necklace can add a pop of color to a dress, while a bracelet can serve as an alternative. Cufflinks that coordinate with the shirt and tie are a sophisticated choice for men.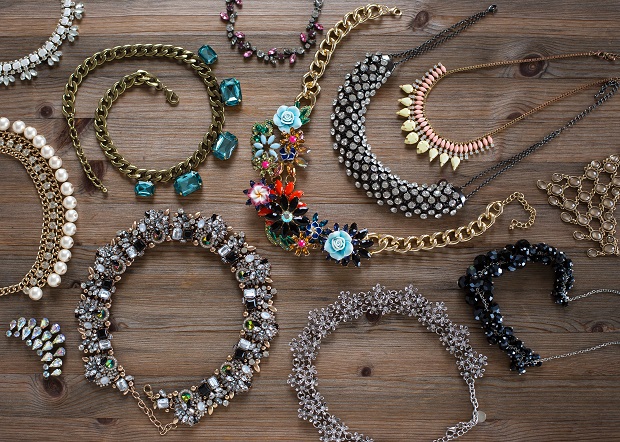 Pay Attention To The Neckline
The neckline of your outfit can also impact the type of statement jewelry you pick. Consider the shape of your neckline when selecting a necklace, and choose a piece that flatters your figure. Complement your plunging neckline with layered pieces or a long, dramatic statement necklace. For higher necklines, opt for shorter chains or little pieces that sit above the collar or close to the neck. Turtlenecks offer versatility and can pair well with both long and short necklaces.
When it comes to necklace length, aim to complement your neckline by choosing a piece that falls either above or below it. Select the right length to avoid the embarrassment of constantly adjusting a necklace caught in your shirt.
A shorter chain can draw focus to your face, while a longer one can create a more elongated look. If you're wearing a low scoop-neck, steer clear of necklaces that may dip into your cleavage, as this can detract from the beauty of the piece and give an unkempt appearance.
Keep It Simple Yet Sophisticated
When it comes to statement jewelry, it's best to let one piece shine on its own. However, if you're feeling daring and want to mix and match, remember to balance your look. Wearing statement earrings and a statement necklace together may not be the best idea, but matching a pair of chandelier earrings with a cuff bracelet can create a beautiful ensemble. And when layering necklaces, keep it simple and sophisticated by limiting the number of strands and considering the amount of sparkle you're adding.
When wearing a belt, stay away from long chain necklaces, as they can compete with the belt for attention. On the other hand, chokers and bib necklaces make the perfect standalone statement pieces, so let them take center stage and opt for minimalist complementary jewelry. If you want to wear several jewelry pieces, ensure that they coordinate, such as pieces made of similar metals or designed with similar patterns or charms.
A bold statement piece can do wonders when it comes to elevating a simple solid-color ensemble. It adds depth and texture, transforming your look into a sophisticated affair. But when your attire boasts a bold pattern or an array of colors, don't wear a flashy gemstone. Instead, choose an understated statement piece with a sleek, simple design that focuses on the metal.
Remember, statement jewelry should be the highlight of your outfit. Settle for pieces that complement and elevate your overall look. For a refined and sophisticated look, go for pearls. Add a touch of romance and femininity with vintage or floral pieces or embrace the bohemian style with colorful beads. A bold cuff bracelet is a perfect addition to a solid-colored mini dress, while chandelier earrings pair elegantly with a flowing maxi dress.
Final Words
Jewelry pieces that complement each other make a statement, elevating your outfit to the next level and bringing it to life. That's the power accessories hold. Just make sure that the pieces you wear don't overcrowd or clash with other elements of your attire.