Whether you're the guest, bridesmaid or bride, no wedding outfit is complete without adding those finishing touches of jewellery. Jewellery will effortlessly enhance your wedding outfit to ensure that you look beautiful, feminine and elegant throughout the big day. Your jewellery should be chosen once you have decided on the outfit you're going to wear, as the jewellery is there to enhance the outfit rather than steal the show, especially if you're the bride! With that in mind, here are a few top tips for pairing jewellery with your wedding outfits to ensure that everyone at the big event looks and feels their very best!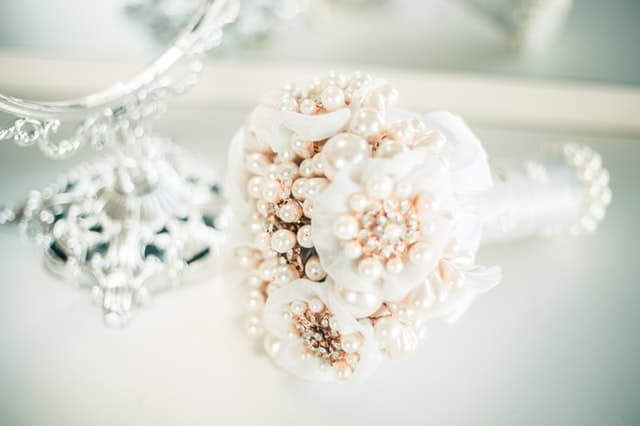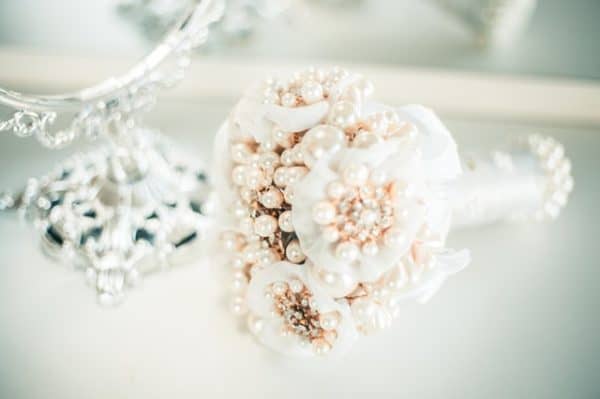 For the guests
The jewellery you wear to a wedding will always depend on the neckline of your dress. If you are wearing a high-neck dress, a necklace will usually be off-limits but a low-neck dress calls for a beautiful dainty choker or lariat style necklace. If you can't wear a necklace with your chosen dress, make sure to accessorise your look with bracelets, rings and earrings.
For a summer wedding, necklaces work best in muted tones rather than bright colours. Stick to a classic silver, gold or rose gold necklace with light or clear stones rather than bright colourful gems. Each piece of jewellery should be delicate and elegant because larger statement pieces will cheapen the effect and detract attention from your whole look. 
Earrings are a great way to frame your face, elongate your neck and highlight your best facial features. A pair of sparkly drop earrings or chandelier earrings will instantly elevate your wedding outfit to a whole new level.
For the bridesmaids
As a bridesmaid, you will often wear the same dresses or similar ones to the rest of the bride squad, so adding some delicate jewellery will ensure your individual personality shines through. Make sure to discuss any stand-out pieces of jewellery with the bride as she may have a certain theme in mind for the photos. 
Brides will often give each bridesmaid a jewellery gift to thank them for all their support, a meaningful jewellery gift is the perfect accessory to encapsulate memories of the wedding and your friendship. If you are looking for a unique gift for bridesmaids, MuruJewellery.com has many special and unique pieces of silver, gold and rose gold jewellery to suit every sentiment. Each piece of Muru Jewellery is imbued with meaning so you'll be able to find a thoughtful and memorable piece for each bridesmaid, that they can wear for years to come.
For the bride
Jewellery is an essential part of every bridal look, it will enhance your whole aesthetic and add a touch of sparkle and glamour to your special day. It's very important not to overdo your jewellery! It's best to stay away from statement pieces and wear a few meaningful and delicate pieces that will add to your look rather than taking all the attention away from your dress. Be sure to keep your dress and neckline in mind when you're selecting your wedding jewellery and in particular;
Choose a tone that will match your dress. First of all, you want the jewellery to match the hue of your dress, for pure white dresses it's best to opt for softer tones like silver and platinum or rose gold. Gold jewellery suits ivory and champagne tone dresses and if your dress has pink or rose hues, rose gold jewellery will perfectly complement your look. 
Incorporate family heirlooms. Meaningful and personal jewellery can be a very special addition to a bridal outfit. If you have family heirloom jewellery, this can be a great way to incorporate personality and your family history into your wedding day look. 
Accessorise your hair. If you're wearing an up-do, bridal hair accessories or fresh flowers will add a feminine bohemian detail as you walk down the aisle.  
Only wear your wedding and engagement ring on your hands. On your special day you're ring will be a huge focus for many of the guests so make sure the rest of your fingers are bare to ensure the main focus is on your gorgeous rings! If you can't resist more sparkle, be sure to wear an elegant and sparkly bracelet that will give your look an extra addition of detail.
Weddings are a great way to try looks you wouldn't normally try out! Feel free to play around with different jewellery styles but our top tip is to keep it simple. When it comes to weddings, less is more! Above all else, the most important thing to remember is to let your personality shine through, so that you look and feel amazing all through the day and night. When you find your perfect styles for the wedding, the jewellery you wear will bring back amazing memories of the special day for years to come.