Family gatherings are an inescapable aspect of our lives, but the limitations the coronavirus put on the world made it a faraway concept. With the sanctions being gradually lifted now, there is no better time to give your dining room the facelift it deserves.
With modern wall art ranging from abstract prints to minimalist marvels, there are countless ways to make your dining area look attractive, modern, and contemporary. A single piece of wall art and decor might be all it takes to give a space the attention it deserves.
At elephantstock, there is a wide collection of wall arts created and designed to suit your dining area. So, before you start hosting dinner parties, get informed on the newest trends of wall arts uniquely put together by our team of seasoned professionals.
If the past year has taught us much, it's to value the time we have with family and friends. This point brings us to our first step.
DINING ROOM INSPIRATION
It's no shock that communal spaces are more valued than ever now. Sometimes to appreciate something properly, we have to lose the said privilege. Your dining room should inevitably reflect your unique personality, and at the same time be styled enough to welcome your guests.
Elephantstock's interior design expert Elimar Lobo Saenz gives her insight into post-pandemic dining room decoration.
Shifting our daily life indoors has sparked a revitalization that has increased the importance of coziness and a harmonious flow. That's why Nordic style keeps on rising, with light-colored wood and pops of color to brighten up space. Combine organic materials and give your space a personal touch by including elements that represent your interest (such as a mini art gallery!). The dining room [in particular] has become more personal space."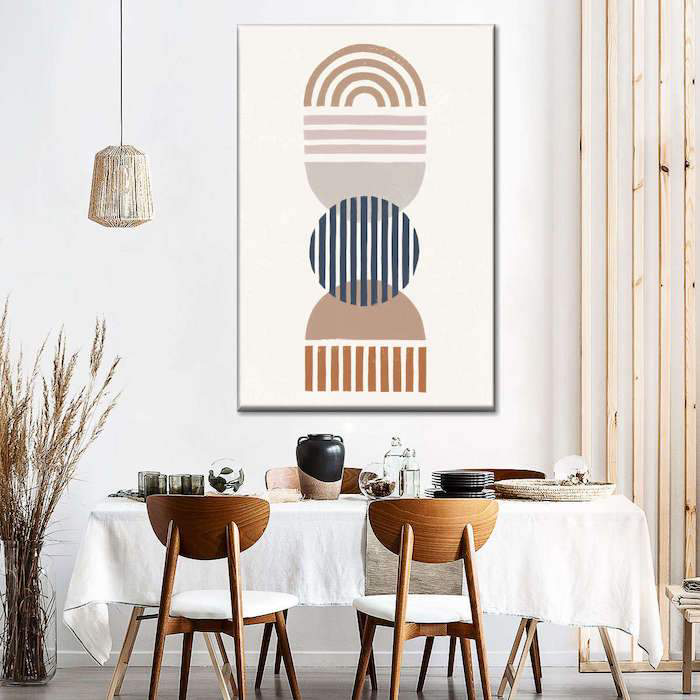 A CONTEMPORARY STYLE
Avoiding clusters and getting inspired by Scandinavian design is a good step towards creating a contemporary style in dining room decoration. Hygge is the theory of combining comfort with practicality. Keep your decorations minimal but intentional, use organic designs along with sleek lines, use nature as your primary inspiration, and only include pieces that bring you joy.
Yoko Chow of Yoko Chow Designs LLC, a resident decoration expert of elephantstock emphasizes the importance of using greenery in your space:
"I always consider [the theory of] biophilia when designing a space," she continues, "A number of studies have shown that indoor plants are effective at reducing stress, improving productivity, and even purifying polluted air. Introducing indoor plants and greenery into a room is fairly easy to try. The options are vast, as are the benefits."
COLORS FOR THE MODERNIST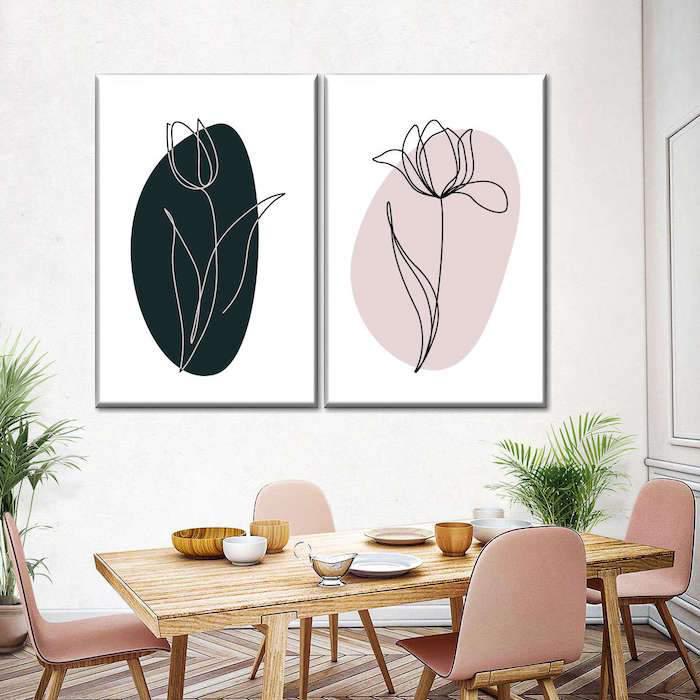 A neutral base with pops of color is the grand idea for a modern color scheme. You can't go wrong with subtle shades like taupe, white, black, and grey. You don't necessarily have to shy away from the use of color entirely.
On color combinations in retrospect to a modern Scandinavian theme, Elimar Lobo Saenz explains:
"With wood-tones and bright white as a base, combine shades like grey, green, soft yellow, and black for a dining room with a Scandinavian influence. Create a warm atmosphere that is both timeless and trendy. A delicate, bright dining room is ideal for gatherings or simply enjoying a nice cup of coffee."
WALL PAINTING SIZES
Your wall art should take about 75% of your available wall space. Measure the height and width of the wall, and then go ahead to multiply by 0.6 and 0.75 respectively. The result will reveal the range of canvas print sizes to suit the place.
Elephantstock has A wide range of different shapes and layouts, browse through to find one that fits your taste, style, and uniqueness.