In men's fashion, the association of jewelry with women's attire has persisted for long. However, times have changed, and men embrace accessories' power to enhance their casual outfits.  In this guide, we'll explore tips about jewelry and discover how to use it to look sharp in casual attire.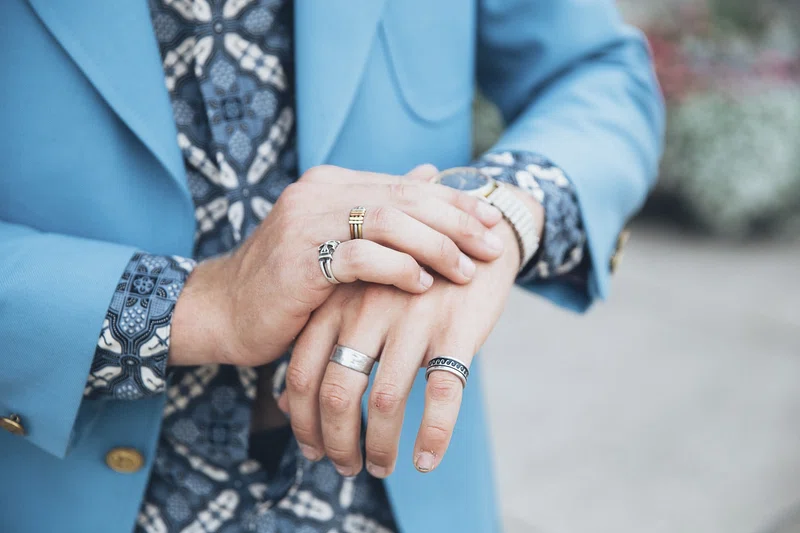 Understanding the Power of Jewelry
In the world of fashion, jewelry is entirely symbolic. It can be an eye-catching accessory for a relatively plain outfit. Jewelry is an exceptional opportunity for men to stand out and make a statement in a society where dressing up is becoming less formal. You can improve your casual dress and project a sophisticated and fashionable vibe by choosing the appropriate accessories.
Choosing the Right Metals
Metals are essential components of men's jewelry. Precious metals like gold, silver, and others have distinctive qualities matching various skin tones and fashion preferences. Trying out different metal combinations can also give your outfit a trendy, eclectic style while adding depth and interest.
Bracelets
Bracelets are multipurpose accessories that can significantly improve your everyday appearance. Choose sleek, minimalistic designs of materials like beads, leather, or stainless steel. Braided or wrapped leather bracelets have a rustic yet fashionable charm. They look fantastic with casual shirts or denim.
Bracelets made of steel alloys have a more sophisticated and shiny appearance, giving your ensemble a touch of class. Contrarily, beaded bracelets add a soft flash of color and texture to your wrist. For a Bohemian look, choose wooden or natural stone beads.
Necklaces
Necklaces can be the central focus of your ensemble, emphasizing your neckline and introducing an additional level of flair. Examine the length and thickness of the necklace and consider your body type when selecting. Additionally, pendants and charms can reflect your interests and passions while adding a personal touch.
Rings
Men's rings are a sometimes overlooked accessory, yet they can improve looks. Your casual clothes can be made trendy with the right ring. Choose modest, minimalist designs made of materials like tungsten, silver, or stainless steel for durability.
For a daring style, seek rings with unusual patterns or stones. To keep the balance of the overall look, wear a maximum of a certain number of rings at once. Consider choosing a ring that reflects your unique sense of fashion and individuality.
Earrings
Making a Proclamation In recent years, men's earrings have become more well-liked since they allow wearers to make a strong fashion statement. Different styles, including studs, hoops, and dangle earrings, are appropriate for varying tastes. To achieve a unified and harmonious manner, think about balancing your earrings with the remainder of your ensemble.
Watches
While technically not jewelry, watches are essential for men who deserve mention. A well-made watch can improve any casual ensemble by adding refinement immediately. Choose timeless designs with leather or stainless-steel bands since they go well with various casual outfits.
Consider a chronograph watch with a sturdy band if you like a more sporty appearance. Make sure the timepiece you select fits your wrist size and personal style. It should enhance your overall appearance and be both aesthetically beautiful and functional.
Cufflinks
Polished Finishing Touch Cufflinks are the perfect accessory to add a touch of sophistication to your casual shirts. You can customize your look and add a professional finishing touch with them because they are available in various patterns and materials. You can match your cufflinks to the rest of your accessories.
Pairing Jewelry with Casual Outfits
Here are some tips on how to accessorize your everyday wear with jewelry:
Basic T-shirts and Jeans
When wearing a traditional plain T-shirt and trousers, think about wearing little jewelry for a polished and clean appearance. A short necklace or an elegant ring might serve as a focal point without dominating the ensemble. To create a unified look, match the metal you choose with the wash of your denim and the hue of your shirt.
Polo Shirts and Chinos
Chinos and polo shirts convey a classy and elegant look. Add subtle jewelry to this ensemble, like a thin bracelet or a pendant necklace. Pay attention to the collar's intricacies, and consider wearing a necklace or pendant matching your shirt's design. Combining different metals can give your appearance more adaptability.
Casual Button-Down Shirts
Bracelets can be a terrific accessory to draw attention to rolled-up sleeves on casual button-down shirts. Pick a bracelet that goes well with the color or design of your clothing. To add a subtle yet fashionable touch, rings can also be matched with the buttons on the cuffs of your shirt. Consider putting a necklace underneath an open collar for a refined and understated appearance.
Conclusion
Men's jewelry is an excellent way to elevate your casual attire and make a statement. By understanding the power of jewelry, choosing suitable metals, and experimenting with bracelets, necklaces, rings, watches, and cufflinks, you can create a look that is uniquely yours. Embrace the world of men's jewelry and let your accessories showcase your style and sophistication, even in a casual setting.