We all dream  about having spacious wardrobes where we can organize all our clothes, jewelery and shoes, but, we all also know that such a project can be very difficult to achieve. That's why we offer myou some smart organizing hacks, that will help you get mnore space in your closet, and at some time have well organized everything that you will ever need.
1.Picture-prame-as-cork-board to organize all your jewelery
If you have a lot of necklaces , bracelets and earrings then this picture-frame-as –cork-board is the best thing that will help you organize it. It is easy to be done on yourself, is cheap and everything you need will be right in front of your eyes whenever you need it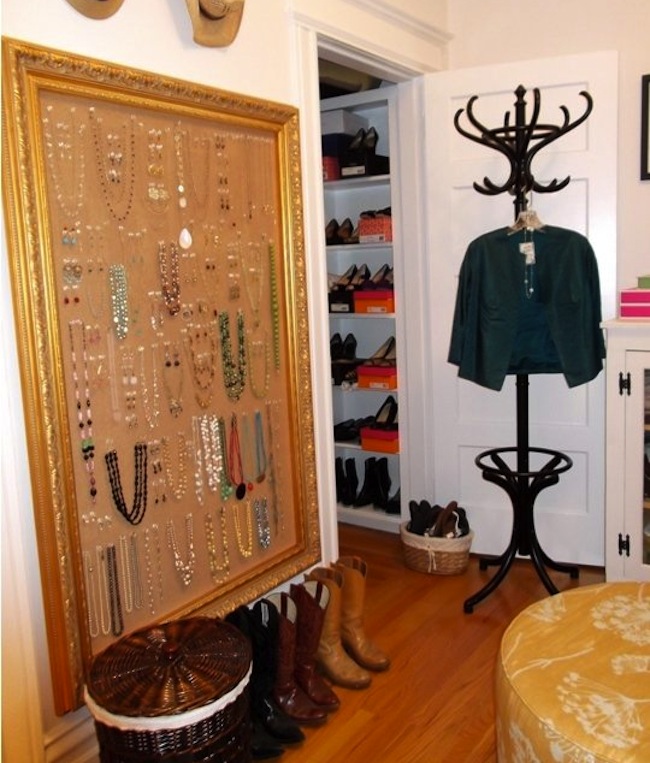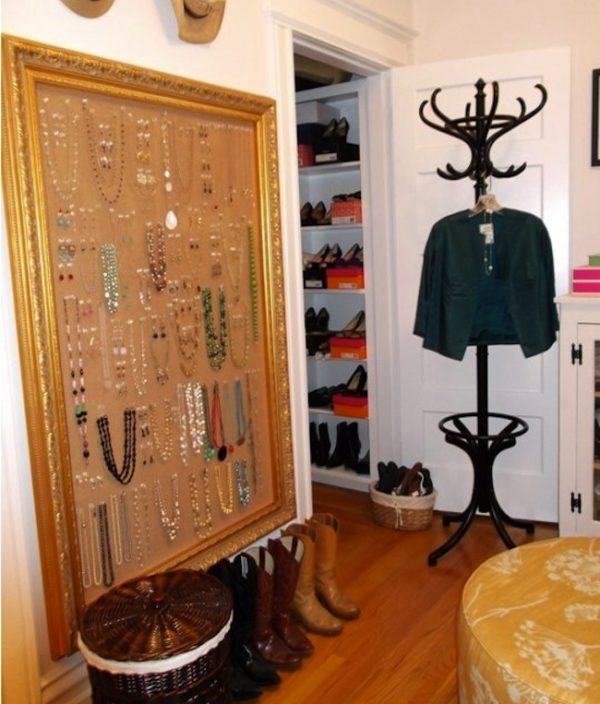 source
2.  Hidden jewlery organizer
When you live in a small house or apartment, then you have to use every possible inch to organize your accessories and jewelry. One way to do it is this hidden jewelry organizer that you can place on the wall behind the room entering door, for example. Sounds great, right? This is definitely one of the less used spaces of the room and ban be perfect for organizing small things such as jewelry.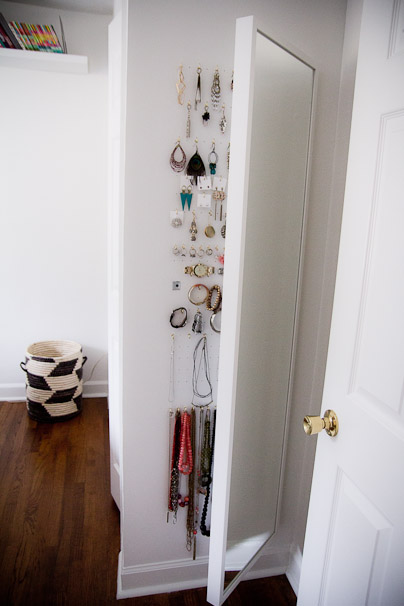 source
3. DIY Slide-out Scarf Organizer
If you belong to the group of people that throw their scarves into the dark angles and floors in the wardrobe, just because you can't find them space in the closet, that is more than full, then why don't you try this amazing DIY slide out scarf organizer that will help you find space for all your scarves? It is so easy to be done  and won't take a lot of space, but will get all your scarves and belts well organized.

source
4. Shoes Boxes To mOrganize Your Closet Drawer
If you were planning to throw all the shoes boxes that you thought that you won't need any more, we are sure that after seeing this smart way to organize your folded briefs, socks, or stacked bras. Cut the shoes boxes or use them whole, and place the into the closet drawer and place everything that you want in it. Your bras, shoes and folded briefs will be separated one from another, and will find them easily when you will need them.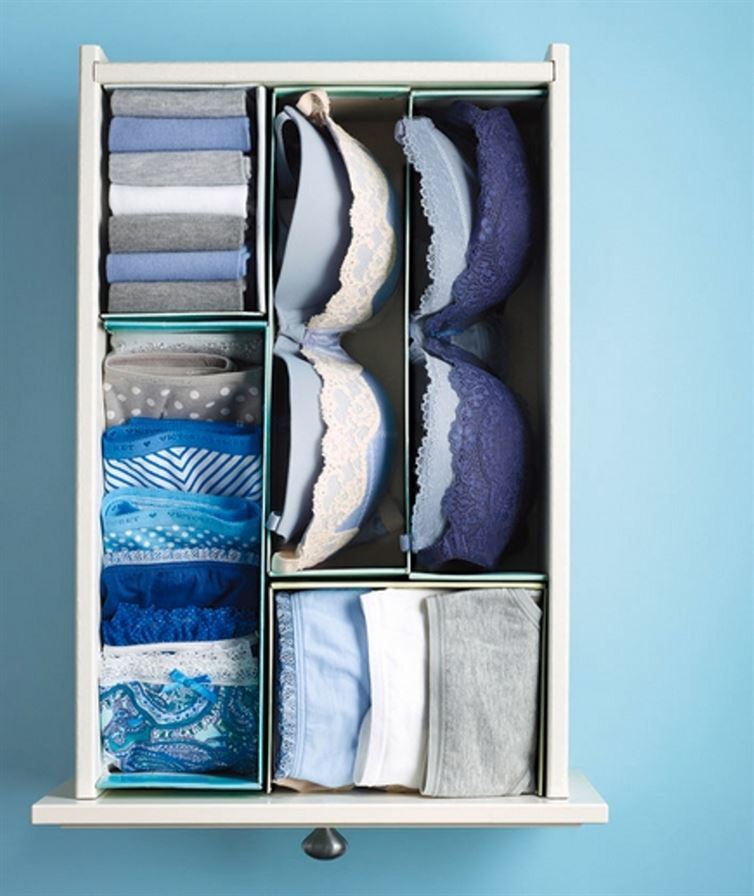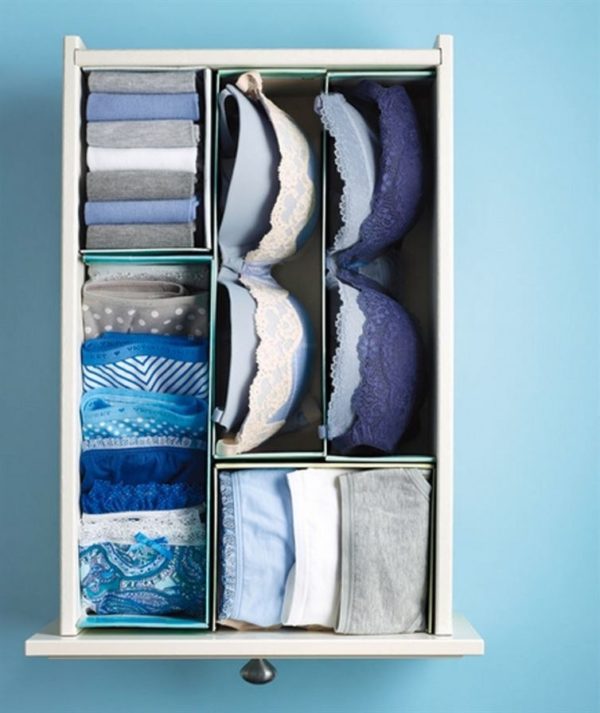 source
5.  Shower Curtains Rings And A Hanger To Produse More Space And Organize All Your Tank Tops
If you have as many tank tops, that you don't find place to store them all, then what do you think about this smart way to organize them. All you need are few shower curtains rings and a velvet hanger on which you will store all the tops. Sounds great right? Try it now.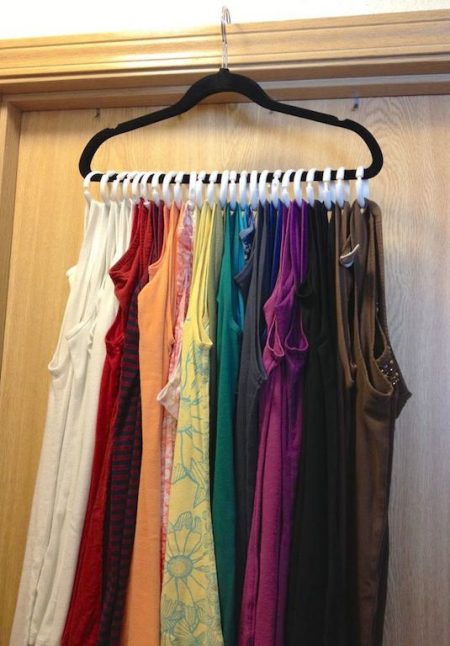 source
6. Pants Rack Hangers To Open More Space In Your Closet
If  the most of the space in your closet is used by your pants, then these pant rack hangers are perfect solution for you. You don't have to waste half of your clothes rod anymore. Try immediately this smart idea to store pants. You will be happy to see all the space that you will get.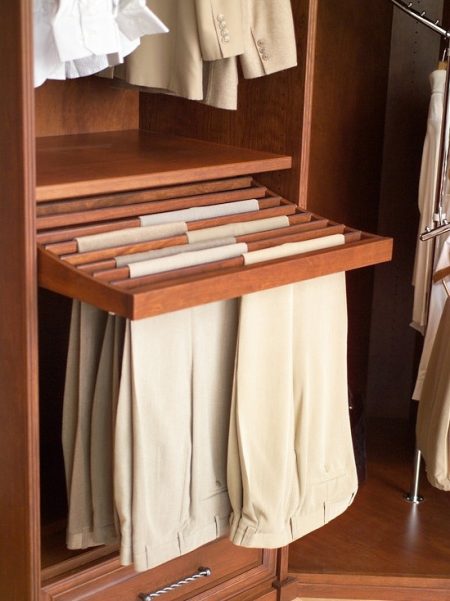 source
7. Picture Rail Shoe Rack To Organize All Your High Heels
Do you have hundreds of heels that you adore , and you are out of space to place? Well, here is a solution for you. Why don't you display them on your bedroom wall as an art work? It could be an interesting and smart idea, because at the same time you get space where to place your favorite high heels and your wall won't be naked anymore, but it will be decorated by your  favorite babies.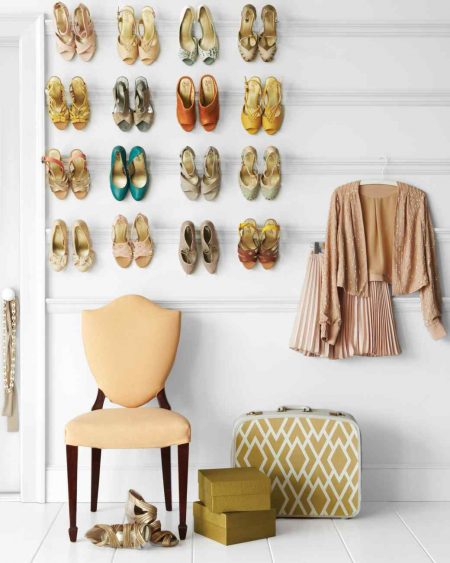 source