With today's busy lifestyles, it's difficult to find time to go out shopping for all the latest ladies fashion items. If you want to update your look for the new season but are just too busy to get to the high street or shopping mall, there is an ideal solution. Home shopping catalogues are the perfect way to browse through different clothing ranges, styles and types. Whatever you need, be it suits for the office, a glamorous dress for a special night out, or some cozy nightwear for lounging around the house, home shopping catalogues have it all. This might help you to spread the cost of shopping for clothing.
There are items to suit all shapes, sizes and tastes, and with beautiful full color pictures. It's easy to see how your chosen outfit will look. There is even an easy to use sizing guide so you can measure yourself at home and order the correct size.
How To Reduce The Cost Of Shopping For Clothing
Ordering can be done online, by phone or by post. Direct to your door are delivered all items. So you never have to even leave your couch! If you change your mind once you've received your order, simply return your items for free and get your money refunded. It's as simple as that. Your application for a credit account will be subject to a credit check. But even if you have poor credit history, there are a number of catalogues for bad credit available. For those with severe credit issues, there are also a range of no credit check catalogues which may be useful.
Although you can pay by credit or debit card, the easiest way to pay for your order is to set up a Buy Now Pay Later payment plan. This spreads the cost of buying your stylish ladies clothing over an extended period. Also makes it much easier to budget for your purchases. These plans are interest free for a set period, so there is no financial penalty for spreading out your payments. You can choose to make multiple payments during the interest free period. Just pay a lump sum at the end of the period or choose to begin making regular payments once the interest free period ends.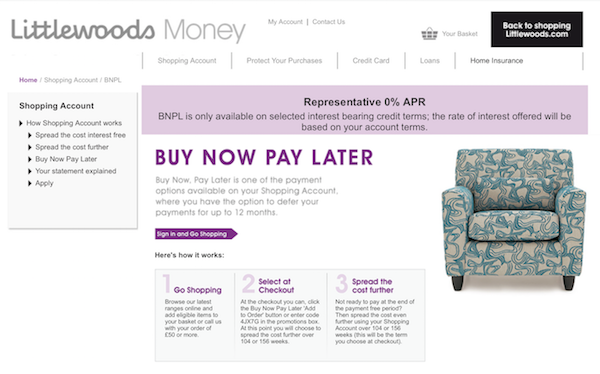 You Can Opt For This Useful Payment Scheme
There are several home shopping credit catalogues that offer this useful payment scheme. They can help you to reduce the cost of shopping. Three of the best are Littlewoods, Very and ISME. They offer high quality items from top brands including homewares, toys and electricals along with the best in women's fashion. Choose from famous lines including Firetrap, French Connection, Lipsy and River Island without needing to leave your home
Very offers an amazing range of stylish ladies wear as well as a whole host of other products for the home and family. With ranges to suit everyone, there is an outstanding choice for women of all shapes and sizes, featuring lines from famous names like Fearne Cotton, Amy Childs and Myleene Klass.
ISME has evolved from the Marshall Ward brand and encourages every woman to express her true self through the most stylish and elegant fashions. Offering a clothing range from size 6 to 32, there are flattering designs to suit everyone from quality brands such as Joe Browns, Karen Millen and Miss Selfridge.