Party season is fast approaching, and if you're panicking about not having anything to wear to the many social events you will undoubtedly be expected to show your face at, never fear! Parisian have picked their favourite styles for this party season, for any occasion that you are faced with over the festive period, you can be sure you will be well prepared and looking on trend, no matter what!
Velvet Crush
Velvet is everywhere this season, it's the quintessentially '90s trend that just keeps on giving, and you really can't go wrong with it! Whether you go all out in this trend with a velvet shift dress, top or even a playsuit, it's not hard to incorporate this trend. The great thing about this year is that velvet has been incorporated in to some of our favourite accessories too to bring any outfit to life.
A pair of velvet boots could seriously step up your simple jeans and t-shirt outfit, taking you from day to night for casual yet glammed up look that you can't go wrong with. Even adding a touch of velvet in to your outfit in the form of a bag. You don't just have to stick with black with velvet either, choose a dramatic hue such as deep burgundy or blue for the perfect look this party season!
This crushed velvet burgundy dress from Parisian combines the high neck and cut out, asymmetric bodycon look to bring the perfect style for this Christmas' party season, making sure you really stand out from the crowd and helping you to find your style!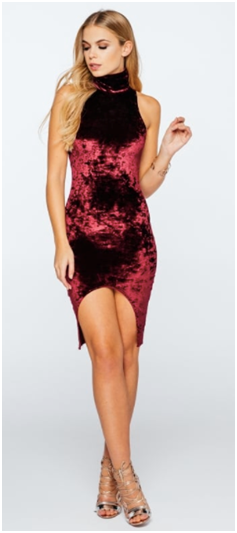 Works Christmas Party
Ah, the office party… you want something that leaves you feeling sparkly and ready for to dance the night away, as well as making sure your outfit is remembered for the RIGHT reasons. Trust us, there's nothing worse than having a wardrobe malfunction in front of the people you have to work with each day!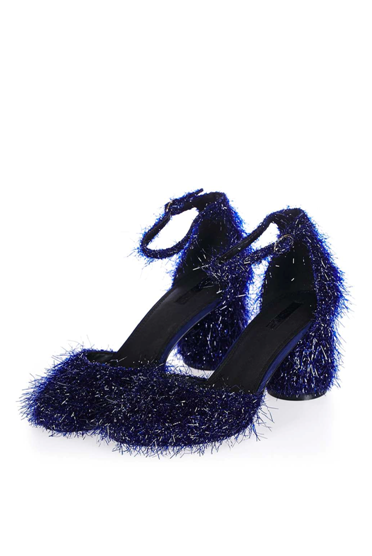 These Topshop Jazzy Hands tinsel shoes are the perfect item to glam up your outfit. Why save the tinsel just for the Christmas tree when you could have it on your feet too?
This season, you can't go wrong with sequins and glitter, what better time of year to get your sparkle on than party season!? Go for a flattering style that shows you off in the best way. Our favourite styles at this time of year are the long sleeved A-line styles, or skater dresses that incorporate the in styles for this time of year.
At this time of year, it's natural to want to cover up a bit, but when you're heading out you don't want to be putting on the same raincoat that you chuck on every day. Invest in something that will enhance your outfit.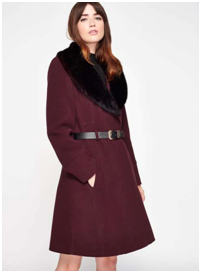 This wine coloured skater style fit and flare coat with a faux fur collar from Miss Selfridge could be the ideal solution for staying chic and warm this winter! Don't get caught short this winter, stay in style whatever the occasion.
Article supplied by Parisian Wholesale.