The new year sometimes calls for a switch-up in our wardrobe. Changing up how we hit the town in the evenings and walk into work can help us to start the year with a burst of confidence. Switching up your wardrobe needn't be expensive either. There are thrifty and fun ways to fix up your look without having to completely break the bank in the process. Here are the best ways to give your wardrobe a shake up and give yourself that much-needed 'new year new me' feeling.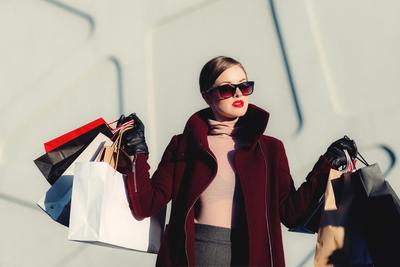 Pull out your old wardrobe
The best way to start switching up what you wear is to pull out everything you own and take a good look at it. Could you do better in terms of what you're currently wearing? If you're a serial hoarder, then you might find this quite a challenging task. The best way, therefore, to gain a realistic perspective on what you can keep and what can maybe hit the trash pile is to divide your clothing into three sections:
What you will be keeping
What you can definitely donate to charity
Those odd items that you're a little indifferent about, but not ready to throw away
For the items that you're not sure about (those odd items that you think you genuinely might wear again one day), put them in their own bag, ready to go to charity, and stow it away for a few months. When you come back to that bag, ask yourself whether you really did miss having those options in your wardrobe. If you didn't, it might be time to make a charitable giveaway.
Assess what you wear
Now that you've whittled down your wardrobe to what you actually do wear, take a look at your outfits and have a think about what makes you uniquely you. Figuring out what you're likely to wear will stop you from splashing out on designs and cuts that feel empowering for about 10 seconds and then hide at the back of the wardrobe. Of course, there's nothing wrong with trying out new styles for size, but taking a much broader glance at what you wear could help you narrow down what your style is.
Ditch 'haul' culture
You may have seen plenty of YouTubers raking in profits through designer 'hauls,' which are usually sponsored ads in the form of video content. This is just not a realistic approach to take, and clothes that we impulse buy via a huge haul often end up being seldom worn. Your best approach by far is to build your closet up gradually. Pick choice items that have had thought put into them; a fashion risk is likely to have better pay off if you've taken time to consider it.
One of the best ways to avoid haul culture is to treat new purchases as a treat. Savor the moment of being able to purchase something new. If you have just spent time cleaning out your closet and ditching old items that no longer work for you, this is an opportune moment to invest in a special something for your wardrobe.
If you have the patience, it might also be worth your time to hunt around charity shops and thrift stores. You are very much throwing your luck to the wind in some ways, as you are hunting through other people's old forgotten treasures. However, with a bit of persistence, you can come home with some truly unique items that can transform your look.
Eye-ware
Your glasses are one part of your outfit that will stay relatively consistent but will still add a huge amount to what you are wearing. If you're feeling particularly brave, you may even want to try a look that is as quirky as Miraflex glasses, which are ideal if you love experimenting with pastel colors. Let your eye-ware speak volumes for your personality and style.
If you don't need a prescription, then you can still play around with glasses. If the idea of wearing glasses without a prescription makes you a bit squeamish then consider that many people wear glasses purely for anti-glare purposes. Computers radiate blue light which gives our brains the signal to stay awake: not helpful when we're scrolling through our phones at night. Getting anti-blue-light glasses that have function and fashion on their side is the perfect way for experimenting with putting frames on your face.
Sunglasses are also a fashion staple that shouldn't be forgotten about. For many of us, our sunglasses lay forgotten in our drawers until the summer months come around again. However, bright and crisp winter days require eye protection, and a fine pair of sunglasses can really be the cherry on the top of a great outfit.
Find effortless staples
Switching up your wardrobe doesn't have to involve adding wild and wacky items that wouldn't usually be in your repertoire. In fact, you are far better off finding strong staples that you will come back to time and time again because you look great in them. For example, opting for a stripy crew neck top, or a black vest that can be paired with just about anything and still look great will do far more for your closet. When you have absolutely nothing to wear or your washing basket is full, you want items that you can grab at a moment's notice and feel great in.
A good way to find staple pieces for your outfit choices is to find a color that you know you look great in. You will know if you look great in a particular color as it will make your skin tone glow, or potentially enhance your eye-color. Choosing items in this color will also help you to cultivate a signature look.
Leave your comfort zone
Your need for an outfit switch-up might come from being bored with your current wardrobe staples. We all have a comfort zone and particular outfits that we're reluctant to stray from. It might feel particularly risky to break away from jeans and a jumper, a tea dress or a pencil skirt at work, for example. The best way to leave your comfort zone is to go shopping with friends and try on as many options as possible. Going with a friend provides an objective point of view when you are hunting for new items to wear. Make the most of dressing rooms and cycle through as many combinations as you can: you might just surprise yourself with what you can pull off.
Tip: pick out one outfit choice that scares you a little. If you try it on and hate it, there are no consequences; just put it back on the rail.
If you pick out a new style and are a little bit intimidated by the thought of wearing it, just fake it until you make it. You will be surprised by how little passers-by think about what we wear or what we look like. Just a simple trip out into town will confirm that the world is not focussed on what we're wearing or what we're doing. Get out there and wear your new style with pride until it feels far less intimidating.
The best way, realistically, to switch-up your outfit choices for the new year is to be brave and be bold – but not be wasteful. While many television shows upgrade their participant's wardrobes by clearing it out and starting from scratch, we can't all afford to do this. Some of us will need to work with what we already have and work on top of it. Adding pops of color, unique vintage items and adding key accents to our outfit are all great for cultivating a new outfit for the new year.