It doesn't matter whether you've known your groomsmen for 10 months, 10 years or your entire life: getting them a cool and thoughtful groomsmen gift will always be a challenging task. Because let's face it—guys are generally hard to shop for. When we truly want something, we just go buy it for ourselves. Plus, our wants and needs tend to change as we get older. Sure, that engraved flask you got in your early twenties was sort of cool, but by age 30, most of us have at least three of the things collecting dust in our bedroom drawer.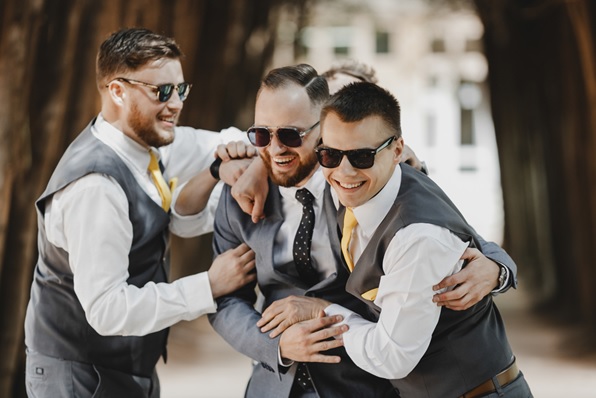 Frankly, the special guys in your life deserve much better than a generic flask or a boring set of cufflinks. If you want to blow their minds with your thoughtfulness, here are a few groomsmen gift ideas that they'll actually be excited to receive.
Tickets to a Sports Game—What do you possibly get a bunch of groomsmen who seemingly have everything they could possibly want? Answer: a fun experience. Skip the whiskey stones and beer mugs—they probably own multiple sets at this point—and splurge on tickets to a sports game instead. You can schedule it before your big day as a pre-wedding activity or treat them after all the wedding craziness is over and done with. Either way, they'll jump at the opportunity to kick back and relax with you while cheering on their favorite team.
Some Cool Shave Products—For a simple, yet practical groomsmen gift idea, why not give your groomsmen some

quality shaving products

? Think about it: pretty much every guy needs to shave. Even your full-bearded friends use a razor to tidy up their neckline and cheek lines regularly. Do yourself a favor by skipping the gimmicky shave kits that you can find on any traditional groomsmen gift website. They won't impress your groomsmen at all anyway. Instead, look for a company that specializes in men's grooming products. You'll find higher quality products that your boys will actually want to use on the daily.
A Steak Dinner—If your groomsmen are like most guys, they'd no doubt love being treated to a fancy steak dinner at a nice restaurant. Don't have the money to dine out? Skip the five-star restaurant and grill some steaks at home instead. The guys will surely appreciate the gesture, regardless of the setting. Heck, they may even prefer eating steak in your cozy abode where they can watch the game and just be themselves—even if it means having your drool-y dog watching their every bite.
Custom Sneakers—Throwing a casual wedding? Gift your groomsmen with a cool pair of kicks (think: Converse or Vans) that they can wear both at the wedding and long after. To make them more exciting—and save some confusion on the big day—consider customizing the shoes with their name or initials in an inconspicuous spot, like the tongue of the shoe. You could also throw in a pair of funny socks that remind you of each individual groomsmen. They'll love the small personalized touch you added to your already-cool groomsmen gift!
A Great-Smelling Cologne—In all honesty, the best groomsmen gift ideas are usually things that guys wouldn't think to buy themselves. That's why a musk cologne makes for a great groomsmen gift. Despite being the hallmark of a stylish gentleman, it's often overlooked by even the most well-groomed guys. Not to mention, it can be a reasonably-priced gift. You can easily find a high-quality cologne for under $100 that will make your groomsmen smell as dapper as they look on your wedding day. While you're at it, go ahead and pick one up for yourself.
Leather Dopp Kit—Taking your best buddies along for a destination wedding? Give them an attractive leather Dopp kit to help them travel with all their essentials. This traditional groomsmen gift is stylish, practical and thoughtful. Basically, it's a home run in the men's gift-giving department. Add a personalized touch to it by having their initials stitched into the leather. Or just fill it with items they'll need for the big day, such as mouthwash or a stick of deodorant.
Pay for Their Suit Rental—If you can afford it, covering the cost of your groomsmen's suit rentals is super generous and will definitely be appreciated by your buds. Sure, it may seem like an impersonal gift, but

being a groomsman is surprisingly expensive

. By covering the cost of their suit, you could be giving the less financially-stable groomsmen the best gift of all: less money-related stress. Plus, this gives you the perfect excuse to strive for a more unique look. Feel like dressing your groomsmen in burgundy-colored suits? Go for it. If you're the one buying them, your groomsmen probably aren't going to care how much use they'll get out of them after the wedding.
A Subscription-Based Gift—Want your groomsmen to love you even more than they already do? Give them a gift that keeps on giving: a subscription box. If all of your groomsmen love a good cocktail, sign them up for a cocktail subscription box for three months, six months or a year. Do you have a small number of groomsmen? You could find a cool subscription box for each one based on their unique interests. It may involve a little more work on your part, but c'mon—they're worth it.
Final Thoughts
If you're stressing over what to get your groomsmen, remember this: it's your big day. In all honesty, your friends will be happy to celebrate with you. As long as it's clear that you put some thought behind your groomsmen gifts, your best guys are sure to be pleased with whatever you give them.