Hello ladies! Are you ready for some super useful hair tips and tricks? Stay tuned, because in the gallery below we have presented you with some hair tips and tricks that will solve all your hair problems forever. Most of them will teach you how to try on alternative ways of curling your hair instead of using a heating curler.  Some will teach you how to properly use the Bobby pins or how to DIY a dry shampoo at home. We are sure you will love them all. Scroll down the page and enjoy!
1. A Quick Fix: How to Make DIY Dry Shampoo
There is definitely no woman that has not heard those hair tips and tricks for grassy hair that include the use of dry shampoo. Well, it has been proven that dry shampoo really works with oily hair. You can go to the store and buy it, or you can DIY it. Here is one of the easiest DIY dry shampoo recipes ever.
The ingredients:
6-10 drops of essential oil, lavender, or lemon
2 Tbsp. corn starch
2 Tbsp. rice flour
2 Tbsp. arrowroot powder
Directions:
Add all the dry ingredients to a mixing container. Combine them well. Then drop in the essential oil and mix thoroughly. Take a funnel and flow the resulting mixture into a spray bottle. Finally, add enough water to allow the formula to spray out easily. However, be careful not to add too much water because you can get a mixture that is watered down. Apply dry shampoo to the roots on the scalp. Massage the mixture into the hair.
2. How-to: trim split ends at the home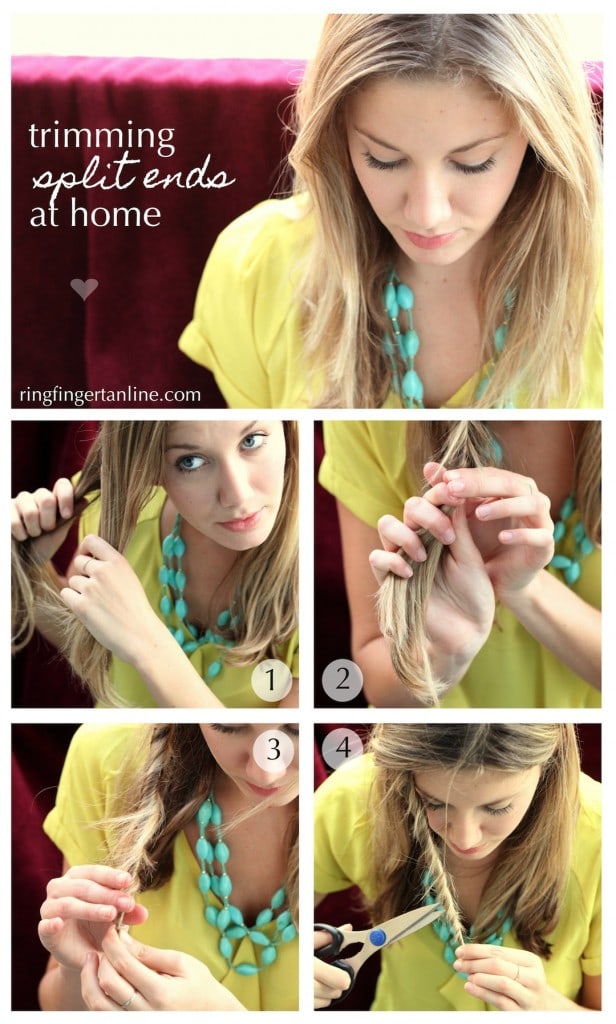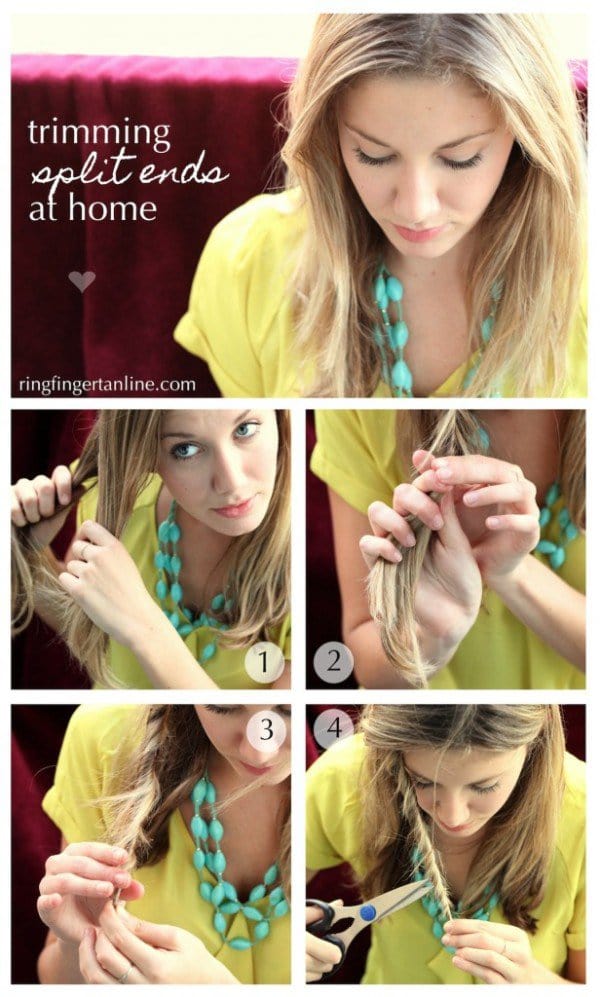 source
3. Here's an incredibly fast, polished topknot you can do in your car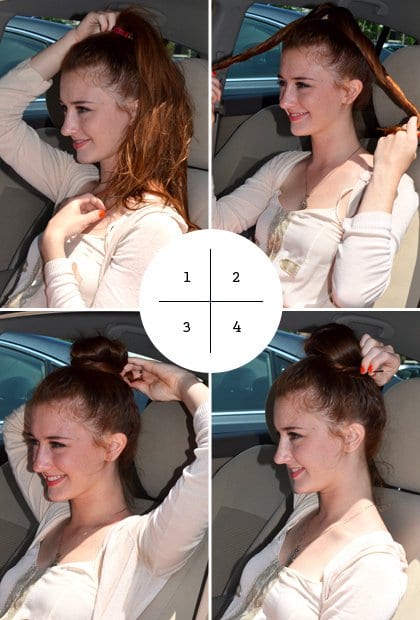 source
4. How To Properly Wear a Bobby Pin
Most of us have been putting in Bobby pins wring our whole lives. Yes, you may be surprised but there is a wrong and right way of wearing a Bobby pin. One of our hair tips and tricks includes showing you the right way of inserting a Bobby pin in your hair. If you were putting your Bobby pins with the grooved side up, then you are one of the majority that was doing it the wrong way. Instead, you need to insert it with the grooved side down. the grooves are intended to help the Bobby pin stay in place, so having them face outward is not as effective as they are meant to be.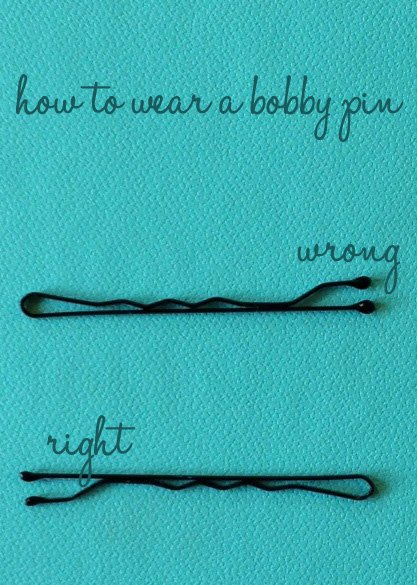 source
5. If all you need is a little bit of extra volume, scrunch your hair with beach spray or gel and use a diffuser
 source
6. How To: Curl Your Hair with a Straightener

 source
7. Use a toothbrush to get rid of annoying frizzies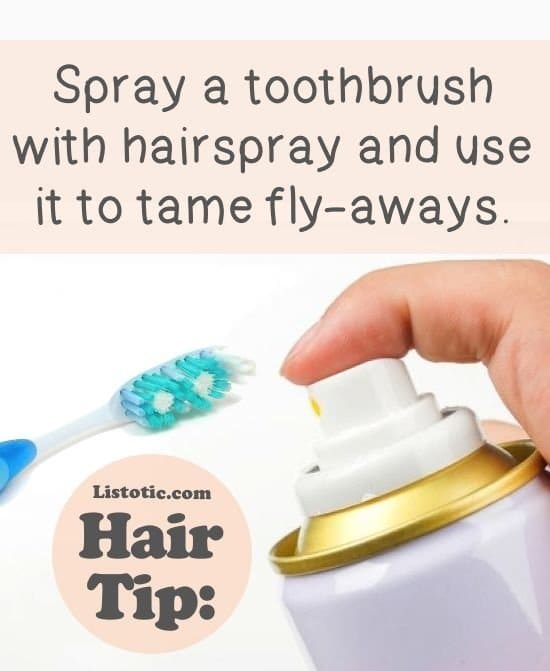 source
8. How to properly clean your hairbrush
Here are some hair tips and tricks on how to properly clean your hairbrush. A clean hairbrush is a must-have for clean and well-carried hair. So, here is what to do to keep your hairbrush clean all the time:
Grab your brush that is gathered with a visible amount of hair.
Then, grab a pen or pencil and slide it under the hair in the brush. Now pull up until the hair starts to loosen.
Next, go in with your scissors and cut straight down the middle as presented in the picture below.
Peel the hair open and remove it. If there are still some tight spots, then you can repeat the same procedure with the pen or pencil from step two.
Voila, your hairbrush is now completely clean.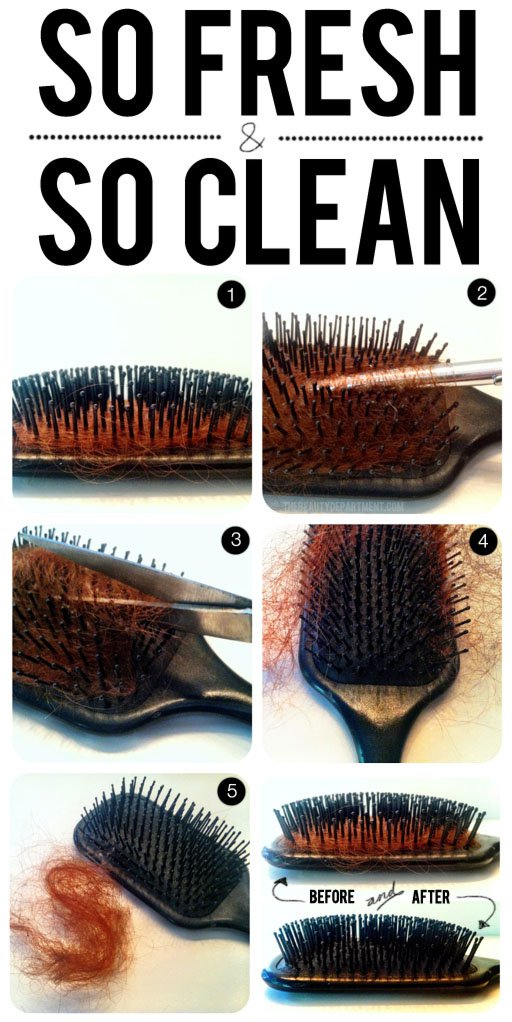 source
9. How to style a lob or a bob
10. Cotton candy bun and thin gold headband

 source
11. The hair flip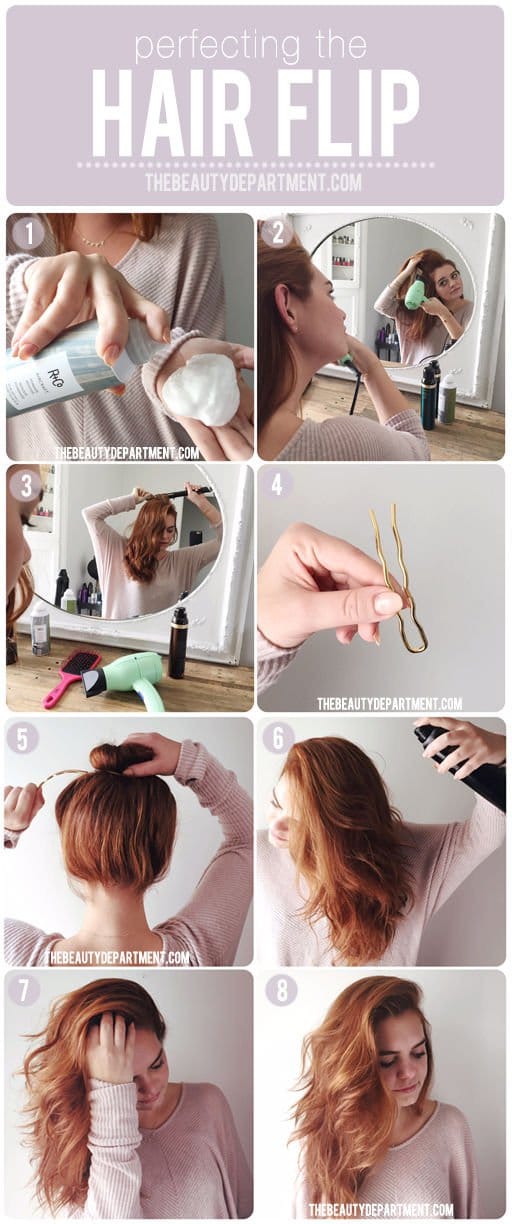 source
12. Tutorial: How to Tease Your Hair

 source
13.No Curler, No Worries! Braid Waves To The Rescue!
Curled hair is the dream of most women. But, let's admit it, the curler heat can permanently damage your hair. That is why we have shared with you some hair tips and tricks on how to avoid using the curler, but do get the so-loved curls. Here is how to do it:
Start with damp hair. Dampen the bottom two third of your hair and leave the roots dry.
Apply a heat-protecting serum through the bottom two-thirds of the hair. Brush through the hair to distribute the serum. This is so important because in order to get the best braids ever you need to prepare your hair to be smooth enough.
Section your hair into 5 to 10 sections. Start breading each of them into a loose braid.
Extra tip: the smaller the braid, the tighter the waves, and the larger the braid, the looser the wave!
Once you have all your sections braided, use a blow dryer to add heat to the braids until they get completely dry.
Once the braids have cooled, begin to carefully undo each one. Do not brush or comb through waves because otherwise, you will deconstruct them.
Finally, spritz hair spray. Voila, your curly hairstyle is done!

 source