The focus of wedding fashion usually falls on the bride with concerns of finding the perfect dress and the like, but the groom standing in front of all of his friends and family ready to declare his love for a lifetime should also be dressed to impress. Whether you're a productive groom-to-be looking for the right suit for the most important day of your life, or you're his betrothed wanting to make sure he looks his best, these groom style trends will make sure your wedding day is a fashion-forward affair that will definitely make an impression on happy guests.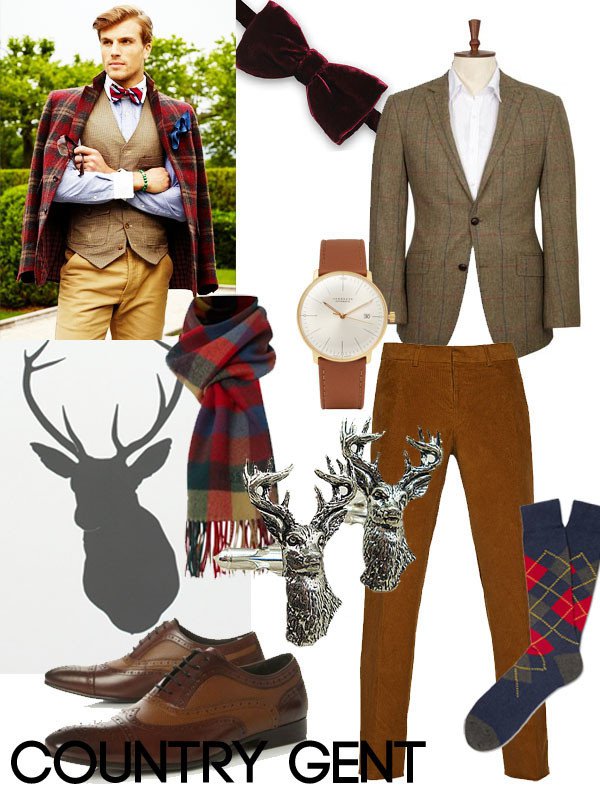 source
Skip the Black Tux
It used to be that black was the be all and end all, but daring grooms across the globe have shirked tradition and become a bit more vibrant with their suit selection. Leave the grey, blue, and black behind and choose a different hue for your wedding day. This year's color trends are lending themselves to brown and burgundy to encompass that all too enticing rustic feel.
If you want to stick to a classic color but give it a twist, consider blue. While traditional, men are opting away from the common navy hues and trying on brighter versions for an eye-catching display of James Bond-esque fashion savvy. When selecting the color of your wedding suit or tux, keep the season in mind. Darker colors lend themselves to cooler months, while light beiges and bright greys are a better color choice for summer nuptials.
A Little Mix and Match
With modern men becoming more daring in their personal styles, this year's wedding aisles are bound to see a bit more mixing and matching. From different color schemes to the varied use of patterns, you can find a multitude of ways to put a bit more personality into a groom's suit or tux choice. Many are electing to don three-piece suits with each piece using a complementary color to combine in a kaleidoscope effect that screams high fashion.
Pattern Power
It might seem surprising, but patterns are on their way back in, and if you're a daring dude, a patterned suit might just be the way to go for your nuptials. From flowers to paisley design, the elegant curvature emblazoned on a patterned jacket will fit any elegant wedding affair. If a patterned jacket is a little too loud for your personal style, consider striped pants, a patterned cummerbund, or designer pocket square to add a bit of depth and personality to your outfit. Want some eclectic suits? Check out OppoSuits and find something sure to draw the eye.
A Pop of Color
If you do decide to pick a traditional color, who's to say you can't add a pop of accent in with your accessories? From bowties and ties to handkerchiefs, men can add color to their suits through a variety of ways. You can even decide on some loudly colored suspenders for a pop of color that only shows up when the jacket comes off and it's time to dance at the reception.
The Men Standing By Your Side
While the groom's appearance should be the focus, don't forget about the men standing by his side. Have the groom stand out by selecting complementary suit colors, and allow them some flexibility when it comes to the clothing accessories. Some may elect to don bow ties, others the regular tie, and still others might choose to rock suspenders. Allowing for a bit of personality in your groomsmen is sure to make the look more interesting and memorable.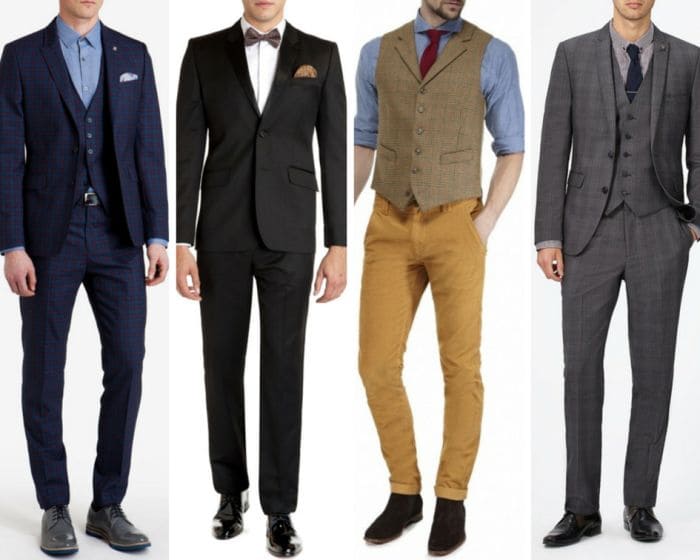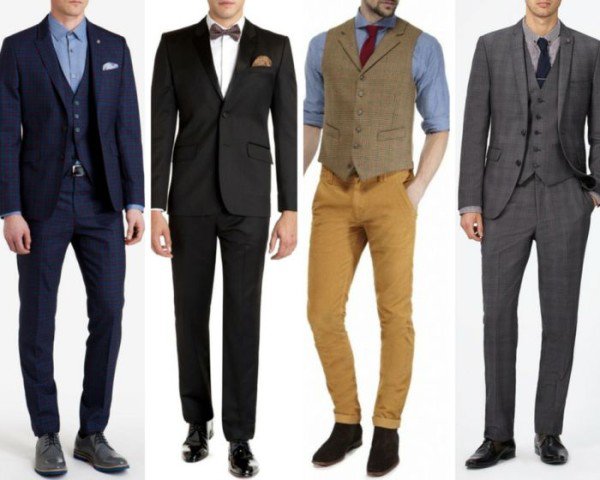 source
Men's Accessories
Don't overlook accessories, as the little touches are what pulls the look all together. Keep it modern and suave with practical accessories from Touch of Modern that he can use on his wedding day and beyond. From watches to pocket squares, adding bits of flair can dress up any suit and help the groom follow the wedding color theme. Make sure to include a refined watch; this is the classic accessory every man should wear every special occasion, if not only on his wedding day.
Once you've got the venue picked, the catering ordered, and the flowers on their way, make sure the groom is feeling his most dapper with these essential 2016 groom styles for a debonair look the happy couple will always remember.