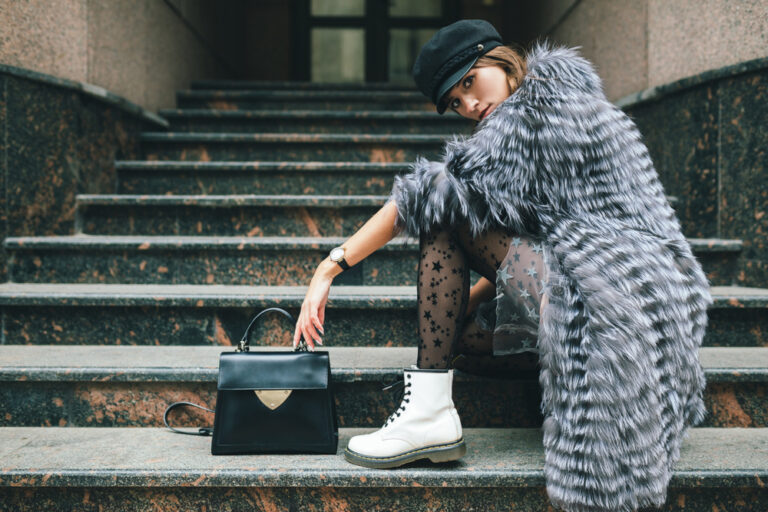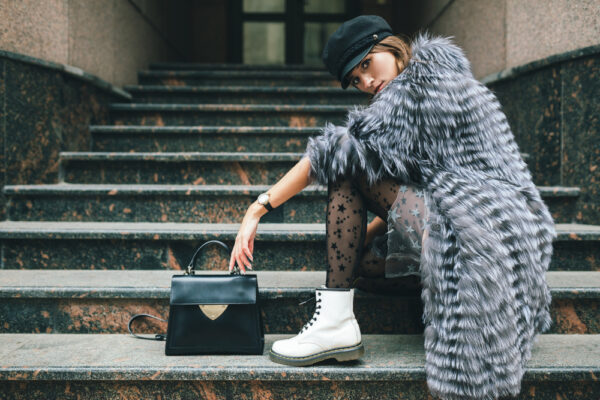 Source: Maria Markevich/Shutterstock.com
When it comes to the wintertime, there's nothing better than putting together cold-weather looks that turn up the heat! If you've been looking for the right time to add some practical yet super cool pieces to your winter wardrobe, there are so many emerging trends to have fun with this season.
From head-to-toe neutrals to trendy jackets in bold colors, here are some cold-season fashion ins for 2020, and tips for how to make them work for you.
Head-to-Toe Earth Tones
There's something so refreshing about cozying up in warm earth tones and creamy neutrals when the temperatures are cold and frosty. Head-to-toe outfits in brown, taupe, sand and buff colors all made appearances on the runways for 2020, creating comforting vibes that we could all use during quarantine and beyond!
How to make it work: The key to making head-to-toe earth tones feel fresh is to get playful with layers and texture. A cozy cardigan in taupe plays nicely with rich brown faux leather pants just as cute ponchos in a buff shade layer nicely over crisp khakis. You can even get creative with mixing and matching printed pieces. So long as the color palette is consistent, you've mastered this look.
Patchwork Accents
Patchwork is a '70s-inspired theme seen on many a runway this season, but modern upgrades have brought it into the 21st century. Monochromatic patches on skirts and slip dresses offer visual interest without being overly distracting or reminiscent of the quilts your grandmother used to make for you.
How to make it work: Sometimes, patchwork can feel a little bit too DIY, but by focusing on color-blocking and keeping prints in the same color family, you can create looks that are chic without any of the shabbiness.
Chain Necklaces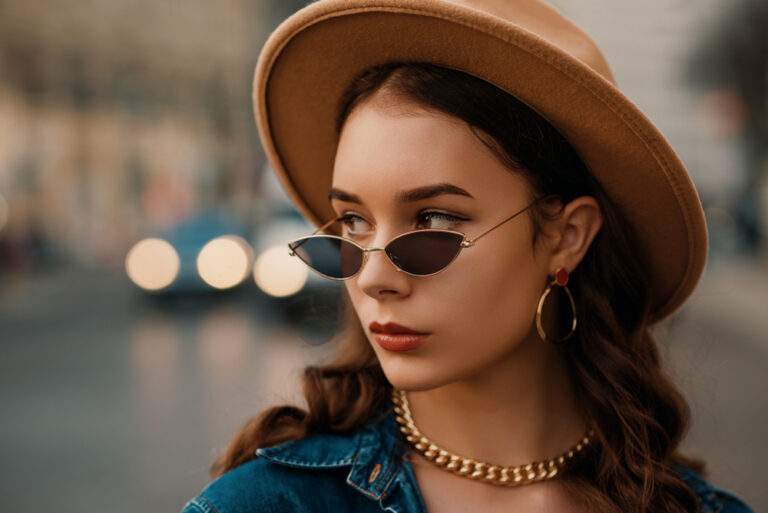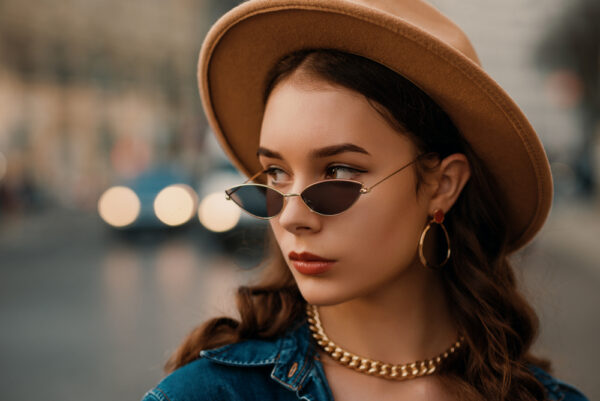 Source: Victoria Chudinova/Shutterstock.com
Chain necklaces are unique because they are sophisticated but still have a bit of an edge to them. You can style chain necklaces in endless ways, whether that's by adding a hint of rocker vibes to a simple sheath or dressed down with a printed T-shirt and combat boots.
How to make it work: You don't need to break the bank by investing in solid gold or platinum chains to create a version of this look that's still on trend. Plated styles work just as nicely! Since delicate chain necklaces are naturally a bit understated, you can layer them with other necklaces or even wear them with a pair of hoop earrings without teetering towards "too much."
Bright, Bold Jackets
Unless you're somewhere tropical, you can't really get through the winter without a coat that keeps you warm. Thankfully, bold colors make for trendy jackets this season so you don't have to sacrifice fashion for function. Faux fur or puffy jackets in punchy peach, powder blue or even emerald green stand out against the snow.
How to make it work: If you're headed to an outdoor activity like ice skating or fireside cocoa, let your jacket be the focal point of your look by keeping the rest of your outfit simple. Black jeans, basic booties and neutral accessories direct attention to your statement piece.
Teal and Tan
Teal blue and tan has long been a popular color pairing in home decor but recently made an unexpected appearance on the fashion scene. These two colors offer a richness to the frost of winter, and will transition really well into the warmer months come spring.
How to make it work: Whether you work a pop of teal into your outfit with a belt or pair of earrings, or find a print that combines these hues, you can easily work this approachable trend into your closet without worrying about the investment.
Elevated Puff Sleeves
Big, voluminous puff sleeves have been en vogue for the past few seasons, and it looks like they'll be sticking around for at least a little while longer. You can find puff sleeves on just about anything, from flowing dresses to chunky knits. They instantly add just the right amount of dramatic flair with their exaggerated silhouettes.
How to make it work: To avoid dipping into '80s territory, steer clear of overly glossy fabrics and ultra bright colors. Crisp white or black look super chic, as do delicate patterns and gauzy material.
Long, Swingy Fringe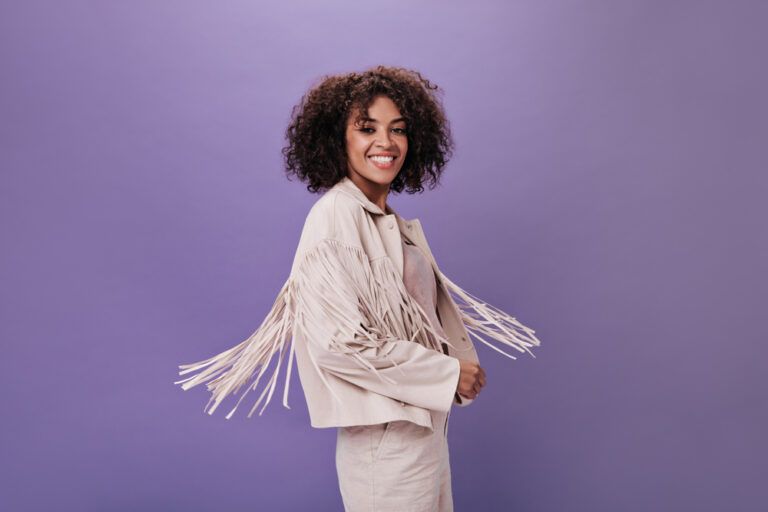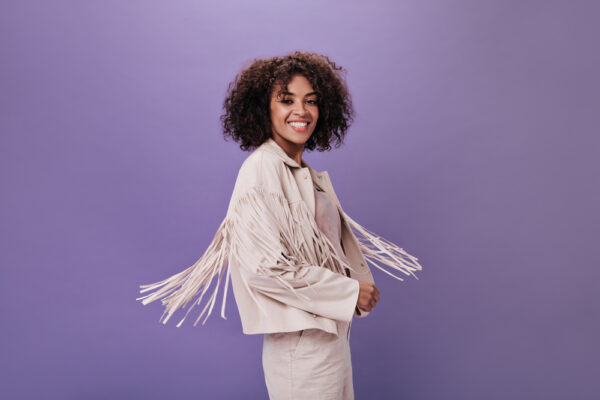 Source: Look Studio/Shutterstock.com
Fringe made a big splash in the fashion world for fall and winter 2020, and while some people like to go full Wild West with this detail, the fact that it's been found on even the most elevated haute couture means you can really make this work no matter your own unique style.
How to make it work: Wearing boots and a cowboy hat might be a bit too costumey for some flouncy fringe, but there are ways to work the swingy style into your everyday wardrobe. Try it out on a midi skirt or as adornment on some cute ponchos or handbags.
Winter White
Winter white comes back year after year because it's a fresh look that feels like a forever classic. Whether it's a head-to-toe ensemble or just a dusting of the snowy shade by way of an accessory, this is a trend worth returning to.
How to make it work: As with any monochromatic outfit, mix up textures–knits with lace, bouclé with silk–to keep all eyes on you. Jumpsuits also continue to be a major trend this year and are the perfect way to rock white when the weather's cold.
Style That's Snow Joke
Thanks to so many cool new trends to rock this winter, there are tons of ways to show off your style. Whether you're trying something bold you never considered before or reimagining a classic look, cold-season fashion can be snow much fun!