Yesterday, you took a close look at your closet and dresser drawers to assess your fashion situation. Unfortunately, instead of feeling excited about your clothing and accessories, you walked away with an overwhelming sense of "meh."
Here's the good news: you don't have to accept your less-than-thrilling wardrobe. As your budget allows, add new items that will help you to look trendy and feel your best.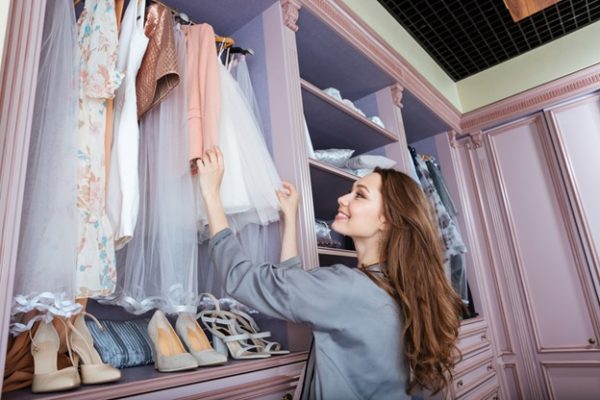 With this in mind, the following must-have and essential pieces will elevate your closet from boring to "wow!"
1. Fun and Sexy Underwear
Yes, you've been wearing practical all-cotton undies for as long as you can remember. But nothing will rev up a wardrobe quicker than some garters and other lingerie that's fun, colorful and sexy as all get out. For instance, Yandy offers a great selection of garters and more in a variety of styles and colors that will add some much-needed zing to your wardrobe — all at prices that won't break the bank.
2. A Stylish Tote
Vogue has listed a carryall tote bag as one of the "basic clothing closet essentials" everyone should have ⁠— and for good reason. Now, we're not talking about some canvas tote that you got free with purchase at the mall. Instead, go for a tote bag that combines high style with function.
For instance, the shamrock green zip-top tote from Coach Outlet features interior pockets for your cell phone and other items, as well as plenty of room for everything else you need to take with you to work or to run errands. The gorgeous color will complement outfits from any season, from a floral sundress in spring to a winter holiday outfit of green and black.
3. Blue Denim Jeans
If you've been staying home more than ever these days, you might feel like your sweatpants and an oversized T-shirt are your new uniform. But according to Glamour, blue denim will never go out of style, and a great-looking selection of jeans deserves a key spot in your closet.
For instance, the easy jean with a slouchy, high-waisted straight leg will look equally stylish paired with tennis shoes and a cotton T-shirt or low pumps and a silk blouse. If you prefer relaxed fit jeans, Lee offers a great selection that looks great on while being a bit more forgiving in the fit. No matter which type you prefer, you can't go wrong with at least a couple pairs of jeans in your fashion arsenal.
4. A Blazer
When it comes to a figurative workhorse of your wardrobe, a blazer wins this title hands down. On those days when it's kind of chilly but you don't want to wear a bulky parka, your blazer will keep you warm while helping you to look incredibly chic. If you want to up the fashionable ante on your dress pants and blouse look for the office, a blazer is a perfect addition. For color, you can't go wrong with basic black or a deep navy; if your budget allows, you can also spring for additional blazers in more eye-catching colors like scarlet, Kelly green or royal blue.
Liven Up Your Wardrobe, One Piece at a Time
Of course, if you like your current selection of clothing and accessories, you don't have to donate or toss anything. But if you want to take what you already own and liven up your look, you can't go wrong with any of the above selections. From a sexy garter that you wear under your work clothes to stylish jeans, a fashionable blazer and beautiful tote, these suggestions will help transform your wardrobe to one that's both exciting and fun.