Many at times, bridesmaids dread what they will have to wear on the wedding day. This happens because most of the time, they do not feel comfortable in the designs, length, and even color. Most people do not wear their bridesmaid's dresses again after the wedding day. The good news is that times have changed, and the days where all bridesmaids had to wear on the same color are gone. The rigid rules have become better with time, giving the bridesmaids more say on what they would prefer, but still following the wedding guidelines. Below are some of the rules to follow when dressing your bridesmaids.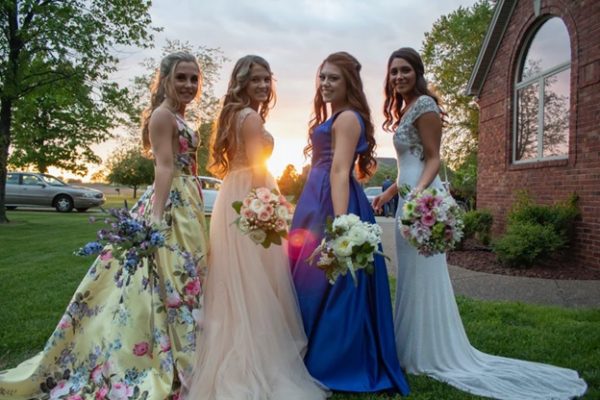 Length Does Not Matter.
The days where the bride had to pick specific length measurements for the bridesmaids' dresses are long gone. These days, the ladies can wear dresses of any length, according to their preference. This gives them the right to choose what works for them. However, the bride's gown has to be the longest among everyone else.
Let Them Shine.
Do not limit all the sparkle to yourself when your bridesmaids could use a little of that. Go all out on them! You can use sequins, studs, and even beads to add some sparkle and texture to their outfits. However, avoid being too flashy by ensuring that the dresses are simple, and no major jewelry is used.
Lace Is The In-Thing.
Over the years, lace was traditionally reserved for the bride, but this is no longer the case. Your entourage does not need to be understated while they can wear lace. You can have the bridesmaids go for a lacey flowery look to give the bridal train a dreamy look. You can also use bold tones as they are quite noticeable in the outdoors.
Colour Check.
Your bridesmaids do not have to all wear the same color, but they should be in the same color group. These colors can be different, but they should complement each other, and be in the same family. A trick to use is to look at the traditional color wheel and choose colors adjacent to each other. The ones that are opposite each other will clash; therefore, it is best to avoid them.
Incorporate Mixed Fabrics.
Why should you settle for one material when there are so many other options out there? When it comes to fabrics, as long as all the bridesmaids are wearing them in the same color family, they can mix them up. You can have them wear different fabrics, according to their taste, such as sleek silk and flowing tulle. They can also have some boho chiffon to add to their bohemian style. Let the bridesmaids have fun and choose what fabric they love. The more diverse the fabrics are, the more interesting the bridal train will look. It will make your wedding look unique, and give people something to talk about for days on end.
Play Around With Prints.
In many weddings, bridesmaids wore the same single hue from top to bottom. Luckily, times have changed, and you can now play around with prints if that is what you like. Please do not rule out prints since they may feel too loud for the wedding. Instead, you can try some floral patterns, as they will add a fantastic pop of color to your bridal train. There a lot of great options for bridesmaid dresses in NJ. These are also great as they will give the ladies an option of wearing them later on to another function, once the wedding is done. You can try on similar themed patterns for the bridesmaids, or stick to a palette of no more than three shades. This will prevent your lineup from looking chaotic as if there is too much going on.
When planning for what your bridesmaids will wear on your big day, it is crucial to remember that they are different and have different personalities and tastes. Therefore, ensure that you give them space to be themselves while ensuring that they abide by your vision for the day. The days of wearing boring outfits are long gone, so let them add their style and spark. However, remember that it is the day, and you are the star of the show; therefore, you should not wear the same style as that of your bridesmaids.