Cat Eye glasses became popular in the 1950s and 1960s.  Cat eye glasses were fashion icons of the past. Somehow, the style faded out over time, but as with all things that are too glamorous to leave in the past, cat eye glasses are making a big return in fashion.  Recently, these glasses gained popularity from the television series, Mad Men.
Wear Cat Eye Frames Boldly
Cat Eye glasses look good in bold colors; the darker the better for fair-skinned women, and brilliant white for those with darker complexions. Because cat eye glasses make a huge fashion statement, your cat eye frames shouldn't blend in with the wearer's skin and hair. The upward slant of cat eye frames contour the face upward shaving years off the appearance. Dark circles can be concealed by wearing cat eye frames, also helping wearers to appear youthful.
The best thing about sporting cat eye frames is the bold look of someone who can see everything.  Get the right prescription lenses to see everything clearly, and look around. That confident look with bold frames adds charisma to every situation.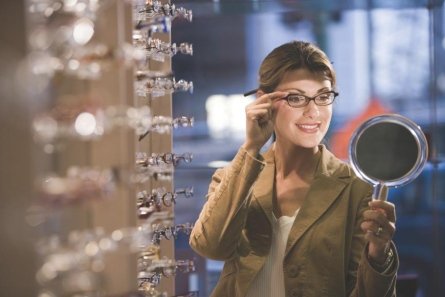 Pair Cat Eye Frames with Curves
Sweater dresses and cat eye glasses go well together, as well, reminiscent of the time when the glasses first debuted on the fashion scene.  The glasses are uncommon enough to draw attention upward, and a sweater dress hugs curves lightly enough to allow the wearer to look and feel sensual and sophisticated at the same time.
The smart sexy look is huge in 2015, so by adding cat eye glasses to an outfit of leggings and a breezy shirt, a summer dress, or any other curvaceous delight, a fashion win is virtually guaranteed.
Cat eye glasses are all about celebrating individuality; feeling good about who you are. It doesn't matter if the curves paired with the glasses are size 2 or size 22, rock those curves along with the glasses.
Crazy Materials and Textured Frames
For those who like to stay closer to the background but still have the most fashionable glasses in the building, nude colors in unusual materials like wood and leather are a trendy option.
Alligator skin, plastic, chrome, and even cat eye frames with sun-protective lenses are options to kick those glasses up a notch without drawing too much attention. In times past, more natural frames were called horn-rimmed glasses and were made of horns or tortoise shell, but now these are mostly made of plastic.
Mix and Match Styles and Glasses
For those who like to grab everything in the closet and wear it all at once, cat eye glasses are a perfect addition to the wardrobe.  These glasses can add the perfect quirky flair to make that ensemble look intentional.
Bulky coats with dark cat-eye sunglasses; business suits with slim-line cat eye reading glasses; it can all work. These glasses are coming back into style so strongly that just about anything will look fashionable if cat eye glasses are added to the outfit.
Guest post by :Liskula Cohen
Liskula Cohen is a Canadian-born former model who has worked in New York, Paris, Milan, Tokyo, and Sydney, among other cities. She is the founder and blog editor of Front Row Eyewear. Find Liskula on Twitter: @Liskula