It's nice to get married in a garden or barn with a rustic theme that goes well with it. However, you might have difficulty in wearing heels as it will sink on the ground. Flats can be another option, but if it's muddy, you'll end up soaking your feet wet. A great footwear to solve both these problems is a pair of cowboy boots on your wedding.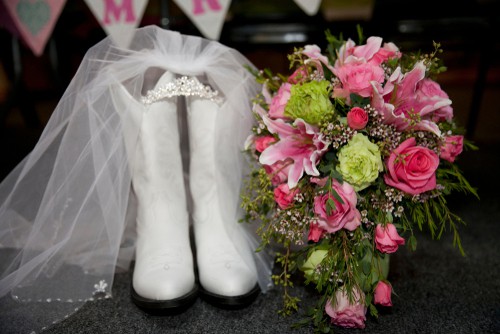 Cowboy boots are also great if you don't want your feet to suffer during the day's event from long hours or walking and standing because of entertaining guests, posing for the pictures and even walking down the aisle.
With a lot of designs and styles of cowboy boots, here are the best boots you can wear underneath your wedding gown:
Leather boots
The most common and most durable cowboy boots are made of leather. You can choose whether you'll go for white, brown or wine-colored boots, depending on your wedding motif. Choose soft leather material over the thick ones so you can move freely. Hard leather boots cause some movement restrictions on your feet. It can also give you blisters if it feels tight to wear. Tecovas produce high-quality leather boots that are very comfortable, which is perfect on your wedding day.
Here are some of the considerations on how to choose your boots:
White leather boots can work well with cool toned colors such as blue and green
Brown and wine-colored leather boots work well with red, orange and yellow.
You can even ask your bridesmaids to wear leather boots too. It will look great in the pictures. Although it's okay to wear other colors, it's always best to stick with the classic colors since it's still a formal event.
Suede boots
An excellent alternative for leather boots is suede boots. The overall look of suede is much softer compared to leather boots. If you want to wear a different color of boots on your big day, a good choice is to go for boots that are made of suede. Pink, blue, gray and even red suede boots look classy compared to its leather alternative.
More designs work well with suede material compared to its leather counterpart without looking overboard. If you're feeling extra, you can go for suede boots with metal embellishments and even stitched designs. Suede cowboy boots are perfect for your wedding since they are very comfortable to wear it's a soft fabric, however, make sure you prevent it from getting wet and stains since it's difficult to clean afterward.
Lace boots
If you still want to embrace your feminine and princess charm on your big day without the heels, you may want to opt to wear lace boots instead. It's sweet and sexy at the same time. Usually, lace boots have heels so make sure that it's not more than two inches in height and the heel itself resembles a platform to keep it sturdy and preventing it from sinking if you have an outdoor ceremony.
You can wear stockings under your lace boots to avoid the friction on your skin as lace boots may be itchy when you use it. Don't go too much on the design when choosing your lace boots. Especially if your wedding gown is mostly made up of lace, you might want to tone it down on your shoes.
Wedge boots
If you want to add a bit of height without the suffering, you can choose to wear wedge boots. They are a great pair that will give you both comfort and confidence boost. Make sure you try it on first and decide on how many inches of the heels you can tolerate for long hours, without changing to flats. One to two inches will be the ideal height for most brides. For added comfort, you can also stick some cushion gels inside the boots, so you don't have to worry about aching feet during the entire wedding day.
Military or combat boots
If you're a non-traditional bride with a chic rocker personality, then combat boots will be the best option for you. The guys love it as much as you do. Pair it up with a light silhouette, flowy wedding gown with a high slit to make it stand out from the customary wedding styles. Put on a flower crown to balance out the strong effect of your boots.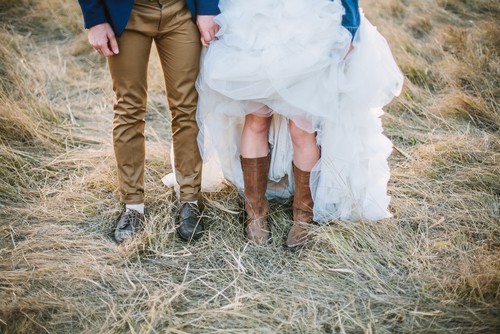 Final thoughts:
Your wedding day should be one of the best moments of your life. As a bride, you have to look your best, enjoy and be carefree during the entire event. If you don't want to worry about aching feet because of wearing heels underneath your wedding gown, cowboy boots are a great alternative. You have to choose the type of cowboy boots that will fit your personality and your wedding look as well.