Are you looking forward to a brand new fresh beginning of the upcoming season? Are you excited about combining some stunning fall looks with some interesting fall essentials that you can't wait to wear?
Well, the official end of summer is just in a couple of days, so you can slowly begin the make an inventory of the things that you already have and things you need to buy. There are a few staple pieces that are really essential for a stylish look in every season, and in this article, I will share with you some of the essentials for fall.
Once you have them, you will need minimal effort to create some attention-grabbing, stylish and cozy outfits. You can even make sure that you have these fall wardrobe essentials 2020 pieces in more colors and designs, so your fashion looks won't get boring and monotonous. Don't miss the list below because it will help you make various outfits for different occasions.
Bold Sweaters
Weather is going to get harsh and as soon as you make that clear to you, you will be able to embrace it more easily (lots of people hate this season due to the transition from their favorite summer season). You are going to feel the chill in the air, so this is why you are going to need some cozy clothing pieces that will keep you warm. Sweaters should be first on your list because they go great with anything. It doesn't really matter whether you will choose wool, cashmere, a luxe, or a breathable one, you are bound to make some amazing outfits. You shouldn't miss the knitwear in fall and winter for nothing in this world. There isn't anything else that can beat this essential piece, so this is why it's first on my list.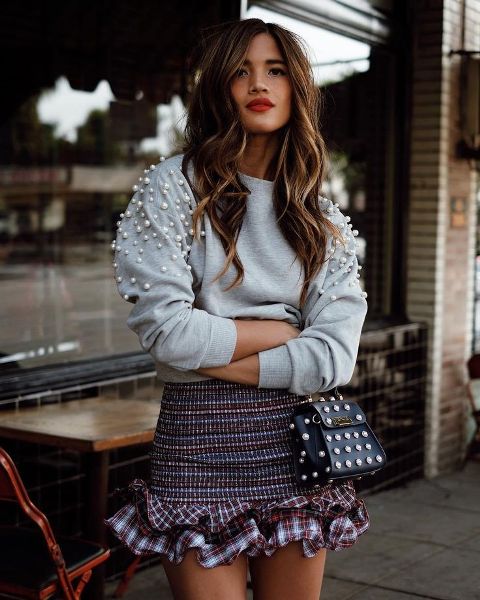 Booties
Yes, footwear is pretty important during this time of the year since it's going to be really cold and wet. It's going to rain pretty often, so it's of utmost importance that you get some booties that will keep your feet warm and dry. Plus, ankle boots look flattering for every body size and shape too. If you want to add a pop of color into your fall wardrobe, think about getting some fall-inspired ankle boots in pumpkin, blackberry, goldenrod, or burgundy tones. They may be just the exact thing that your wardrobe needs are a great way to make the fall palette more reach and eye-catching.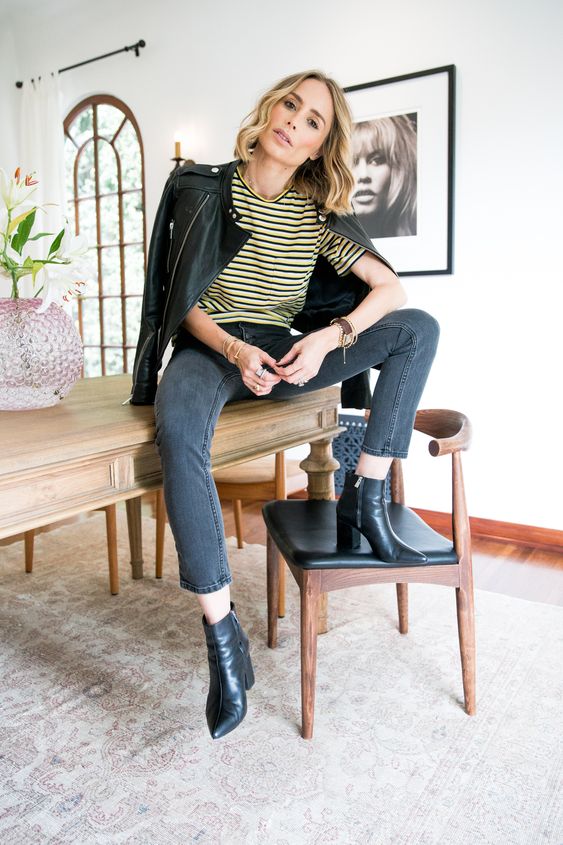 Leather Jacket
Not a single outfit can go without the all-time favorite leather jacket in fall. It's another one of the fall essentials clothing piece that your wardrobe needs because you can combine it with pretty much everything. This jacket has been around since forever and it isn't planning to go away anytime soon. The black one is a nice alternative for any occasion, but don't be afraid to experiment with other fall colors as well. You are going to love it too since you can just throw it over anything and look fabulous everywhere you go.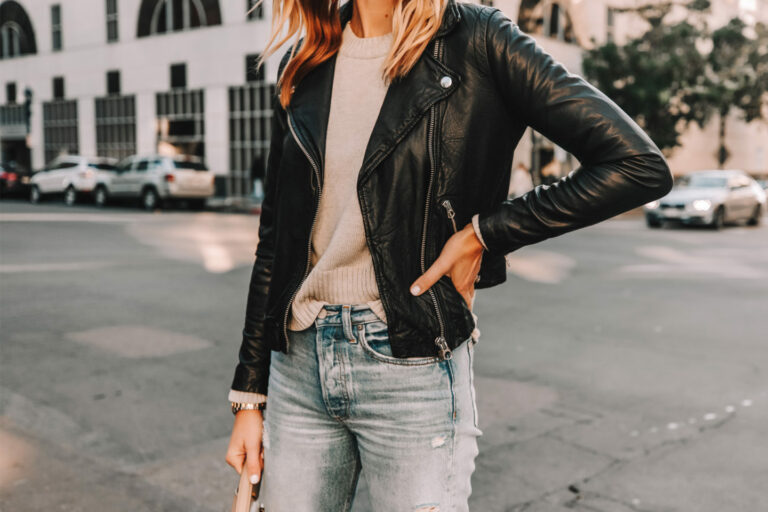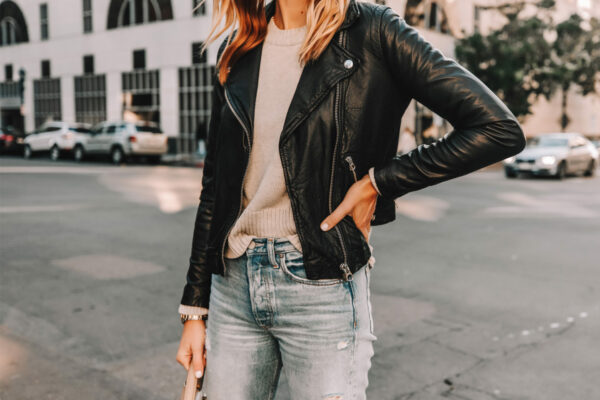 Dark Jeans
You would love to put the light-wash denim jeans at the back of your wardrobe and let them wait the spring season to come again. Now you will be happy to wear dark and black jeans for the next couple of months. Make sure you get a pair or two of some really comfortable jeans that fit you well and give you enough confidence to rock your fall looks. They can be quite versatile and you can wear them everywhere. They can make your business casual outfit, night-out look, or casual combination turn heads. Just make sure that you choose the right pieces suitable to the occasion!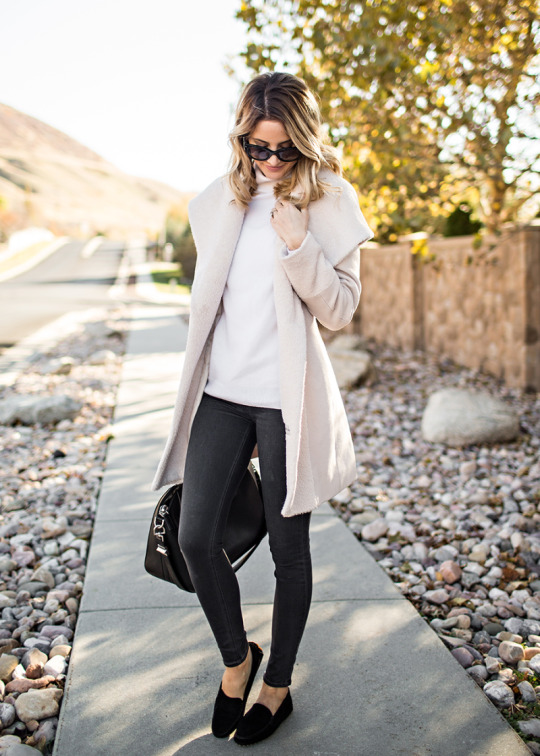 Monochromatic Cardigan
I love cardigans during the fall. I bet that it's your favorite layering pieces as well and you consider it to be one of the fall essentials too. When you are in doubt about what to put over your light shirt or blouse, just grab the cardigan and you are ready to go. Temperatures in fall can vary a lot, although mornings can be pretty chilly, afternoons got very hot. If you wear a cardigan you can easily put it on and off when you feel like it. Skip the patterned cardigans this time and go for the monochromatic ones. You will be surprised by the fact of how well they go with the rest of your clothes.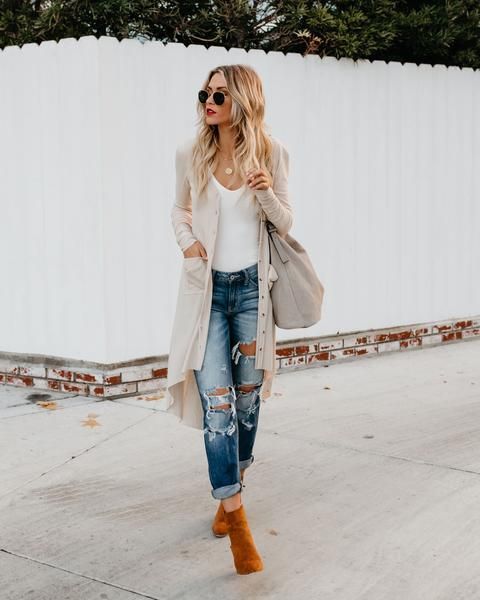 Closure
This is a list of 5 must-have fall essentials that your wardrobe needs when the leaves start to turn yellow and when the temperatures start to get crazy. They will make this season more enjoyable since the temperatures vary a lot, so they will definitely help you look and feel great in the crispy mornings, hot afternoons, and chilly nights.
Do you already have some of these lovely pieces in your wardrobe or you need to go shopping and update the fall essential pieces?