Hydrafacial is currently a well-known name in the world of skincare treatments. It stands as an important treatment for the thorough rejuvenation of your skin. It involves several sub-processes within its ambit that ensure the skin's suppleness.
Compared to other skincare procedures, hydrafacial has proved to be the most effective for those who have tried it out.
A range of skin concerns can be addressed through the holistic methods involved in a hydrafacial. At the heart of this beneficial process is its four-step method.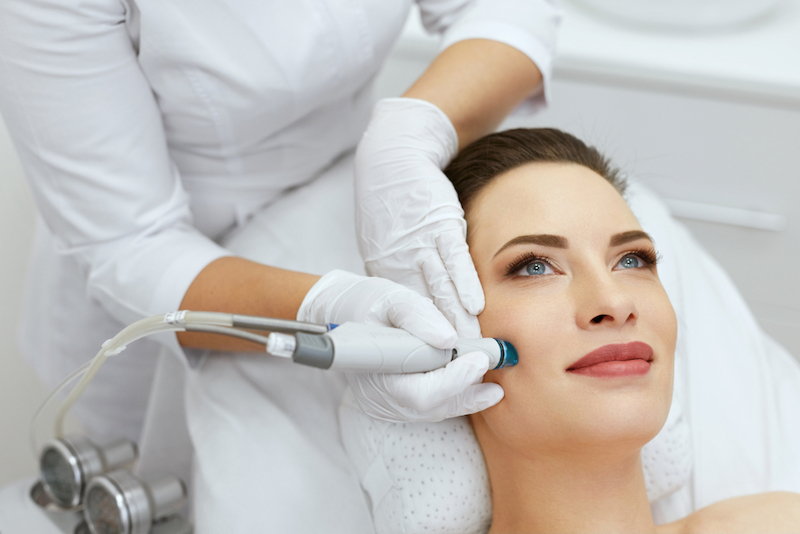 What Is Hydrafacial and What Does It Do?
Hydrafacial is a popular skincare procedure combining various sub-processes to give one better skin. It purifies the skin without any pain, which is much preferred in the world of cosmetic procedures.
It integrates processes like exfoliation, extraction, cleansing, hydration, and antioxidant infusion to deliver tangible results that are seen immediately and last for a reasonable amount of time.
Hydrafacial gives a competitive edge over almost all modern-day skincare treatments, which lack in one thing and excel in another. This procedure meets all the criteria for a safe, comfortable, and effective experience for your skin.
The field of skincare is a diverse one. The introduction of Hydrafacial  has helped many people achieve a refreshed skin state.
The reason this process can satisfy a large number of people is because of its ability to cleanse deep and rejuvenate without being invasive on the skin. There is no use of high-intensity needles and painful apparatus, just gentle tools and machines that cleanse the skin softly.
Through these simple but gentle tools, this method addresses various skin concerns like dryness, clogged pores, blackheads, whiteheads, impure skin, etc.
How Does Hydrafacial Work?
Hydrafacial follows a four-step routine to achieve the desired goals of the perfect skin. Professionals begin the first step by removing dead skin cells and impurities from the skin. It is made possible through deep cleansing.
The second step uses a light suction tool on the skin to extract clogging debris from the pores.
The third step is that of hydration. The performing professional now infuses nutrient-rich serums and peptides into your skin. It promotes the skin health and makes it more radiant than before.
The last step, which is the fourth one, involves the use of antioxidants on the skin. These are applied to the skin so that problems like dryness, clogged pores, acne, and others are kept at bay.
The multi-step approach adopted in a hydrafacial is not simply meant to free the skin of its impurities but also have it rich with various nutrients so it remains replenished for the longest time.
How Is Hydrafacial A Game Changer In Skincare?
Hydrafacial has emerged as a vital skincare procedure for better skin. Its benefits are diverse for everyone who goes through it. With the use of gentler tools and sub-processes that aim at bringing out the best in your skin, hydrafacial is a game changer in the world of skincare treatment.
Let us delve further into the various benefits of this uniquely satisfying method.
Immediate Results
Hydrafacial displays immediate results that you do not have to wait around for. You no longer need to await the promised radiance for weeks; the results are there as soon as you leave the clinic.
It is a significant benefit that makes this process stand out amongst others that provide results relatively later.
Pore Refinement
Hydrafacial removes debris like blackheads, whiteheads, and other impurities from your pores intensively. It is an effective method to close down the size of your pores.
With time, you see a prominent decrease in this size, and your pores are better refined than before.
Hydration Boost
Hydrafacials are nothing without the external hydration that they provide to your skin. The third stage of the process uses nutrient-rich serums and peptide infusion to ensure healthier, more radiant skin.
Hydrafacial, thus, effectively restores the moisture of the skin, as well as locks it in.
Acne Reduction
Hydrafacial begins by ridding the skin of impurities trapped on the surface or between the pores. This deep cleansing has a positive effect on your acne problems.
A cleaner skin automatically ensures skin that is less prone to acne.
Even Skin Tone
Hydrafacial's deep cleansing and skin suction is a wonderful way to ensure your skin is not unevenly pigmented anymore.
This process works great in situations when you have areas of uneven skin tone. The thorough cleansing helps in replacing the dead skin cells with newer ones.
Customizable Treatments
The treatment in hydrafacial can be customized to suit your individual needs. You may want more of one process, repetitions, additional processes, or something similar.
All of this is possible because hydrafacial is a highly customizable and flexible procedure that suits everyone's needs.
Non-invasive And Comfortable
Hydrafacial only uses gentle tools like suction, serums, and cleansers. It does not use painful tools that have highly intensive suction or needles attached to them.
It delivers fantastic results without causing any pain and is comfortable for the client throughout.
Suitability
With customizable prospects for everyone involved in the process, hydrafacial suits everyone with each skin type.
Everyone can benefit from its broad range of skin benefits, regardless of their skin type being acne-prone, oily, dry, or sensitive.
Collagen Simulation
Hydrafacial can boost collagen production in the skin, facilitating nutrient and antioxidant infusion into the skin. It enables the skin to be able to look youthful for much longer.
Long-lasting results
Last but not least, the tangible results of getting a hydrafacial are long-lasting in every sense. People who go through this applaud the procedure's ability to holistically cater to their skin concerns.
Conclusion
Hydrafacial technology has indubitably revolutionized skincare to a large extent. Its unique four-step technique works immediately on the skin to reveal reliable results.
It is, therefore, a holistic approach to achieving the desired outcomes in clearer, better skin. Not just this, since it is a customizable procedure, anyone can modify it to suit their skincare requirements.
Thus, with Hydrafacial, you can get your skin purified inside out without experiencing any irritation.