Are you ready to make a style statement? Bright, bold colors and patterns are on-trend for spring! It's time to return the heavy coats and muted colors to the closet. Vibrant hues and botanical florals are here to lift your mood and energize your wardrobe.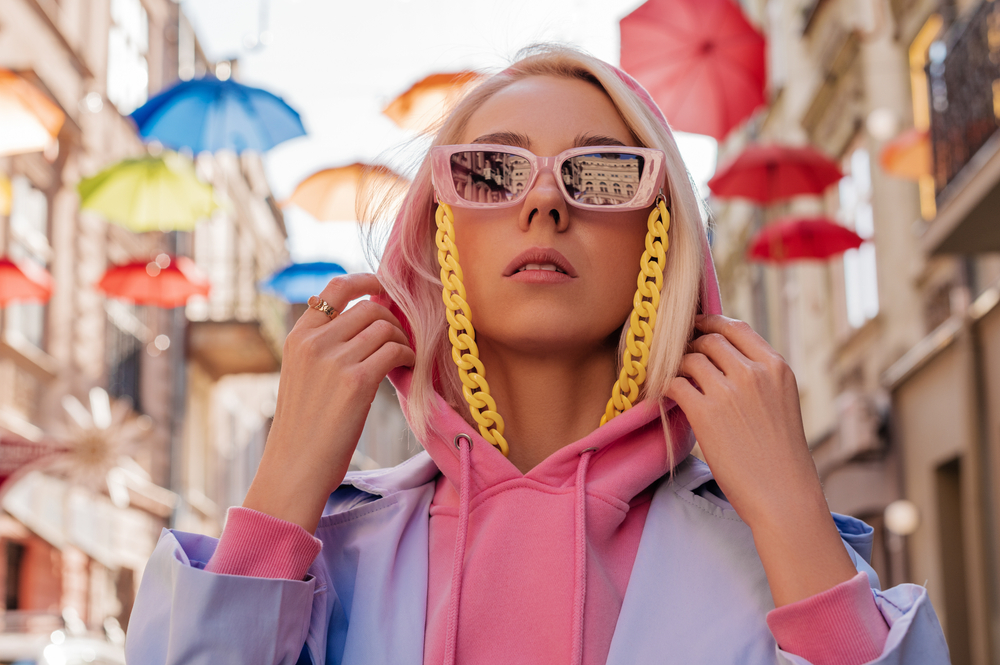 Source: Victoria Chudinova/Shutterstock.com
This spring, you'll discover an adventure with animal-inspired prints and brightly colored accessories with a colorful look and a dreamy feel. Let us help you find on-trend looks like clothing and statement pieces that showcase these colors and perfectly fit your spring style. From reading glasses to cute outfits, there is something for everyone! A few fashion updates will help you create a confident, spirited look that is perfect for sunshine and warmth.
1.Start with a Bold Accessory
If you're like many of our top fashionistas, you like to wear classic styles and neutral colors. Even the minimalist can add bold, on-trend designs to their wardrobe. Dip your toe into the world of bright hues and fun patterns with a stylish accessory that won't feel dramatic but will still enhance your ensemble. There are many ways to add new prints and colors, from footwear to eyewear.
We love a pair of juicy orange reading glasses for women or a shiny key lime green handbag. While they'll make your outfit pop, you won't create an awkward color clash. Instead, create the most flattering look by wearing a pair of denim jeans or a maxi jean skirt with a ribbed gray sweater or a silky white top.
Now, it's time to add your bright or bold accessory. If you're wearing a dress or stylish suit for work or a night on the town, combine it with a large pair of pink and gold earrings or a pair of lavender suede heels. While your piece will stand out, you can still wear the style essentials that make you feel confident and comfortable.
2.Add Brightly Colored Bottoms
When you choose an outfit from your closet, it's natural to start with a stylish blazer or a well-fitting top. A jacket or blouse will make you look more polished and professional this spring, especially in a vibrant and on-trend color. Stock up on chic tops but save some room for spring's hottest looks. This season is about brightly colored bottoms like flare pants and midi skirts.
Best-selling spring colors include cobalt blue and cherry red. A pair of pin-tucked, straight-leg trousers are fun and imaginative yet still look put-together enough for a day at the office. Are you ready to explore? Wear stretch flare pants to match with a white tee or floral top.
Bubblegum pink and tangerine orange trousers are everywhere in runways and spring wardrobes. We also like the look of light blue pants with gold accessories for a spring-ready, wear-everywhere feel. A pair of chunky polarized sunglasses with a matching vintage-inspired eco chain will take your look from ordinary to otherworldly. Some of our favorite colors are mint and white. Match with a pair of retro slides or loafers for an unforgettable spring ensemble you can wear at home or on the go.
3.Choose Daring Colors to Match Your Look
Plenty of bold hues and patterns this spring, so choose one that fits your style and personality. We love to pick a bright color that matches our eye color. You could also select a vibrant shade that matches your skin tone. For example, brown eyes pop when they're framed with a pair of bright blue eyeglasses. If you have green eyes, try a vibrant contrasting color like orange or spiced ginger.
Women and men with warm skin tones can shop for bright colors to reflect these tones, such as scarlet red or canary yellow. When it comes to cool skin tones, you could wear a turquoise jewelry set or carry a sleek lavender purse. More choices for cool undertones include rose pink or dreamy lilac.
If you prefer a daring spring style, look for accessories with safari-inspired prints or zebra patterns. Feminine florals and botanical prints pair well with the season's maxi dresses and colorful cat eye glasses. Variations on classic designs like tortoiseshell will dominate this season's accents and outerwear. Look for chai tortoise or leopard tortoise to refresh your wardrobe and add chic flair to your ensemble.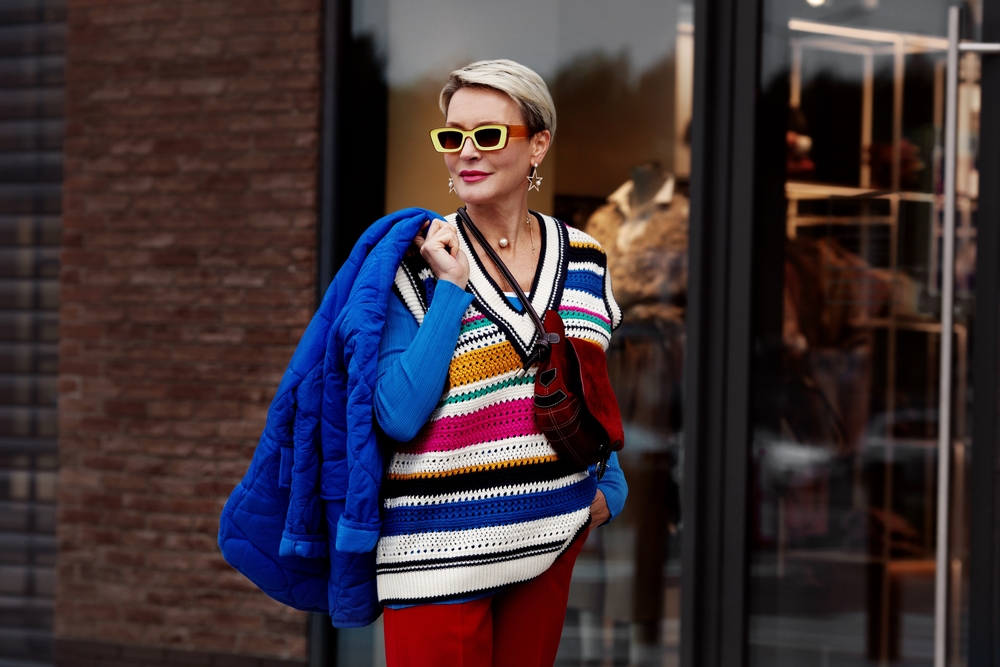 Source: Anna Zhuk/Shutterstock.com
4.Try a New, Fearless Print
Fans of unique designs and brilliant colors should try a new spring print! There are plenty of ways to incorporate exciting patterns into your closet. Tops and jackets with sculpted flowers and 3D floral designs are set to add an extra level of fashion to this year's wardrobe. Florals will be everywhere, including handbags and mini dresses. Choose a romantic rose print or a neon floral design. You'll create a chic look with large-scale prints that genuinely stand out, especially when you match them with a brightly colored pair of heels or a handkerchief.
This season's on-trend eyewear includes abstract patterns in purple or multicolor. Of course, we always love a soft square pattern for a wear-everywhere look that feels both fresh and energizing. Still, quartz-inspired designs like pink and purple quartz are dramatic enough to reveal a style switch while still being dynamic enough to match every outfit.
Gradient patterns and ombre designs will remain on-trend for spring, so feel free to incorporate them into your sunglasses and blue light glasses. You're also in luck if you like polka dots. This classic pattern is back in style, especially on traditional pieces like rompers and purses. Don't forget to look at horizontal and vertical stripes, which are available in online stores and boutiques throughout spring.
5.Avoid Going "Over-Bold"
Confident, dazzling designs are all the rage this spring! However, it's essential to keep your style bright yet straightforward. Choose one bold pattern or color for your ensemble's focal point, or you'll lose style points. Too many prints or excessively bright hues will make your clothing look "busy" instead of stylish.
Begin with on-trend shades that stand out. We recommend a head-turning color like ethereal lavender. You can also create tonal ensembles that mix darker purple with lighter, trending shades like lilac. Choose a rich, dreamy hue for your bag or sweater.
Sunny yellow is the perfect shade for a spring wedding or a Mother's Day outfit. Wear a yellow maxi dress, and then select another bright color for your footwear. Pink heels or green clogs make the perfect style companion for a lemon-colored outfit. Plenty of pink and blue hues are available, especially neon pink dresses and relaxed blue trousers. A two-toned outfit creates the drama you're looking for this spring. Match your ensemble with polarized sunglasses with an ombre pattern or three-color gradient.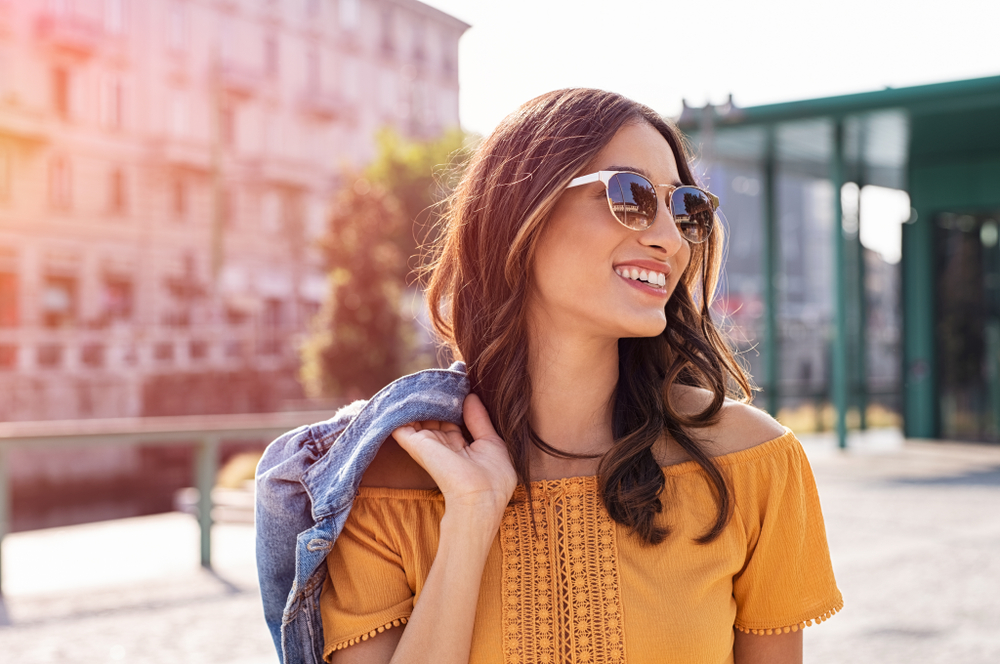 Source: Ground Picture/Shutterstock.com
Showcase Your Spring Look
Spring is an exciting, daring time for fashion. If you're ready to refresh your look, shop for seasonal pieces that stand out. Grab a few pairs of brightly colored pants and eye-catching tops to create tonal outfits to match with neon-colored sunglasses and handbags. New accessories like ombre eyeglasses and strappy heels will give you the confidence to make your next move. Be the life of the party or the most poised and on-trend professional at the office. No matter your inspiration, you have style tips that will help you own the season.