Teachers have a lot on their plates. They must juggle students, lesson plans and administrative duties, all while looking professional. And if that isn't enough of a challenge, now comes the task of finding outfits that show off your personality — but still adhere to your school's dress code. Even though many teachers like to be comfortable in their personal lives outside work hours, there are many ways to stay stylish and appropriate for your classroom without sacrificing comfort or professionalism. Here are some ideas.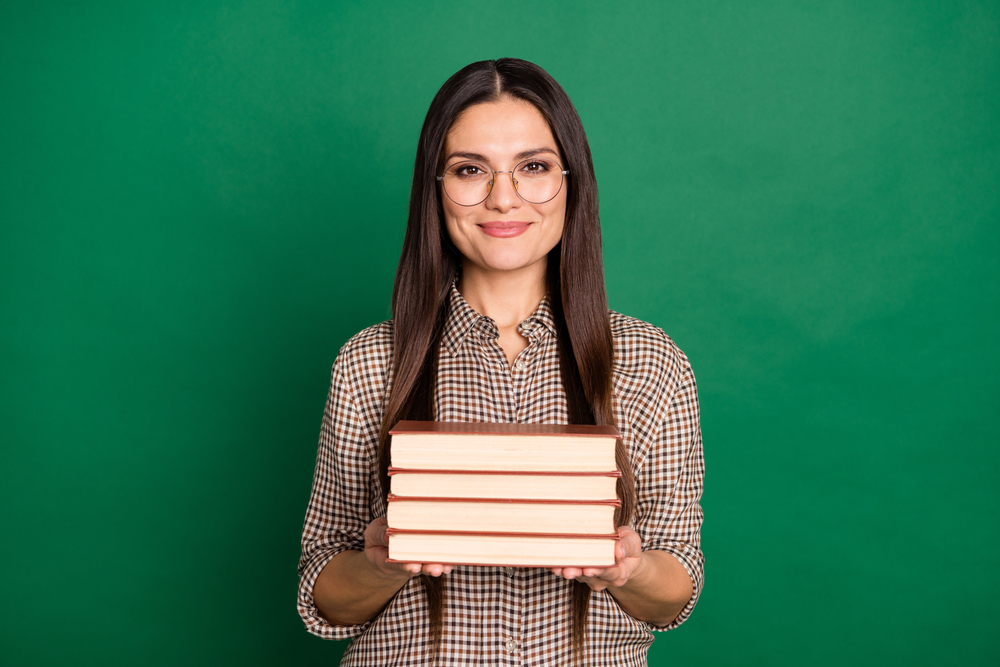 Source: Roman Samborskyi/Shutterstock.com
1. Blazer, Dress Pants and Heels
You don't have to sacrifice comfort for professionalism when it comes to footwear. If your school allows flats, by all means wear your favorite cute flats every day. But if they require heels, find comfortable, professional shoes for women rather than reaching for the pair that gives you blisters!
A blazer and dress pants are another great option for teachers because they are not too formal, but still are professional enough for work environments. Keep the outfit as neutral or colorful as you like, as long as it fits within the dress code.
2. Button-Up Shirt, Skinny Jeans and Ankle Boots
A nice button-up shirt is a staple in any teacher's wardrobe, and it's especially handy if you need something versatile that can also be worn out of the classroom. Look for one that is fitted at the waist and has a classic collar.
Skinny jeans are another must-have item for teachers — and just about everyone else. They're perfect for staying comfortable all day long in nearly all temperatures.
Finally, ankle boots are essential footwear for those who spend their days walking around campus or standing up during class (or both). There are countless options from which to choose, even if you need to shop for shoes for women with bunions.
3. A Midi Skirt, Blouse and Loafers
You're sure to feel comfortable in this outfit. A midi skirt is a great length for teachers, as it's long enough to cover your bottom but not long enough to trip over or make you feel restricted. Pairing a flowy blouse and loafers with a midi skirt is a stylish way to dress down your style while still keeping it professional. You can even add a cardigan if you want extra coverage or warmth on cooler days.
Try pairing your midi skirt with a t-shirt and sneakers for a more casual classroom look. This outfit is perfect when you're just feeling especially laid back.
4. Shirtdress, Belt and Ballet Flats
Source: Aleksei Isachenko/Shutterstock.com
A shirtdress is a dress that has no waist seam, which makes it easy to wear and comfortable. The top half of the outfit can be paired with ballet flats, or you can go for something more formal and pair it with heels. A belt is also an option and will add some definition to your figure — especially if you're wearing an oversized shirtdress.
5. Sweater, Dark Denim Jeans and Ankle Booties
If you're looking for a comfortable outfit that will keep you warm in a chilly classroom, this is a good choice. A sweater is a great option for fall and winter months (and even spring and summer days when the air conditioner is cranked up), while dark denim jeans are appropriate year-round. Ankle booties pull the look together with an edgy vibe.
6. Wrap Dress, Tights and Knee-High Boots
When you need an outfit that's both stylish and appropriate, consider a wrap dress and tights. Wrap dresses look good on everyone and come in all sorts of patterns and colors. Tights are a great alternative to pantyhose. They come in fun patterns, so why not pair some unique tights with a simple, solid-colored wrap dress? A pair of knee-high boots completes this look perfectly!
7. Collared Shirt, Cropped Trousers and Loafers
A collared shirt and cropped trousers are appropriate for any teacher. To make the look more unique, try wearing loafers with your ensemble rather than dress shoes or sneakers. You can easily dress this look up or down based on what you're doing for the day.
8. Statement Blouse, High-Waisted Pants and Heels
For something a bit more polished, consider this outfit. A statement blouse in a bold color or pattern is always a good choice in the classroom. If it isn't already in your closet, try buying one from an outlet store and pairing it with an equally vibrant (but not clashing) pair of high-waisted pants.
This outfit can be worn with heels or flats — it's up to you! But heels will definitely help complete the ensemble and give off that professional vibe you're going for.
9. Sleeveless Dress, Denim Jacket and Sandals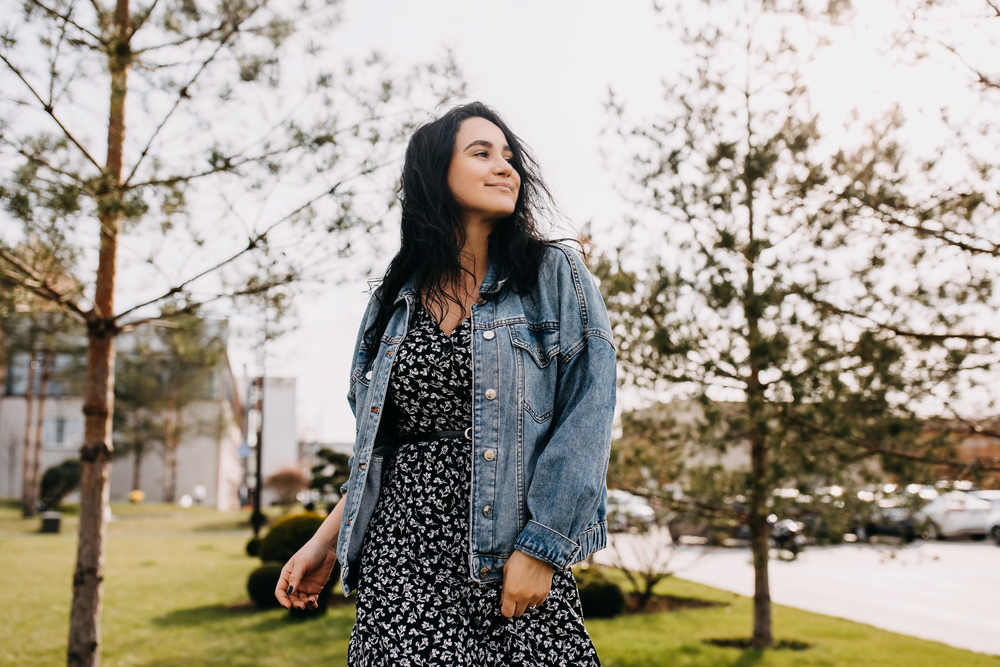 Source: Natalia Bostan/Shutterstock.com
This outfit is easy to pull together and can be worn in both casual and professional environments. It's a great way to showcase your fun side without being too flashy or gaudy. The key is getting an appropriate length of sleeveless dress. If you're worried about showing too much skin at work, make sure that the hem hits at least mid-thigh level when you're standing up straight. It's also important not to wear anything too tight or figure-hugging. Aim for something loose-fitting.
A denim jacket is a great way to add some extra style to the outfit without taking away from the fun of the sleeveless dress. It's an easy way to cover up a little bit more if you're worried about showing off too much skin at work.
Sandals are perfect for adding some style to this outfit; however, they can be risky if you're going to be on your feet all day or doing a lot of walking. If you're worried about your feet hurting, try wearing some flats instead.
Closing Thoughts
As a teacher, what you wear to work is important as it can impact how you feel and how your students perceive you. But there's no reason to sacrifice style for comfort or practicality. By choosing the right pieces and accessories, you can create fashionable outfits that are professional and appropriate for the classroom. Whether you opt for classic pieces like blazers and dress pants or more casual pieces like jeans and ankle boots, the key is feeling comfortable and confident in what you wear. With these outfit ideas and tips, you can easily create a versatile and stylish wardrobe that will keep you looking — and feeling — your best throughout the school year.