A blazer is an absolute staple for fashionable ladies no matter the season. But, when it comes to autumn, it is a MUST. And, you can't miss it. You can wear it all season round and you can style both formal and casual outfits with it. Is there something better than having a staple in your wardrobe that can save your life on any occasion? Absolutely no. Your blazer is exactly that piece from your closet. How to style it? There is nothing easier than wearing your blazer. Since it become one of the most favorite pieces for both elegant and casual women, you can get inspiration for styling it everywhere around you.
Magazine covers, fashion influencers, modern women around you… You can use them all to get inspired on how to style blazers in a fashionable way. And, to ensure you make the most of a blazer, we have selected a few styling tips to wear this mandatory fall fashion staple both casually and formally. Scroll down the page to explore them.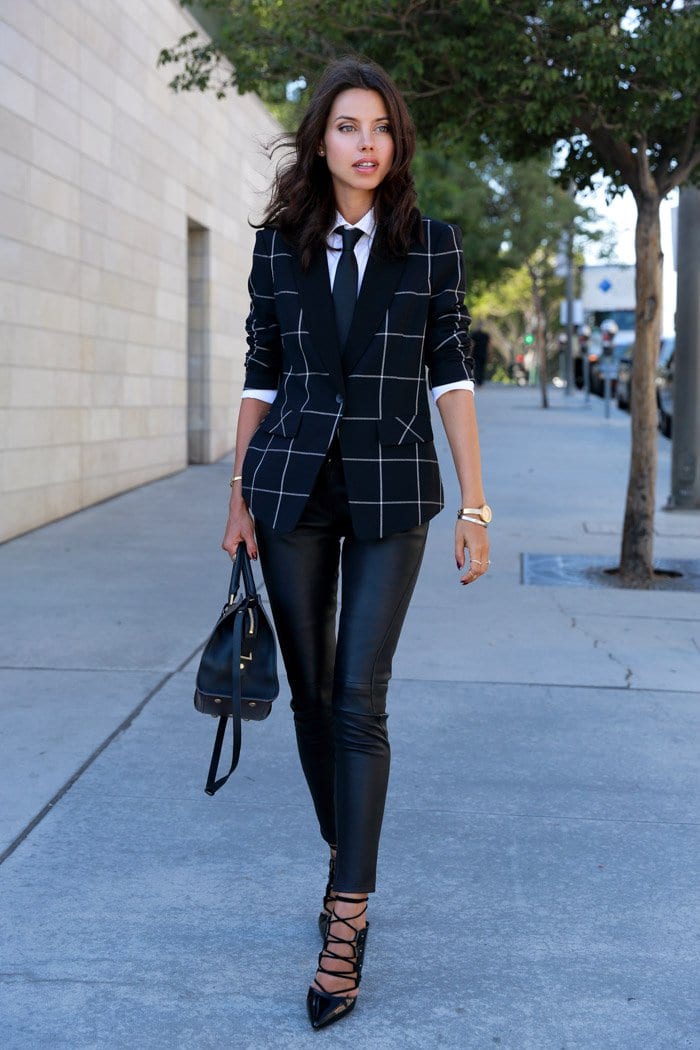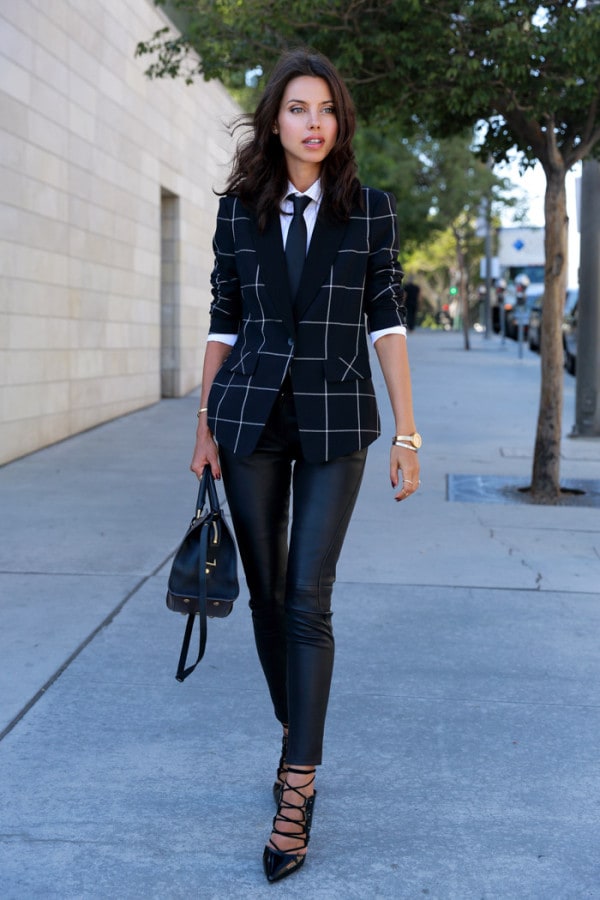 source
Red blazer and black V-neck shirt
When in doubt about what to wear, go for RED. This vibrant color of love and passion is a winning combination when you want to style eye-catching attire that will grab all the attention wherever you appear. The classic mix of red and black won't disappoint you, so any time you need something to pair your red blazer with, opt for a black V-neck top. It can create an amazing look when combined with black pants and heels. Finish your ensemble with subtle makeup and accessories and enjoy your elegant and luxurious look.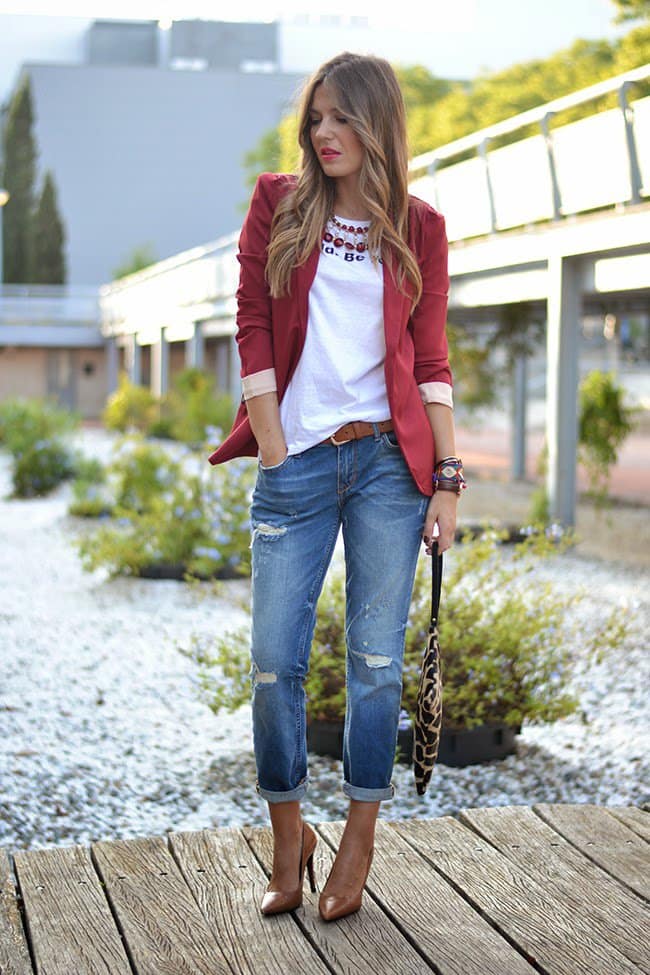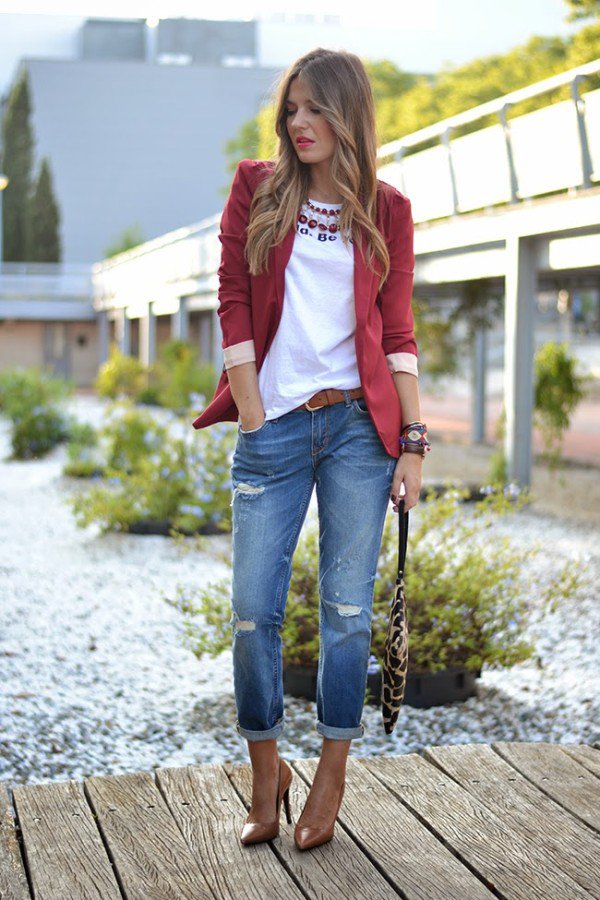 source
A dark grey woman's blazer jacket
Are you being invited to a gathering with friends this night? You have nothing to wear? Sometimes we are all out of fashionable ideas of what to wear to some event. Don't worry at all! When you are of inspiration, a dark grey blazer can save your day. Wear it over a horizontal striped blue and white shirt and black jeans. You will definitely get a remarkable look without any effort. It is a guaranteed way to amp the styling game, so use it any time you want to be in the center of attention. Because you will certainly be.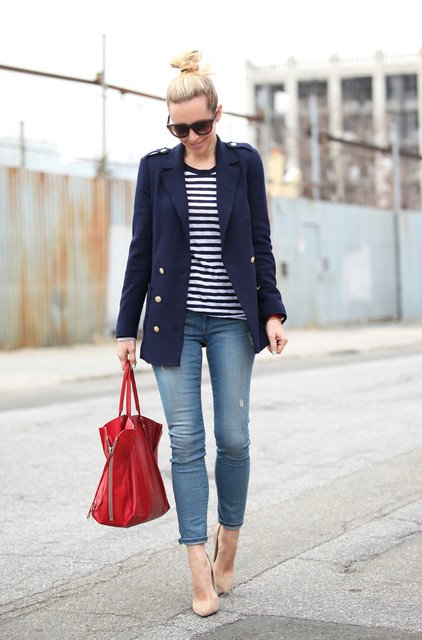 source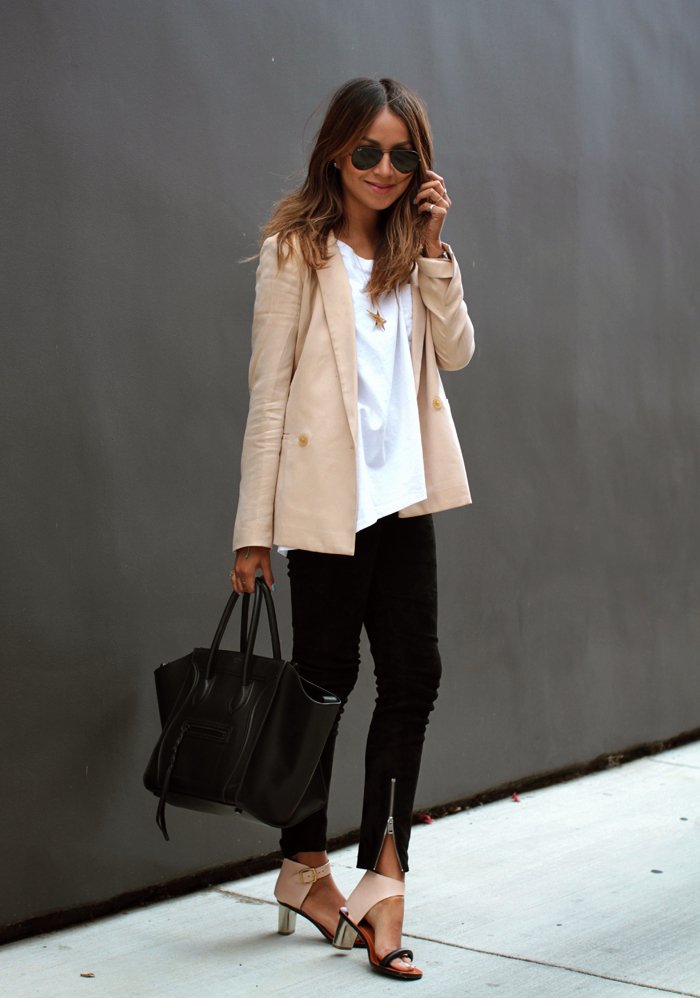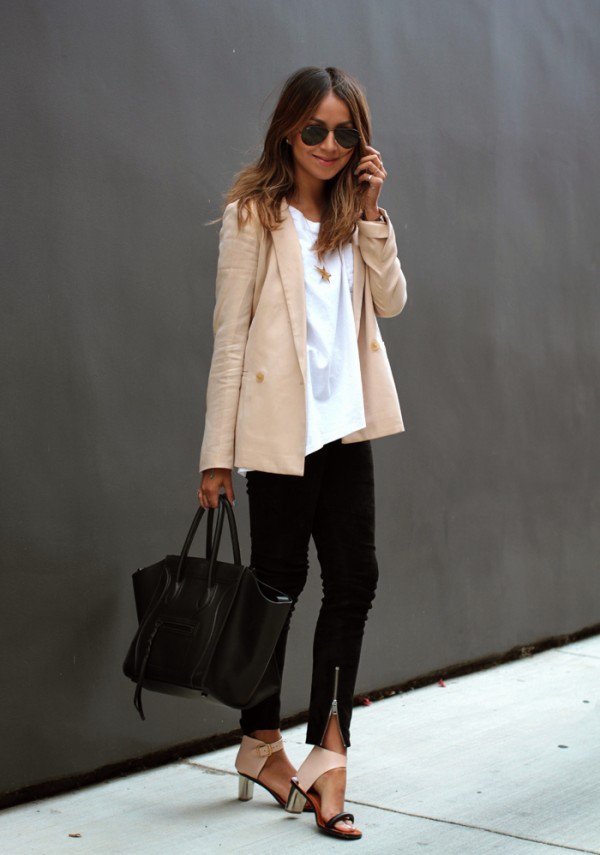 source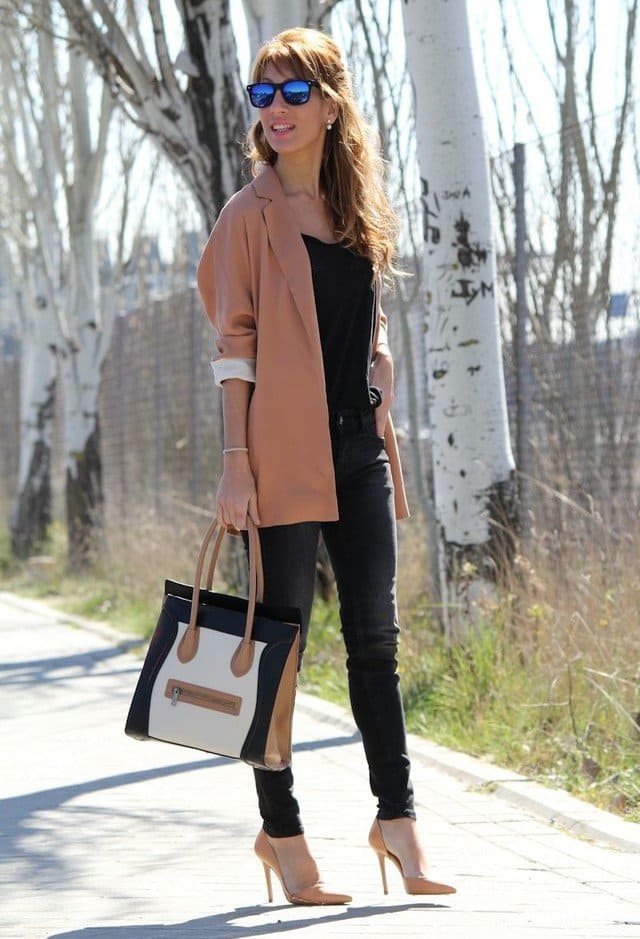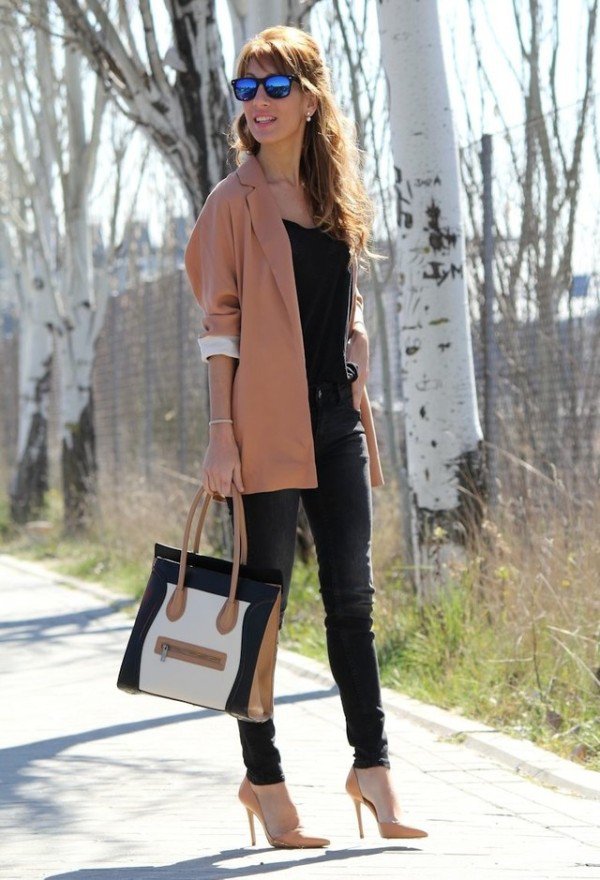 source
Oversized blazer and dress shirt
This fall everything is in the sign oversized. Oversized blazers are increasingly popular this fall, so don't miss having at least one in your closet. The trend of wearing oversized clothing offers both style and comfort. Wear your oversized blazer over a button-down shirt and skinny pants. A green blazer, brown pants, and white button-down make an excellent combo that you can rock this fall. Twisted blazers are very popular these days, so if searching for the right fabric-you have found it. For early fall, you can still rock light colors and shades such as pale pink, light blue, or light yellow.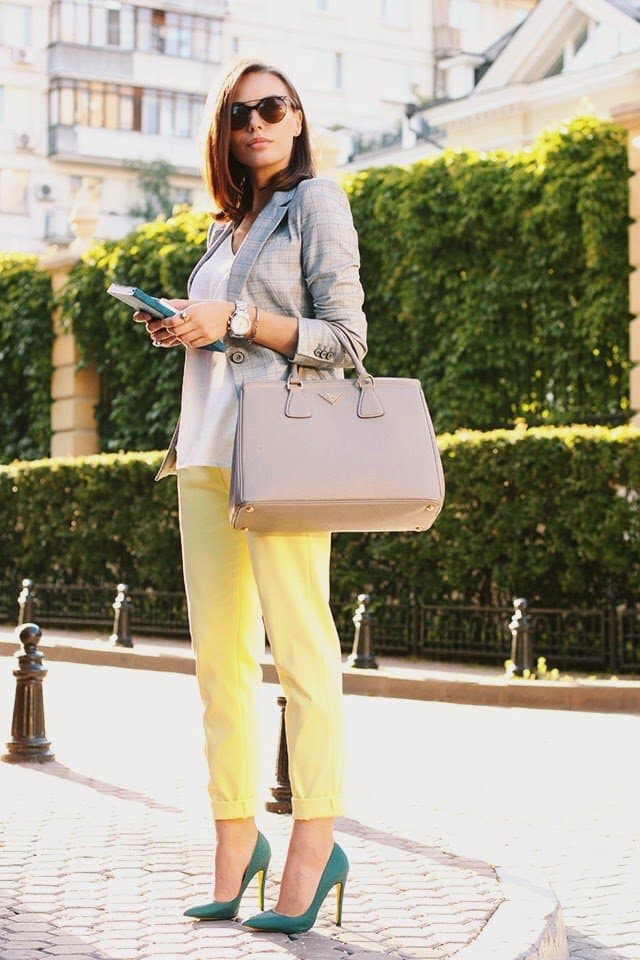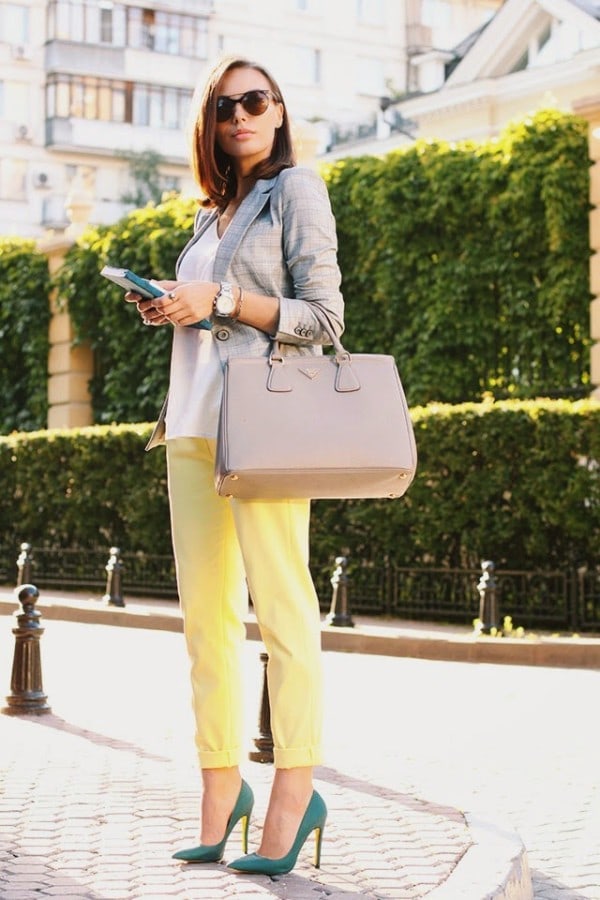 source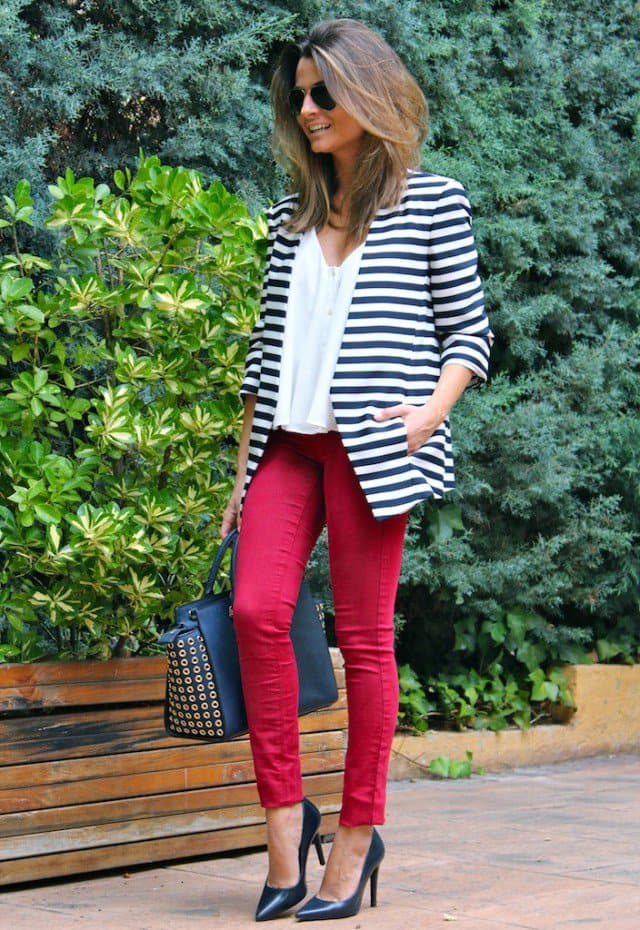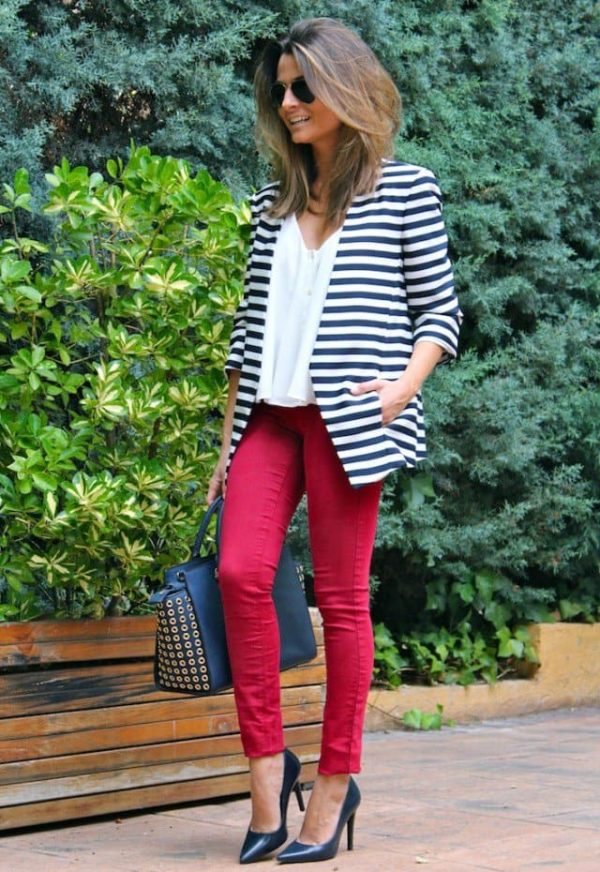 source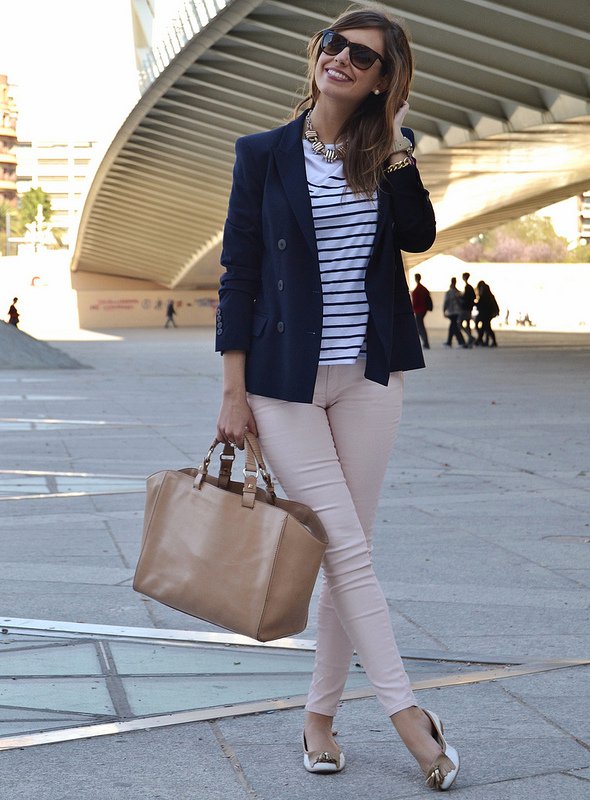 source
Black blazer with accessories
There is probably no woman who doesn't own a pair of black blazers in her wardrobe. Does styling a black blazer seem boring to you? That does not need to be the case anymore. All you need to do is to accessorize a little and voila, even the most boring look will immediately turn into a fashionable one. Pair your black blazer with light grey jeans, a white high neck, and add some eye-catching accessories to embellish the look. A wristwatch and a black belt can be a perfect choice of accessories for a statement outfit.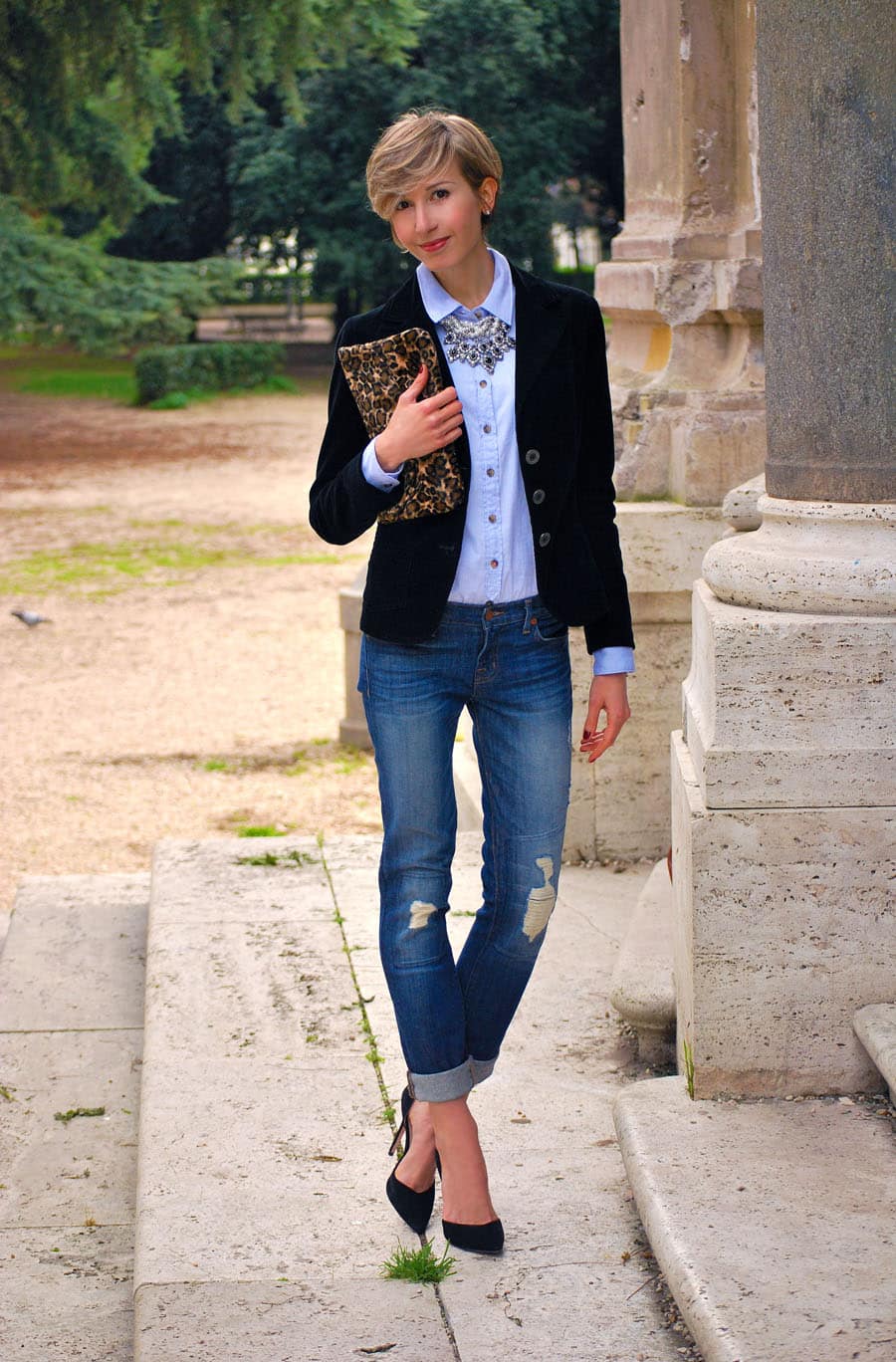 source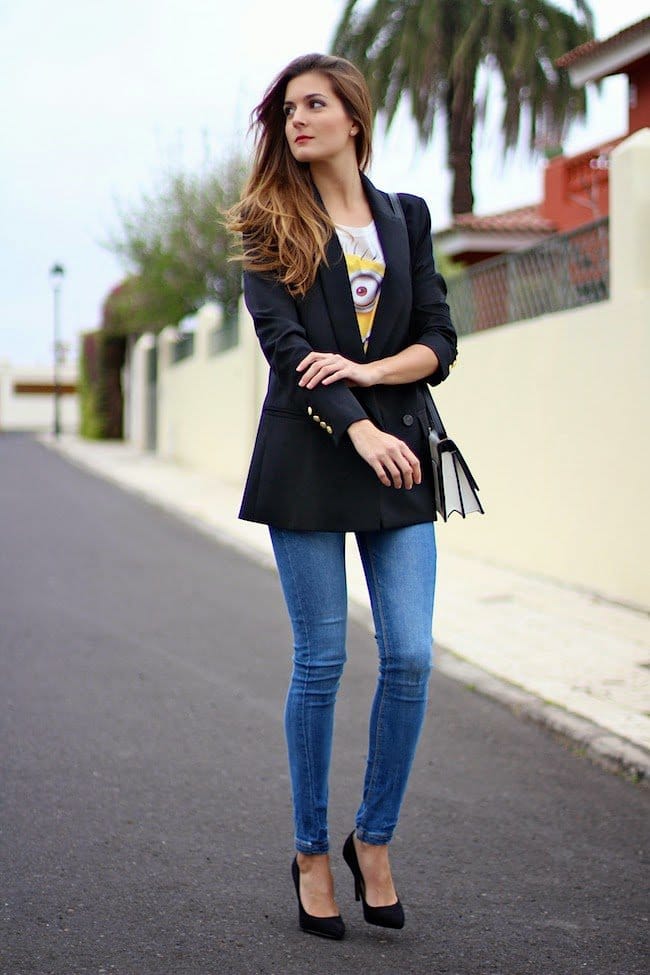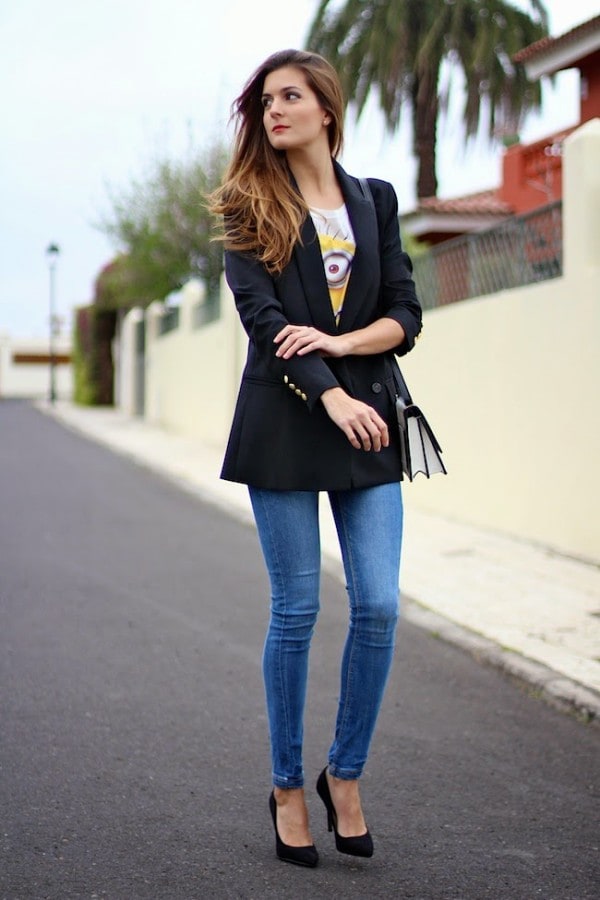 source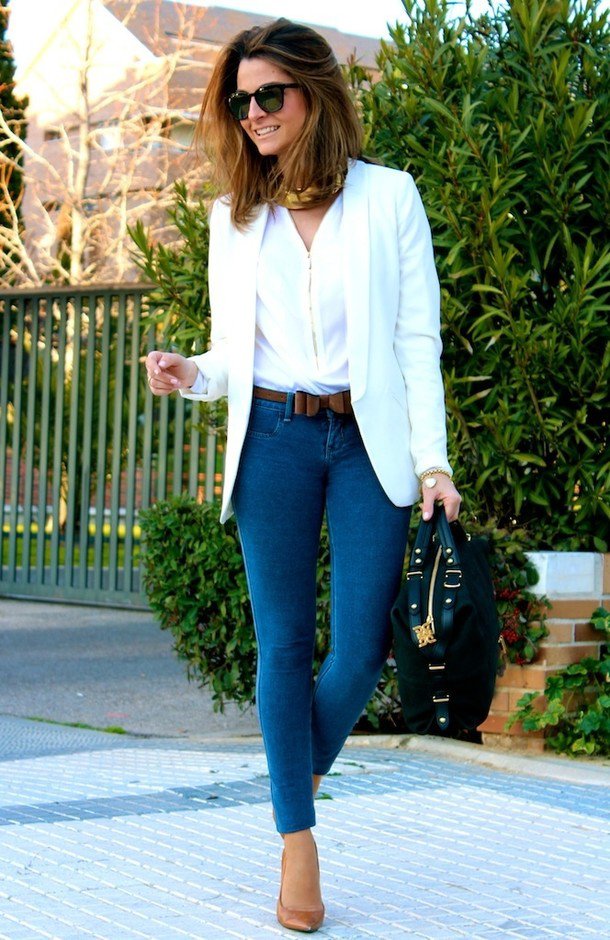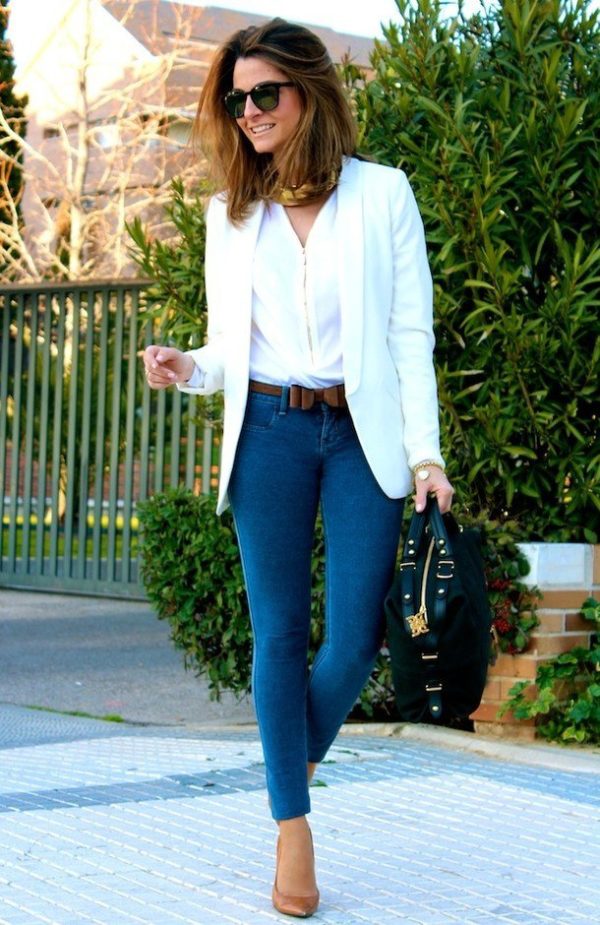 source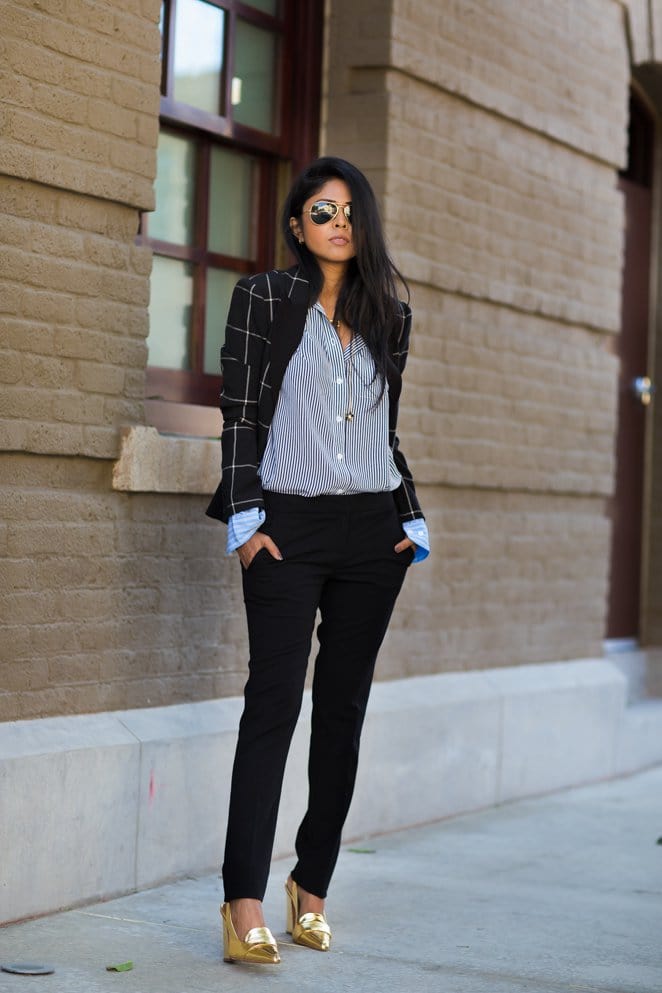 source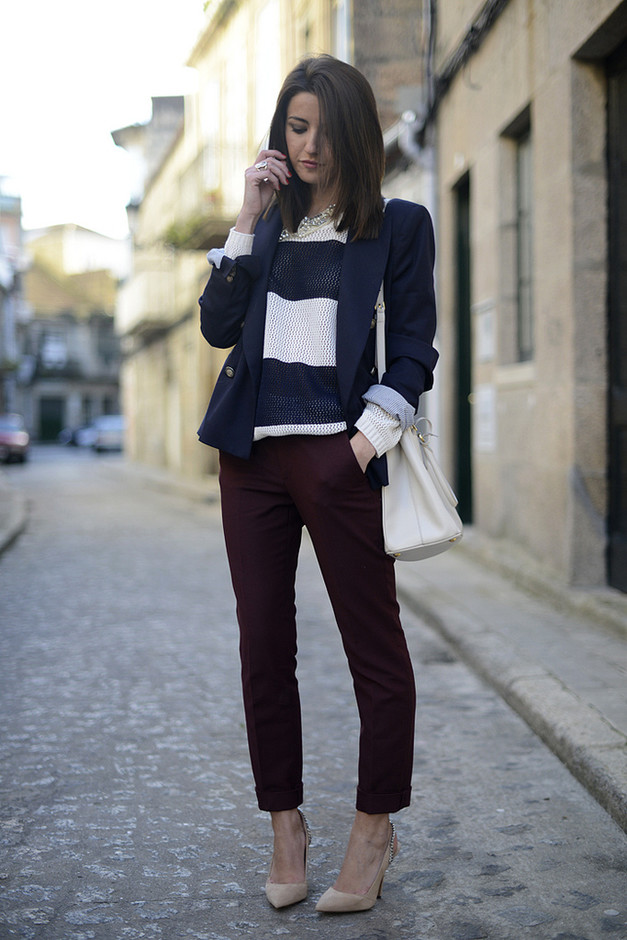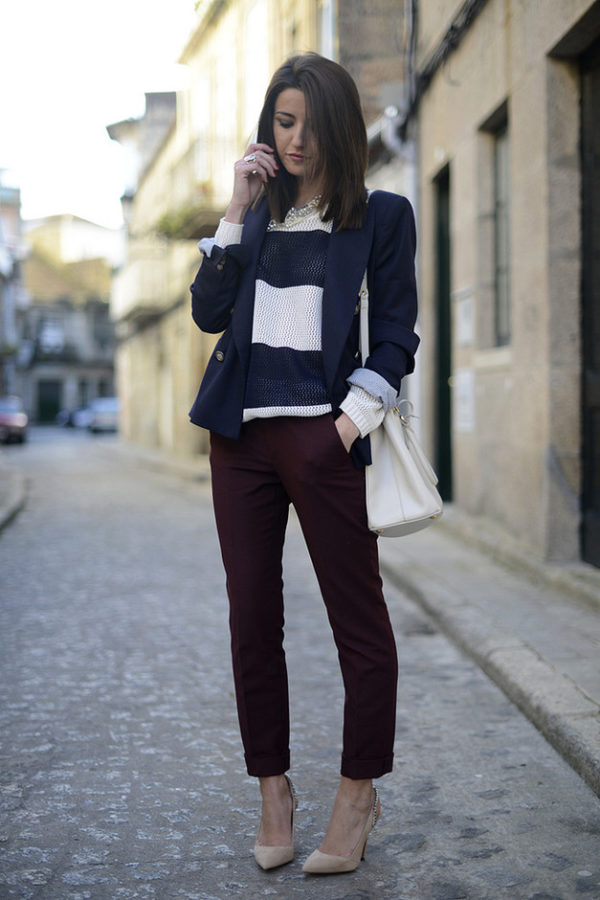 source
Off-white woman blazer coat
A white blazer is another fall essential staple that every woman should have in her wardrobe. You can always create an elegant look while wearing your white coat. Consider pairing it with a black turtleneck shirt and blue jeans to make the combo even more sophisticated. Add discrete accessorizing to make them look more beautiful. Ethereal chains and rings are a perfect choice for women who prefer delicate and edgy clothing and look.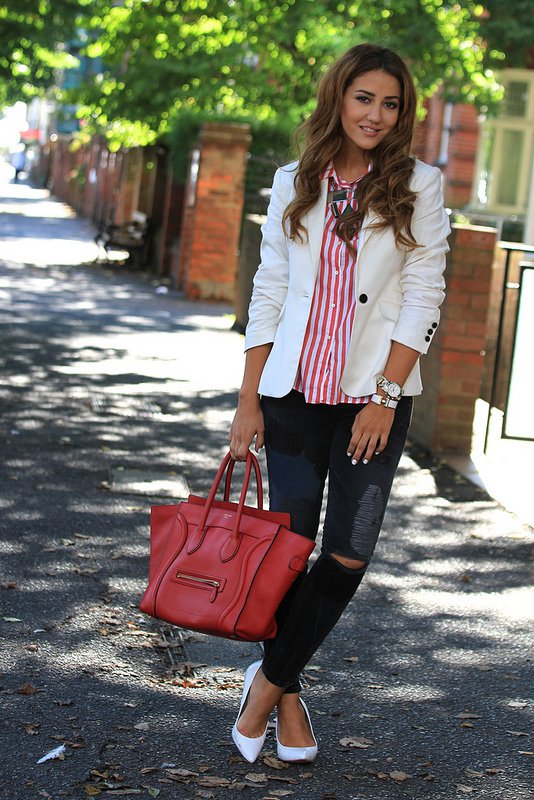 source
A pink woman's blazer jacket
Are you a pink lover? Well, this fall here is an interesting way to wear your favorite color: choose a pink blazer. Do you think that you can't wear the pink jacket for business meetings? Wrong! Pink blazers can be a perfect choice both for casual nights out with friends and for formal meetings with business partners. For the bottoms, opt for wide-leg pants that will keep you comfortable all day long. Delicate and discrete accessories are also a perfect addition for a more mesmerizing pinky look.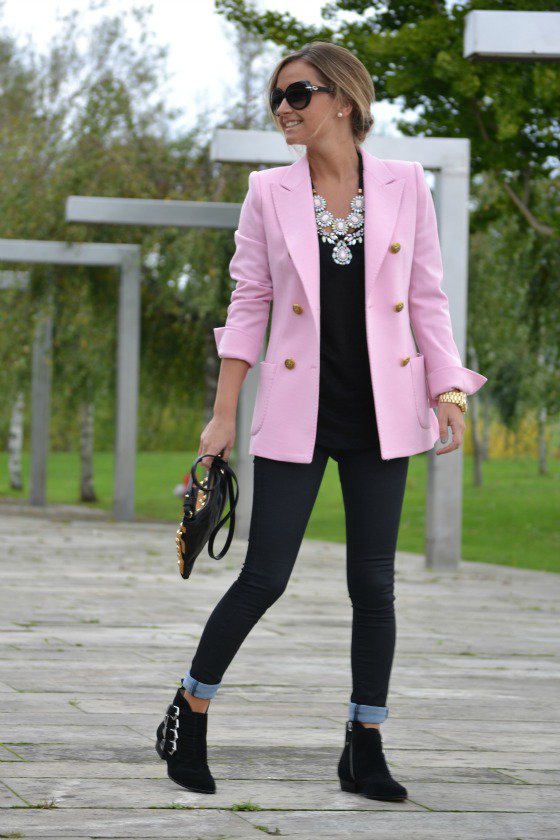 source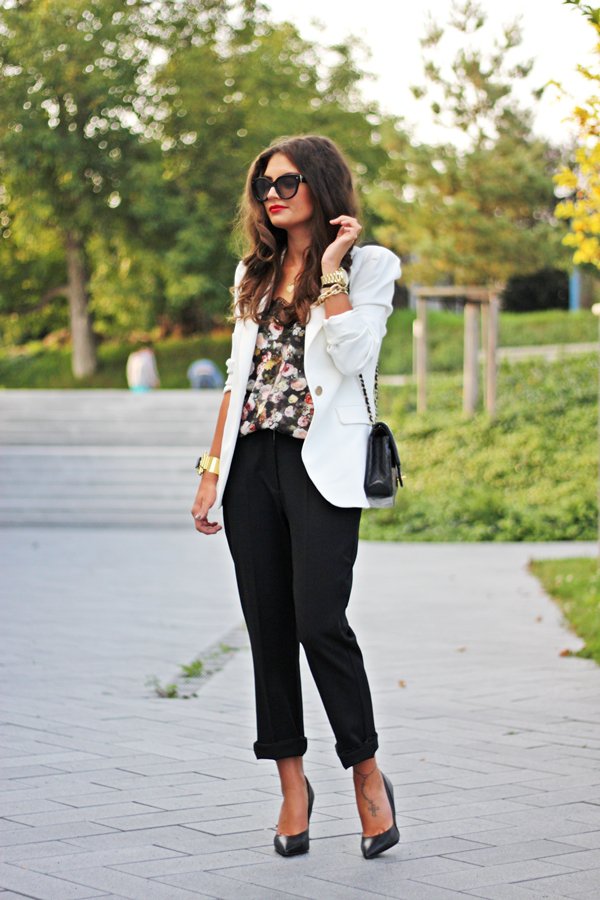 source