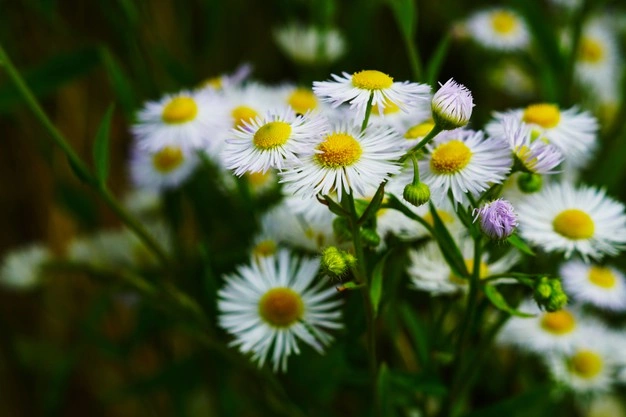 Chamomile essential oil is obtained from the flowers of the chamomile plant. Chamomile essential oil is extracted from two varieties of the chamomile plant– Anthemis nobilis is the scientific name for Roman chamomile, while Matricaria chamomilla is the name for German chamomile. Though the essential oils extracted from both varieties have some similar medicinal properties, they differ in composition and possess some specific properties.
Chamomile oil not only provides your body with a zillion benefits but is also a miracle elixir for your skin and hair. Chamomile oil stands out from other essential oils thanks to its distinct scent and soothing properties.
Various conditions can be treated with chamomile essential oil, from digestive disorders to wound healing. New research is shedding light on its other potential benefits, such as its ability to reduce anxiety, depression, and insomnia. In this article, we will talk about Chamomile essential oil's benefits for skin and hair.
For gifting purposes, you can buy a cosmetic carton packaging to keep your chamomile essential oil bottle in and share the love with your family and friends.
Chamomile essential oil for hair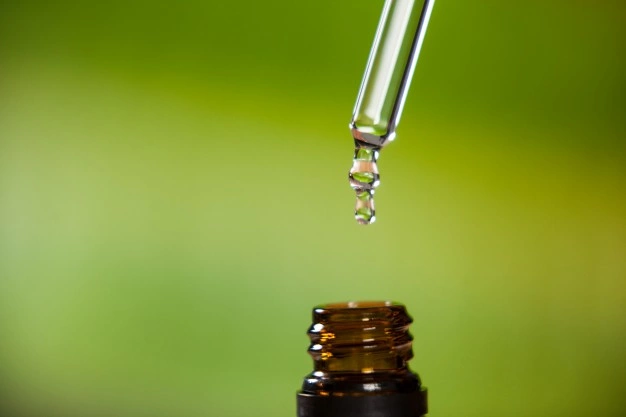 Chamomile essential oil has numerous benefits for hair. We have listed some of the most noticeable ones below-
1. Hair nourishment
Keeping your hair moisturized is one of the benefits of Chamomile Oil. Sun damage, dirt, dust, and grime damage can be prevented by its healing properties. Using it regularly keeps your hair healthy and beautiful.
2. Prevents dandruff
Having dandruff can lead to all kinds of hair problems. Clogged pores and a dry scalp may be contributing factors to dandruff. The antiseptic and anti-inflammatory properties of Chamomile oil make it an excellent treatment for dandruff. Consequently, it prevents scalp infections by effectively killing germs and bacteria. Chamomile oil soothes irritated and dry scalps. Its hydrating properties help prevent dandruff on the scalp.
3. Anti-frizz
Shampooing too often strips hair of its natural oil, causing it to become dry and frizzy. By restoring your hair's natural oil balance with Chamomile oil, your hair and scalp will remain hydrated and well-nourished, resulting in soft, supple hair. The amazing oil also helps prevent hair brittleness and dryness.
4. Makes your hair shiny and lustrous
Chamomile Oil enhances the natural shine of your hair. Using it regularly will add luster to your hair strands. When applied to towel-dried hair, Chamomile oil makes the hair soft and shiny.
5. Enriches hair color
Chamomile Oil can be used to brighten up your hair instantly without chemical bleaching. By rinsing your hair with Chamomile Oil, you can add natural highlights. Chamomile Oil can also be added to the henna mixture to produce natural highlights.
6. Promotes hair growth
Healthy hair depends on a healthy scalp. A healthy scalp should be free of infection, dandruff, which results in hair thinning and loss. The healing properties of Chamomile Oil help to restore damaged hair follicles. It also promotes collagen synthesis, which contributes to healthy hair growth. Furthermore, it increases your hair's elasticity, thus preventing breakage.
7. Prevents hair-fall
Chamomile Oil has the healing property of repairing damaged skin tissue and cells. Several of the components in the oil, including flavonoids, terpenes, and sesquiterpenes, strengthen hair follicles from within, which prevents hair loss.
8. Controls sebum production
Hair and scalp problems can be caused by excessive sebum production by the scalp. Chamomile oil can be used to control sebum production, thus promoting healthy hair.
Chamomile essential oil for skin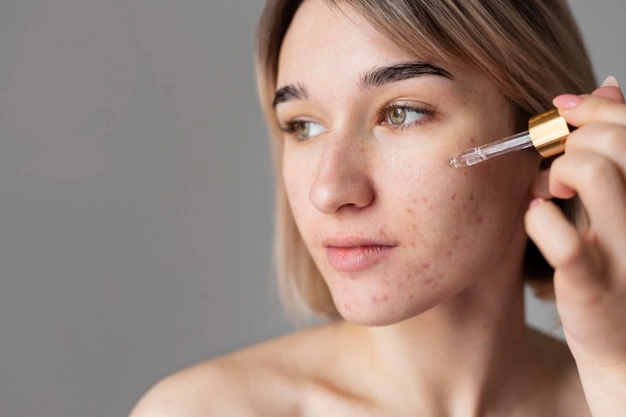 Chamomile essential oil is extremely beneficial for the skin due to its healing, antibacterial, and anti-inflammatory properties. Some of its benefits for skin are listed below-
1. Fights acne and eczema
When it comes to treating skin conditions such as eczema naturally, chamomile oil can be a great choice. Chamomile oil has anti-inflammatory properties, which makes it ideal for treating inflammation and redness on the skin. When combined with evening primrose oil, chamomile oil can actually be used to treat acne. The oil only needs to be dabbed on the affected area and left on overnight. The results are best obtained when repeated a few times a week.
2. Treats acne scars
Is there anything worse than acne? Yes, the pesky scarring it leaves behind. It takes days sometimes for them to fade away. You can treat acne scars more quickly with chamomile oil, thanks to its healing properties. The affected area can be soothed with just a few drops of chamomile oil and coconut oil. Your skin will be hydrated, and you will also look radiant after applying this mixture.
3. Relieves skin irritation
Chamomile oil can bring you relief from skin allergies that cause excessive itchiness and skin irritation. You can also apply chamomile oil to rashes on your body caused by sunburn. Adding a few drops to your bath or applying a cold compress will yield faster results.
4. Evens skin tone
Increasing sun exposure and various environmental aggressors can cause hyperpigmentation and skin discoloration. By regularly applying chamomile oil, your complexion can become more even. Chamomile oil has the ability to regenerate and repair skin, leaving it looking young and fresh.
5. Moisturises skin
Chamomile oil contains moisturizing properties that make it a wonderful remedy for dry, parched skin. Get your hands on chamomile oil if the dry, winter air is causing your skin to feel dehydrated. Combining chamomile oil with carrier oils such as coconut or almond oil will nourish and moisturize your skin, making it look radiant.
Conclusion
The benefits of chamomile essential oil are countless but if you are facing any skin or hair problem, it can be your bestie, unless you are allergic to it. Chamomile plant has various medicinal properties through which it can help decrease anxiety, stress, depression, etc. chamomile essential oil is also used in aromatherapy and you can buy it in essential oil blends wholesale.