Do you want to add a little pop of color to your everyday ensemble? Add some fun to your look with some versatile colored wardrobe staples. We recommend you to go for colored pants. Styling colored pants can be a little tricky. First, you need to choose the right color that will perfectly suit your body shape. Then, you need to find the right top to combine with your colored bottom. It may be tricky but is not impossible. In the article below, we will share with you some helpful tips to learn how to wear your colored pants in the best way possible.
Learn how to wear your colored bottom and how to choose the right top for the pants you wear. We are sure that once you read the tips below, you will learn how to combine different pieces in a colorful ensemble. Dare to give the color a chance to paint your life and style. Add a pop of color by choosing pants in your favorite hue.  There is nothing that screams fashion and boldness more than colored trousers.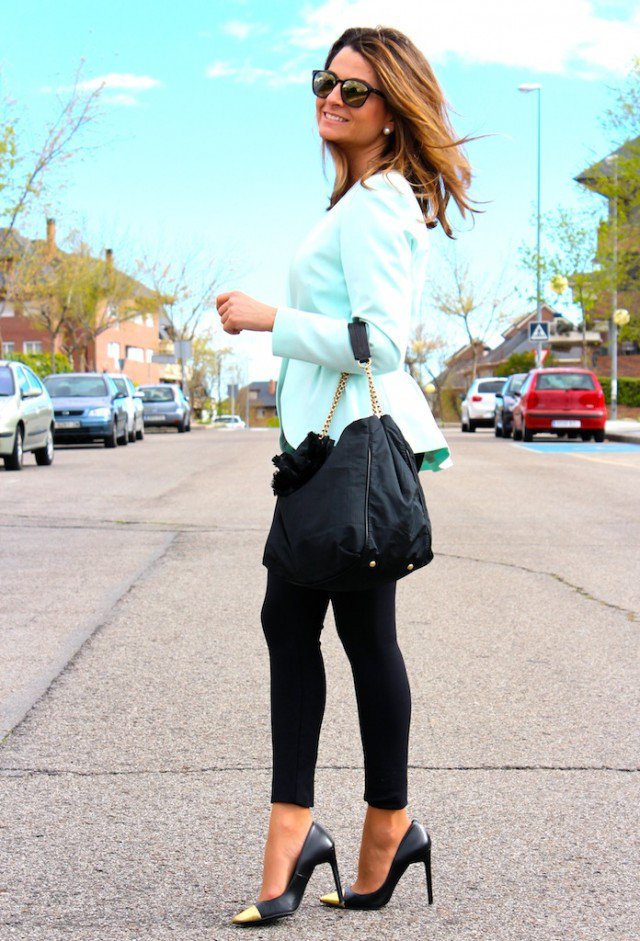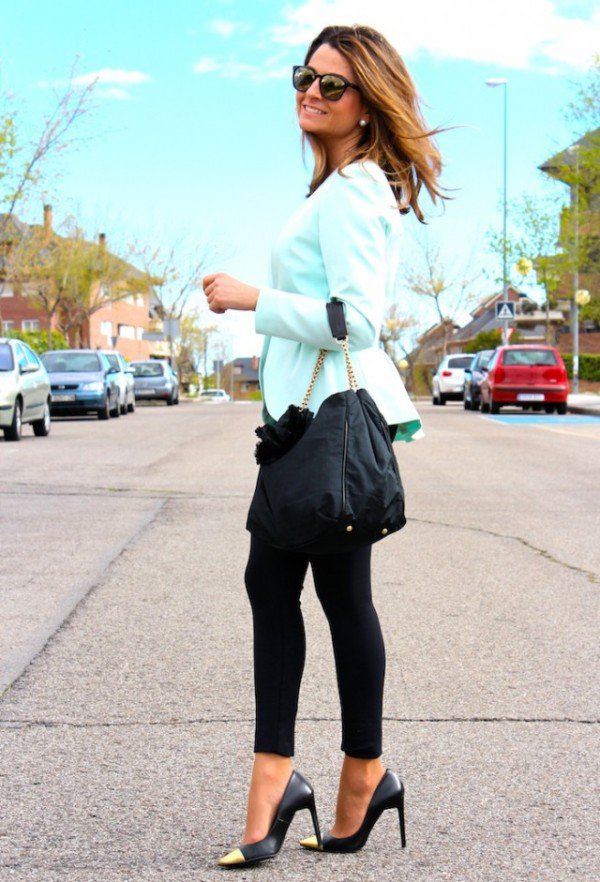 source 
Pair your paint with a solid top
The easiest way to style your colored pants is to always keep to safe choices when it comes to the top piece. The best is to go for a solid color, especially if you are wearing brighter pants. White tops always work perfectly with colored bottoms. No matter if you choose a classic blouse to complement your office pants or a tee to compliment your colored jeans attire, white is the safest choice you can ever take. So, whenever you have doubts about what to wear when you have nothing to wear with your colorful pans, white is the answer.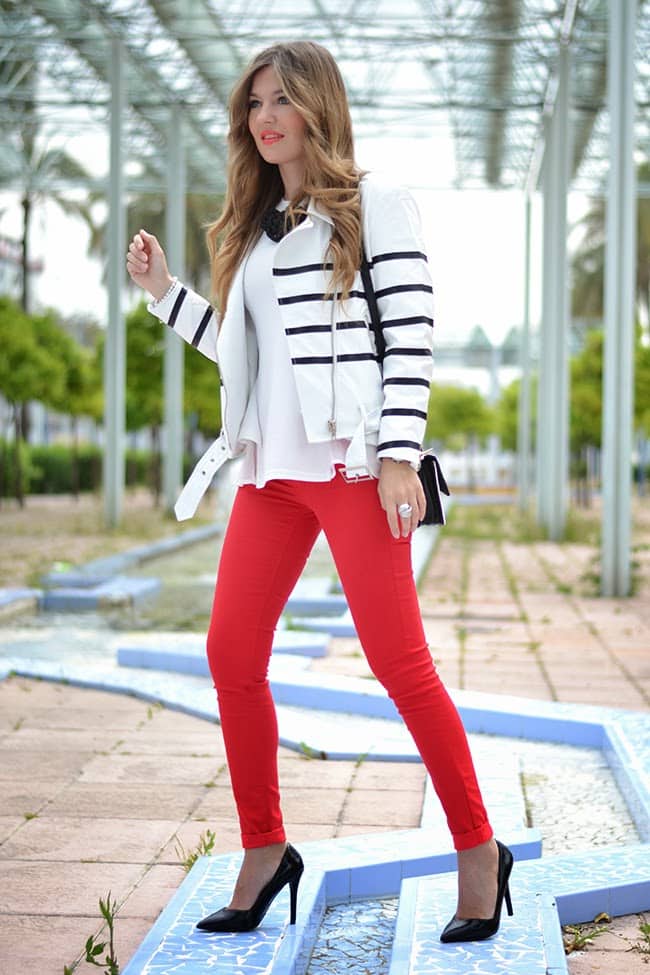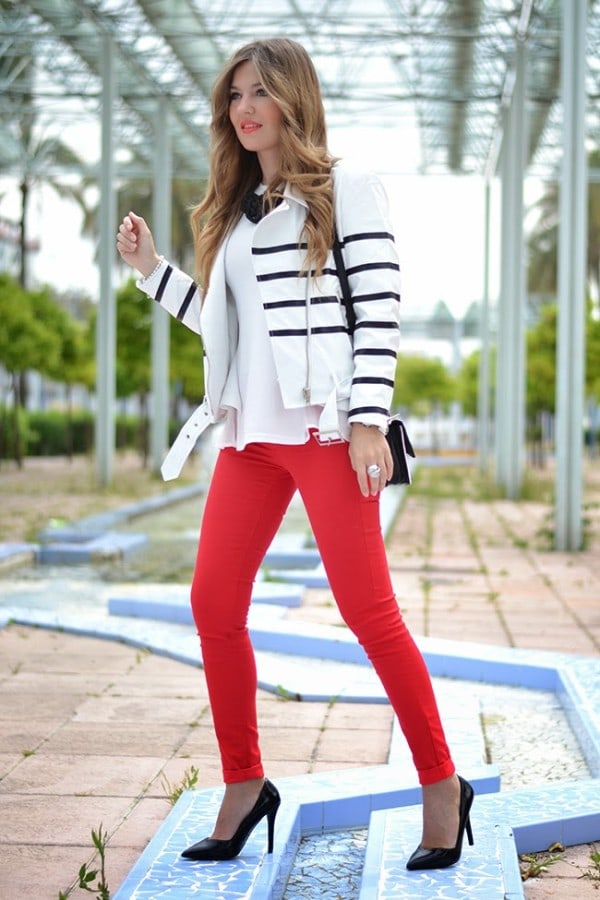 source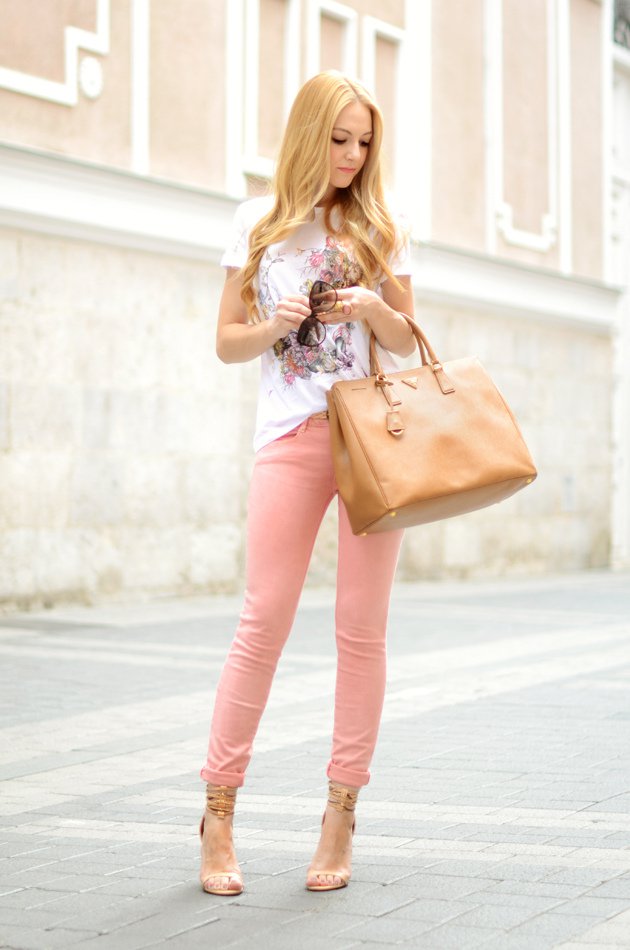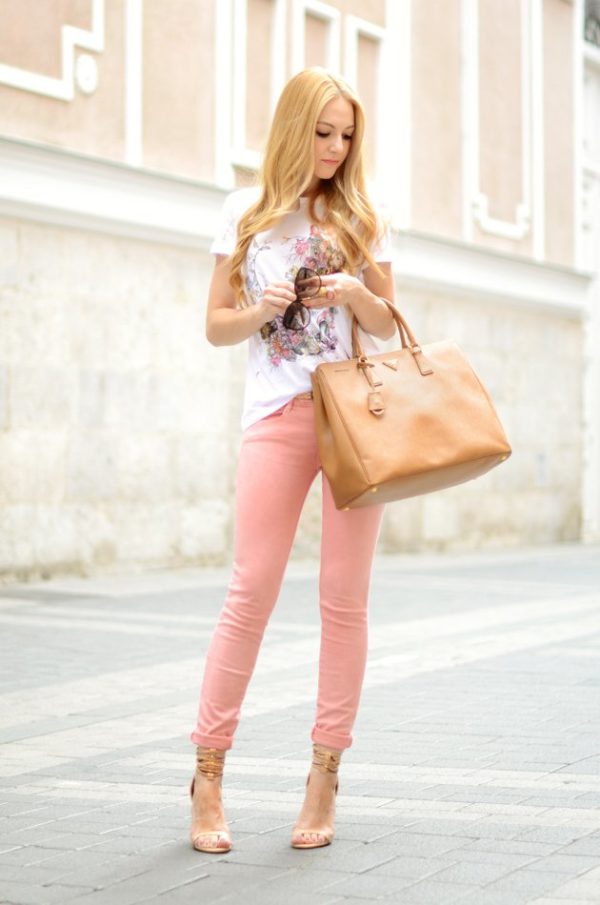 source
Style with animal prints
Animal prints are very popular nowadays. If you don't dare to go too bolder (because animal prints are BOLD!) and choose a monochromatic animal printed ensemble, then go safe with colored pants and an animal printed top. You can choose pants colored in one of the colors from the animal print. If you choose a leopard patterned blouse, you can pair it with brown or nude pants. This way you will follow the rule of choosing complementing colors when wearing a print. Colored pants in some contrasting color with the top can be another fashionable choice. It is up to you which one you will choose.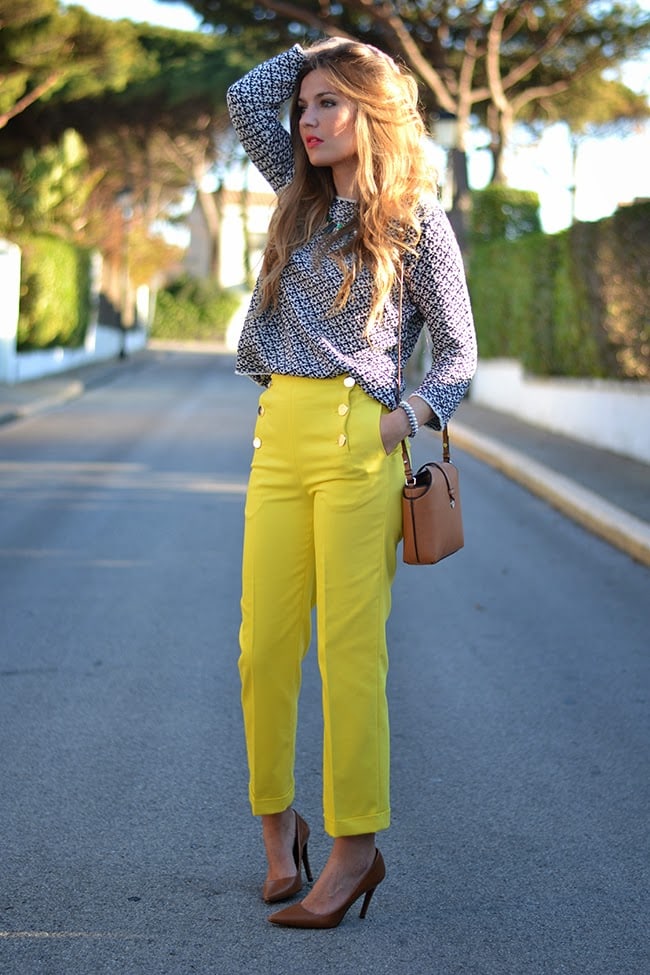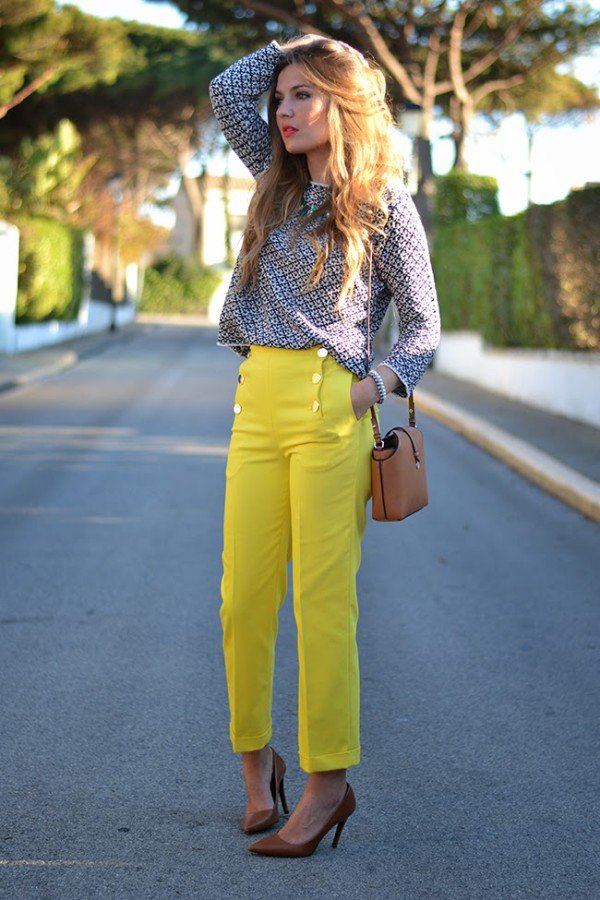 source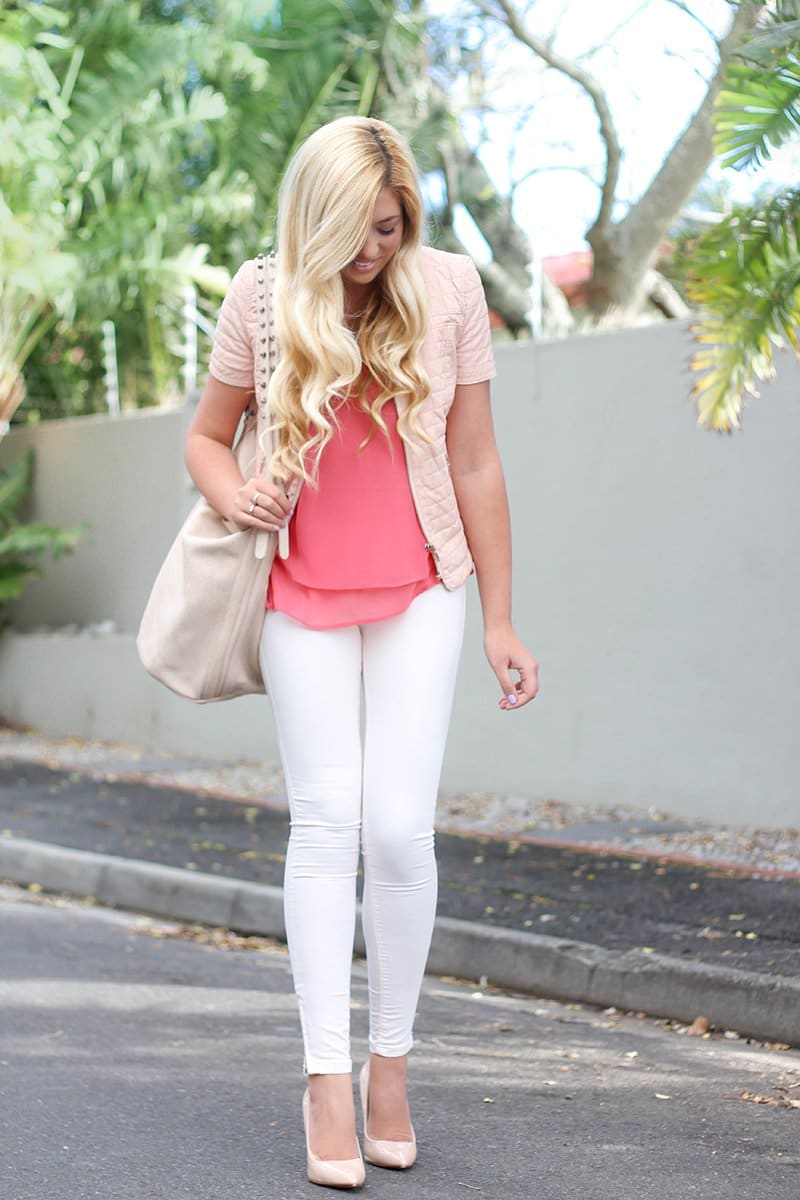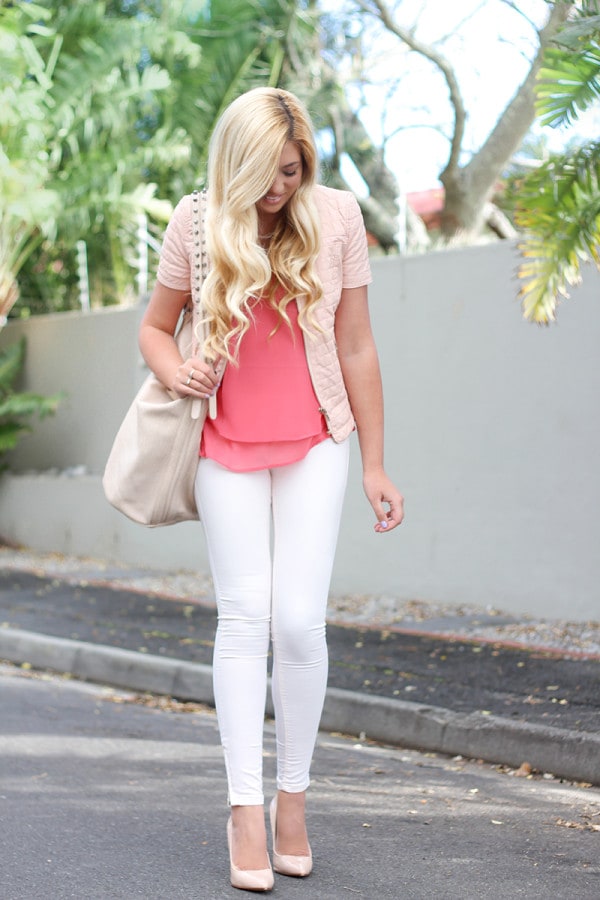 source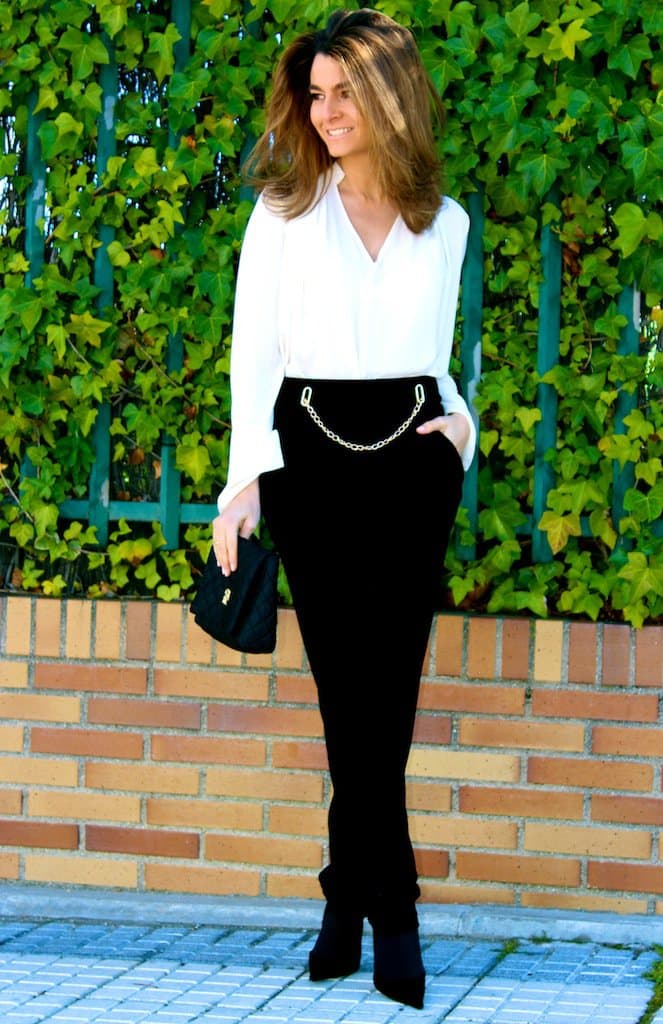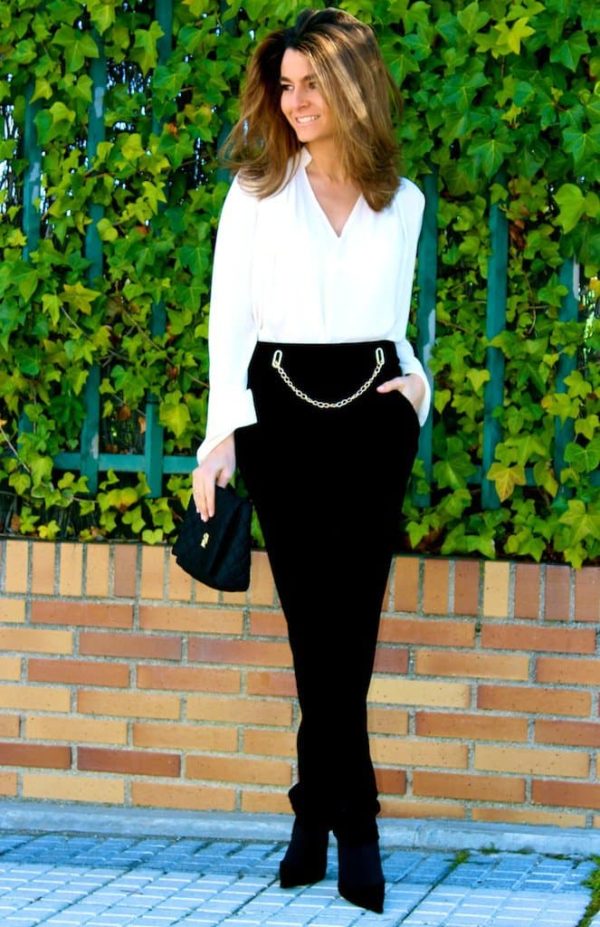 source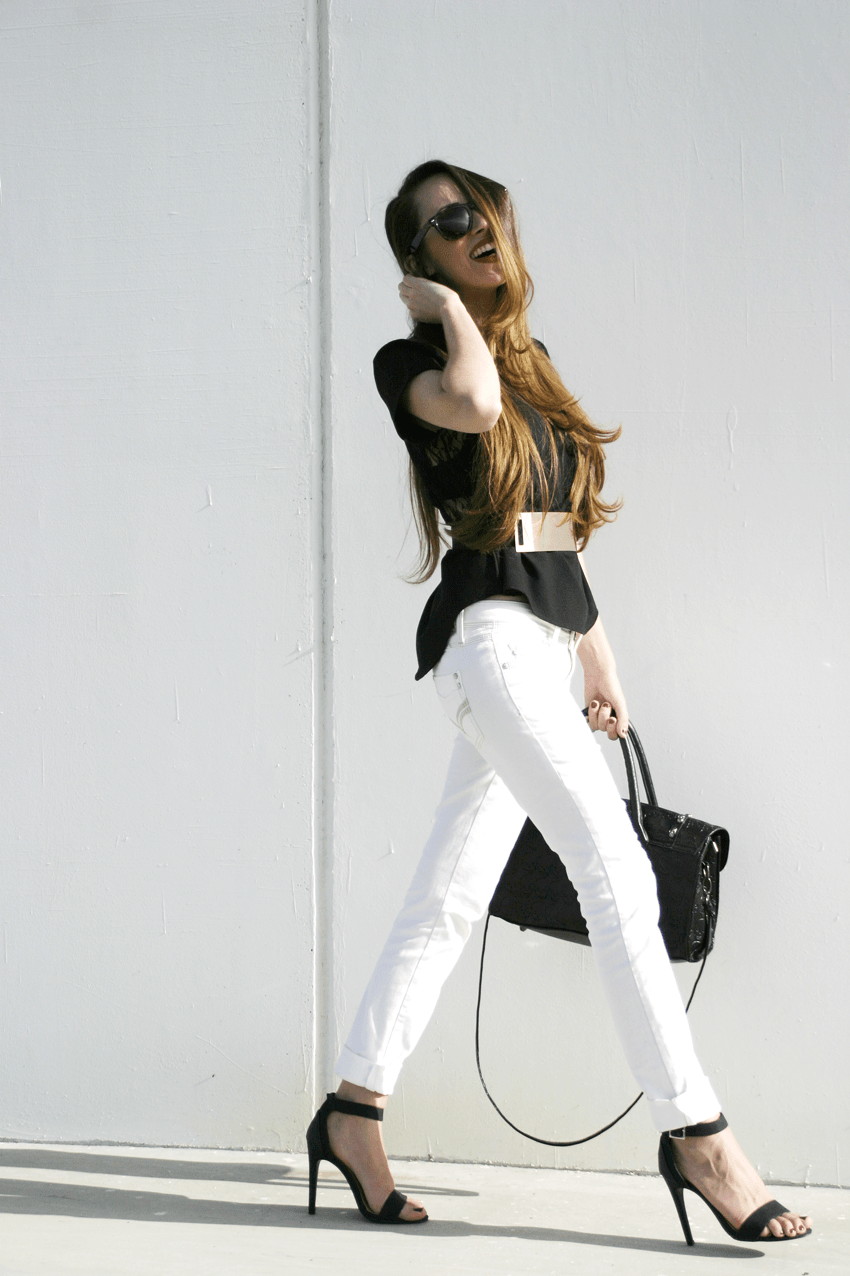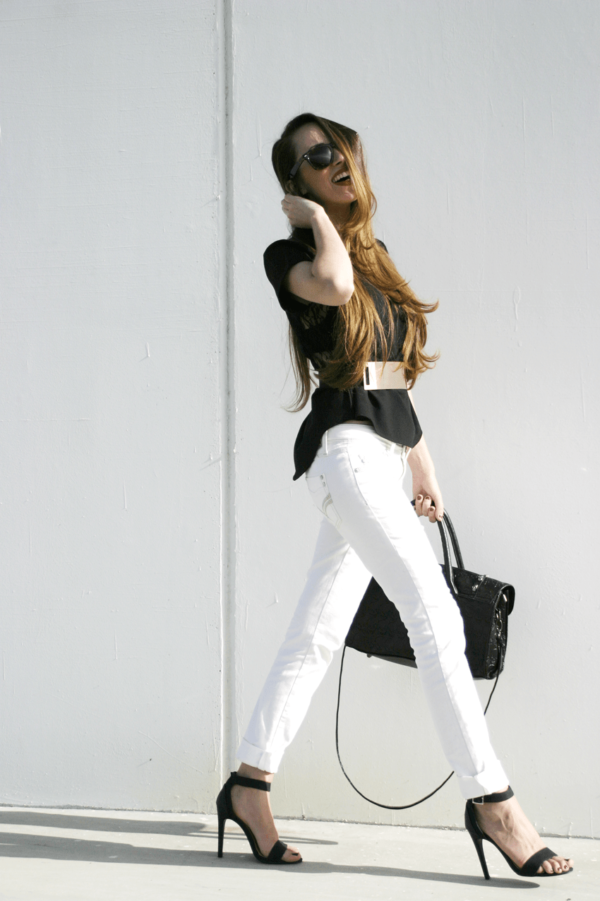 source
Style colored pants with a coordinating print
One of the most stylish ways to wear your colored pants is to combine them with a coordinating printed top. Try to choose a top piece in some colorful print that contains the color of the pants in it. For example, if you are wearing pink pants then you can choose a floral printed blouse with pink details in it. You don't need to stick to absolutely the same shades of the colors, but keep the concept of similar hues. Pale pink with bold pink is also an acceptable choice if you understand our point.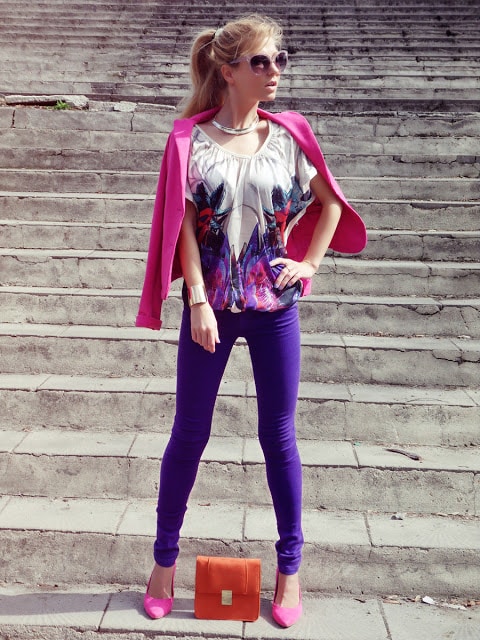 source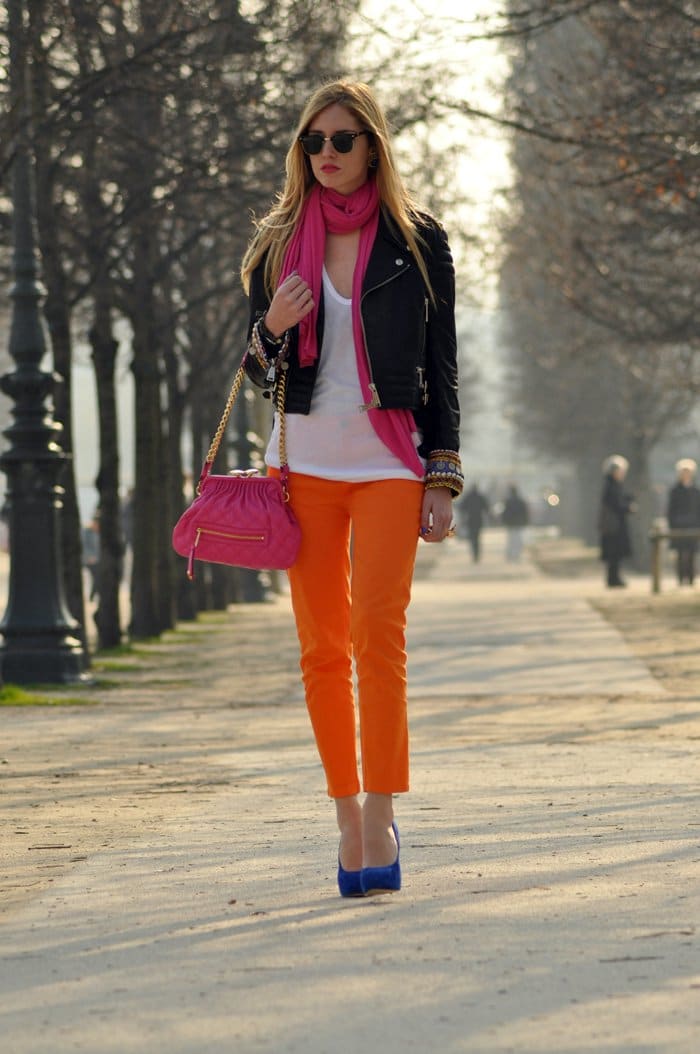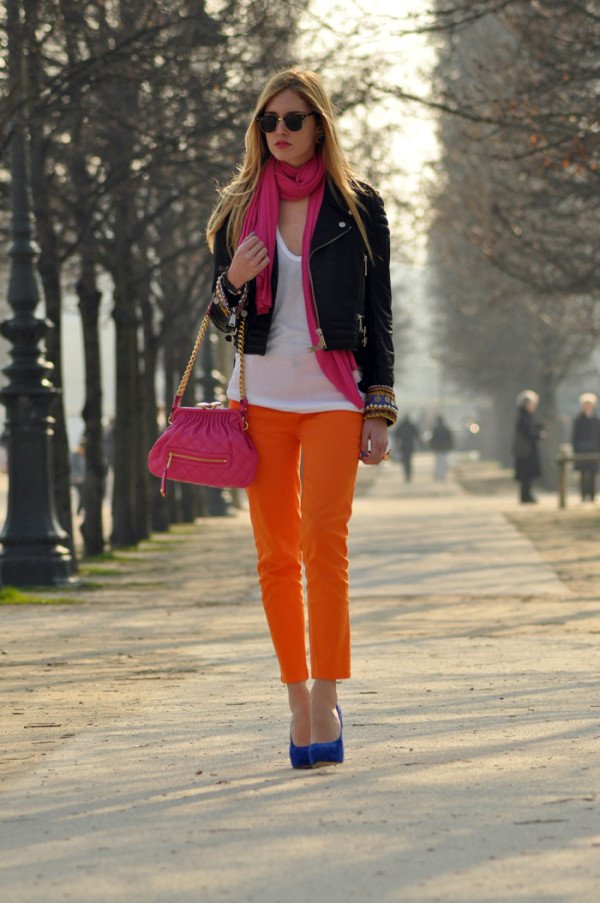 source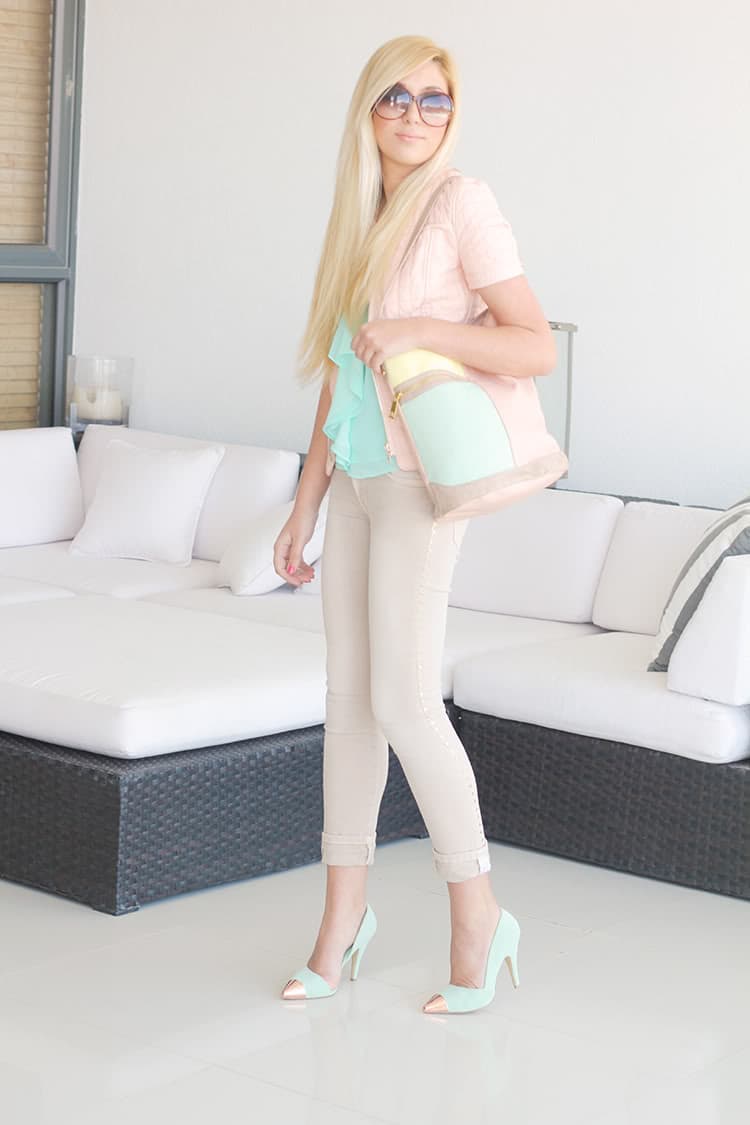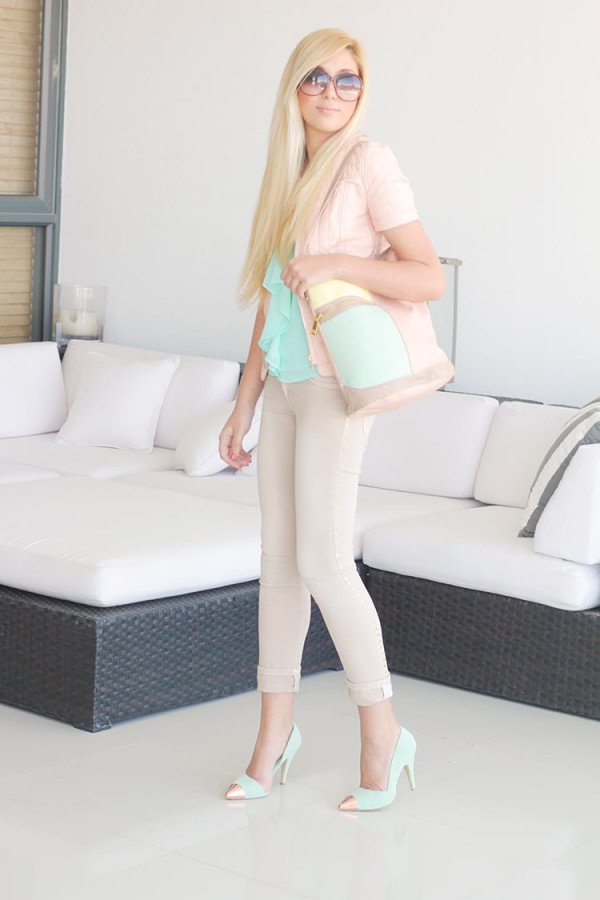 source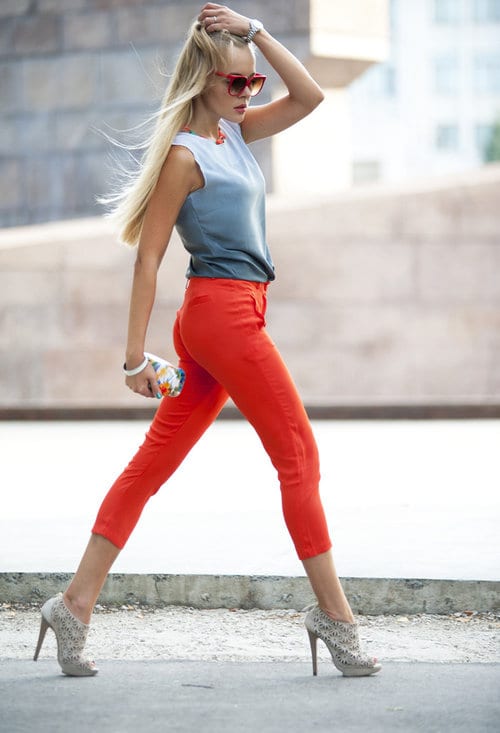 source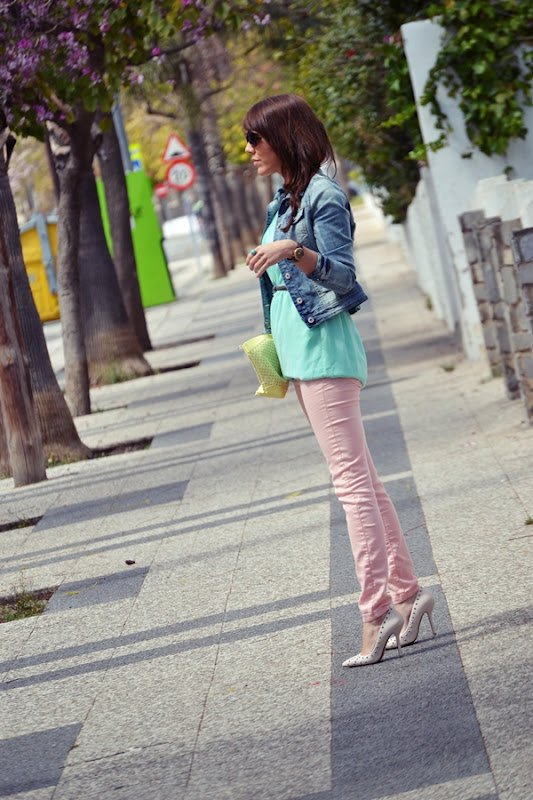 source
Layer a cardigan
If you are searching for the best way to style colored pants for work, then we recommend you layer a longer cardigan over them. Go for a stripe underneath, a solid t-shirt, a button-up, or an easy tan top under the cardigan. Pair the cardigan with the same colored footwear, while keeping the pants in another color. For the top under the cardigan, you can go with a safe choice like white.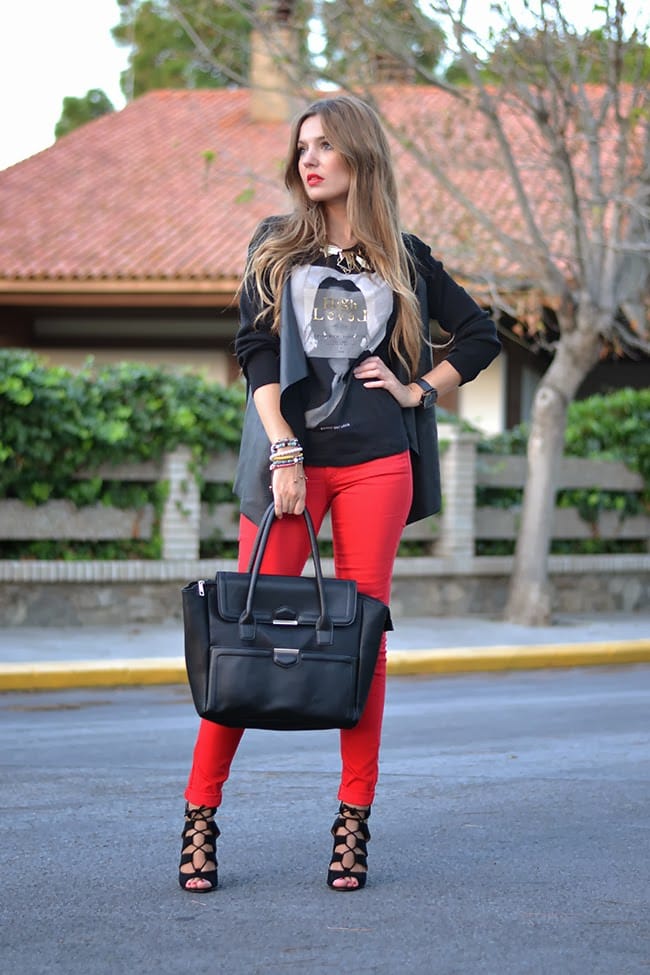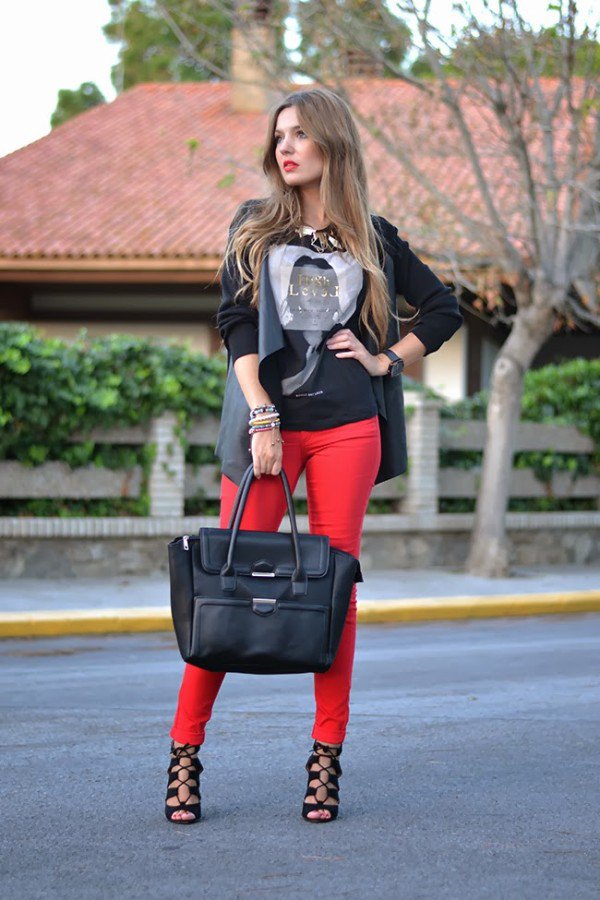 source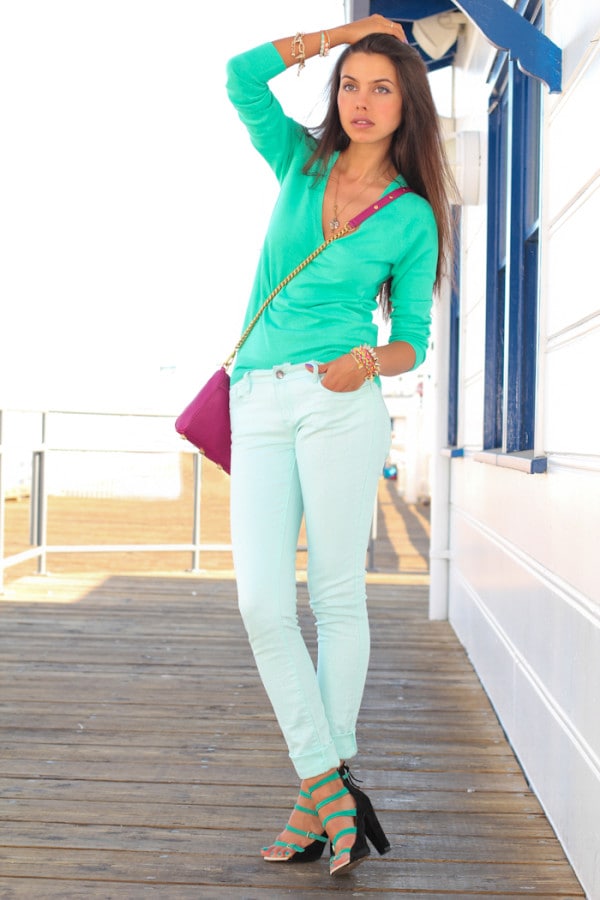 source
Add a blazer
A blazer is the easiest way to instantly create an office-appropriate look. Many women don't dare to wear colored pants in the office.  But if you want to experiment with fashionable office outfits, you should definitely try to wear a pair of them. Pair them with a blazer to give the look some extra formal vibe. A white blazer is one of the best choices during summer warm days. For colder months you can simply choose a darker blazer or the timeless black blazer.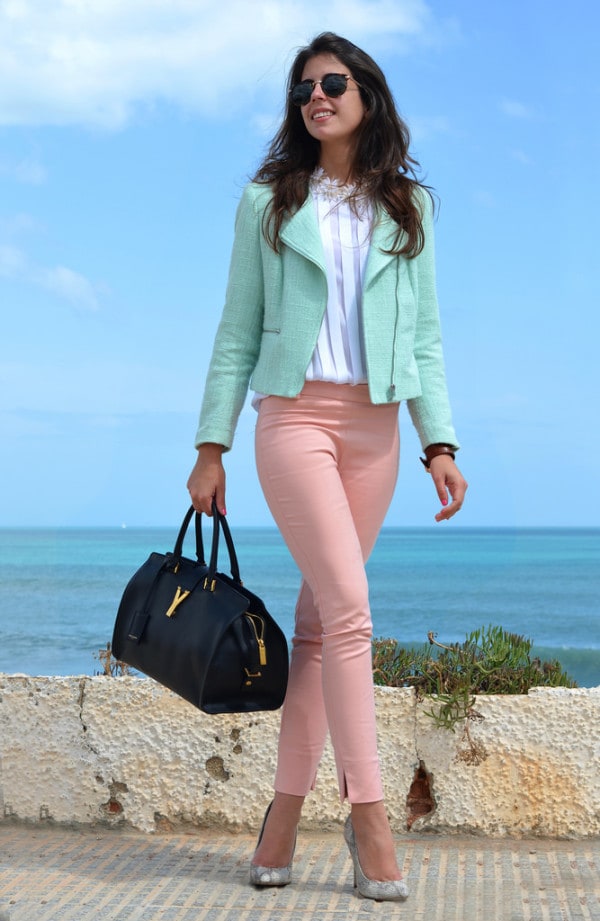 source
Stripes are always a good idea
When it comes to styling colored pants, let us tell you that there is no combination better than pairing them with stripes. Stripes are a timeless print that never goes out of fashion. You can easily pair your colored pants with a tee in stripes print in white and the color of your pants. Layer over a denim jacket or the timeless black leather jacket, and you have a perfect casual ensemble. Add your sneakers to finish the look.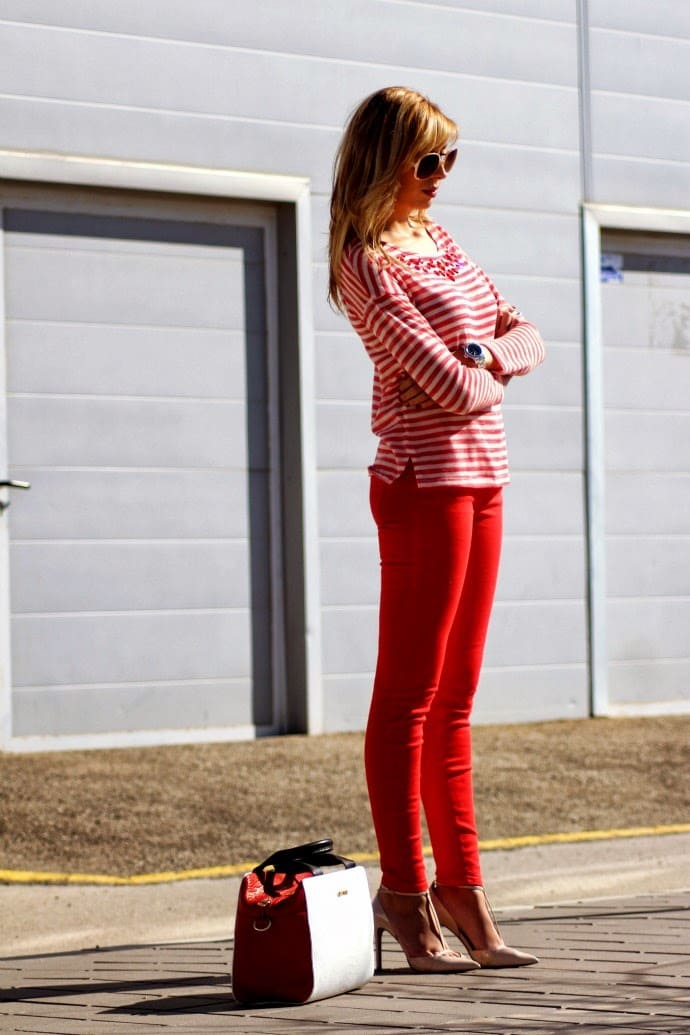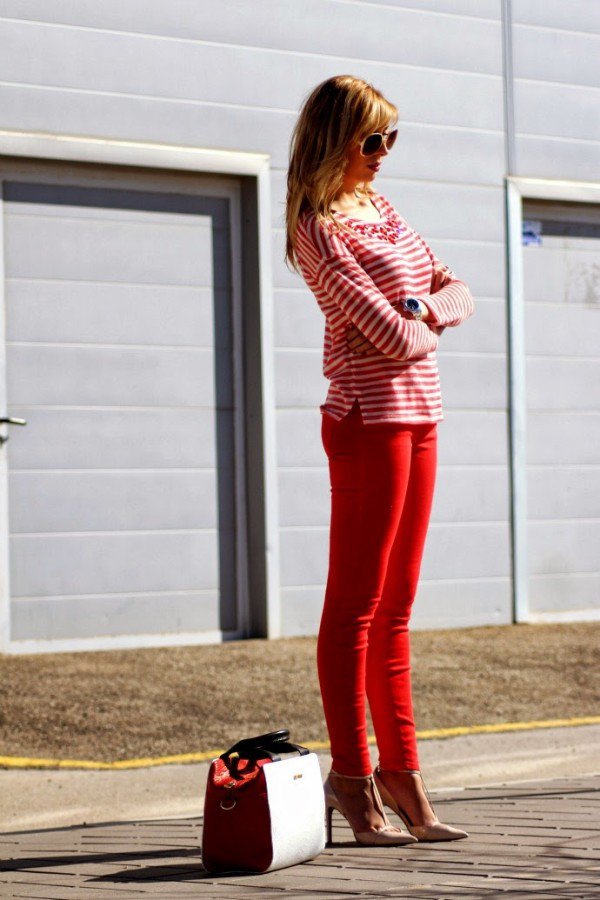 source