Hello DIY lovers! Are you ready for some inspiring summer DIY projects? When it comes to summer accessories, nothing can beat sunglasses. If you feel your old sunglasses boring already, then you will adore these DIY sunglasses frames projects that will embellish your sunglasses immediately. Scroll down the page to explore some creative DIY sunglasses frames ideas to embellish your sunglasses. Choose the one that you like the most, and try it!
1. DIY: Embellished Sunglasses
2. DIY  rhinestone sunglasses
3. DIY Embellished Flowers Sunglasses
Here is an inspiring DIY sunglasses frames projects that you MUST try! These floral sunglasses are so adorable and summer-appropriate, that you will wear them all summer long.
For the project you will need the following supplies:
Supplies:
 A pair of sunglasses
A variety of ceramic roses and flowers
Disposable container or Popsicle stick
A handful of toothpicks
Glue
Instructions:
First, start by squeezing a small amount of glue into a disposable container or onto a wooden Popsicle stick.  Extra tip: use a little amount of glue at a time, so it dries quickly.
Use a tip of a toothpick and apply a dollop of glue onto the back of the largest ceramic flower.
Then press the flower firmly onto the sunglasses frame. Start with the outer corner of the sunglasses frame.
Hold it in place for a minute until the glue dries and the flower sets to the frame.
Continue with the same procedure until you decorate the entire sunglasses frame using smaller and smaller flowers.
Add some little flowers down the right side of the glasses. Repeat the same with the left side of the glasses too.
Allow drying for a couple of hours.
Your DIY sunglasses frames are done!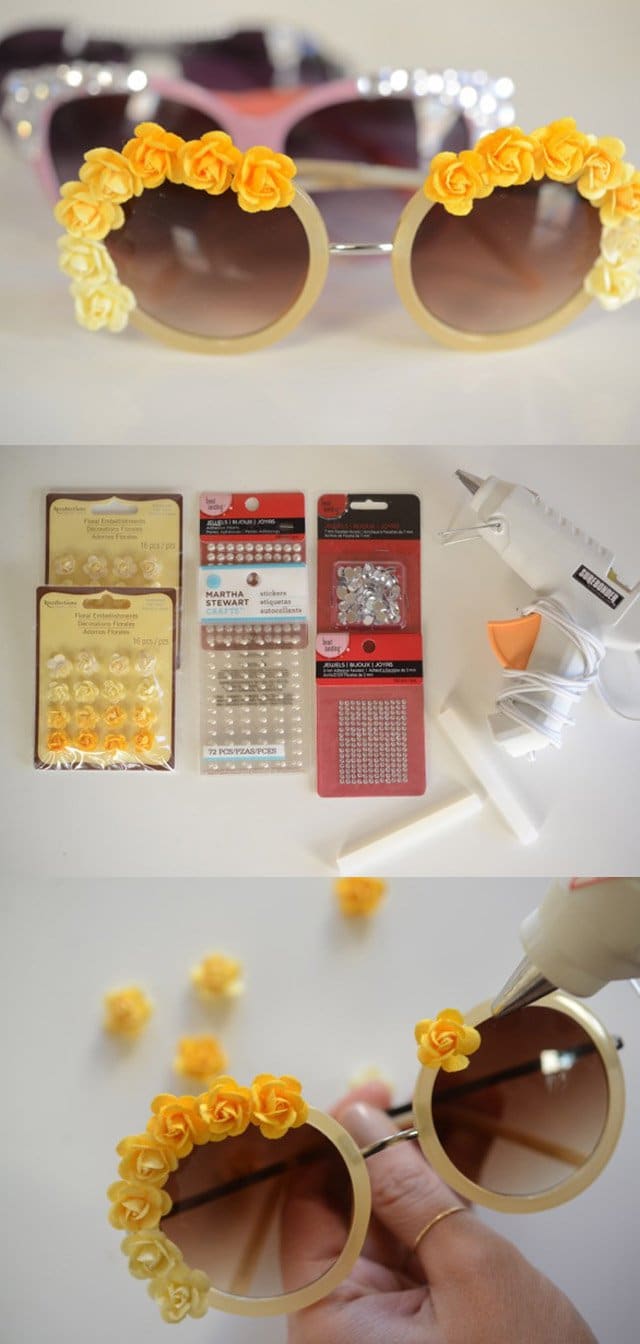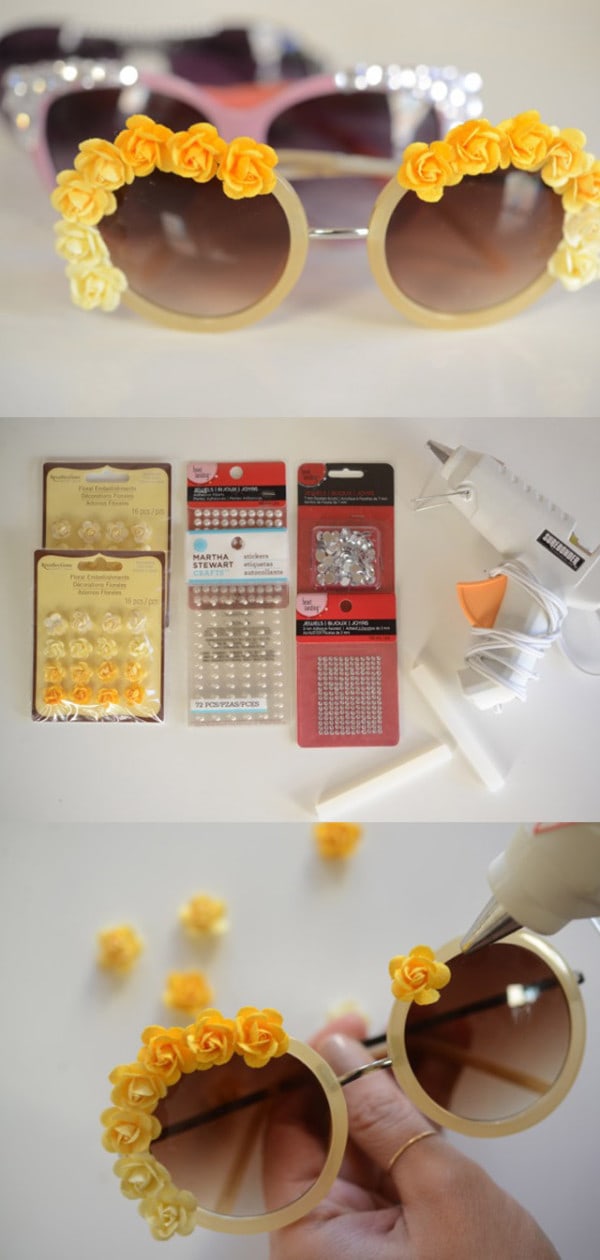 source
4. DIY sunglasses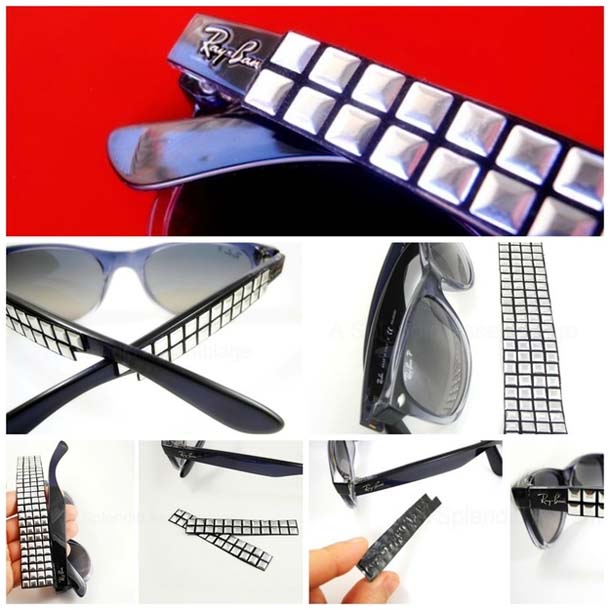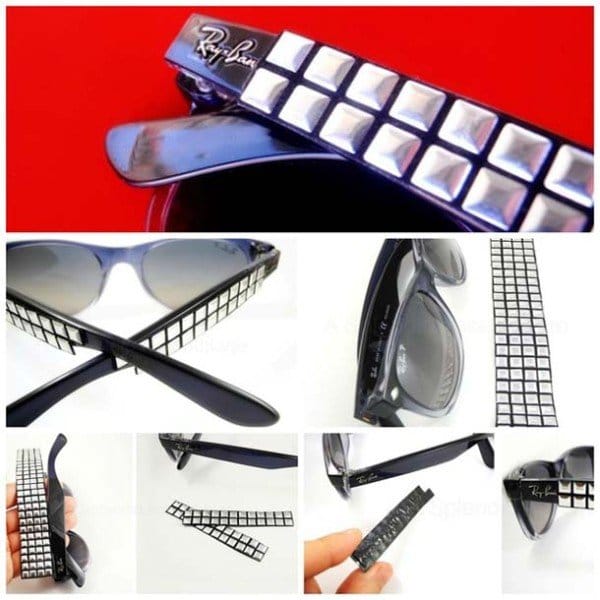 source
5. DIY: DOLCE&GABBANA inspired floral sunglasses
6. DIY pearls sunglasses
Sunglasses not only keep your eyes protected from the sun but add the final touch to your sophisticated and elegant look too. And, what is more, elegant and sophisticated than pearls sunglasses? If you can find the right one for you, you can do them yourself. In this DIY sunglasses frames tutorial, we are going to teach you how to make the most eye-catching pearls sunglasses on your own.
Needed supplies:
A pair of sunglasses to embellish
Faux pearls (you can use white ones, or you can mix pearls in different shades like white, silver, and gold)
Hot glue
Instructions:
First, take the pearls and create the design on each side. This is recommendable because once you glue the pearls you can't remove them, in case you don't like the design. Also, you can try the same design on both sides, or try different designs on each side
Once you have decided which design to create, start the project.
We recommend you start with the bigger pearls first. Create the desired design using bigger pearls. You can, for example, first create a sunglasses frame on the top of the glasses, using pearls.
Then, take the smaller pearls and fill the center of the sunglasses frame with them. Voila, you are done!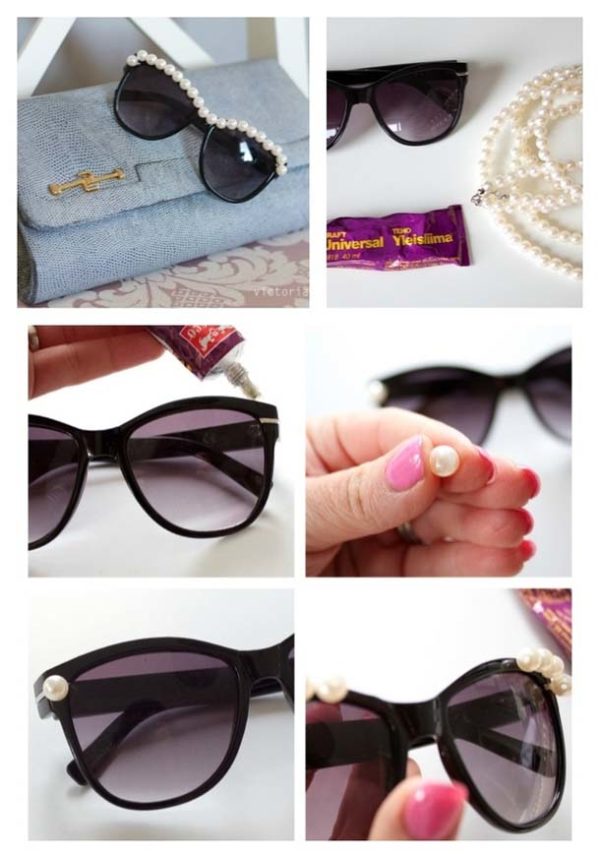 source
7. DIY: Embellished Sunglasses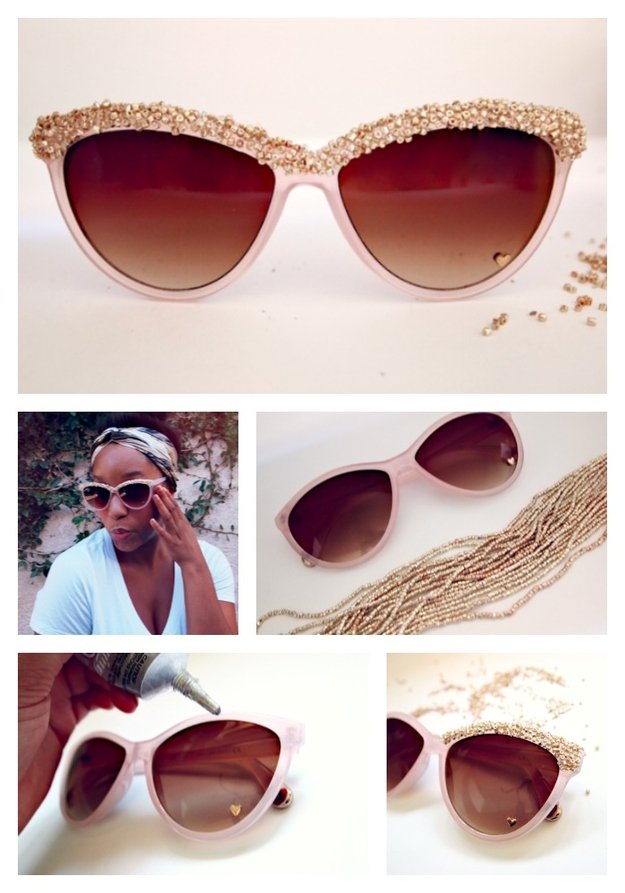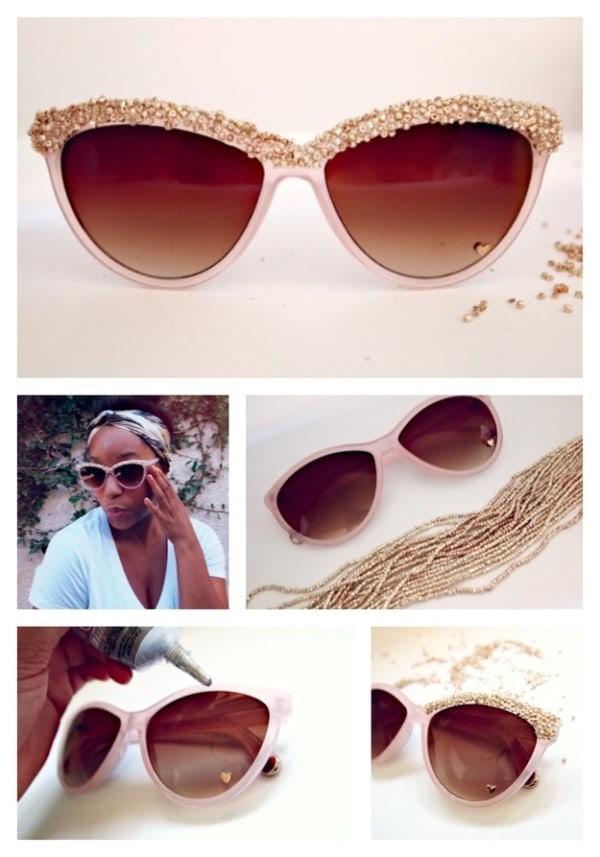 source
8. Easy Restyle for Cheapie Sunglasses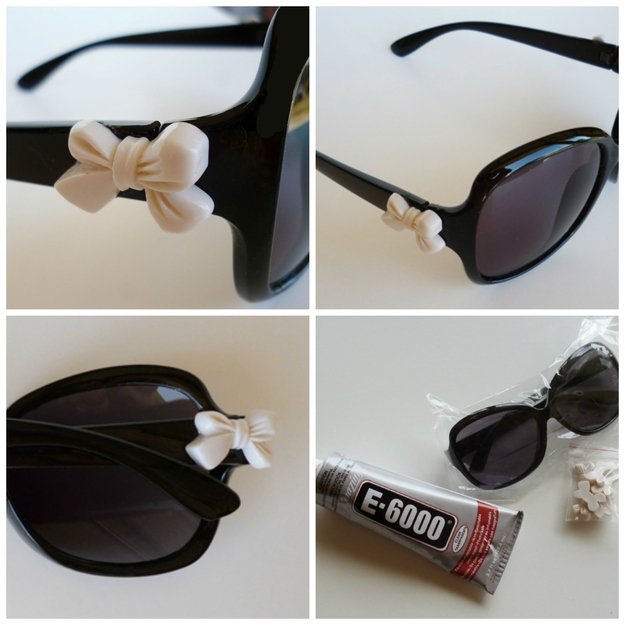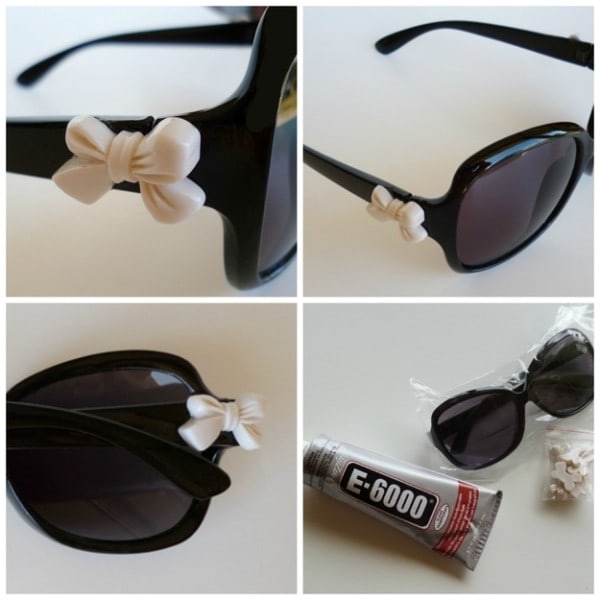 source
9. Flower sunglasses!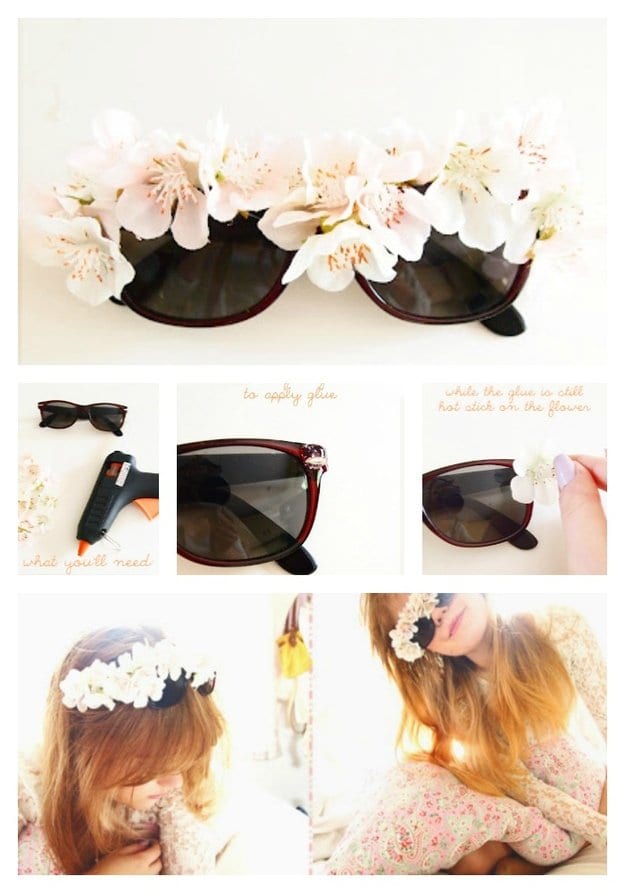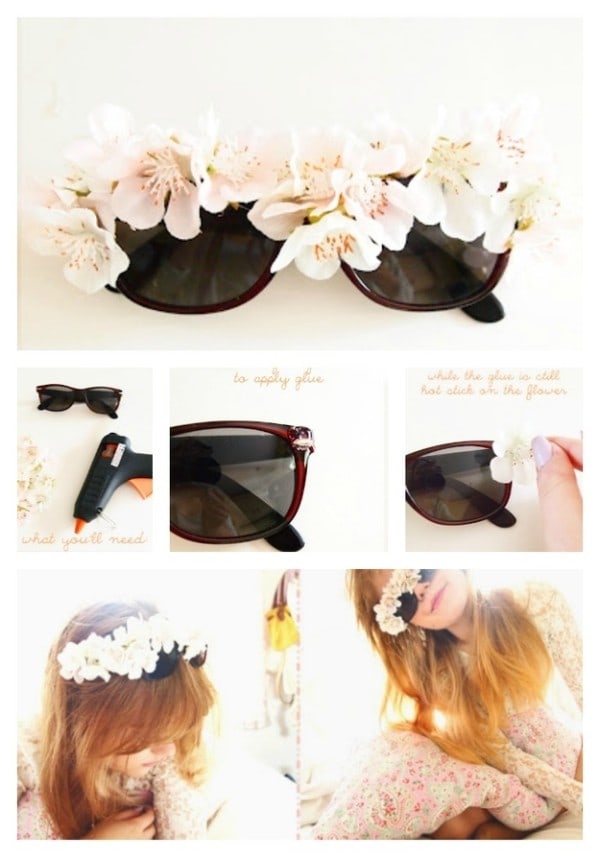 source
10. Easy way to update your sunglasses
Aer you ready for the easiest way to embellish your sunglasses? These colorful tape embellished sunglasses are everything you need to add a pop of color to your summer look. All you will need for these DIY sunglasses frames project are the old sunglasses that you want to embellish and a colorful tape of your choice. You can choose a rainbow-striped tape for some extra color effect. Thi project will require you only one step: to glue the tape on the sunglasses frame. And, that is everything! Your project is finished.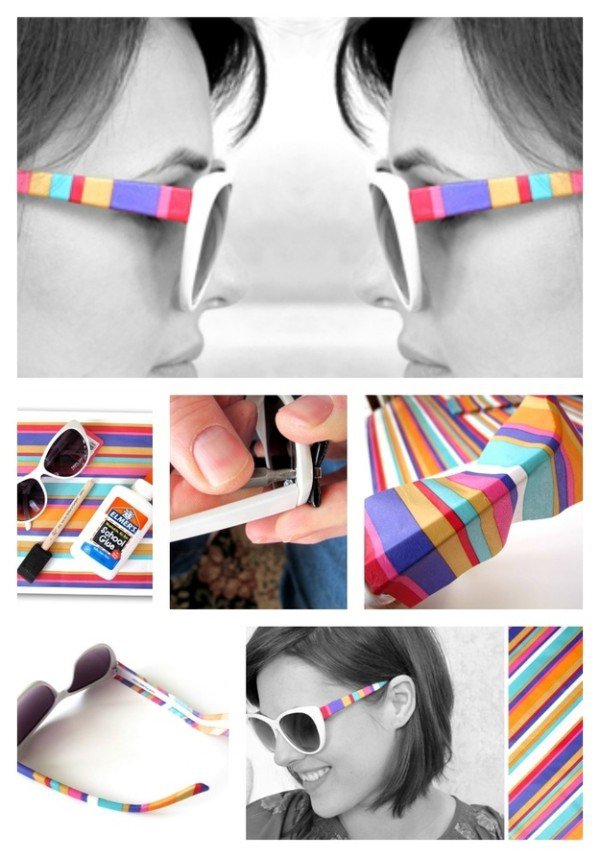 source
11. DIY fashion sunglasses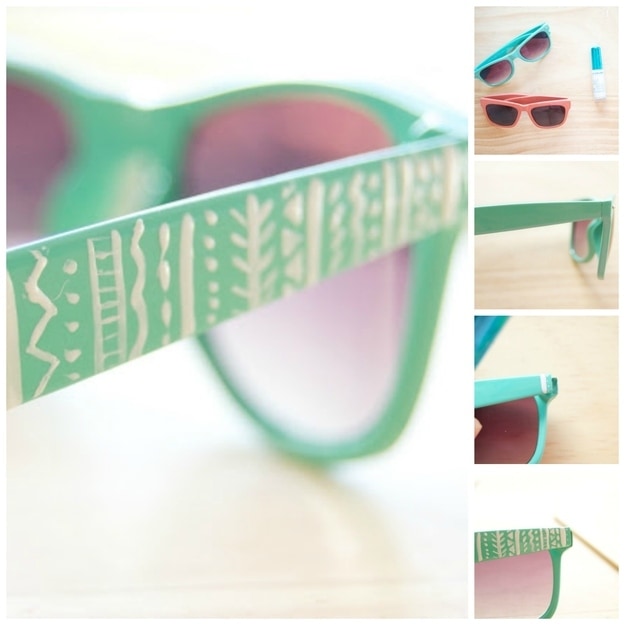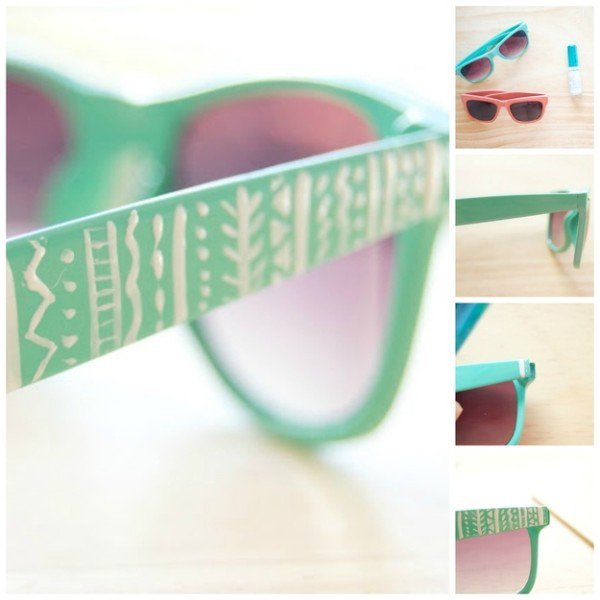 source
12. DIY Sunflowers Sunglasses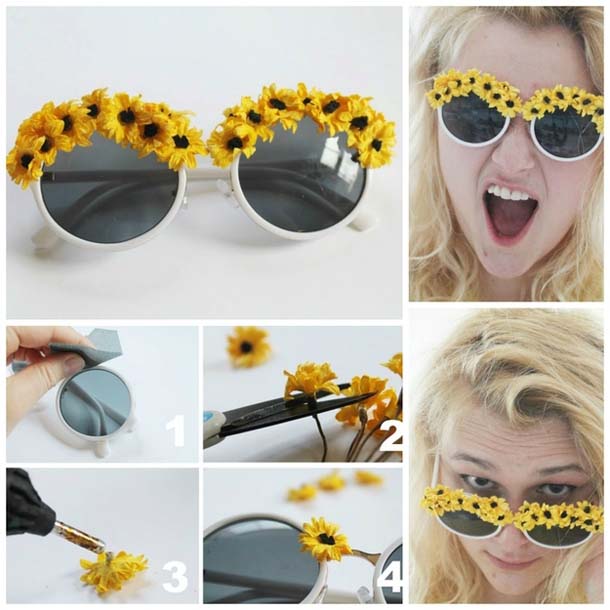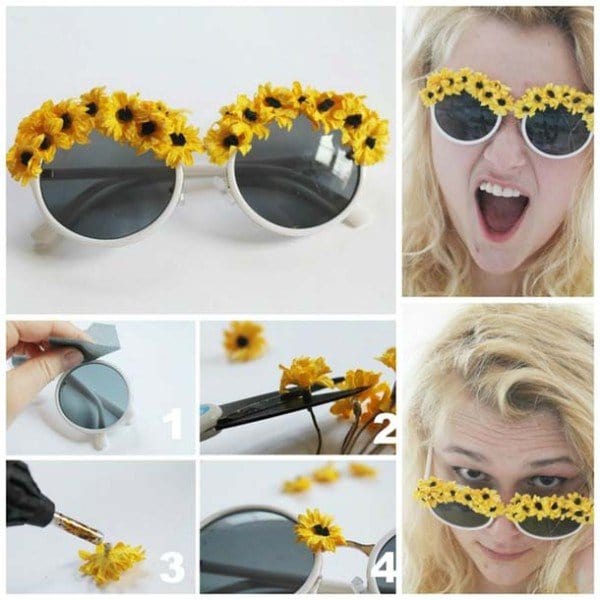 source
13. DIY Embellished Retro Sunglasses
 source
14. Rhinestones embellished sunglasses
These eye-catching DIY sunglasses frames with gemstones will definitely catch your attention.
Here is what you will need for the project:
A pair of sunglasses
Gemstones or rhinestones in the same or in different colors on your desire (if you want to create a more colorful effect then you better choose gemstones in different hues)
Glue to assure the stones will never fall off
Instructions:
Find some old sunglasses that you want to embellish.
Determine the look you want to create over them. Gather the stones and gems for the design you desire. Try more similar or not-so-similar color schemes before you decide on the final one. Set the stones or jewels on the table and create different patterns before you glue the stones. Remember, sometimes less is more!
Once you have decided the design you want to apply, take the hot glue and start applying each of the stones on the sunglasses frame.
When you finish with the entire design, leave the sunglasses aside so the glue can dry.
Tadaamm.. your sunglasses are done!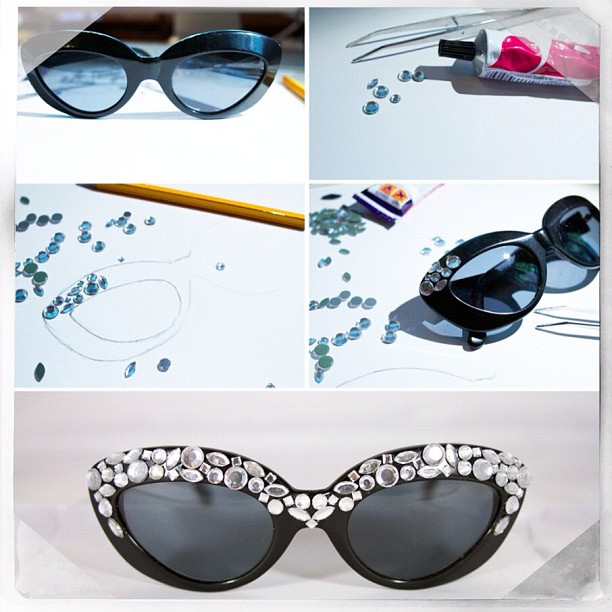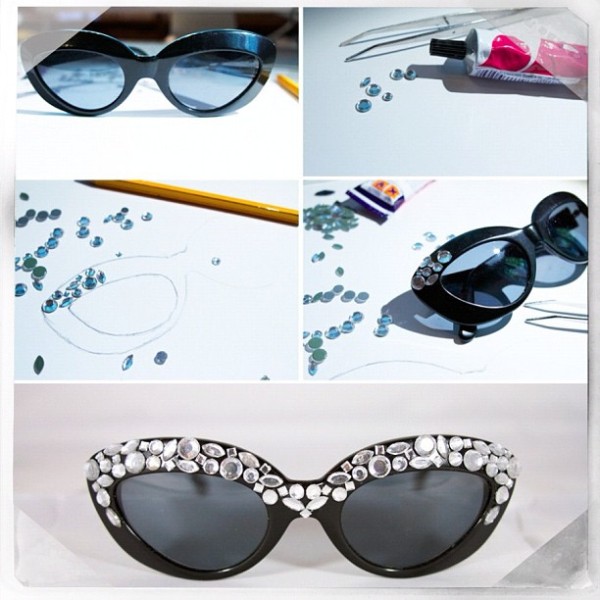 source