Choosing the perfect wedding hairstyle may be a little complicated. Choosing the hairstyle that best suits your face shape and the rest of the bridal look can be exhausting. Then, here comes the dilemma of wearing or not bridal hair accessories. If you have decided to wear bridal hair accessories, you should know that a wedding hair comb is the best choice for them all. In the world of hair accessories, there is a wide variety of wedding hair combs to choose from. In the article below, we have made a selection of the most popular among them.
Scroll down the page to explore different wedding hair comb styles. Then, choose the one that will best suit your wedding ensemble according to your personal style and the rest of your bridal look.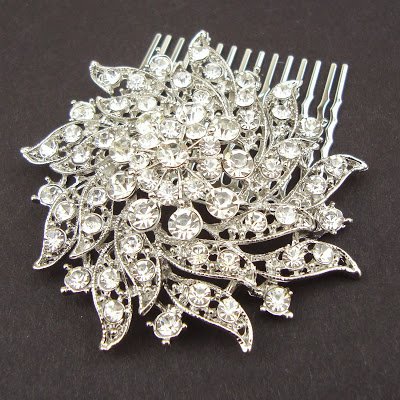 source
Iris hair comb
This is the perfect wedding hair comb for the delicate bride-to-be. Its pale gold or silver metallic tones offer a luxurious finish to the soft ivory floral and pearl details. This hair comb bursts into bloom in such a wonderful cascade of dramatic decadence. The blooming flowers that detail the comb add a touch of an old-world charm to the bride of the modern age.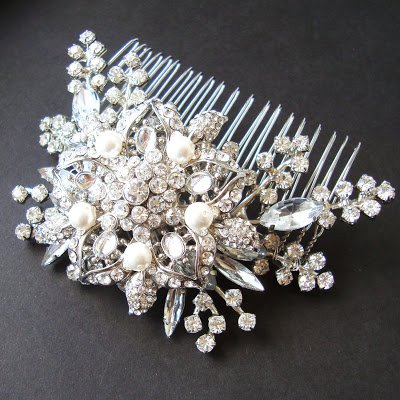 source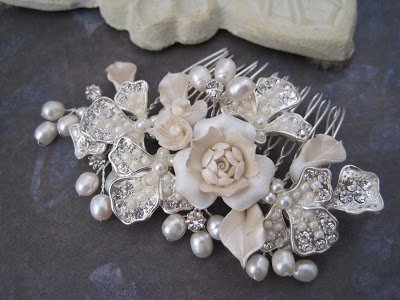 source
Primrose hair comb
The primrose wedding hair comb is detailed with a spray of ivory clay flowers over shimmering silver leaves and pearl accents. This hair comb is available in pale gold tones and perfectly fits champagne-colored wedding dresses. It is surely the chicest and effortlessly elegant hair accessory for brides ever.
Trousseau hair comb
Another wedding hair comb that will catch so many glances is the trousseau hair comb. It is made in muted gold and silver tones. With its mushroom floral accents that give it an ethereal look; this comb becomes a wonderful addition to your bridal hairstyle.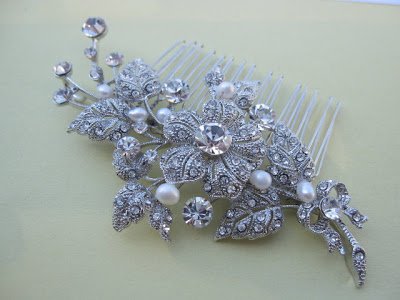 source 
 Dreamed side comb
If you want a perfect wedding hair comb for your side hairstyle then you have already found it. This dreamed side comb is made of a modern glided metal comb finished with sparkly crystal details. Its small size makes it look perfect when in your hair. The look it creates when paired with your hair is so romantic.
Artemis side comb
Another wedding hair comb that could perfectly fit your side wedding hairstyle is the Artemis side comb. This is such a textured and nostalgic piece that is both chic and with a nod to antiquity. Its muted tones of empire blue set upon antique silver tones make it a perfect choice for the modern and untraditional bride-to-be.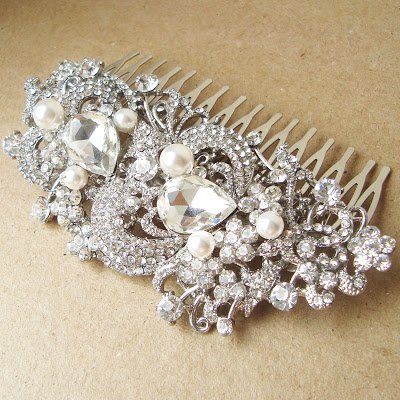 source
Marquise wedding comb
For the traditional bride-to-be, who wants to add an old-world charm to her bridal look: this is the wedding hair comb for you! The Marquise wedding comb is an heirloom piece in antique silver and soft ivory tones. Its botanical features make it a perfect addition to your delicate and soft bridal attire.
Tea rose hairpin
This hair accessory has a petite size but definitely makes a statement of femininity and romanticism in your hairstyle. It is not a typical wedding hair comb, but it is a perfect addition to loose curls and romantic up-dos hairstyles.
source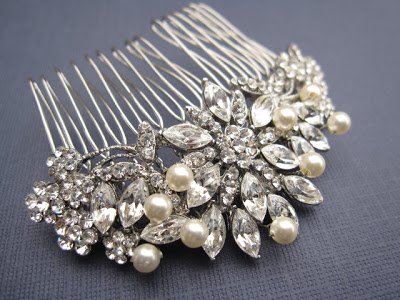 source
Styling tips
Do you have already decided which style of a wedding hair comb to choose for your bridal hairstyle? If yes, it is time to share with you some styling tips on how to wear it the right way. Here are some styling tips that will make it easier for you to style your wedding hair comb.
If you have chosen a heavier hair comb then you should know that they need a solid foundation to stay in place. In order to keep the better supported, you may need to choose up-styles or half-up hairstyles.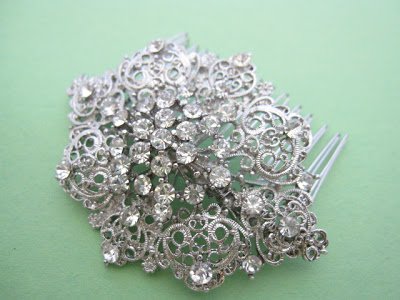 source
For plastic wedding hair combs, you may need to use small alligator hair clips. Bobby's pins would simply not hold the comb in place.
These styling tips can be used not only for hair combs but also for hair pins, halos, and similar hair accessories.
If you want to change your hair accessories during the course of the wedding party or remove it after the ceremony, be sure to take notes on how the comb was initially secured to your hair. This way you will avoid messing up your bridal hairstyle by trying to remove the hair comb. You can ask any of your bridesmaids for help. Do not try it alone, please!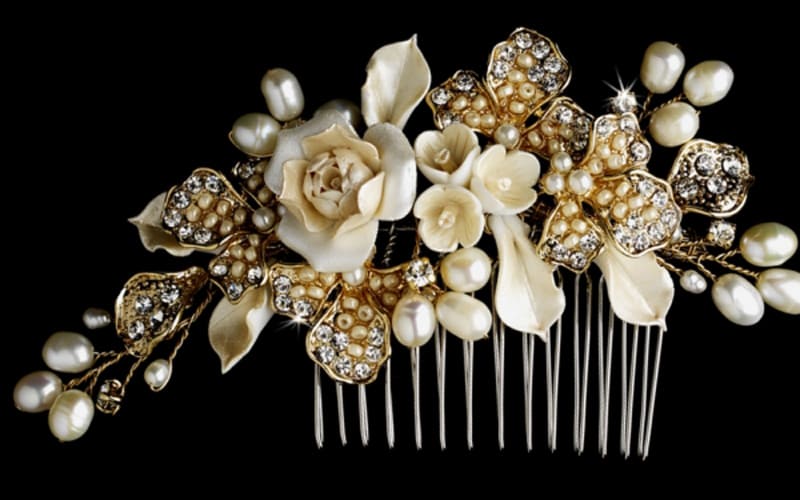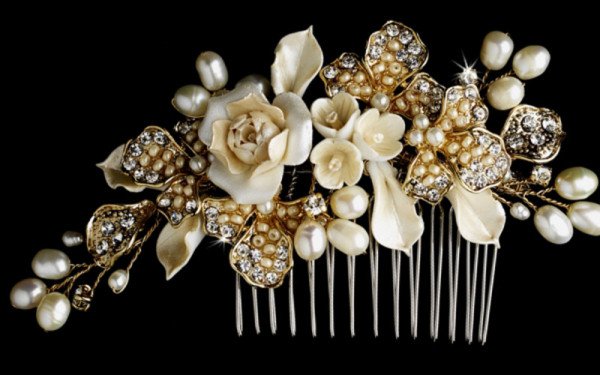 source
How to secure a metal wedding hair comb in your hairstyle
Have you ever wondered how to tie a metal hair comb in your hair?  Here are some techniques that you may know in order to keep the accessory in place. Sometimes it can be a little tricky for the comb to defy gravity and stay in place.
The tease
Lift a layer of hair and gently tease the underside with a fine hair comb. Then, lower the section of hair and insert the comb. Using bobby pins across the teeth of the comb secure it in place. Try to hide the bobby pins for a more seamless finish.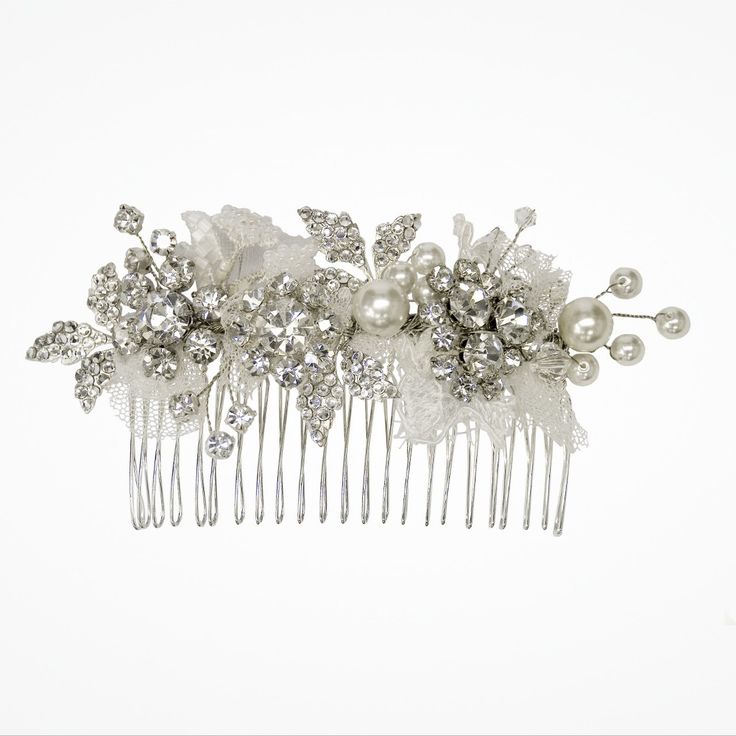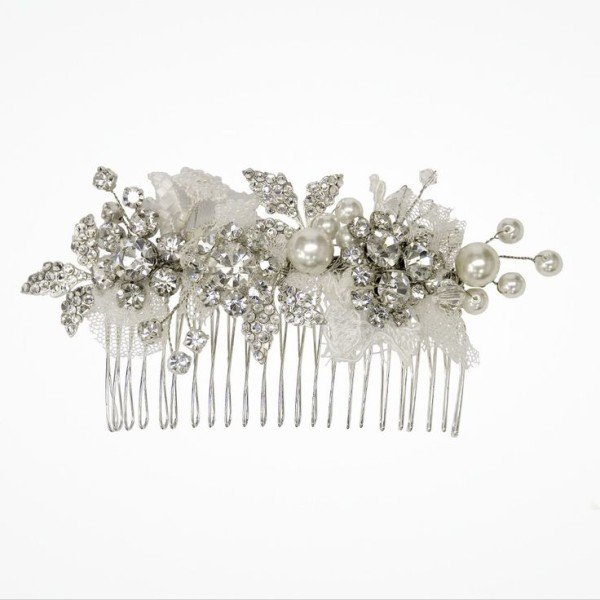 source
Elastic band
For women with really short hair, the best way to secure a wedding hair comb in place is comb is to create tiny ponytails in the area you want to wear the comb. These tiny ponytails should be hidden beneath a section of hair.
 The pin curl
Gather a small amount of hair where you want your wedding hair comb to sit. Then twirl it around your fingers to create a little curl. Pin the comb into the hair and secure with bobby pins. A little bit of hair spray will keep the comb in place.