As all fashion evolves and moves from style to style, so does jewelry. The new jewelry craze has now become focused on coin based jewelry, particularly coin necklaces. This trend has blown up and is available on both the high street and within high-end designer boutiques. Learn more about Coin Necklaces from Corazul.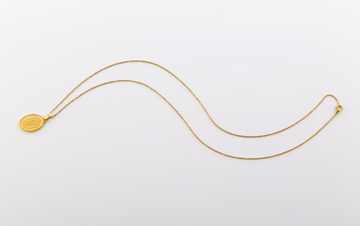 There are many different styles of coin necklaces, choosing the right fit for you can become tough. Historically they were used to signify your social status and wealth, hence some of the motifs that can be found on them.
The history of coin necklaces
Coin jewelry goes back as far as the Egyptians; many coin pendants have been found dating back to 225 CE. As previously explained, they were a sign of wealth or social status, thus a very important accessory for the affluent at the time.
This signifier has continued to be a constant throughout history, making a significant impact in the Roman era too. The Romans adopted the wearing of these pendants to body chains and head chains but still kept the coin motif as the basis.
If you then jump to the early 1990's coin necklaces played a massive role in recent fashion. They can be seen on the cover of Vogue and featured as focal points of massive designers such as Channel and Prada. As fashion is ever-changing, they became less on-trend throughout the early 2000's, but have made a significant comeback in the teens. Now coin-based jewelry is back in fashion it can be found everywhere and on everyone.
What should I buy?
There are many different styles of coin necklace that you can purchase, each with its own unique style. The main variants are listed below and are considered the most fashionable and purchased.
The classic coin necklace
This version of coin necklace is for the more relaxed jewelry enthusiast. It is a timeless piece, usually coming in either silver or gold, however other variants can be found in some stores or online retailers. Most of these coins feature a handcrafted face of a famous coin of historical icon. A particularly popular feature is Napoleon. Many of these necklaces are actually called after whomever is showcased on the pendant.
The textured coin necklace
Much like the classic coin necklace, this style offers the same look with a raised finish. These are usually fashioned in gold, silver or bronze and have a polished look to make them sparkle. This is more of a new jewellery trend, so it is a great choice for those that like to be first to a new fashion.
The oversized-linked coin necklace
This variant is quite similar to the classic coin necklace, however it has a larger link chain. The oversized links offer a completely different style to the necklace, more it is more of an alternative style. This version is most preferred by the more fashion forward wearer as it can be customised easier and made more unique. These necklaces are better suited with darker clothing and chunky boots for a more alternative look.
The sun pendant coin necklace
The sun style pendant is a good example of a coin-style necklace that isn't a coin, but looks exactly like one. The sun pendant is usually found on a thin chain, making it much more feminine and easier to wear with many styles. These necklaces are perfectly styled with both block coloured tops or blouses and fun playsuits or dresses. They can go from day to eveningwear with ease and are extremely versatile.
The star pendant coin necklace
Just as the sun pendant differed from the normal coin pendant emblem, the star pendant does the same. These are usually encrusted with diamonds or other sweet and stylish finishes. These star pendants are by far the more feminine of the coin pendants, whereas the other variants are considered unisex. This sparkly addition merits an outfit to match, this is definitely a formal necklace to be worn in a formal setting.
A layered coin necklace
This style has become more and more favoured in recent years, the layered coin necklace is a hit with most shoppers. The layered look give the necklace a completely different spin, usually they come with two or three different style and lengths. This makes it more of a centrepiece of your jewellery meaning you don't have to accessories it with any more pieces.
Final thoughts
Coin necklaces have been around for a long time, but their influence and interest spikes in both troughs and peaks. At present they are experiencing a really high peak of their interest and there are so many different styles to choose from. This article has highlighted a lot of variants but there are still some styles that may be better suited to you that have not been discussed. Remember to search for your favourite style before purchasing one.