If you live in an apartment, the chances are that you have a balcony that is begging to be transformed into the ultimate retreat. If you're looking for a cozy oasis away from the hustle and bustle of everyday life, then look no further! With a few simple additions, your balcony can become the perfect place to relax, unwind, and spend time with family and friends.
Hang a swing chair.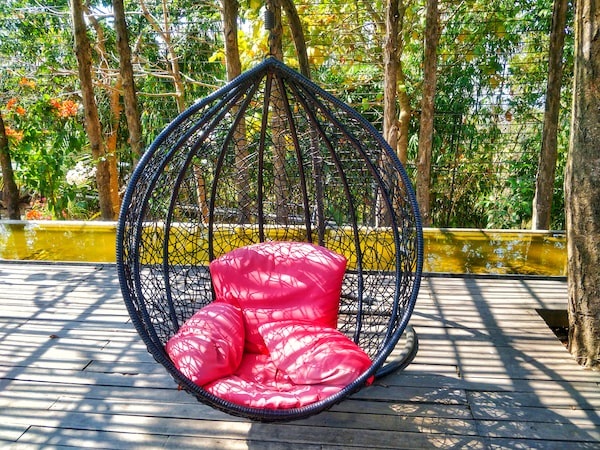 A swing chair with stand can be the perfect addition to any balcony, adding a touch of luxury and comfort that is sure to be appreciated. Not only are they a great way to relax, but they also make a statement that shows off your style and personality. Whether you opt for a classic wooden or metal frame, a hanging chair with a stand will be sure to be a favorite spot for everyone who visits.
The gentle swinging motion of a hanging chair is sure to put you in a relaxed and peaceful state of mind. Take in the fresh air and the stunning views of the cityscape or countryside while you sway in the chair, allowing yourself to drift away into a calming and tranquil state. You can also curl up in the chair with a good book or magazine, or even have a romantic evening on the balcony with a loved one.
Add a few strings of fairy lights.
Fairy lights are available in a wide variety of colors so you can choose a color palette that matches the colors of your balcony or pick a bright, cheerful combination that will make your balcony stand out. Depending on the design of your balcony, you may be able to hang the lights in a variety of ways. For example, you can hang them from the railing, around the edges of the balcony, or even in a tree or shrub.
During the day, the lights will add a bit of brightness and cheer to your balcony and can even help to make the area look larger. At night, the lights will create a magical atmosphere and can be used to create interesting shadows and patterns on the walls of your balcony. You can even use the lights to highlight certain features of your balcony such as a nice view, a special plant, or an interesting sculpture.
Include some potted plants.
When it comes to selecting the right plants for your balcony, it's important to choose plants that are easy to take care of and that can thrive in the climate you live in. Succulents, cacti, and herbs are all great options for balconies that receive a lot of sun and warmth. These plants require very little attention and are hardy enough to withstand a wide range of temperatures. Plus, they're incredibly low-maintenance, so you won't have to worry about spending too much time tending to them.
Make your balcony as comfortable as possible.
Creating a cozy and inviting balcony is something that can be done on a budget and in a relatively short amount of time. With a few simple touches, you can transform your balcony into a tranquil spot to relax and enjoy the outdoors.
Adding some decorations and accessories can also make your balcony more inviting. You can hang wall art, add throw pillows, or place some blankets and throws on your furniture to make it feel more homey. You could also add a few decorations that reflect the season or your personality.
By following these simple steps, you can transform your apartment balcony into the ultimate retreat. With a few simple additions, you can create a cozy, peaceful oasis where you can relax, unwind, and spend time with family and friends. What could be better?