With the arrival of festive and winter weddings season, what's better than dressing up in trendy ethnic wear to look like a million bucks, sharing happiness and joy! Out of all diverse Indian ethnic wear options, a saree has forever remained the most fancied choice of women across generations to look stunning and surreal. Sarees own an innate charisma and grace that is tough to find in any other ethnic or western dress.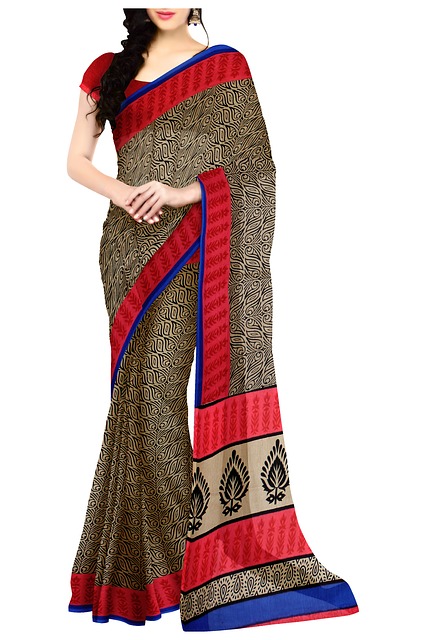 While sarees have forever prevailed on top in the Indian fashion industry, they again revived themselves with a contemporary touch to look more mesmerising. Hence if you are looking for designer ethnic wear this wedding season, you can shop from a wide range of the latest sarees for women that will help lift your look with minimal effort and get an alluring look.
Amp up your glam with these latest saree designs
There are numerous drapes and styles in designer saree collections where you can get an excellent combination of ethnicity and modern style. Also, many fancy sarees for women are eccentric and exquisite and can set some impressive style goals when donned with the right pair of accessories and footwear.
However, choosing a fancy saree depending upon the occasion is not enough. Sometimes discovering the perfect saree is also about the trends. Yet, the sheer number of saree styles is enough to confuse any woman. Below are some of the latest designer saree trends that remain evergreen in the style industry that you can take inspiration from to look stunning at every party.
●      Partywear printed sarees
The last festive and wedding season glimpsed plenty of zari work and thread craft. Now is the time to present a complete makeover to your traditional saree wardrobe with elegant and quirky prints that express your vogue and free spirit.
Impressive and graceful prints are the newest fashion in party wear saree for women who like to make a compelling and fierce style statement. You can opt for this designer saree with peacock engravings, floral prints, wildlife prints, and symmetric patterns. However, to carry out this saree design with confidence, ensure that you never go over the top with prints.
●      Stylish cotton saree
Stylish cotton sarees are a perfect choice for ladies who wish to set style goals. Also, as cotton has been the most classic material in the country, these cotton-made sarees are a significant hit among foreign women who adore the Indian culture.
You can effortlessly carry these fancy cotton printed sarees that arrive in different types and designs that you can team up with some statement jewellery and high heels to get a rich and glam look.
●      Tussar silk saree
A woman can never go wrong with a saree look, especially when it is the classic Bengali tussar silk saree. These silk sarees are usually available in natural hues of white and cream variants with a lustrously shaded border. Also, you can find floral and geometric patterns interspersed across this fancy saree, offering it a graceful look.
Hence it might not be wrong to say that if you want to dazzle your onlookers with your captivating style, a tussar silk saree is the perfect match for you. Also, to earn more compliments and look flawless, team up this saree with an intricately designed blouse and gold jewellery.
●      Ball-gown inspired saree
If you desire to set some fashion goals to stand out from the masses, opt for a ball-gown inspired saree design. This fancy wedding saree gets inspiration from classic Indian sarees and a contemporary ball gown.
They are the flawless blend of attributes in both outfits and are perfect if you want an out-of-the-box style. This elegant designer saree comes with a flowy pallu and stitched pleats that make it more comfortable to wear, and you can perfectly carry this outfit, even if you do not understand how to wear a saree.
The body-hugging fitting of these ball-gown designer sarees further highlights your elegance, while this saree's classic feature enhances the classiness. Therefore, you can never go amiss with this stylish ball-gown inspired saree when looking for fancy Indian sarees for any wedding or festive function.
●      Stunning chiffon sarees
Partywear chiffon sarees are a constant favourite amongst modern women and for a good reason! Chiffon sarees ooze opulence and luxury. So it is better to dive into the fascinating world of glossy, semi-transparent chiffon sarees and rock all your upcoming winter wedding functions and new year party.
Be it embellished, sequinned, monochromatic, or multicoloured, you can readily shop for a chiffon saree online to get an unparalleled class sheer elegance.
●      Heavy work sarees
Heavy work sarees have become a must-have in every woman's ethnic wardrobe. The fabric of these intricately designed sarees comes with stunning embroidery or a detailed composition of jewels, gems, sequins, etc. Also, a heavy work Zari or silk saree can be an ideal pick for events like weddings or festive get-togethers.
These heavy work sarees consistently guarantee that your looks remain unparalleled, with their intricate patterns and an expansive variety of shades. A massively embroidered saree with a sheer border can make you stand out from the masses without stressing about slipping back in style.
To finish this gorgeous look, try pairing your heavy work designer saree with diamonds or pearl studs, dewy makeup, and a designer clutch, and you are all set to dazzle.
●      Organza saree
Get that ultimate dreamy look with an organza saree. Various organza sarees arrive in floral designs with the most aesthetic and artistic colours that can readily amp up your glam and make you look breathtaking.
The floral and ornate patterns of an organza saree help you look chic and classy at the same time, and the elaborate blouse design gives you a stunning glam.
Shop for designer saree collections online
A saree is a magnificent outfit that can fit perfectly on every occasion. Designer sarees can make a head-turning fashion statement everywhere. So what are you waiting for? Shop for these collections online to express your inner fashion-goddess to amp up your glam.