rRepurposing is becoming more and more popular nowadays. This is interesting process and by my opinion this is an amazing way to spend your time into creating something useful. Especially the repurposing old clothes into another clothing. It is a nice way to recycle and reuse old clothes that are still in good shape but maybe they are old fashioned or simply you do not like it any more. There is a lot of fun into all DIY projects that are related with clothes repurposing but we are sure that the most interesting is if they are related with creating something for your kids. So for today we choose to share with you some cool ways how create amazing and cute little dress reusing the men's shirt. Repurpose men's shirt into toddler dress, and you will get wonderful result at the end.
It looks super easy to do and only requires some cuttings and basic sewing skills. You don't even need to sew any button holes because they are already there. See below for what we are talking about. We are sure that your kids will love this. Often, sorting through a man's wardrobe, housewives do not know what to do with T-shirts, which the husband has stopped wearing for some reason. And it's a pity to throw them away, because they are usually quite new. But if it is not used, it just takes up extra space in the closet. Men's shirts are a suitable material for children's new clothes. Beautiful clothes for young fashionistas are especially wonderful.
What You Will Need For Work
A man's shirt is gathering dust in the closet, so what to do with it? It's a shame to throw it away, because it's usually made of thick, high-quality fabric or soft and comfortable cotton. But you can give her a second life! How to do it in the most competent way, is the main question that a good housewife asks. There are several ways to transform a shirt into a dress. The resulting model will primarily depend on the fabric of the shirt. From a denser material, you will get great dress for the cold season, and from a thin canvas – a dress for the summer heat. To repurpose men's shirt, you will need the following:
Children's clothing that can be used as a template. Her favorite dress or t-shirt can act in this role.
Scissors. Better get tailor's.
A piece of chalk or scrap with a sharp edge.
Sewing machine or hand sewing needle.
Decorative elements as desired.
EXTRA ADVICE: You can use bright braids, lace collars and crochet motifs as decor.
After that, put the shirt on a flat surface and use clothes for templates to draw the outlines of the future dress. Then cut out the parts and connect them with a sewing machine or needle. The final thing will be decorating the dress. Many moms do not dare to start this work for fear of complexity or incompetence. We propose to consider several simple options for transforming a shirt into a little lady's dress. Even a mom with minimal experience can use them. Repurpose men's shirt into toddler dress and use this process for other clothes too.
Creative Ideas – DIY Repurpose Men's Shirt Into Toddler Dress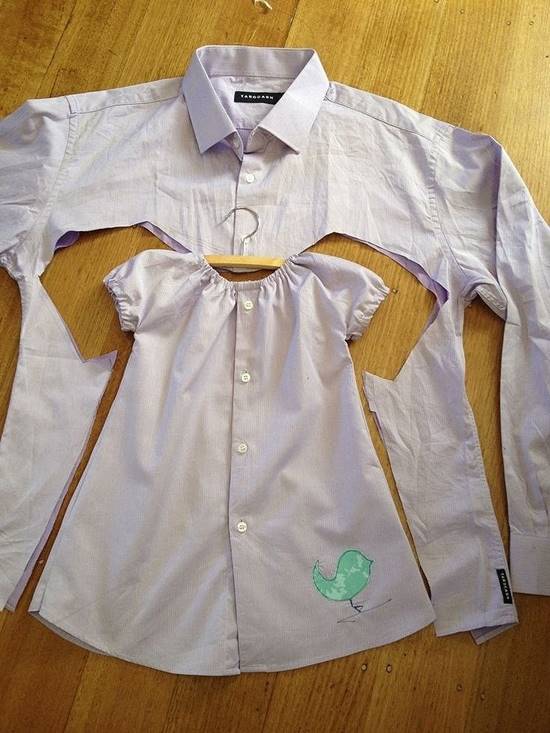 source
DIY: Men's XL shirt into a little girl's dress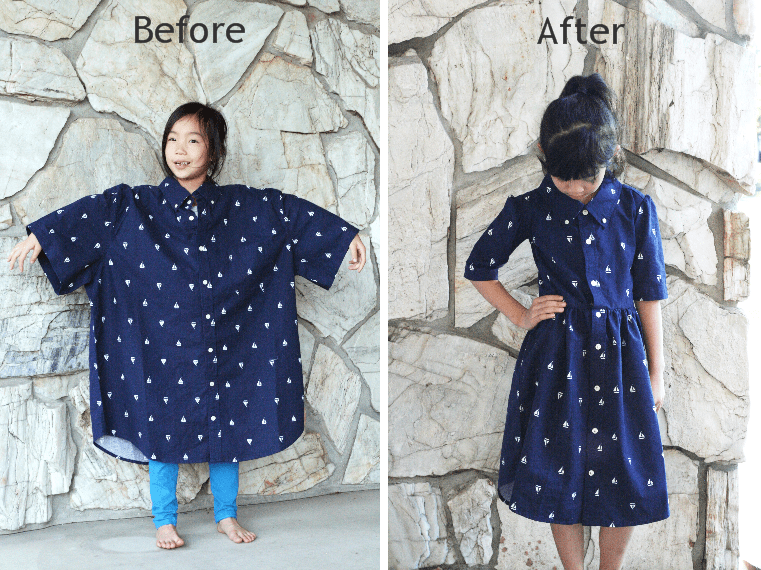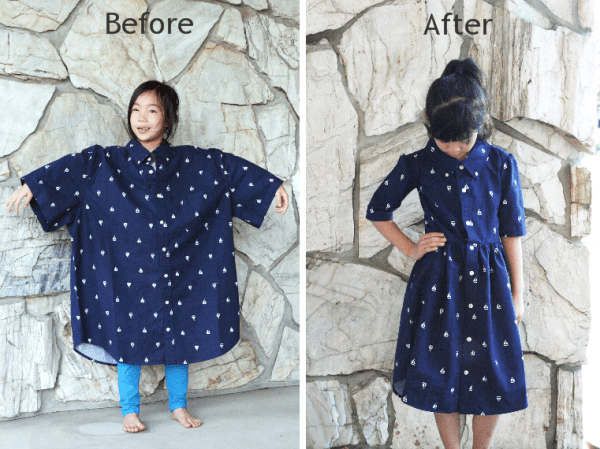 source
DIY Day! Dress Shirt Upcycle!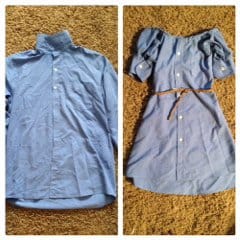 source