If you have curly hair, many will envy that you wake up with a perfect hair day, every day. But, you may know that this is not true and that your curls don't look so gorgeous without your little help. Sometimes, they need a little extra help to plop curly hair, especially after a wash day. If your loose curls lose their bounce after you do cleansing and conditioning, then you know what we are talking about. The best is that there is a solution for you. It is an absolutely heatless and super easy way to plop curly hair. All you need is a t-shirt. Yes, that is so simple! Below, we have described all the steps you need to go through to plop curly hair with a t-shirt. Don't miss watching the video below to figure out how everything is done.
Here are the steps:
Get the excess out
The best way to plop curly hair is to start with freshly washed and detangled hair. However, you don't want to plot with sopping wet hair or hair that is already most dry. Find the middle ground! Take a T-shirt to squeeze out extra water so that you get the right level of dampness. Don't drip, but still wet to the touch.
Style
This is where you put yourself to work! The t-shirt may do a lot, but it will not style your hair for you. You need to do the major job. So, grab your "hair styler" and plop curly hair on your own. You may not want to get your hair wet again or overload it with hair products. But, still, you do want to make sure that you are giving it a good amount of hold. If you need to re-wet the hair, then the best is to grab a spray bottle and fill it with a mixture of water and a creamy leave-in. This combination of ingredients is the same formula that professional hairstylists use to plop curly hair at their salons.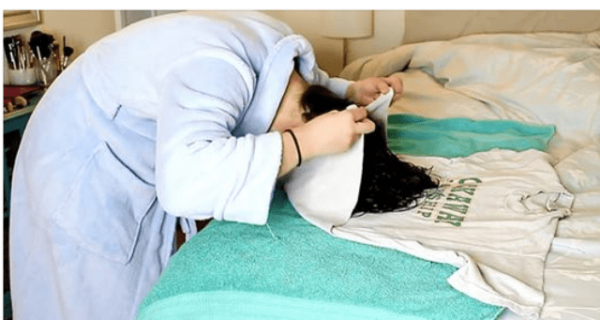 Wrap it up
Now, take an old cotton t-shirt and lay it flat on your bed or another flat surface with the sleeves at the top. The best is to choose a long sleeves t-shirt because you will have more material to tie the knot with.
Hang your head upside down. Gently lower the curls onto the center of your t-shirt.
Once all the hair is on the center of the shirt, begin the process of wrapping.
Start by rolling the bottom of the t-shirt up towards your forehead.
Bring the back of the T-shirt to the nape of your neck.
Now, tie the two ends at the nape of the neck into a knot to secure the shirt.
If you have chosen a short-sleeve t-shirt and do have not enough material to tie a knot, you can simply tuck the ends of the sleeves in during the following step.
Bring the top of your t-shirt towards your head. Make sure that all the curls are still at the center of it.
Now, bring the arms down around the nape of the neck.
Cover the bottom of the t-shirt with the top of it.
Stand upright, bring the arms together and tie a knot. It will secure the shirt in place. Tuck in any loose corners.
Time to leave the process on hold on. Sleep overnight. In the morning, you will surely have the most eye-catching curly hair like never before. You will never try any other way to plop curly hair ever.
source
What makes plopping different from the other drying methods?
If you love cooking then you will surely understand the comparison we have done. Plopping is kind of like making a pot roast on your hair. The secret of the technique is letting the hair cook (dry) slowly. That allows the hair being not free to frizz as it pleases when you air dry it. Also, you are not using any potentially curl-disruptive heat. Most women adore this kind of heatless way to curly your hair because they do not damage the hair at all.
Another bonus: use a cotton t-shirt because it is a perfect medium between regular terrycloth and silk. Cotton is absorbent enough to actually get the hair dry, while it keeps it smooth enough to not cause breakage to damp hair. So, any time you want to plop curly hair and have doubts, do not doubt at all. It is the best way to get a perfect curly effect for your waves.
We hope that this article has been helpful enough for you. Curly hair is not as easy to maintain, but with this way to plop curly hair, we are sure that things will become easier. We invite you to explore even more ways to curl your hair here.