Form bob to pixie, there are a variety of beautiful short haircuts for women over 50 that are flattery and stylish as well. These are not dull haircuts, either. They are chic, sophisticated, classy and all rage. The best thing about short haircuts is that they look great on everyone. However, while some are versatile cuts, others are suitable for particular face shapes and hair types.
The aim is to get the best hairstyle that suits your face shape and hair texture. Therefore, when selecting the best one for you, check for the images of ladies who have face complexion, face shape and the body type similar to yours. Here are some of the cutest short haircuts for women over 50 for your inspiration.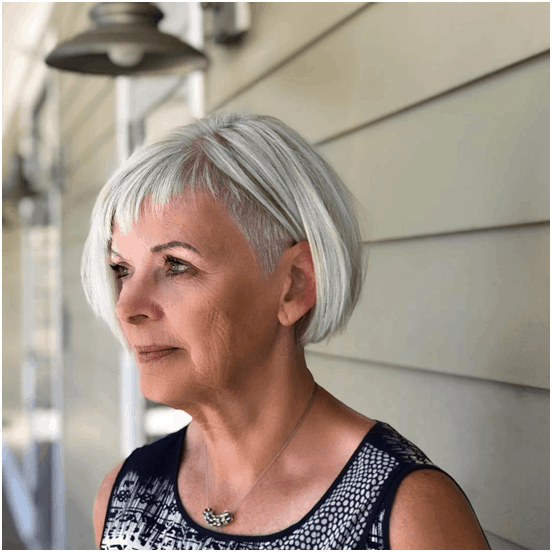 The Pixie
Pixie haircuts are classic short haircuts for women over 50. They give a perfect frame to your face, revealing and accentuating your best facial features. You will be surprised also to know that apart from going to the salon every day to trim your hair, pixie cuts are low maintenance. Besides, you can just wash it or use some pomade for texture and go.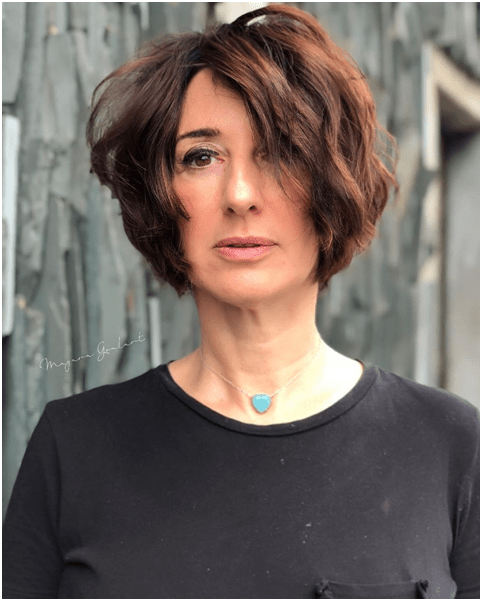 Super Edgy Pixie
This pixie haircut is super edgy and warm and looks great on all women regardless of the age. However, it mainly looks glamorous on gray hair. Gray hair is adorable and relaxed and that is why older women are opting to embrace their gray hair. It is a gorgeous shade and going natural gets rid of regular trips to the salon. Not all women will rock on it, but if you want to display those gray tresses, it is the best cut for you.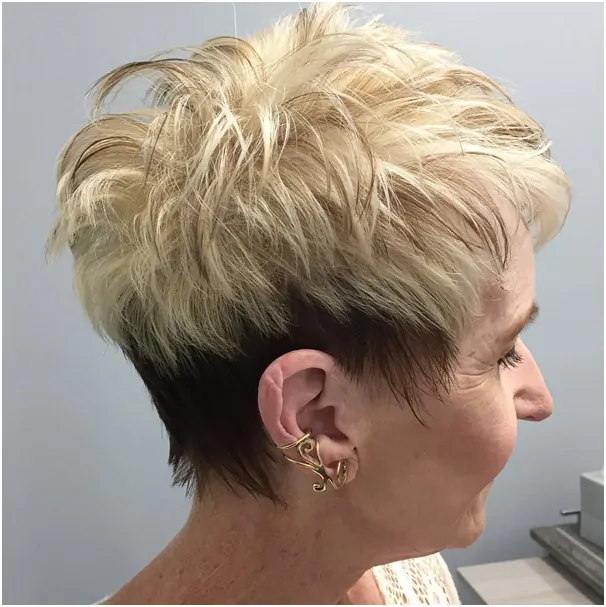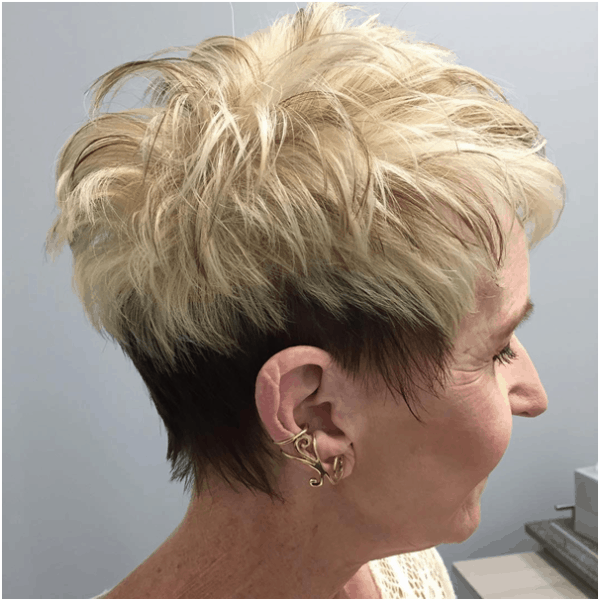 A Hip Short Haircut
This is pretty beautiful short haircut for women over 50. It embraces the modern style of the standard pixie and really reveals your natural wave. If you are thinking of some transformation and you are looking to go from warm to cool, call your stylist and place an appointment. However, make sure you choose a stylist who knows about styling for stylish women. Remember, while it is good to be loyal, it is exciting what a new styling from a different stylist can look.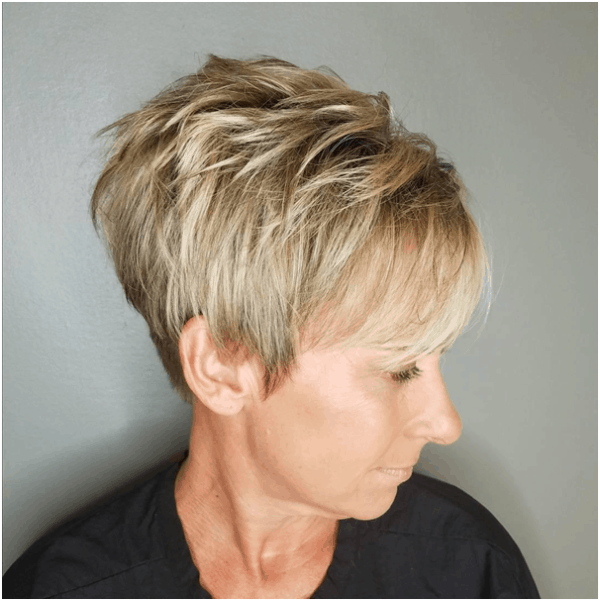 Just Spike It
This is not for all ladies. To pull it off, you definitely need to possess the right personality. It is a chic spiked cut for women over 50. It is an excellent option for black women who are looking to go short and still demonstrate that they have some spunk left. It is ideal if you have thick hair since you will not need to use lots of products to sculpt it. For a softer feel, simply skim some spikes and lay it flat. You have sufficient length so you can play with your hair whichever the way you want.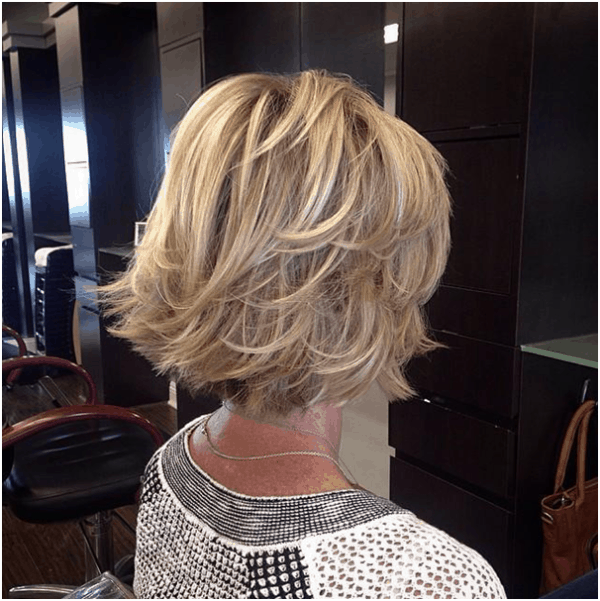 Mussy Layers
Nowadays, every woman wants to rock natural looks. With this haircut, it allows you to go short and get a fresh look that is the rage now. It is a chic and casual look, with numerous extended layers that are well placed. The haircut can also be shaped using slicked back fringe and a polished side-sweep. It is super flexible haircut as you can see.
The Classic Shag
The glamour of the shag haircut is that it rocks all face shapes. It is an excellent choice for women over 50, who want to go short but not too short. The key to achieving the best shag is adding lots of layers and a lot of texture. You can wear it tousled or with some waves and curls. Whichever way you choose, you will look elegant.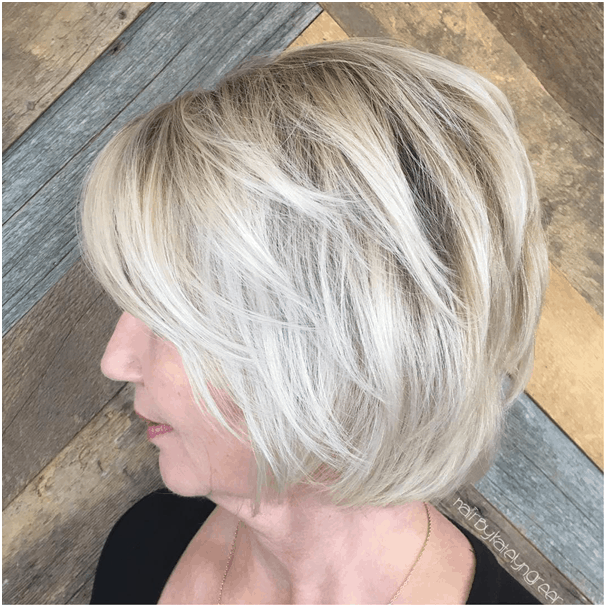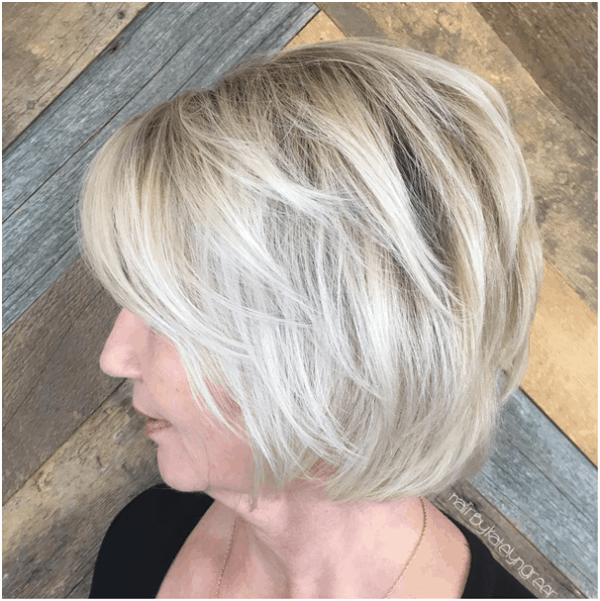 The Long Bob
This long bob has been around for many years and has always been trending, and we don't see it going anywhere anytime soon. It is an excellent choice for ladies who want elongated tresses that is flexible to style and easy to keep. It is characterised by the enhanced volume. The wispy layers are slicked to the back and held with holding spray to reveal your beautiful facial features. Remember that it is not easy to maintain volume on long hair. Therefore, the shorter you make your hair, the better shape you will get.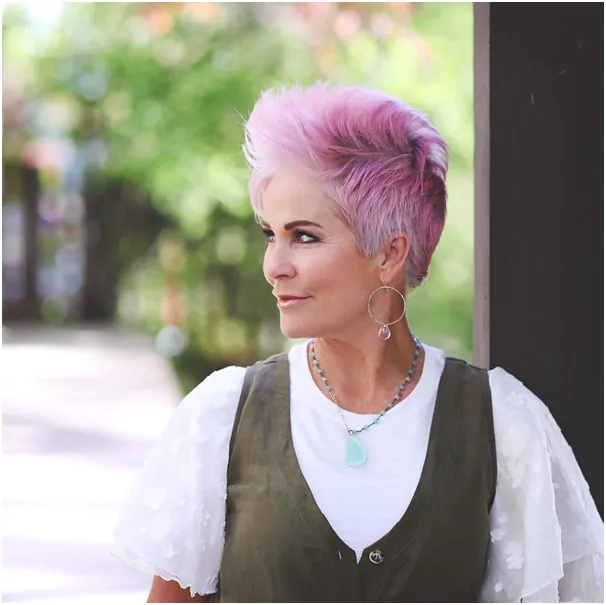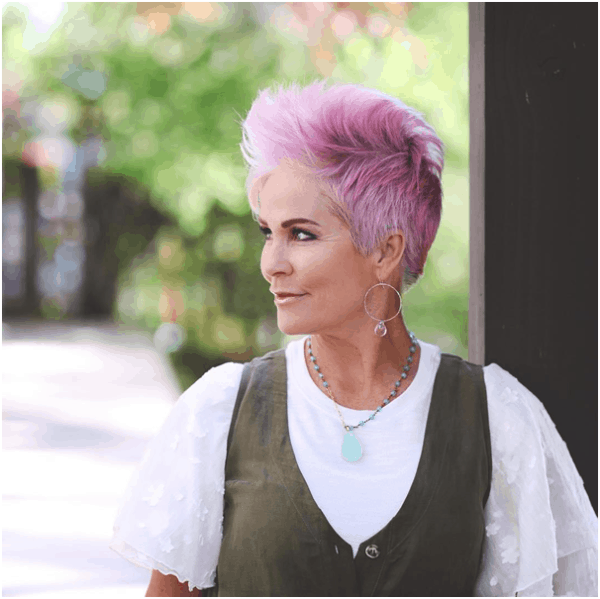 A Casual Bob
For women with thin and straight hair, this bob is the best choice for them. The length does a great job of adding volume to the straight hair and gives you a perfect casual appearance. With this haircut, you can also enhance the volume by simply altering your part. When middle-parted, it gives you a sleek and professional look. You can also pull it to the side to create instant volume and wear it entire day and night.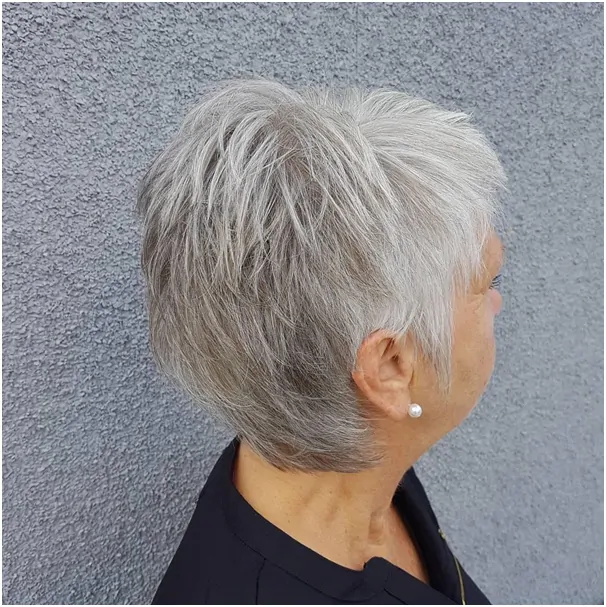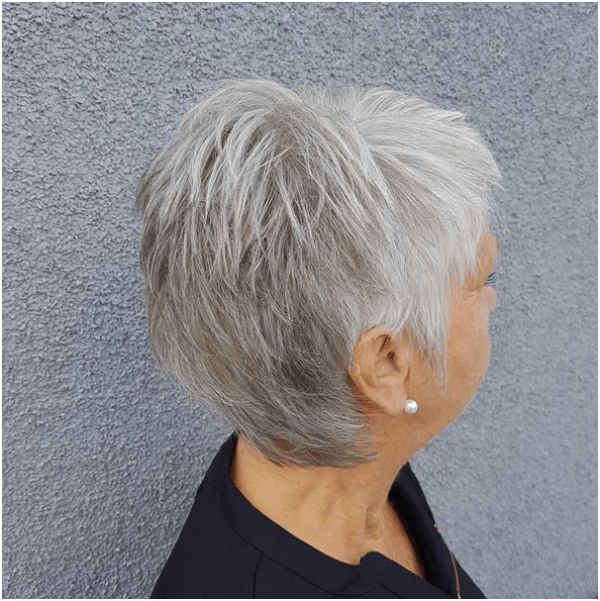 Beautiful Gray Bob
If you see anyone wearing this gorgeous short haircut for women over 50, you will like the idea of going natural. It is a pretty cool colour that is vibrant as the platinum blonde, but it bears a certain shine that you cannot miss. You can wear it in a standard bob that is chin-length, but shorter at the back. To make sure you fully rock this look, pair it with dark-framed glasses. That fully completes your look. Get an inspiration when selecting your frames and make it as a fashion accessory!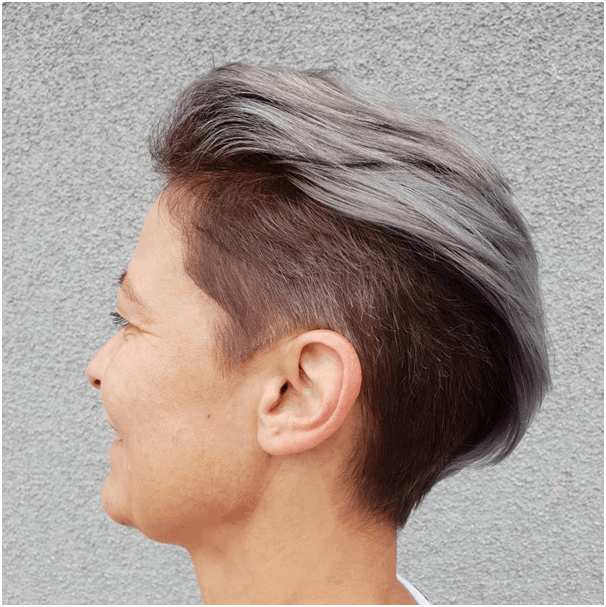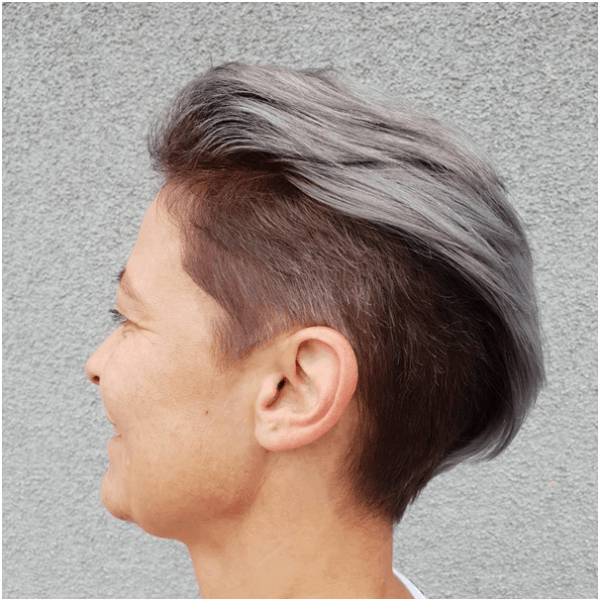 A Thick, Wavy Bob
If you are blessed with thick and wavy tresses, let your stylist cut them in lots of layers. You can choose a shorter length for your bob and avoid the necessity of extra poufiness. With a perfect cut, you can completely go natural and rock a wash-and-go cut. To avoid too many worries on styling now and then, ensure your hair is healthy all the time.
The Au Naturale Bob
This casual short haircut for women over 50 features gorgeous gray colour. It doesn't need much styling, either. The blunt fringe draws interest to the eyes and gives you a younger, bold and wise look.