Lehenga is a quintessential Indian attire. It has been favorite among women of all ages especially, the brides. Versatile in style, it is a much-preferred outfit for auspicious occasions and traditional ceremonies. Its flamboyant design adds regal charm to the wearer's personality and gives her a sense of fairy-tale. A perfect lehenga is a work of art that is made with designer's efforts to bring the wearers' dreams come true.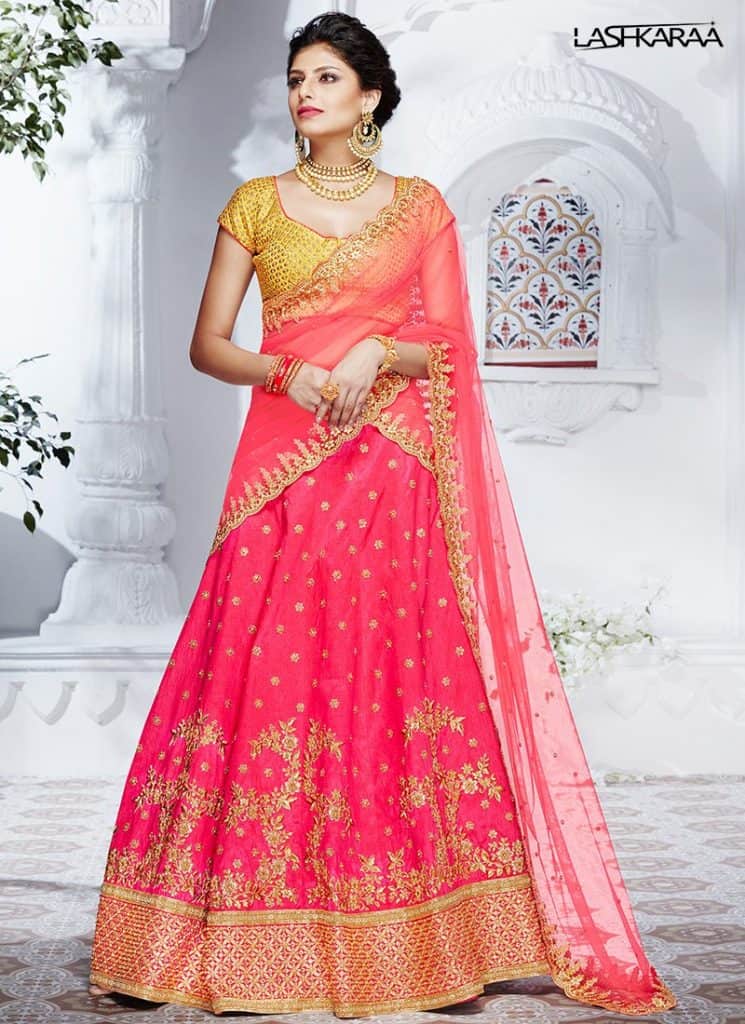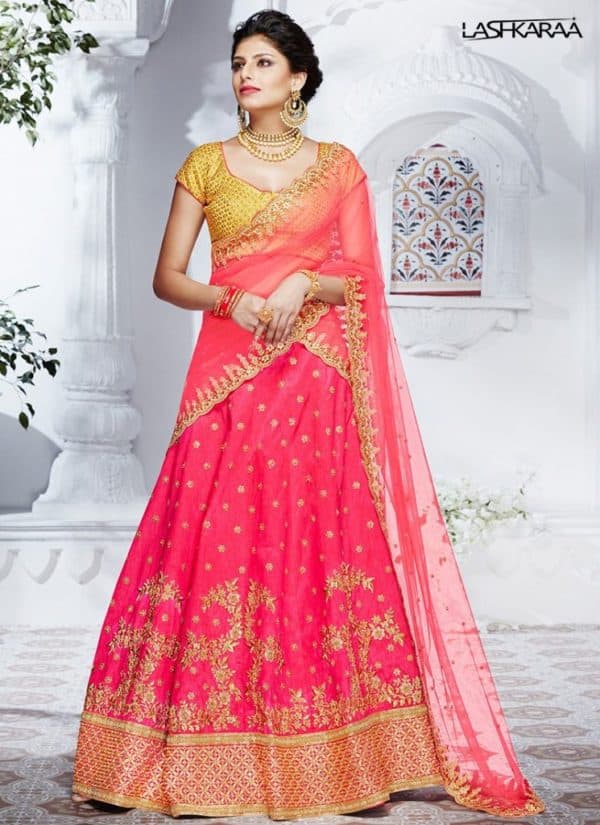 Over centuries, this ensemble has undergone major evolution. With changing times, the outfit has been customized according to the needs of modern women and latest fashion trends. However, a lehenga, also known as ghagra choli, will never go out of fashion. It happens to be one of the trendiest traditional attires to sport during any formal occasion. If you are a bride, a bridesmaid or a simple wedding guest, here are a few lehenga trends to checkout when planning your attire.
Lehenga Trends 2018 -2019
Unique colors: Gone are the days, when pink and red were only bridal colors. Remember, Anushka Sharma's blush pink bridal lehenga and Sonam Kapoor's ivory sangeet lehenga. As per the latest trends, bright colors are taking a backseat. Instead, pastels and unique colors like lavender, mint green, light blue, grey, whites, rose pink, golds and more are ruling the fashion world. Brides prefer dressing in subtle colors that enriches their femininity and adds grace to their personality.
Romantic florals: Another raging trend taking over the bridal wear industry is floral patterned lehengas. Intricate and delicate floral embroidery on pastel colored lehengas became quite popular after Anushka Sharma wore a Sabyasachi flowery lehenga on her wedding day. A floral lehenga accentuates the bridal glow and charm. This trend is here to stay and expected to get bigger in 2019. The finesse and dainty embroidery patterns make this kind of lehenga quite popular among younger girls.
Lehengas with belts: Waist belts are back in vogue. A heavily-embellished lehenga and an ornamental belt around the waistline gives the feel of a royal queen. This raging trend allows the wearer to make a statement. Tucking the dupatta inside the belt, gives an edgy look and lets you flaunt your curves and waistline. At the same time, it is convenient as it holds the dupatta in place.
Silk Lehengas: Rich in style and class, silk lehengas are traditional yet trendy option this wedding season. Fabrics like banarasi brocade and kanjeevaram are now being used to create bespoke bridal lehengas. These styles speak volumes about our culture and traditions and, prolific Indian handloom industry. Designers like Sabyasachi and Ritu Kumar are showcasing these trends in their newest collection in abundance. These kind of lehengas offer opulent designs and colors to choose from and goes perfectly with ethnic jewelry.
Ruffles and Frills: Adding vintage charm to the traditional wear, ruffles and frills is quite a rage in Indian ethnic wear industry. Ruffles add drama and gives extra volume to the dress. You can choose from large ruffled sleeves of the blouse, to a ruffled skirt or a dupatta. Ruffled lehengas gives chic and contemporary look.
Multilayered lehengas: This trend has been here for a while. Adding multiple layers to the skirt in matching or contrasting colors makes old-school lehenga look luxurious and trendy. This is an option for those who want to create a larger-than-life impression. With the wedding season just around the corner, the newest lehenga designs will be easily available. You can get latest lehengas online or in a nearby designer boutique.
Peplum blouse lehengas: Fashion is constantly evolving and so are different types of outfits. For a more conspicuous look, women can go for peplum blouse lehengas. These lehengas come with a short blouse with a gathered flare around the waistline. Since, these lehengas pull all the attention to the opulently designed bloused, it is advised to skip the dupatta with it. This style is perfect for taller and slimmer women defining their sleek silhouette.
Long Jackets and cape lehengas: Long jackets and sheer capes are in vogue like never before. A long jacket and sheet capes are mostly a replacement of traditional dupatta, adding oomph and class to the attire. This contemporary outfit is quite popular among younger girls. A daintily embellished cape or a luxe long jacket paired with simple skirts looks quite swanky. A dupatta may not be needed with this style.
Teller of love tales: A bride's outfit is something that will always be cherished by her and remembered by her guests. Hence, brides are getting innovative with their ideas of dream bridal wear. They want something extraordinary and meaningful. For the first time ever, Kresha Bajaj, carved her love story on her lehenga. With such a unique creation, she created quite a trend and a stunning bridal ensemble.
Contrasting dupatta: This trend will never go out of fashion it seems. Dupattas in contrast have been in vogue for a while. However, the latest trends suggest that you team up a bright colored lehenga with subtler pastels or a toned-down gold dupatta. These ensembles look gorgeous and trendy.
Lehengas as a wedding outfit have a timeless appeal. This attire is evergreen and bride's favorite for its majestic charm and regal feel. More trends for 2018-19 suggest playing with the blouse design. Adding a tinge of west, you can opt for cold shoulder or off-shoulder blouses. Sheen and glitters on ivory color or white colored lehengas are a new fad. Unconventional colors teal blue, bubblegum pink, violet, indigo, yellow and orange are also trending. Besides Chiffon, net, georgette, designers prefer tulle fabric to design latest lehengas. Whether you are a bride or not you can experiment with your lehenga look like never before. The new trends allow you to look glamorous in a traditional way.