Maxi dresses are the perfect wardrobe staple—they're comfortable, stylish, and versatile. With just a few easy styling tips, you can take your maxi dress from day to night and everywhere in between. Ready to learn how? Read on for tips about how to dress up or dress down your maxi dress for any occasion!
Maxi Dresses – The perfect wardrobe staple
Maxi dresses are the perfect wardrobe staple for any season and occasion. Not only are they stylish and comfortable, but they can also be incredibly versatile. From casual-chic to formal-glamorous, maxi dresses come in various styles and colours, such as a black maxi dress, to suit all sorts of tastes, You can opt for a light and breezy chiffon or linen dress for summer days, while winter calls for something a little heavier, like wool or velvet. The beauty of maxi dresses is that they look just as good with flat sandals as they do with high heels or wedges for a night out on the town. You can also change the look with accessories such as statement necklaces and colourful scarves. Moreover, maxi dresses are very forgiving in terms of body shape since their cut helps to elongate the figure, creating an effortless slimming effect. From petite to plus-size wearers, maxi dresses will flatter all body types and sizes. Plus, they are so comfortable that you can easily wear them all day long without feeling restricted or uncomfortable. With its timeless appeal and versatility, it's no wonder maxi dresses have become a must-have wardrobe essential for anyone looking to stay fashionable year-round!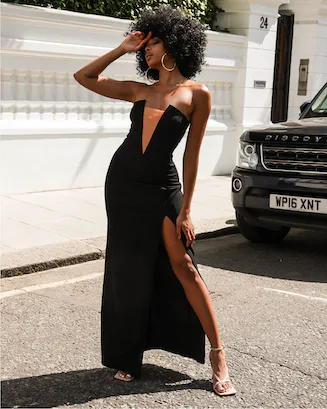 BLACK BANDEAU MAXI DRESS WITH MESH PLUNGE NECKLINE
Dress Up Your Maxi Dress with Heels and Accessories
Maxi dresses are an incredibly versatile and fashionable staple of any woman's wardrobe and can be dressed up to create various sophisticated, stylish looks. To dress up a maxi dress, start by pairing it with the perfect pair of heels. Whether you prefer the classic look of a strappy heel or a bold, eye-catching style such as open-toe booties, heels draw attention to the ankle and elongate your legs for an effortlessly chic finish. When deciding on accessories, consider adding pieces that include bold colours or intricate designs, such as statement necklaces or earrings. For a more subtle approach, stack several delicate bracelets along your wrist or add a colourful scarf around your neck. And don't forget the bag! A structured clutch is perfect for day events, while an embellished bag will make any evening ensemble stand out. Finishing touches like sunglasses or hair accessories are great for completing your look. With the right combination of heels and accessories, you can easily turn any maxi dress into an on-trend fashion statement that's sure to get noticed.
You can also take your look up a notch by playing with texture and materials. A maxi dress made from lace or chiffon adds a touch of elegance that is sure to turn heads at any special event. For an extra-special look, try pairing your maxi dress with a sequined jacket or bolero – it makes you the star of the show!
Dress Down Your Maxi Dress for Casual Days
Maxi dresses are also a perfect casual outfit and can be dressed down for these days I many ways. By pairing it with more casual items such as a pair of sneakers, a denim jacket, or a basic tee, you can easily create a relaxed look that's still stylish. You can add extra layers and accessories to the maxi dress to create an even more effortless style. For example, adding a denim vest to your maxi dress instantly gives it a more laid-back feel. Additionally, accessorising with statement pieces such as a chunky jewellery-brim hat will take your look from day to night effortlessly. If you're looking for an even more relaxed look, try draping your maxi dress with an oversized cardigan or blazer and finish the ensemble with slouchy boots or slip-on shoes to keep the comfort factor high. With just a few simple styling tricks and touches, you can easily turn your maxi dress into something appropriate and stylish for casual days out with friends or family.
Long Sleeve Maxi Dresses – Perfect for the colder months
Maxi dresses are no longer restricted to only being worn during summer. Long sleeve maxi dresses are making a statement, and they are quickly becoming one of the most popular items in women's fashion. Women are taking advantage of the versatility of this garment, as it can be dressed up for formal occasions or dressed down for casual errands. The fabric choice has also become incredibly diverse. You can find options from lightweight fabrics like chiffon that fit nicely into warmer climates or heavier knit fabrics perfect for winter weather. The long silhouette is a great way to show off your curves without compromising comfort and practicality. Whether you choose a full-length midi dress with bold prints or a more subtle floor-length gown, the style possibilities are endless, and you're sure to turn heads wherever you go. And with many brands creating beautiful maxi dress styles in petite sizes, everyone can get involved in this timeless look! So grab a long sleeve maxi dress and enjoy the maxi dress vile, comfortably, all year round.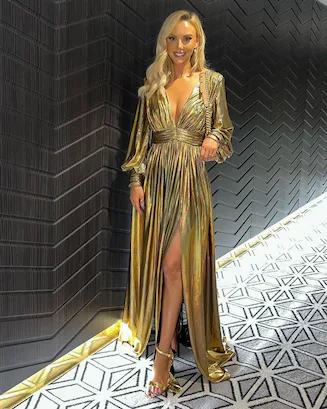 LIMITED EDITION GOLD METALLIC FOIL MAXI DRESS WITH FRONT SPLITS
Conclusion
With these styling tips in mind, there's no limit to what looks you can create with one simple maxi dress! By dressing it up or down depending on where you're going and what kind of vibe you want to set, you can easily create unique outfits that will make you feel confident anywhere you go. So go ahead and break out that trusty maxi dress -you never know where it might take you!