Summer is here! Are you ready to start planning your summer beach outfits? Whether you are going on a beach vacation or just spending some lazy weekend listening to the waves crash on the shore, here is a list of the most stylish beach attires to try. Look stunning while walking down the beach wearing your most eye-catching beach outfit. In the gallery below we are going to inspire you on how to style some dazzling summer beach outfits.
Beach outfits are a little dressy, but that doesn't mean you are limited in expressing your high taste in fashion. Are you ready for some fun under the sun? Forget about the casual beach outfits you used to style before. This summer everything is in the sign of bold, even the summer beach outfits. Enjoy drinking your favorite cocktail or reading your favorite book while dressed to impress. Continue reading the article to get some beach outfits inspiration and style tricks. The next time you step the beach do it the most stylishly possible.
We are beginning with some essential steps you need to take in order to style a cute beach outfit.
3 steps to putting together a mesmerizing beach outfit
Identify the occasion:  When it comes to beach outfits, know that there is an endless number of options to choose from and also there are some cute womens swimwear dresses around. According to the occasion you are heading to, there are different outfits to be styled. For example, when you wear to the beach with your friend during the weekend is absolutely different from what you will be wearing to the beach for a cocktail event. Daily walks and parties will require you more casual beach attire, while for nights out you may need to go more beach formal.
Choose the beach style you want to wear: Do you want to look classically, chic, bog, sexy or youngish? After you have identified the occasion, it is time to decide what type of outfit you want to wear. Remember that the clothes speak for you, so make sure that you are choosing the appropriate clothes for the message you want to send.
Put together your perfect beach outfit: Once you have chosen the clothes you are planning to wear, make sure they all go together to make a stylish and cute summer beach outfit. A printed chiffon dress in blue and white shades is perfect to be paired with a matching handbag. Light-colored clothes should be paired with coordinated beach accessories.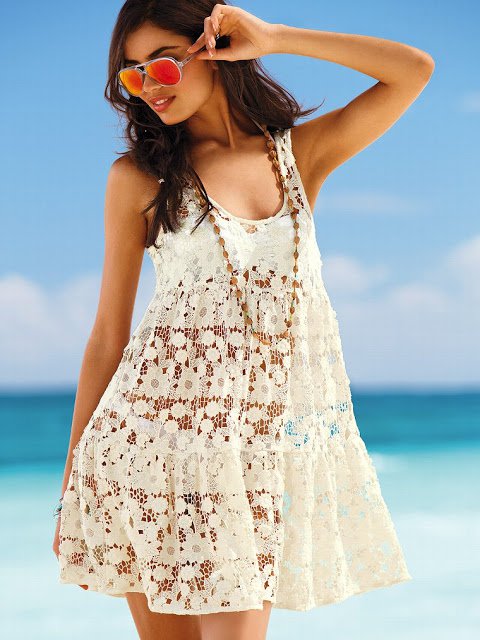 Beach party outfit
If you are having a beach party invitation and you still don't know what to wear, don't worry at all. You can always opt for a maxi summer dress when it comes to beach parties. A maxi dress is a great example of a stylish beach outfit. It is so versatile and can be easily paired both with high heels and flats, depending on the occasion. For more formal beach parties opt for high heels and create an elegant look. On the other hand for semi-formal and informal summer, beach parties pair your beach dress with cute flat sandals. This way you will enjoy the party being comfortable and easy to dance to. Opt for a dress with an ikat print, floral, tie-dye, or stripe.
Boho beach outfit
A bikini is summer essentials for funny moments under the sun. But, if you want to add some extra boho touch to your beach attire add a flowy floral beach cover-up. Complete the look with a stylish and matching hat, and don't forget the accessories. Match the floral embroidery with the floral pattern of the beach dress to create a cohesive beach look.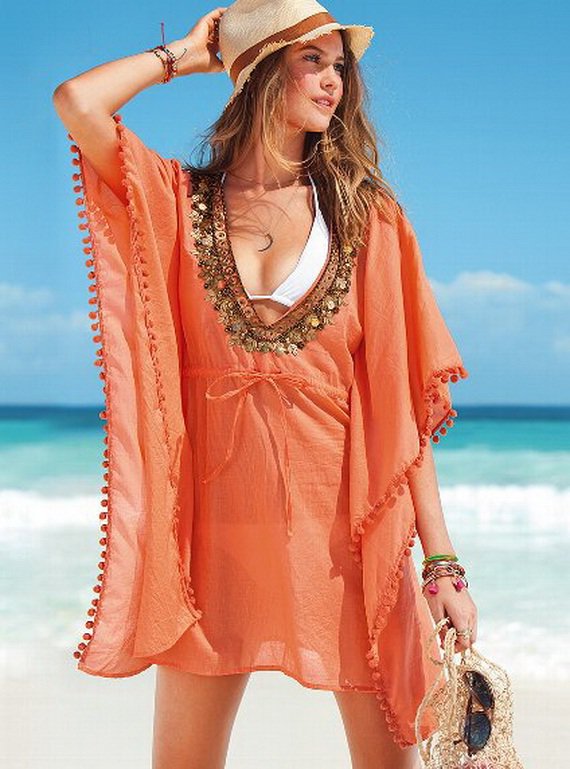 Summer date outfit
Are you having a romantic summer date coming up? This calls for a summer date outfit. And, there is nothing as flirty as a little summer dress. Choose an off-the-shoulder dress. Pair it with some cute strappy sandals and a matching hat. Enjoy the moments while looking so stylish and cute.
Simple summer outfit
If lying on the sand all day is not your primary activity when on the beach, and you prefer drinking cocktails in the nearest bars or having lunch in a beach restaurant, then you will need some more versatile summer beach outfits. Opt for ones that are comfortable enough for both the beach and the restaurant. A bare A-line short dress may be the choice for you. Pair it with pom-pom sandals for extra color and your favorite knitted beach bag.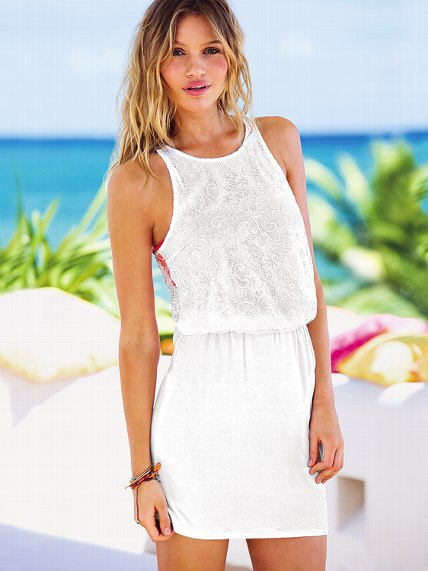 Classic beach attire
There is nothing as classic as a summer beach dress when it comes to styling summer beach outfits. A traditional blue and white striped dress is the right choice for classic beach attire. Pair your dress with a knitted brown beach handbag and add a pair of fun colorful sandals to bring some color to the outfit. Don't miss your hat for sun protection.