Source: Pexels
So you want to dance the night away at a club? That's fine. Just make sure that your dress is functional as it is sexy and chic. When you are invited to the dance floor, you need to make sure that you are comfortable and wearing a breathable outfit so you don't sweat like crazy as you perform your dance moves. Those strobe lights and the masses on the floor really make you feel hot. But before we go into the tips, let's just make sure that we have the basics down.
SOME BASIC FASHION RULES
Workout clothes are for working out. Do not, under any circumstances, wear your workout clothes to a club. Yes, you can get really sweaty in the club but that doesn't mean that you wear your gym clothes for a night out.
Heels are a fashion statement and they should be worn as such. Do not wear stilettos if you can't handle them. Walking around in your bare feet is not only dangerous, but it also looks really tacky. If you decide to wear heels, make sure that you can keep them on your feet at all times, until you get home. Or keep a pair of flats in your purse that you can change into in case you need to.
Showing off is good. That's what everyone in the club does. But you have to draw the line somewhere. You don't need to show off everything at once. If you have selected something that is low cut in the front, make sure that it doesn't have a high hemline. Or if you want to show your back then do that while keeping it closed in the front. Showing a little bit is just as sexy and it ensures that there are no accidents to speak of.
Don't be too casual. Clubbing is all about dressing up and looking your best. If you plan on wearing jeans, pair them up with a cute tank top. A little bit of casual is just fine. Just make sure that people don't think that you are coming from a trip to the grocers.
If you plan on dancing, and that's what most people do in a club, go for a smaller purse. That way you can really enjoy and groove to the music without any disruptions. You won't have to worry about putting it somewhere so it won't get stolen. You also won't be a bother to other couples. Nobody likes a girl who's knocking her bag into everyone. Go for a clutch or a satchel and make your night as well as everyone else's enjoyable.
Wear clothes that are classy and chic as well as comfortable. When the dancing starts, you want clothes that let your body breathe.
Accessorize your attire with a personalized look. The best thing is to go with a single statement piece. The lighting at most clubs is not favorable for smaller pieces.
RESPECT THE CLUB RULES
We all know that your attire is your personal matter and your way of expressing yourself. While most clubs encourage their guests to dress according to their own wishes and standards, some clubs have strict rules about the dress-code. High-end clubs have rules about tattered clothes or clothes that might not be enough or branded shirts. They think that these items might not mix well with the prestigious atmosphere of the club. So make sure that you know the club's dress-codes before you make your visit. This will ensure that your night isn't ruined.
So now that we have that cleared up, let's talk about your dress. There are a lot of options if you want to buy affordable club dresses that are amazing and chic. Not every dress that you have in your closet is good for the club. Club attires need to be sexier than your everyday dresses.
BALANCE YOUR OUTFIT
Your outfit needs to be in perfect balance. If you are going for a short hemline, make sure that the top covers for it. It will make for a well-proportioned outfit and make you look classy instead of trashy.
You can also go for pants and blouse combination. The pants could be leather, or jeans, depending on what you are feeling. You can complete the look with high heels and a statement piece of jewelry.
If you want to stand out in the sea of black outfits, you can go for a dress in some other color or texture. A sequin dress can be the perfect outfit for you. You can even match a sequin blouse or a sequin skirt with something else to make an ensemble that looks unique and eye-catching.
CHOOSE BREATHABLE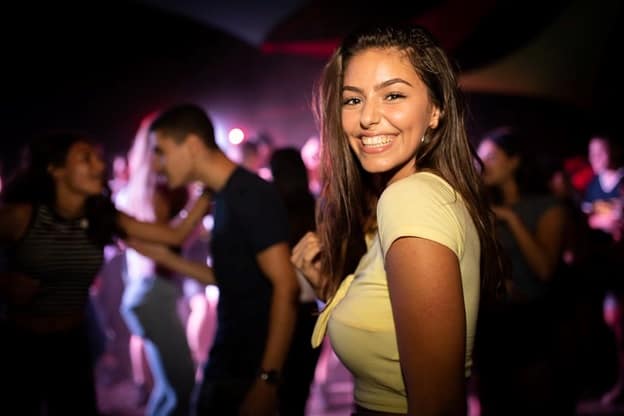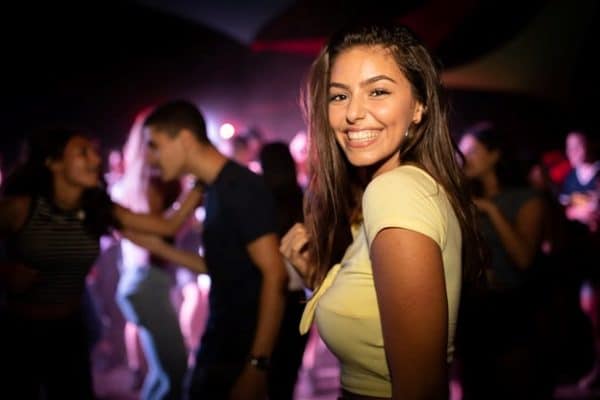 Source: Pexels
Now we all know that your clubbing outfit needs to be sexy and flashy, but don't forget what you're there for — dancing! So you need something that is breathable as well as sexy. Choose materials like cotton, silk, or chiffon so you can stay cool. The strobe lights and the number of people packed on the dance floor can really heat things up and you need to make sure that you are prepared for it.
COMFORT VS FASHION
Usually, that's the choice most women have in mind when they select their outfits for the club. But it doesn't have to be this way. You can be comfortable and fashionable at the same time. No need to sacrifice one for the other. For example, when choosing shoes, go for comfort as they really help you with dancing. High stilettos are hot, but your feet will never forgive you after a night of nonstop dancing. You can easily match a pair of flat shoes with your outfits.
If you want to wear heels, go for a lower heel of 3 inches or so and leave the 5-inch heels at home. You will thank us for the tip later. If you have your heart set on the heels and no amount of coaxing is going to make you change your mind then break in your heels before you go to the club. Make sure that you wear them a few times before the final night. If you want, you can even choose to slip in an insert so your feet will feel comfortable while making your moves.
You can also rock a pair of jeans if you want to. Although clubs are more often than not associated with smart sexy wear, in the end, it's all up to you. Pair up your jeans with a great blouse and you are ready to get your groove on.
With these tips, you can always find out what to wear for the club. Make well-informed decisions and look as fabulous as you want to at the club.