It is springing all around us! And, it is almost impossible not to love the season. When the sun begins to shine and the flowers start to bloom, it is a perfect time to enjoy the weather and pull out your most favorite spring outfits. Some of the most favorite outfits that women adore styling are definitely spring outfits. After all those cold days and layered winter outfits we had to deal with during the fall/winter season, it is time to finally shine in lighter clothing. You can finally replace the bulky coats with dresses, and the boots with sandals.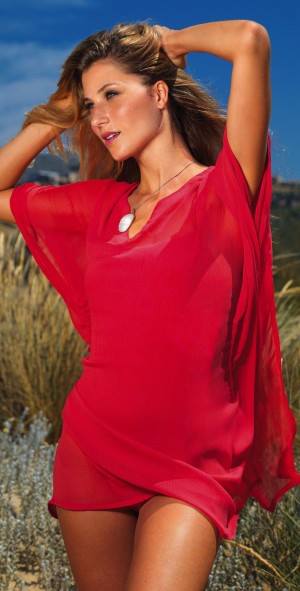 When it comes to choosing an amazing spring outfit, there are a lot of color options you can choose from.  Spring is the season of brighter colors, so you can never go wrong with the brightest shades of the rainbow. Floral prints are a classic for styling spring outfits. Light jackets and sweaters are also part of the spring essentials list. They will keep you warm and stylish during colder spring nights.
In order to style the most eye-catching spring outfits, we invite you to get inspired from our gallery below. The following combinations will help you pull together the right spring look. Don't miss copying them right now.
Maxi dresses- cute spring outfits
Leather jackets are the most favorite piece of clothing in every modern woman's wardrobe. One of the trendiest ways to wear a leather jacket is to pull it over a maxi dress. This combination will give your spring look a little edge. The look is so casual so you can rock it for night-out parties with friends.
The timeless black and white combination
There is nothing as timeless as the black and white combination. If you want to use it in styling amazing spring outfits, we recommend you try mixing black leather pants with a white shirt. The look is so formal and elegant that you can easily wear it in the office too. For formal occasions such as office meetings, pair the combination with high-heels. If you want to keep the look more casual, then replace the heels with sneakers or flats.
Range hues-the colors of spring
Spring means colors. A lot of colors! It is the season of bold and bright colors. The most popular among them all is definitely the orange one. Orange hues come in many different shades. Women adore styling different shades of orange, mixing them with other colors, or choosing monochromatic orange staples. If you don't dare to go that bold with all form head-to-toe orange outfit, or you feel like orange is not your color to choose when it comes to clothes, and then try to incorporate the color in your look by accessories. You can always mix and match accessories in orange shades and this way makes the color the focal point of your look.
Shorts for stunning late spring outfits
Before the spring ends and hot summer comes on the scene, you can start styling some pre-summer outfits that are still appropriate for spring. One way to do it is by wearing shorts. Shorts have always been one of the most favorite staples in a woman's closet.  You can wear them in a variety of ways.
Floral outfit ideas for spring weather
It is hard to go wrong with floral in spring; because we can surely say that floral prints are the synonyms for spring. When everything around us is blooming, it is time for you to bloom too. One way to do it is by styling floral spring outfits.  Pair your floral top with light mom jeans for casual attire. Or, give a chance to a pale crop top and platted floral midi skirt. You can also choose a floral dress, which is definitely the best option for spring. Wear it with ankle boots when the weather is still cold, or with sandals when the temperatures start to raise reminding in summer.
Spring outfits for the working women
Office outfits sometimes require more attention, as you may have to follow some specific dress code rules. If you want to keep the look professional, but at the same time chic, then a white pencil skirt is the right choice for you. It looks both elegant and trendy, so you won't go wrong if you choose it for styling a perfect spring office outfit. Pair it with a white shirt and bold colored blazer to keep the professional look. When the temperatures go too high, pull off the blazer and change it with a sleeveless blazer.
Cute maxi skirt for eye-catching spring outfits
Maxi skirts are a perfect choice if you want to style chic and comfortable spring outfits. Choose some bright-colored ones and pair them with a classic white shirt for a more formal look. Or, combine it with a pale white T-shirt and sneakers for a casual spring look.