There are a lot of ideas about how to do your hairstyle and to look amazing. But we want to share with you the most brilliant and the most easiest ways how to do your hairstyle in a minute and still to look impressive and stunning. Looking around we have found this 10 great tips that will help you. Below you can see a pictures and tutorials, how to make a surprising hairstyle perfect for every occasion. We hope that we will give you an inspiration and that using this you will save some time in your busy morning preparations.
Most importantly, when performing any hairstyle in a minute, the length of the hair plays a huge role. After all, not all hairstyles are available for short or long hair. Therefore, hairdressers believe that average hair length is the most universal and practical. In the presence of imagination and desire, you can make your own light hairstyles for a given length. They successfully fit into various images and become appropriate for any event. Next, we will present fashionistas with the most beautiful and easy hairstyles for ready for a minute. Beautiful and long hair is the pride of every woman who spares no time and effort in caring for her appearance. One of the advantages of a luxurious hairstyle is the possibility of daily experimentation.
How To Make Hairstyle For A Minute?
Today it can be strict styling, tomorrow – naughty curls, the day after tomorrow – romantic and feminine curls. What kind of hairstyles can be made for long hair, with your own hands only for a minute? What style options are suitable for a casual or formal look? We will tell you in this article. Hairdressers and stylists, comparing a hairstyle with a woman's dress, claim that it should also emphasize the dignity of the face, hiding flaws or distracting attention from them. For this reason, when choosing a suitable hairstyle in a minute, it is worth considering not only the shape, but also the characteristics of the face. Some types of hairstyles are recommended for owners of thick and straight curls, others for girls with thin and curly hair, and others for owners of lush and straight long hair.
Likewise, when you plan to make a hairstyle with your own hands that is not focused on the existing type of hair, you should keep in mind that the procedure requires the use of auxiliary tools and methods- as using an iron for straightening or curling hair. A well-chosen hairstyle for long hair is a versatile decoration that can emphasize the bright individuality of its owner.
Similarly, hairstyles for medium hair are distinguished by incredible variety and originality. This length of curls is considered the most optimal and allows you to find different styling options, which will look great at events of different levels. We will help you master the technology of performing various hairstyles for just for a minute, which describes in detail each step of the chosen style. In conclusion, it should be noted that there are many options for hairstyles you just need to opt for your favorite one.
1.How-To: Party Perfect Ponytail Hair Tutorial


 source
2.How-To: Game of Thrones Braid Tutorial!

 source
3.THE TWIST AND PULL APART

 source
4.How-To: Low Rolled Updo Hair Tutorial

 source
5.How-To: Chain Braid Hair Tutorial

 source
6.How-To: Easy French Twist


 source
7.Daily Hairstyles For Long Hair Tutorial


 source
8.1-Minute Makeover: The Longer, Fuller Ponytail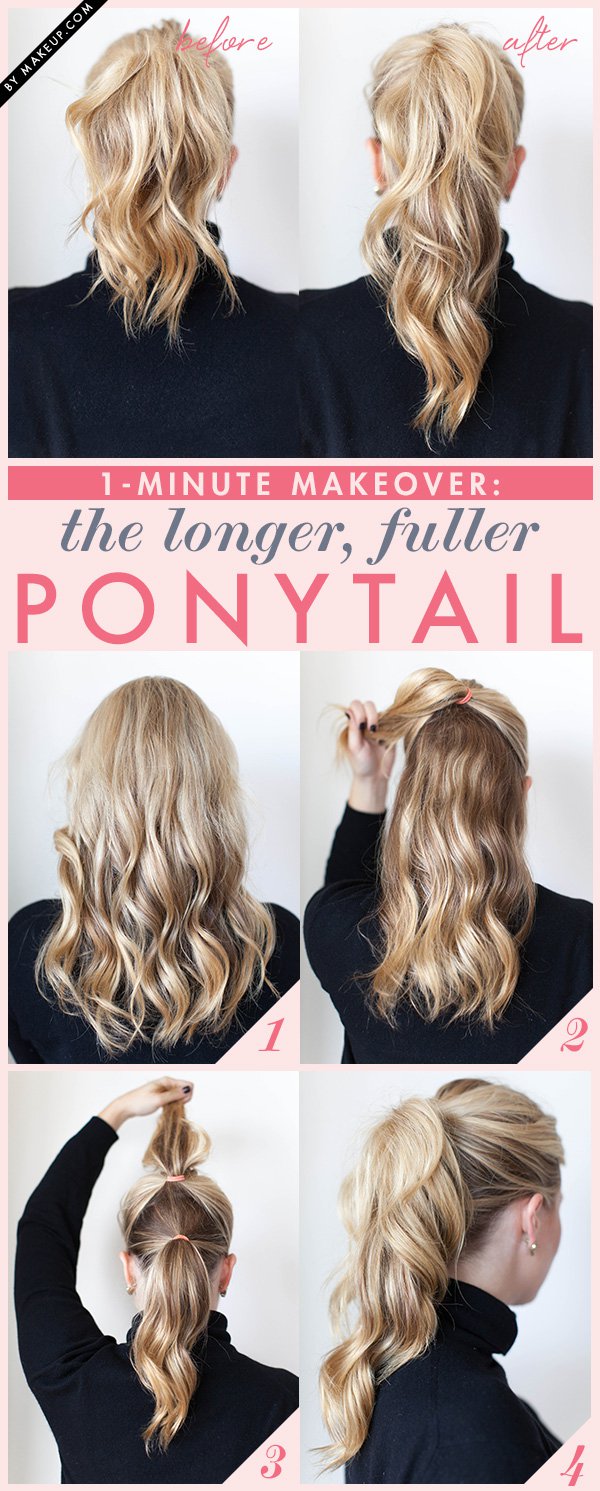 source
9.DUTCH FISHTAIL PONY


 source
10.BRAID 4-FISHTAIL FRENCH BRAID HEADBAND


 source