Do you have long locks that flow down your shoulders? If you spend hours every morning making them look presentable when leaving the home, then you have a problem. The good news is that you don't have to worry at all, because we have found the perfect solution for your hairstyling problem. You will surely ask "what kind of solution"? The answer is the perfect hairstyle for you, its majesty: the bun hairstyle.
Bun hairstyle is the solution to all your styling issues if you have long hair. And, in this article, we are going to share with you some reasons why a bun hairstyle will make your day better. Styling your hair in a bun will save you time in the morning before you leave your home. That is why we have made a selection of some DIY bun hairstyle tutorials to explore while reading the reason why this hairstyle is a lifesaver.  Scroll down the page to learn some easy techniques to style your hair in a bun hairstyle. Once you try this hairstyle, you will never ever want to change it at all. We leave you to learn and enjoy.
1. Pretty Sock Bun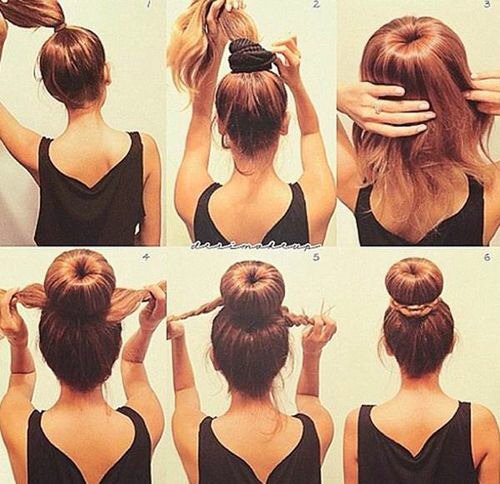 source
2. Braided Bun


 source
You won't pull your hair while sleeping
Has it happened to accidentally pull your hair while sleeping? It happens constantly to women having long hair. But, you can stop it by doing a bun hairstyle for your long hair before you fall asleep. That will keep your hair from pulling and breaking off during sleep. It will also keep it far from your face skin making it stay away from any hair oils that are produced in the hair fiber during the night.
3. Braid into Bun Tutorial


 source
Your hair stays sweat-free
Most people sweat a lot from their scalp and the area around the neck region. It happens even more frequently to women having long hair. If you sleep with your bun hairstyle, you will solve this problem forever. You will see that your hair remains sweat-free when you wake up in the morning. When having a bun hairstyle, the hair does not cover the back and neck region and gives air-free space to pass through and dry off any sweat that can happen during sleeping time. Sounds amazing, especially for the spring/summer season right?
4. Double Braid Into Bun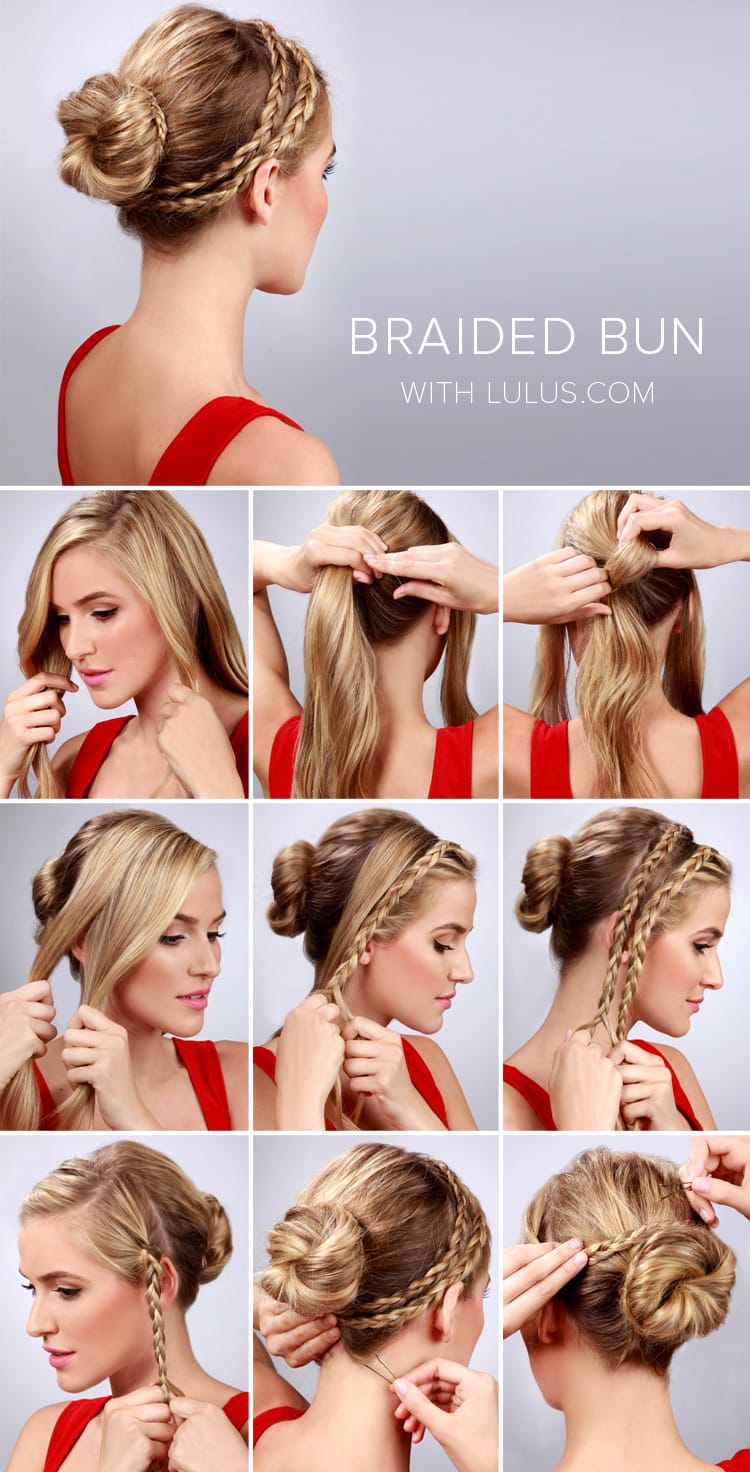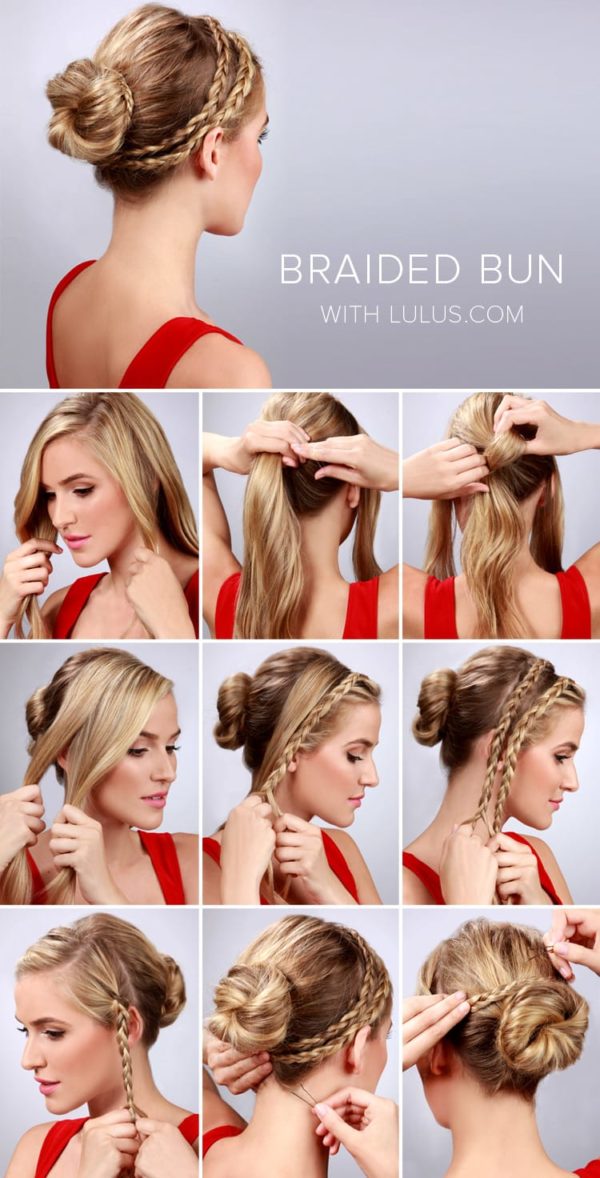 source
Your hair does not get frizzy
Another advantage of the bun hairstyle when you have long hair is that your hair will become less frizzy. When you tie your hair in a bun, the moisture keeps locked in preventing the hair from being twisted any time you turn toss on your bed. Your hair becomes more manageable and less frizzy in the morning. That means less time spend in from of the mirror styling it for the day.
5. DIY Hairstyles: Braided Fishtail Bun Updo Tutorial

 source
You don't have to shampoo it every day
Having to shampoo your hair every day is so annoying. If you were searching for a way to avoid it and still have your hair looking fabulous, you have found it. Having your hair in a bun hairstyle will help you skip the "everyday hair shampooing routine". At the same time, it will keep your hair looking presentable when you untie the bun the next morning. Such a relief!
6. DIY Large Beam Oblique Hairstyle

 source
Saves washing and styling time
This is precious! Women hate spending time washing their hair and then styling it for hours, instead of spending the time on any other funnier activity. Like a walk with friends!  A drink with your partner! Or, whatever else! Your bun hairstyle ensures that you will save a lot of time that you had to spend on styling your hair locks. These DIY bun hairstyle tutorials will teach you how to style your hair in a bun in less than 10 minutes in the morning. Nothing easier!
7. Braid bun bang


 source
8. Braided Bun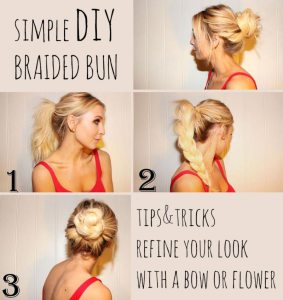 source
Preserves blow dries and blowouts
If you had to spend hours blow-drying and curling your hair, that is left in the past. With your bun hairstyle, you can forget all those hours of real torture. Simply tie your hair in a ponytail. The overnight bun will keep the hair smooth and frizz-free. That will allow you to make any hairstyle easier in the morning. You can also carry your messy bun as you step out. Messy bun hairstyles are very popular nowadays, so why don't you simply follow the trends.
9. DIY Double Waterfall Triple French Braid Hairstyle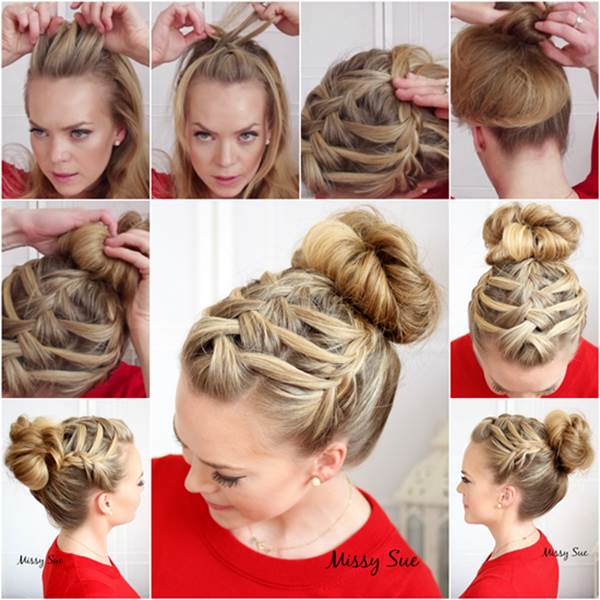 source
Does not get in your partner's face
Most partners adore a woman's long hair. Until they get in the bed and fall asleep. How many times has happened your long hair ended up in your partner's mouth while sleeping? Not a really pleasant feel, right? Your partner will simply adore your bun hairstyle. It will save him from eating a few strands of your hair overnight. Also, your hair strands will be held by the bun allowing free passage of air to you and your partner. A win-win solution for both, right?
10. Braided Bun