As the temperatures drop, it's time to think about dresses that offer a little more warmth and provide you with great style. DressBarn has a wide variety of dresses available online that will work with sandals or boots and serve as great additions to your wardrobe.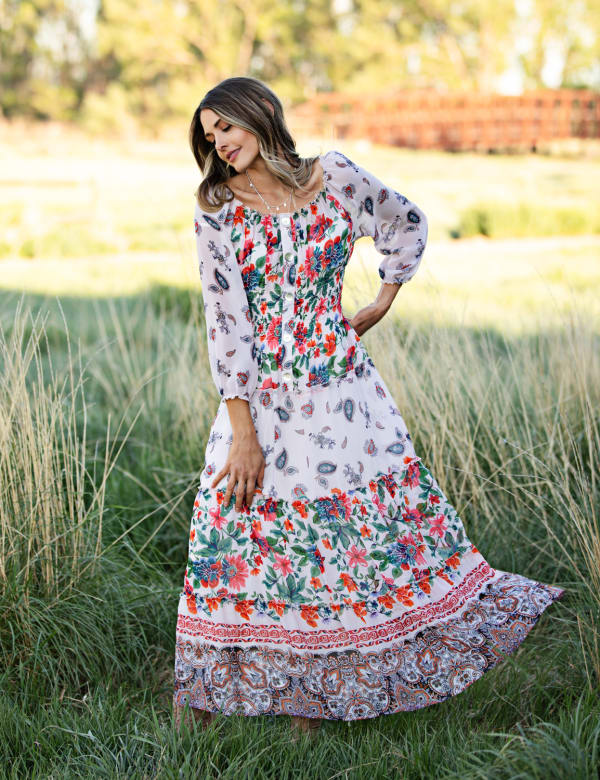 1) Tie Front Midi-Dress
The knee length tie front midi-dress is a great choice for crisp fall days. These womens dresses are available in either burgundy or black and will look great with ankle boots or dress shoes.
2) Bisous Tunic
The bisous tunic in red or lilac offers plenty of length and flexibility. Cover it with a pretty shawl on a crisp fall morning and show it off in the autumn sun as the day warms up.
3) Plaid Cowl Neck Dress
Are you looking for something that will go easily from the office to a casual night with friends? You'll find darling womens dresses that will serve this need at Dress Barn! The warm burgundy and plaid cowl neck dress will work with black tights or bare legs and would be a great way to show off some new black boots.
4) Leopard Floral Peasant Dress
Looking for dresses that flow from season to season? Look no further than the tiered leopard floral peasant dress, available in Misses and Women's sizes. This fun dress offers great fall color, 3/4 sleeves, and is long enough for boots on a cool day.
5) Asymmetric Leopard Print Dress with Ruffle Detailing
If you want fall color and a bold print in a feminine style, this asymmetric leopard print dress features a strong print pattern with ruffles at the wrist, the flounce and the bottom hem. It's an ideal outfit for a fun outdoor date on a sunny patio as the night cools down; pair it with a black shawl to beat the chill.
6) Chiffon Mixed Print Peasant Dress
The womens dresses for fall 2020 are showing off lots of autumn colors. From burgundy to goldenrod, this pretty tiered peasant dress offers great flexibility. The elastic waist and ruffled top give you space to add a camisole, and the colors run the gamut and include sage green and chocolate brown.
7) Embroidered Textured Peasant Dress
Fall styles for 2020 feature long, flowing skirts and simple rounded necklines. The embroidered texture peasant dress comes in a rich burgundy and offers multiple tiers of lovely, moving fabric. The embroidery is loaded with tones from gold to green for great fall style.
8) Polka Dot Wrap Dress
Ruffles take the stage in this pretty salmon and cream polka dot wrap dress. The skirt is long and flowing, giving you the chance to add tights and boots, and a cream scarf or sweater would be a great addition as the sun lowers.
9) Printed Lace Tiered Maxi Dress
Gold and green are some of the loveliest fall colors featured in this printed lace tiered maxi dress. The paisley and floral patterns also make this dress an eye-catching choice.
10) Stripe Dress with Jacket
Need something in your choice of womens dresses for the office this fall? Check out the royal blue and black stripe dress with jacket. The flowing jacket offers an extra layer for crisp morning, and this outfit offers a detachable necklace as well!
Shopping for dresses online doesn't have to be frustrating with the wide variety of styles and product available from DressBarn.com. The colors of fall are saturated and lovely, offering a palette to suit any coloring. From a long peasant dress with boots or a crisp office dress with a jacket, you can find something you love this fall when shopping online with DressBarn!