As more consumers pay attention to how their clothes are produced, many big retailers including ASOS, H&M and Nike have responded to changing times by introducing ethical fashion ranges. The impact of fast fashion is a hot topic as environmental concerns continue to make the headlines, and retailers know that they must incorporate ethical practices into their production lines if they want to maintain loyal brand followings.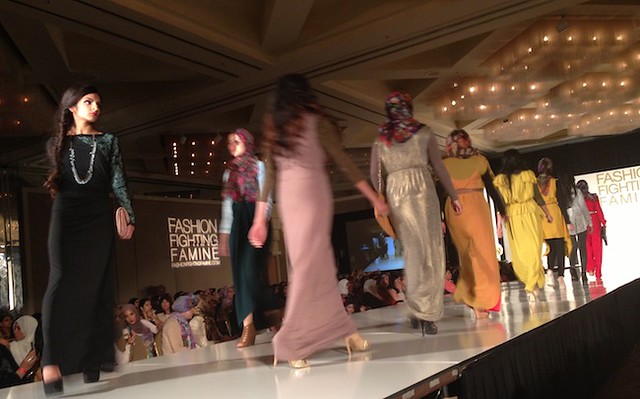 The move towards more sustainable practices has also been present in the modest fashion industry. 'Modest fashion' refers to items of clothing that typically conceal rather than accentuate the body, and is particularly popular among young religious women. Beyond religious purposes, dressing modestly has become a fashion trend in its own right, with searches for 'modest fashion' on Pinterest increasing by 500% at the beginning of 2019. Fashion blogger Asha Mohamud told the BBC that "modest fashion is becoming more inclusive", allowing the industry to reach new heights.
Another reason the modest fashion industry is booming is because of the ethical and sustainable principles at its core. Here are five ethical modest fashion brands you should know about.
1.    Silq Rose
Silq Rose are a women's brand producing sustainable hijabs in a variety of materials and styles. The brand aligns its principles with that of Islam, with environmental stewardship and social justice intergal parts of their brand values. The company aims to promote its ethical practices at every level, ensuring that it maintains reasonable inventory levels to reduce waste, uses biodegradable packaging and implements a slow fashion model (the opposite of the fast fashion industry).
What's more, Silq Rose avoids purchasing stock fabric and doesn't work with wholesalers in favour of creating high-quality hijabs in natural fabrics. In production, no toxic, synthetic materials or chemically manufactured fabrics are used either, with natural sustainable fibres preferred such as cotton, silk and cashmere that are kind to your bodies as well as the earth.
2.    Under-Rapt
Under-Rapt is an ethical brand offering modest athleisure wear for those wanting to live an athletic lifestyle while maintaining their modesty. Known as the world's first sustainable and eco-friendly modest athleisure brand, British founder Yasmin Sobeih aims to blend unique style and fabric technology to create reliable sportswear for women. Sobeih told the National Lifestyle that religion was her primary motivation in launching Under-Rapt, and her muses were millennial Muslims looking for ways to balance their faith with fashion.
The company makes comfortable, relaxed and ready-to-wear pieces, from windbreakers and sports leggings, to sport hijabs and base layers. It uses ecological fabric sourced and engineered in Austria, ensuring they don't harm any agricultural land. All clothing pieces are produced using specially-made hand-picked fabrics such as Tencel and Lenzing Modal that are breathable, odour resistant and kind to the skin.
3.    MyKaftan
A fashion label based in Dubai, MyKaftan represents the unity of cultures between the East and West. Its collection of traditional abaya and kaftans combines the style of local culture and modern looks. Founder Vasilisa Kozhemiako supports the newly-arrived modest movement while also being part of the slow fashion shift, meaning the company doesn't mass produce their products.
Kozhemiako provides fashion to modern women who like to travel and discover new things, while remaining true to their values and traditions with stylish and modest clothing. Its products are made using hand-made stitching, cellulosic fibres considered better than polyester (as it produces fewer toxic chemicals), and laser cutting.
4.    Shukr
Launched in 2001, Shukr sells contemporary modest unisex clothing, catering mainly to muslims living in the west. The company places an emphasis on being an ethical and fairtrade Islamic brand that pays workers above market wages and guarantees their working rights. It's also against exploitative sweatshop productions and strives to provide a religious environment for employees where they can pray regularly and grow spiritually.
Shukr's products include hijabs and jilbabs for women and thobes and jubbas for men, all made with light, breathable and natural fabrics. Shukr only uses the highest quality materials, with most being natural in origin and sourced from top producers around the world.
5.    Louella
Louella was launched in 2004 by Ibtijan Muhammed, the first hijab-wearing American to win a medal at the Olympics, and sells a range of modern, fashionable modest products. From stunning printed dresses and jumpsuits to kimonos and jackets, all of the garments are manufactured in the US only, aiming to create more jobs for people locally and reduce its carbon footprint in the process.
While growing up, Muhammed found it hard to find suitable clothing and longed for a way to express her style while also staying loyal to her faith. She created Louella with her siblings as a way to "fill a void in the US market." She said in a video for Entrepreneur.com that "when people think modest fashion, they think dowdy, they think dark, and they think no shape. And for us, we're none of those things. We work with female-manufacturers who employ women and make our things in an ethical manner." Louella aims to allow women to find their voice through fashion by providing modest, ethically-made clothing.