Getting ready to tie the knot? When you think about the fact that the average American wedding can add up somewhere around $34,000, it's not surprising to learn that so many wedding things are not only superfluous but downright wasteful. To stay within your budgetary sweet spot, you've got to cut corners somewhere. But where? Actually, there are a number of wedding details your guests probably won't even notice or care about. From ditching the expensive diamonds for more affordable wedding rings to opting for a more simple wedding cake, here are a few of the things you can feel A-OK about shaving off your wedding day to-do list.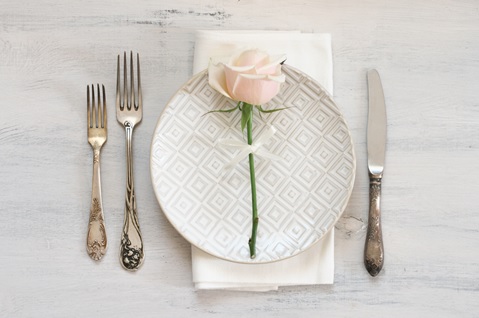 Source: Svetlana Lukienko/Shutterstock.com
Fancy China — Pretty plates and silverware can create a nice effect for photos before guests arrive, but they tend to get overlooked by more important facets like the food and centerpieces. Opt for the simple, less expensive china or go for nice-looking biodegradable serving options to keep things as easy as possible without being too wasteful.
Excessive Ceremony Décor — Like a lot of things on this list, getting your ceremony décor just right is all about balance. You don't want to leave the place looking devoid of soul, but you don't want to overdo it with too much tulle, bows or candles, either. Keep it simple with a few candles at the altar and some greenery or swags on the archway. Nothing compares to fresh flowers, and they can make a bigger impact than the faux stuff, so consider opting for small, simple bouquets and altar décor made of fresh flora.
Top-Shelf Liquor — Skip the fancy stuff! With the exception of your two mixologist friends, most people will be just fine consuming the standard libations on your wedding day. If you're on a budget but still want guests to enjoy a few drinks on you, you might consider offering a few nice selections of beer and wine. You don't have to get too fancy with these options, either, but we'd recommend going "mid-tier," here, and skipping the gas station vintage and watered-down beer. Guests do tend to want a few beer and wine options, so don't pare down the bar too much.
Wedding Favors — A surprising number of wedding favors get thrown out or tossed in a box the minute guests get home. Forgoing them altogether is an excellent way to save some cash, not to mention the time and effort it often takes to decide on favors and then put them together.
The one exception here is providing consumables. High-quality edible favors — think: a small gift of nice olive oil, honey, vinegar or chocolate — do tend to get snatched up and enjoyed later on. Our advice? Skip the wedding mints altogether.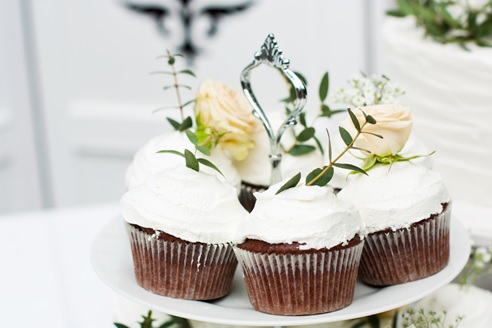 Source: Hanna Pylypenko/Shutterstock.com
A Grand Wedding Cake — A well-designed wedding cake not only serves as dessert for your guests, but also as a wonderful piece of décor and a prop for your wedding photos. With that said, you don't need an elaborately frosted, multi-tiered showcase of a wedding cake. Instead, consider having your baker create a small — read: more affordable — but beautiful wedding cake for your display and then serving sheet cakes or cupcakes that are hidden from view. This can save you a ton of cash without a huge compromise.
Your Wedding Rings — Your wedding rings are for you and your spouse-to-be to wear for life, but they will be getting a ton of attention on the big day. When all is said and done, though, you're the one who has to wear and pay for these important accessories. Choosing stylish yet affordable wedding rings is a great way to free up some cash so you can spend it on things that matter to you more, such as the honeymoon, the dress or the flowers.
Paper Invitations — We know it seems non-negotiable, but the truth is that the vast majority of your wedding guests will do just fine with a digital invite. If you've got a few older folks on the list or some people without internet access, you can affordably print out a couple of invites just for them. Keeping things digital saves you on design, printing costs and postage. Consider using one of the many digital invitation services out there or, if you're all about simplicity, send them out on Facebook.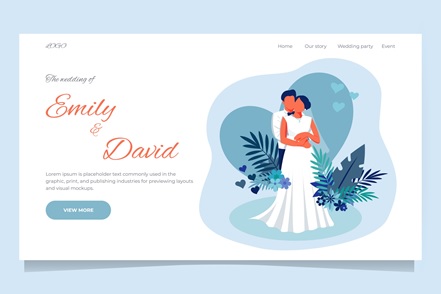 Source: Liliia Polos/Shutterstock.com
A Custom Website — Going digital is a perfectly acceptable and even smart decision, but you don't need to shell out thousands for a custom-designed wedding website. Use a free wedding website service — there are a lot out there — to build a site that provides guests with all the juicy details. Many also feature an RSVP service so you can collect and track RSVPs digitally.
The Nice Linens and Tables — When shopping around for rentals, you'll notice that there are so many different options for tables, chairs and linens. Since your tables and tablecloths will be covered up for the most part , skip out on the higher-end options and go basic. The one exception here is chairs. Dingy old chairs can really detract from the ambiance of your venue, so make sure to either choose nice ones or opt for a style that can be covered up.
Everything Monogrammed — We know it's tempting to order everything with your monogram — bar napkins, cocktail stirrers, matchbooks, candles, the list goes on — but these little details tend to get overlooked by your guests. They can make attractive accessories for your photos and make fun souvenirs to remind you of your wedding, but they are by no means required for a good time or a well-styled wedding.
It's Your Wedding, So Do You!
At the end of the day, it's crucial that you get the wedding that you want. If one of the above details is something that you actually do care about and want to prioritize, that's completely fine! But it's important to note that nothing is required, not even the default wedding traditions. Ultimately, you're the boss of your big day, and you can add or remove costly elements as you please.