Previously, we have shared with you some pros and cons of DIY hairstyles vs. visiting a hair salon. One of the pros of styling your hair at home was the fact that you don't need to spend any money (while you can spend a fortune when visiting the hair stylist). Another one was the fact that you don't need to make an appointment (which can be really exhausting). Also, if you are styling your hair for everyday occasions, you may not have the need of visiting a hair stylist, since today there are tons of DIY hairstyle ideas and tutorials available over there. Today, we are sharing with you some easy-to-do DIY hairstyle ideas that you can try in the luxury of your home.
Any of these DIY hairstyle ideas are so easy to be done, and won't take you more than 10 minutes. If you were looking for some inspiration on how to style your hair the next morning when you wake up for work, then you are in the right place. These step-by-step tutorials below will teach you how to look like you have just stepped out of the hair salon. Follow the tutorials and try some of the DIY hairstyle ideas.
1. Chic DIY Olivia Palermo Inspired Ponytail
2. Short hair  ponytail hairstyle
Did you think that you must have long hair for a ponytail? Once you see the tutorial below you will change your mind. This is one of the easiest DIY hairstyle ideas ever, especially for women who adore wearing their hair in a ponytail but couldn't do it because of their short hair.
Here are the steps to get the perfect short hair ponytail:
Brush the hair. If you have curly hair, skip the brushing.
Put the hair behind your ears. Make a low ponytail and secure it with a clear elastic. Leave two sections from the front sides out.
Take both side sections and give them a light mist of strong hold hairspray. Pull each of the sections back over the top of the ponytail. Twist them into a half knot.
Take each of the hair sections and wrap them around the ponytail.
Use small bobby pins to secure the remaining pieces under the ponytail.
Smooth out any flyaway hairs with a light veil of hairspray.
Voila, your short hair ponytail is finished!
3. DIY knotted bun wedding hairstyle
Are you a bride looking for an elegant hairstyle with a casual flair? You have already found it! If you don't want to spend a fortune on your wedding hairstyle, then you may want to consider some DIY hairstyle ideas instead. The following DIY knotted bun hairstyle is a perfect choice if you have the dilemma of a DIY hairstyle vs. visiting a hair salon. Here are the steps to get your perfect bridal hairstyle done:
First, gather your hair to one side and place the ponytail behind the ear.
Twist and wrap the ponytail as if you are tying a knot.
Secure the knotted bun using larger bobby pins
Pull and tug the hair from the crown and throughout the bun. This way you will create more texture and fullness to the hairstyle.
Finally, spray the hairstyle with a hair spray to keep it in place longer.
Voila, your DIY wedding hairstyle is done in less than ten minutes without spending even a buck. And the result is surprisingly amazing!
4. DIY Tuck and Cover Hairstyle
 source
5. DIY knotted side ponytail
Looking for a way to pull your hair back in a stylish way when the temperatures start to rise during summer? You can explore so many DIY hairstyle ideas on the Internet which are appropriate for the summer heat. Here is one of them. This DIY knotted side ponytail is a perfect way to look stylish during summer. And to avoid the heat, too! Follow this easy step-by-step tutorial to get the look:
Spray your hair with sea salt to give it more texture and volume.
Brush the hair to one side of your head.
Take two chunks of hair near the crown of the head and tie them into a knot.
Continue adding more hair to the initial chunks. Tie into another knot.
Add hair until you have all your hair divided into two chinks. When done, knot the final knot.
You can add some DIY hair accessories at the ending knot. A DIY hair chain could be a perfect choice to decorate the look.

 source
6. How to do a sleek ponytail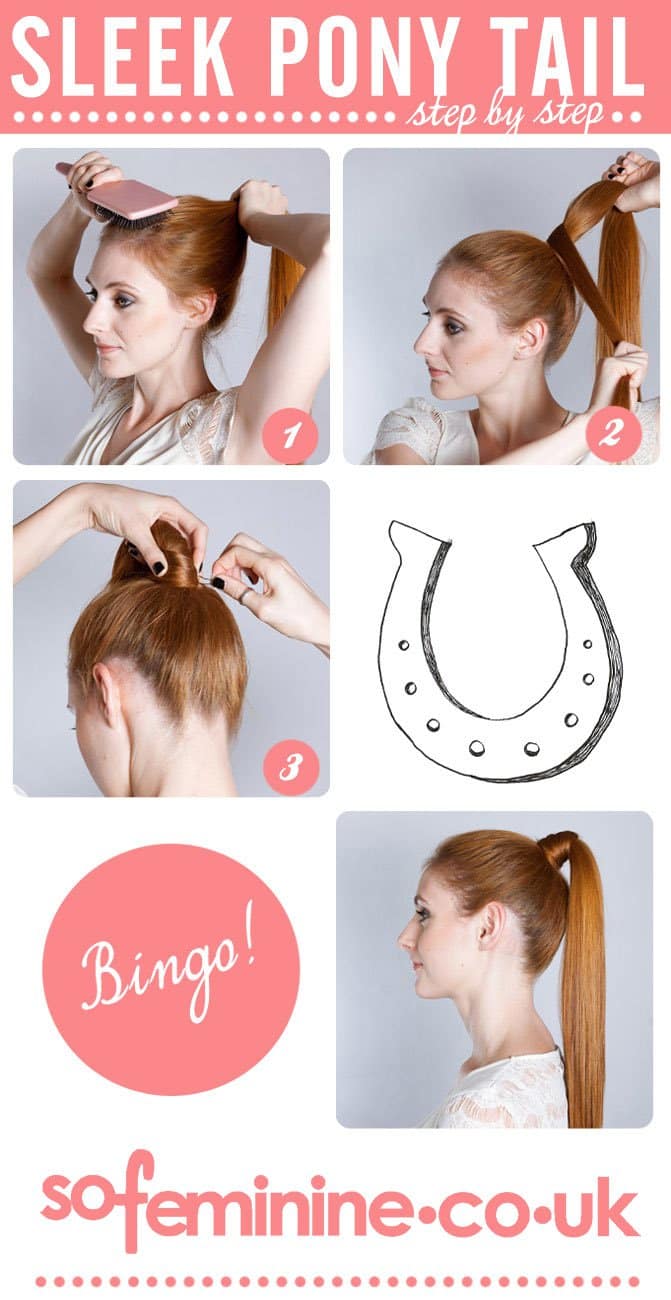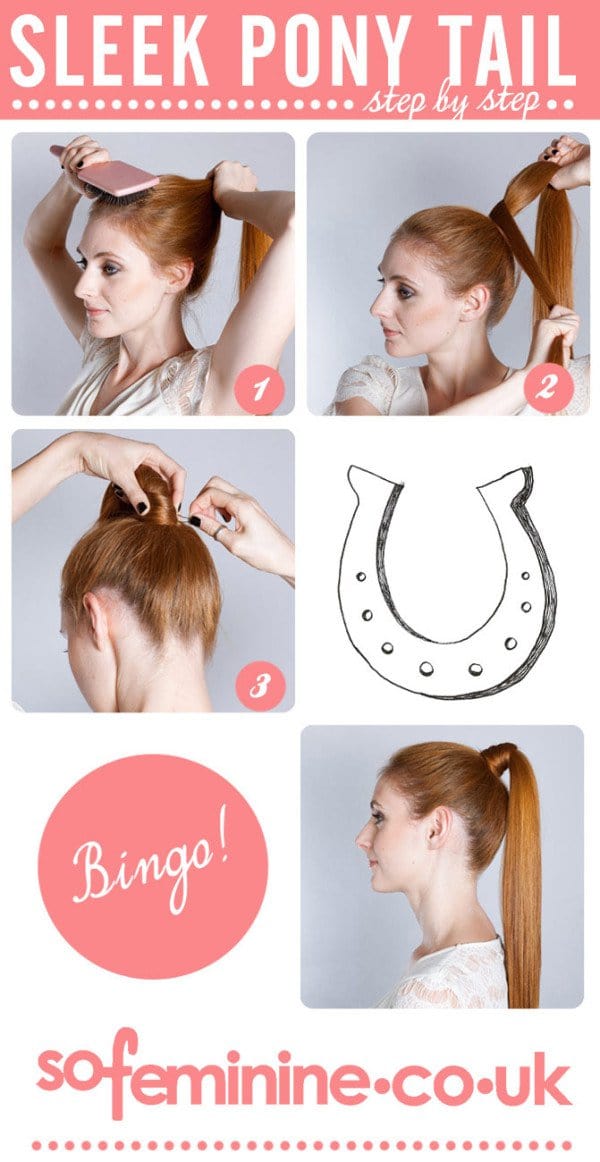 source
7. Easy braided ponytail hairstyle
8. Easy Chignon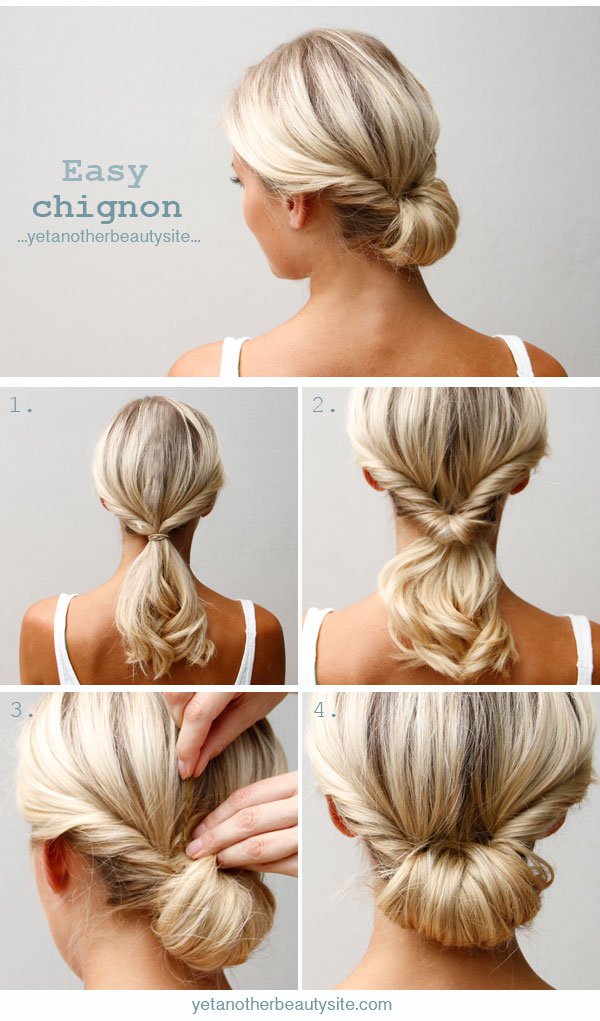 source
9. DIY halo braid tutorial with Frou Frou ribbon
Braiding is one of your favorite ways to style your hair? In the array of DIY hairstyle ideas with braids, we have selected one of the easiest to do for you. Here are the steps to get your DIY braid hairstyle:
Prepare your hair to give it texture and hold.
Start braiding from either side above the ear.
Continue braiding loosely around the shape of your head.
Use bobby pins to secure the braid in place.
You can finish your braid at the temples. Or, you can continue braiding around the hair creating a braid crown.
Once you are done with braiding, tuck the end of the braid in between the hair and pin with a bobby pin.
You can add some ribbon (as in the tutorial), or you can finish your DIY braid hairstyle here. It is up to you.
10. Gibson Tuck Hair Tutorial



 source
11. Easy Boho Updo – Headband Tutorial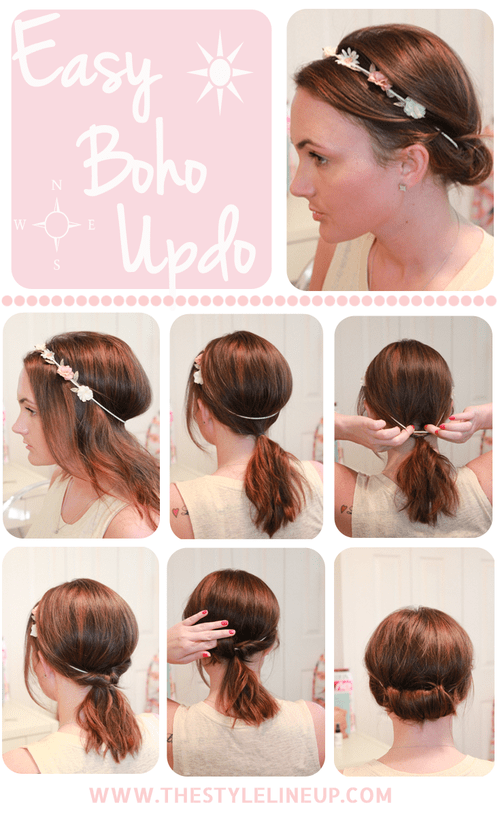 source
12. Head Band Updo Hair Tutorial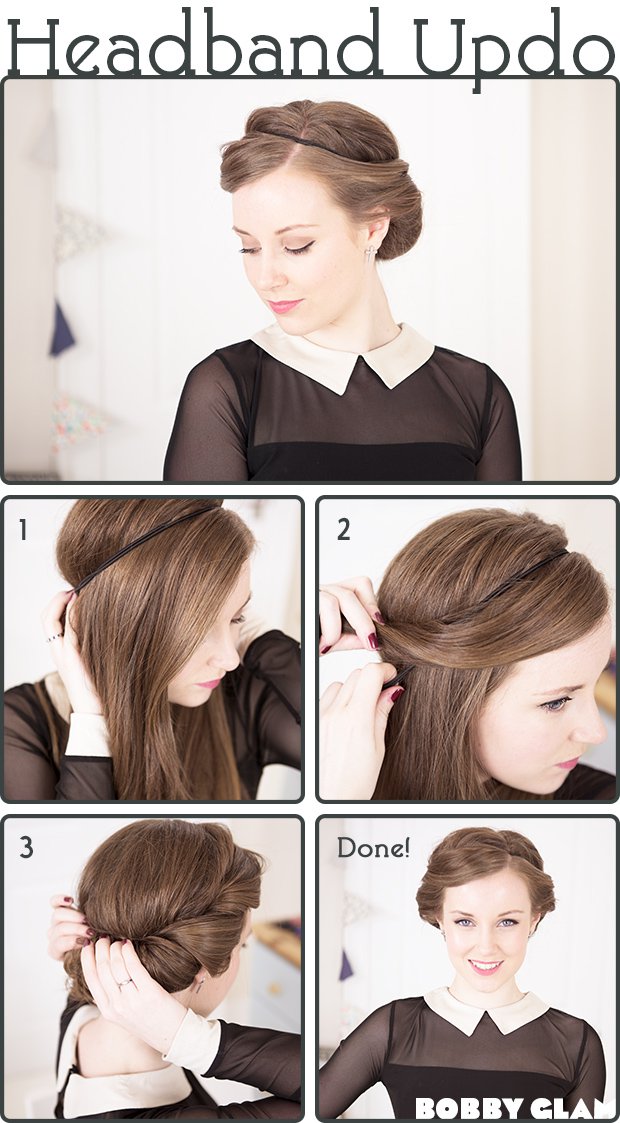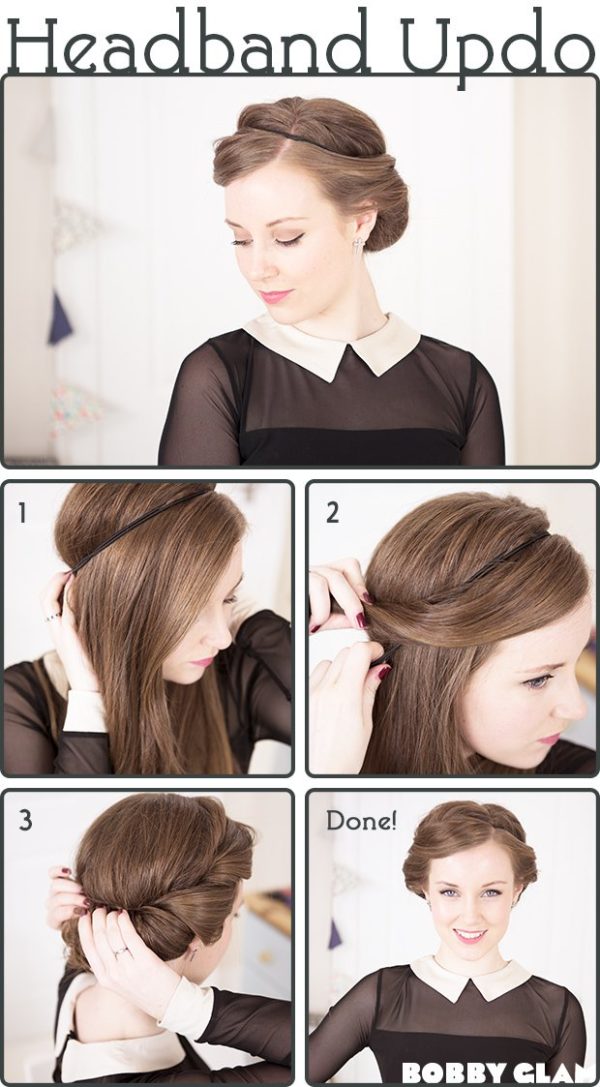 source