Valentine's Day is the day of love and wine. It is one of the most popular holidays among the younger generations. They use the day to express the love they feel for their partners. People spend days planning the celebration of the holiday. From Valentine's Day outfits to Valentine's Day recipes to Valentine's Day decorations, everything around us becomes red for the holiday. If you want to keep the holiday spirit at your home too, stay with us to explore some super creative Valentine's Day decorations.
These are all DIY projects so if you are about to become a little crafty for the holiday, these ideas are your thing to do. From food Valentine's Day decorations to door and backyard decorations to home decorations, here you will find inspiration to decorate any space of your home in the spirit of the holiday. Scroll down the page and see how to transform your environment into a lovely hearts decorated fairy tale. Share the love and celebrate the holiday the best way possible. These Valentine's Day decorations will help you create a festive atmosphere full of love and romance. Enjoy them! 
1. Valentine's Day DIY: Easy Cupcake Toppers Tutorial
Looking for some adorable Valentine's Day decorations to decorate your Valentine's Day dessert? If you have decided to prepare cupcakes as one of the favorites for nowadays couples, then here is some creative idea to decorate them. You can make your own hearth-shaped decorations in red shades. All you will need for the decorations is red construction paper or cardstock, toothpicks, double-sided tape, and a heart paper punch.  Use the paper punch in hearth shape to punch out 10 to 20 hearts (or how many of them you need for decoration). Then place a toothpick on the back of the heart and using small pieces of double-sided tape, tape the toothpick to the paper hearth. Add the second paper heart on the top of the toothpick and tape it to cover everything up. Your simple cupcakes have instantly transformed into adorable and sweet Valentine's Day desserts.
2. DIY Valentine's Day Decorations
 source
3. Romantic Diy Home Decor Project For Valentine's Day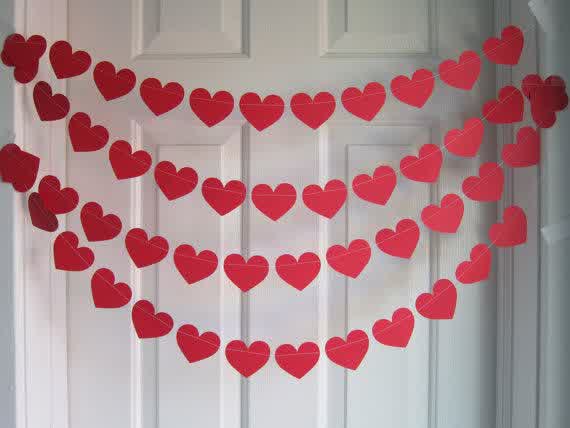 source
4. Valentine's Day door decor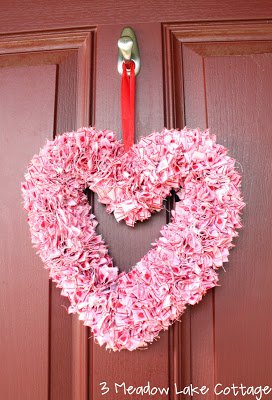 source
5. How to Make a Felt Heart Valentine's Banner
If you enjoy decorating your home for Valentine's Day then you will definitely adore trying this Valentine's Day decorations in hearth shapes. This Valentine's Day banner can add some extra festive touch to your home during the holiday. For it, you will need some red and white felt, a heart-shaped cookie cutter, ribbon, scissors, a marker, and a hot glue gun. Use a felt tip pen to trace the hearth shapes in various sizes. Cut the, out using the scissors. Then glue smaller hearts into the larger ones.  You can leave some of the red hearts plain too. Finally, flip the hearts over and hot glue a loop of delicate ribbon toward the top to hang them on the banner. Voila, your festive Valentine's Day banner is done!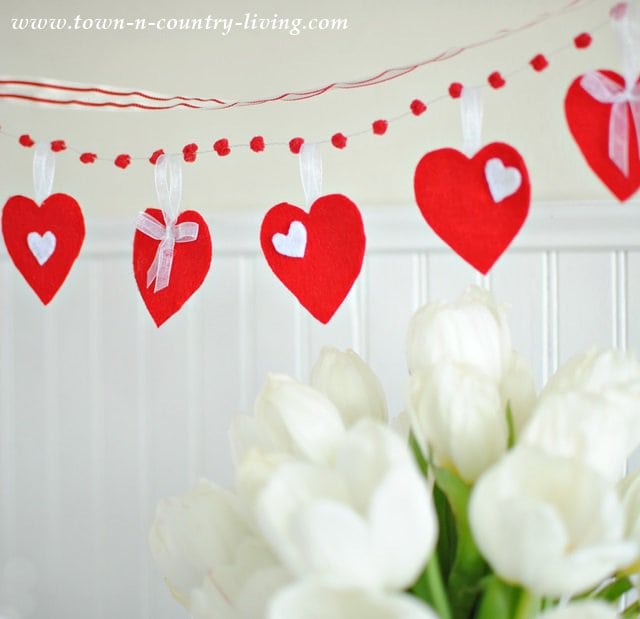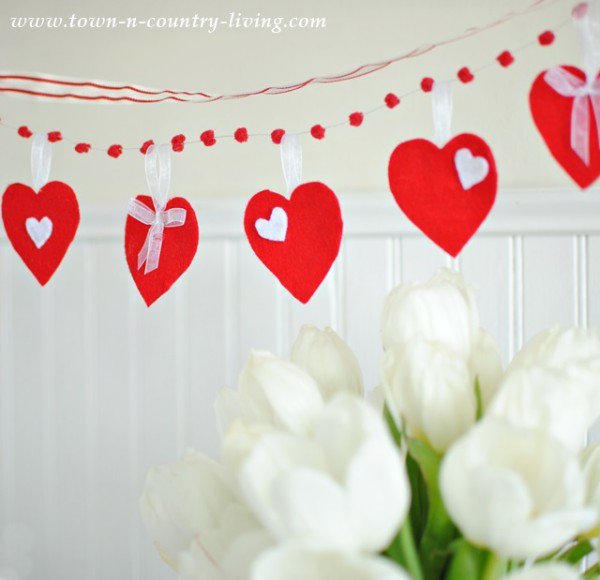 source
6. Valentine's Day DIY Idea: Make a Wall of Paper Hearts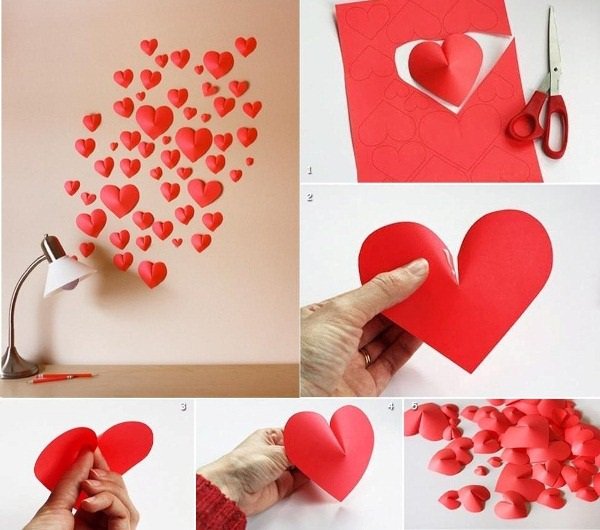 source
7. Valentine's Day craft idea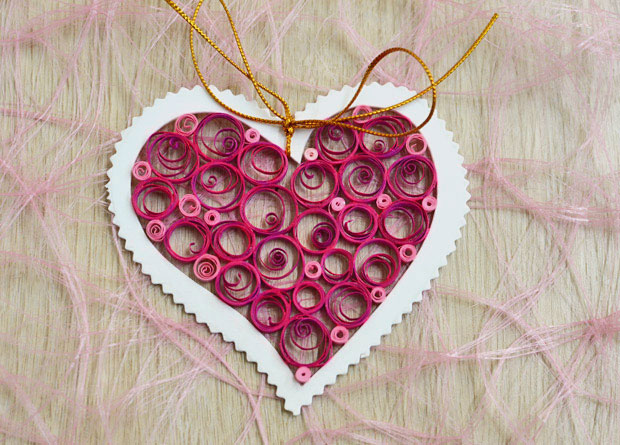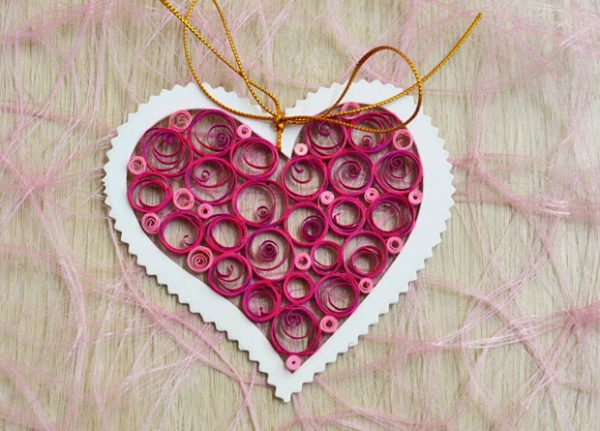 source
8. 14 Favorite DIY Valentine's Day Decor Idea
This is probably one of the most eye-catching Valentine's Day decorations ever! And, this is not only a DIY project to decorate your home it is the spirit of the holiday of love and wine. It is also a creative idea for a DIY Valentine's Day present for your other half. This amazing black and white striped canvas with a button heart is simply adorable. The best is that you can DIY by using some simple supplies that we all have at home at any time. Paint a canvas with black and white stripes and then using hot gun glue, glue the red buttons onto the canvas in the shape of a heart. Voila, you are done. Your Valentine's Day decoration is done!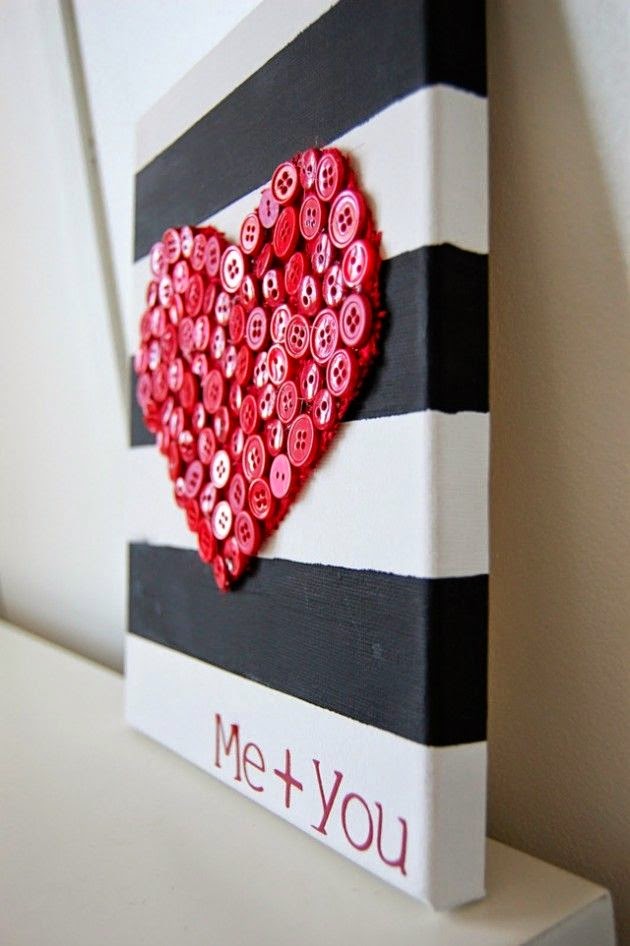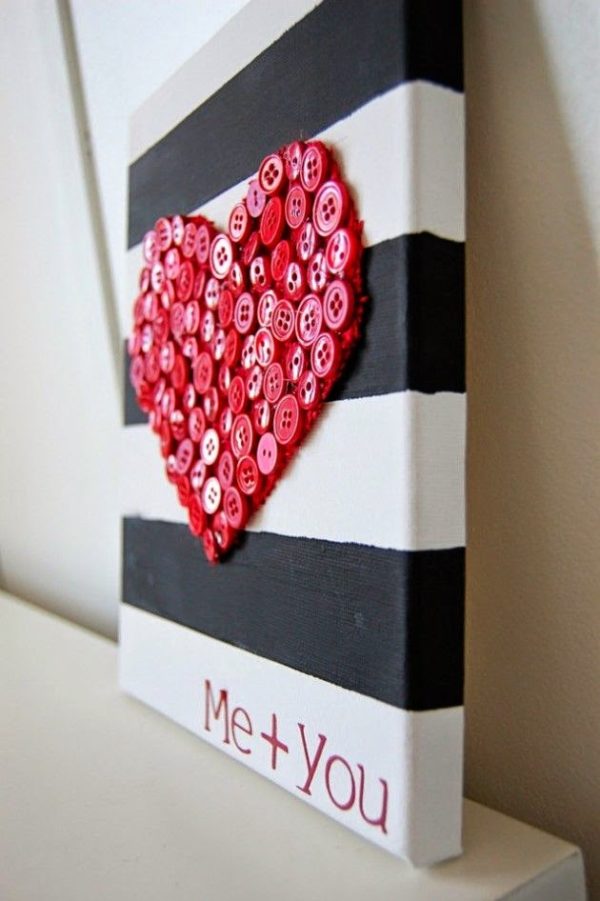 source
9. Valentine Tissue Paper Heart
 source
10. Simple Valentines Day Decorating!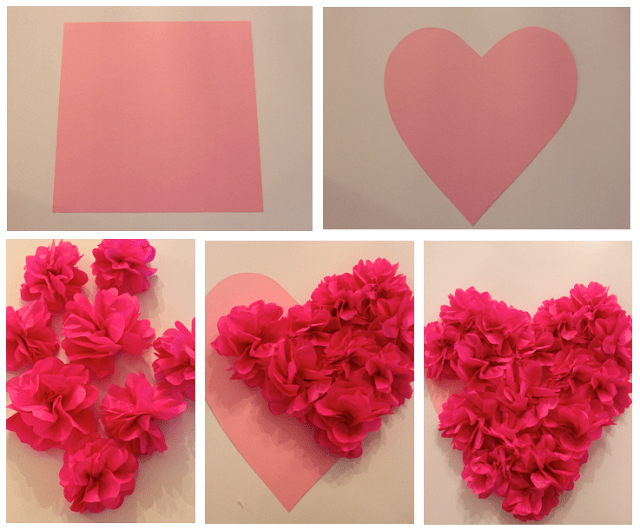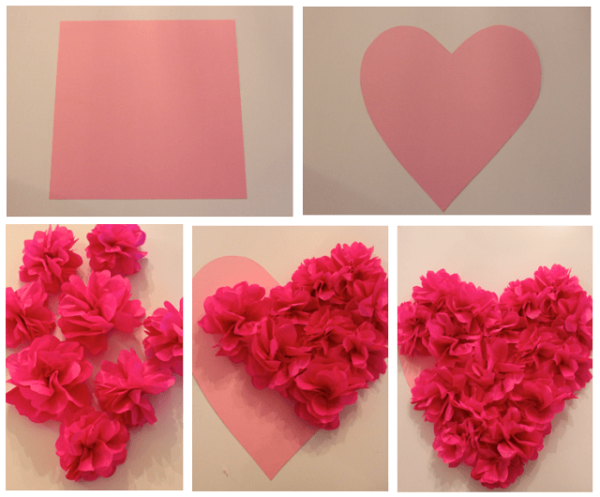 source
11. Paper quilled Heart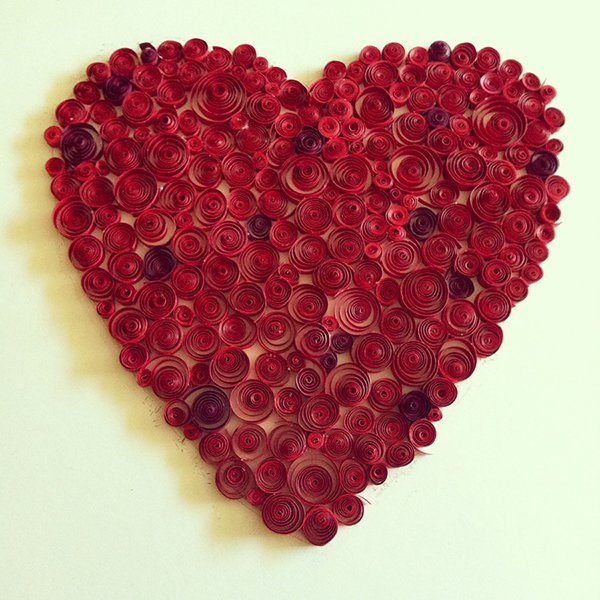 source
12. How to Make Easy Paper Heart Flower Wall Art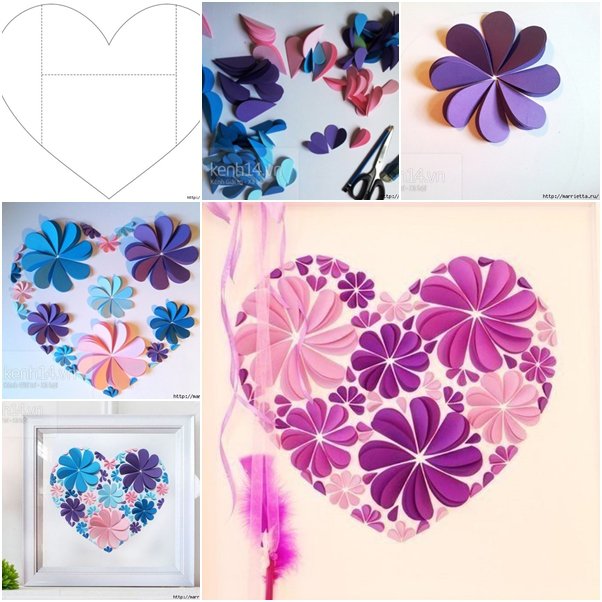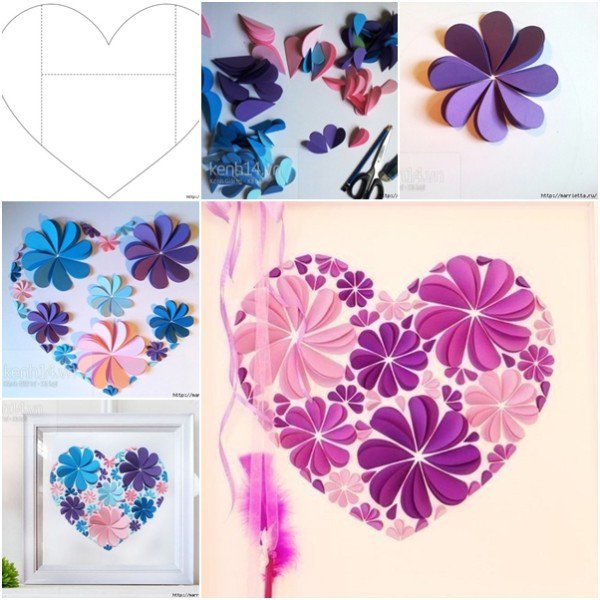 source
 13. Paper "Roll-Up" Valentine Wreath Tutorial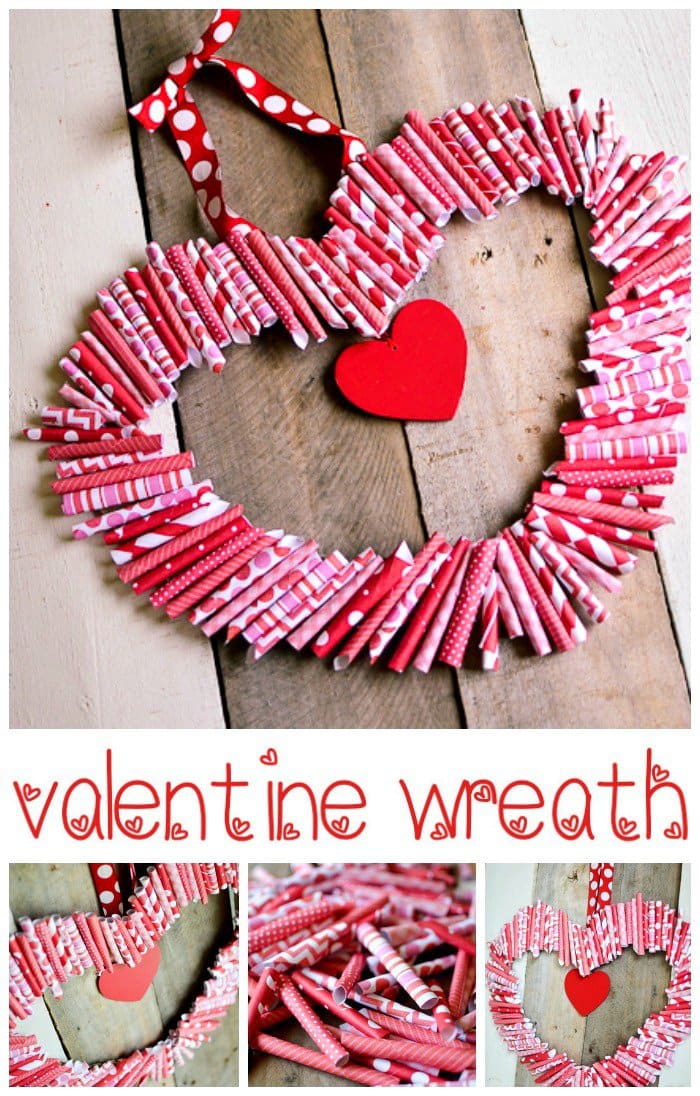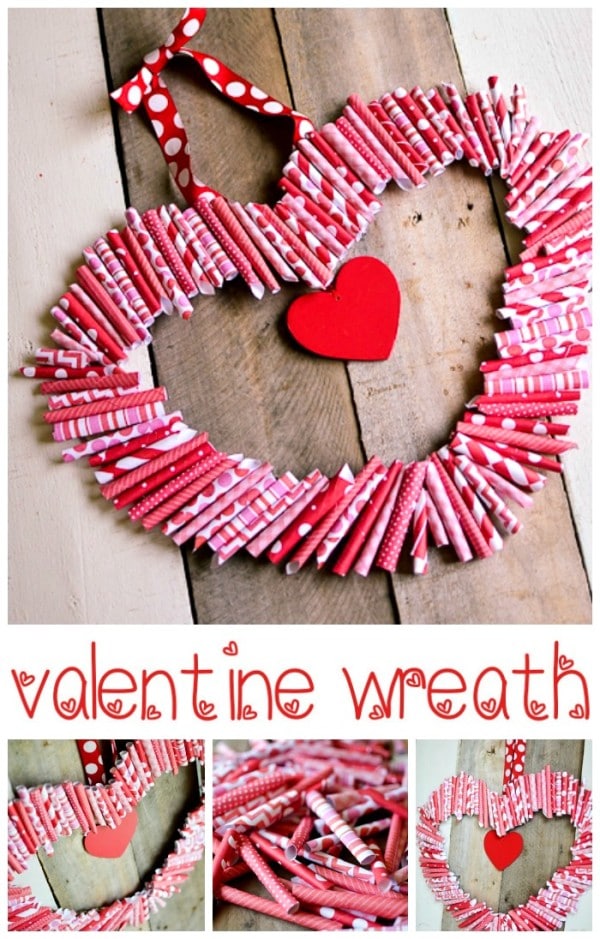 source
14. Valentine's Day floating heart wall art
Are you looking for some adorable Valentine's Day decorations that you can make of recycled materials? Here is a perfect Valentine's Day wall décor idea that you will enjoy making. All you will need for it is a recycled picture frame, some hearts cut out of card stock, twine, and good ole hot glue. Take an old photo frame and paint it white. Then lay out the hearts in the frame so that you position them the way you want them to appear in Valentine's Day frame decoration. Glue them on the backside. You can use hearts in different sizes and colors to create a more colorful effect. However, stick to red color and shades similar to it. Voila, you are done!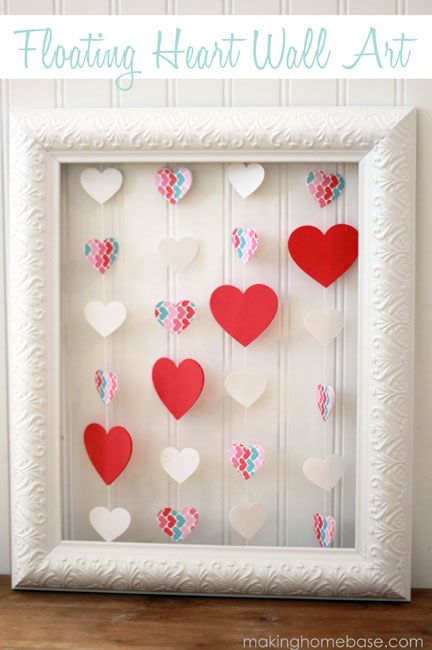 source