Sometimes it is hard to be a woman and housewife. It could make you a lot of stress and sometimes a small mistake could destroy or ruin the whole good day. But dear girls we are always here for sharing the most useful and ingenious everyday life hacks that will change your life, for the better.
Below, we are presenting you 15 super useful hacks that you must know if you are a woman. Using these everyday life hacks will save you time and money and will make your daily routine easy like never before. Take a look below and enjoy!
1. Fashion hacks -household items to the rescue!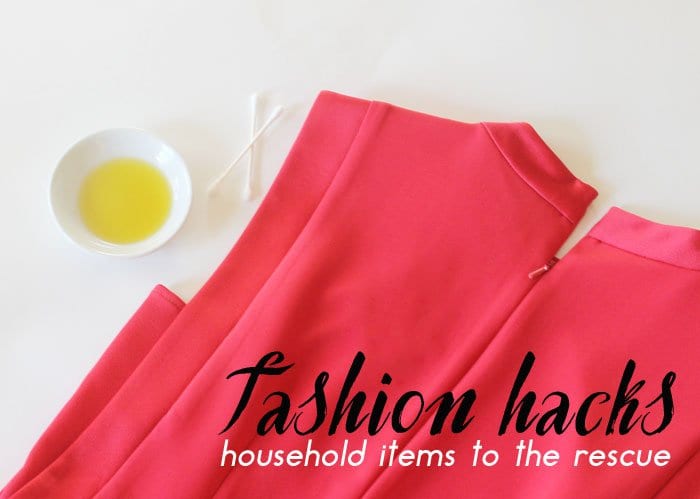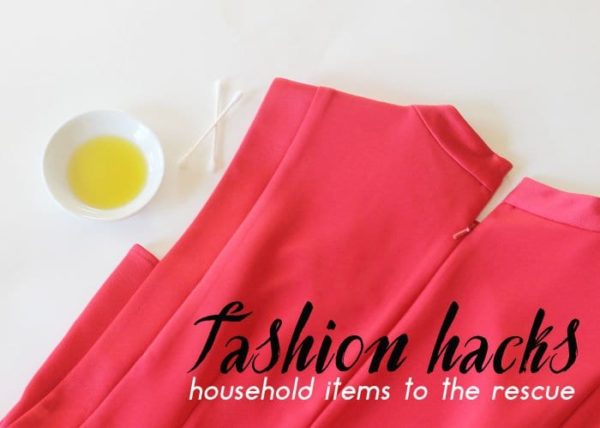 source
2. Circumference of your waist is approximately double the circumference of your neck.
Looking for a new pair of jeans? If you are not able to try them on before you buy them, here is a super useful everyday life hack to try in order to find the right size. Consider that the circumference of your waist is approximately double the circumference of your neck. So, the next time the trial room is not available, try these steps to find the jeans that will perfectly fit you.
First, button up the jeans.
Wrap the waist of the jeans around the neck as you wear the necklace. Do it from the front side or backside.
If the edges of the waistband meet each other comfortably without overlapping then the jeans will fit you perfectly on the waist. However, if the edges of the waistband overlap then they are probably oversized. On the other hand, if the edges of the waistband show a gap to meet up then that pair of jeans is probably undersized.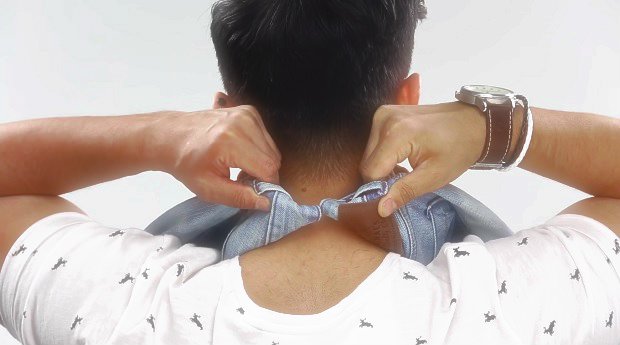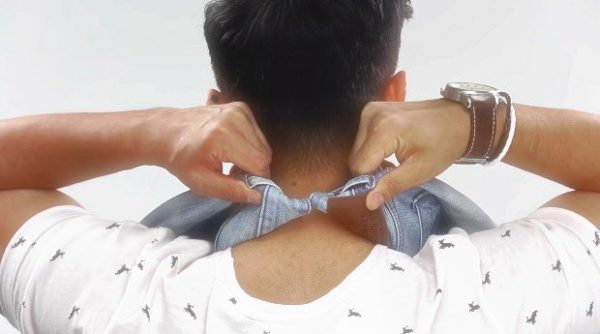 source
3. Fix a Shrunk Shirt with Warm Water and Hair Conditioner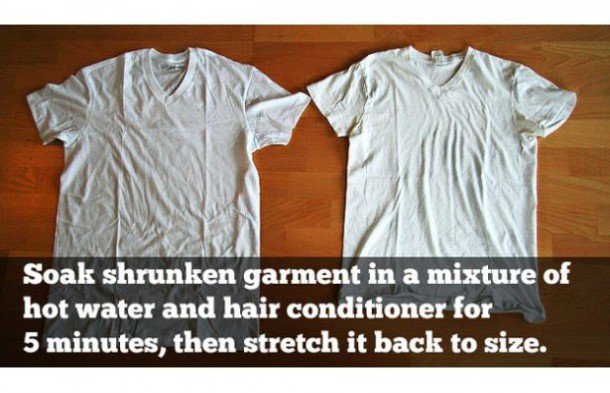 source
4. Binder clips make a great emergency tie clip.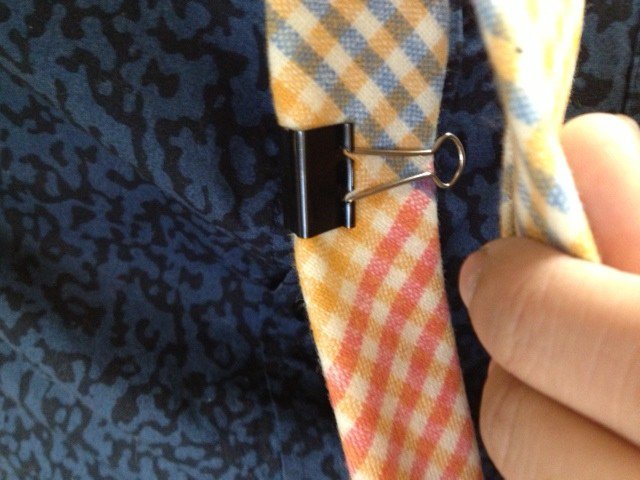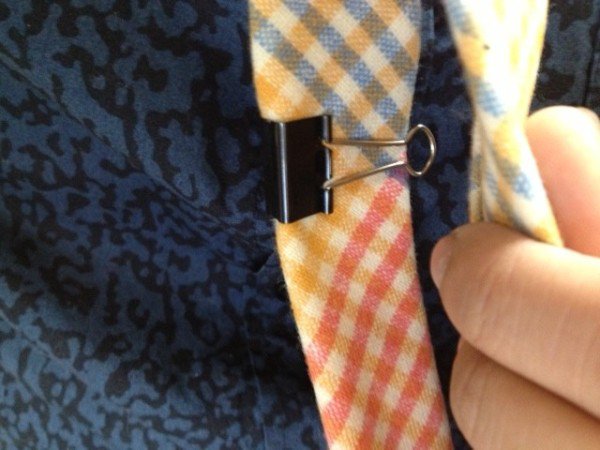 source
5. Use a Paper Clip to Put on Bracelets the Easy Way
Those who have tried to put on a bracelet alone will agree that it can be really tricky and annoying. Sometimes, it will require some tricky maneuvers or a two-person effort. When not possible to get any of these both, you will need some everyday life hacks like the following one. All you need is a paper clip to do the rescue job. All you have to do is to bend the paper clip like in the picture below, and then it will be much easier to hook things up.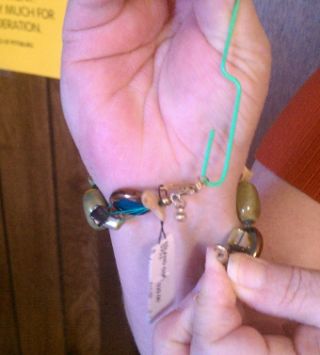 source
6. Place your fist and elbow in the waist of the pants to judge if they'll fit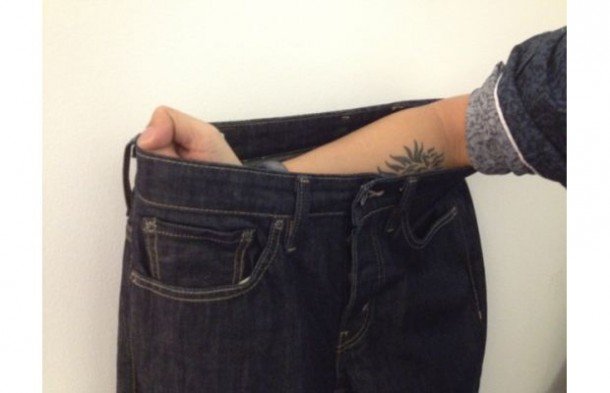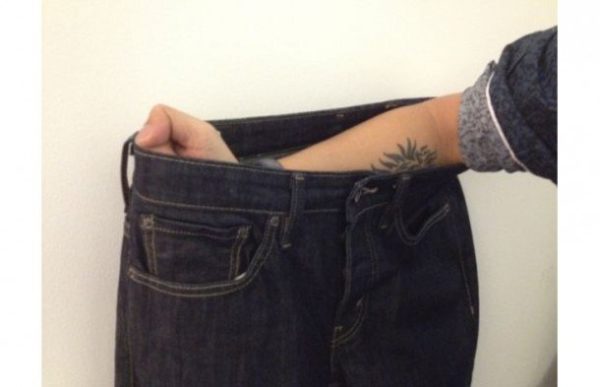 source
7. Air-dry your socks to make them last longer.
Looking for some everyday life hacks that will make your socks last longer? We have already found it for you! And it is easier than you could ever imagine. All you need to do is to avoid drying socks in the dryer. The dryer heat deteriorated the elastic inside. Instead, try to practice air drying your socks. This way you will make them last longer, which will save you a lot of money that you would otherwise spend on buying a pair of new ones.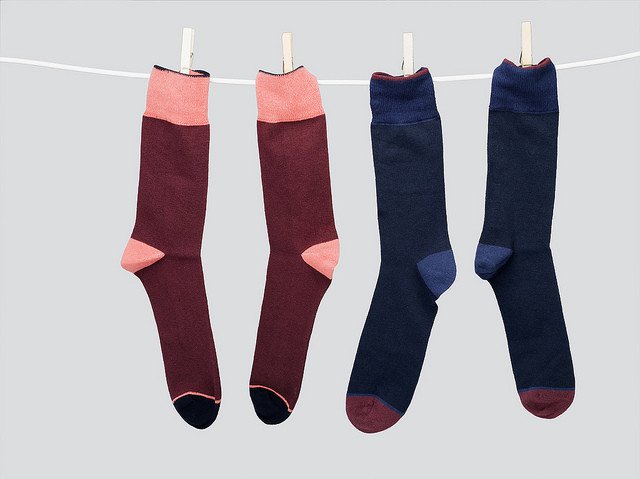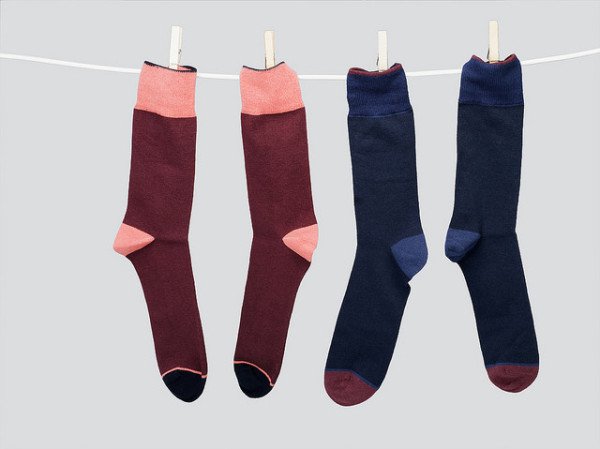 source
8. Twist ties can be used as makeshift substitutions for cuff links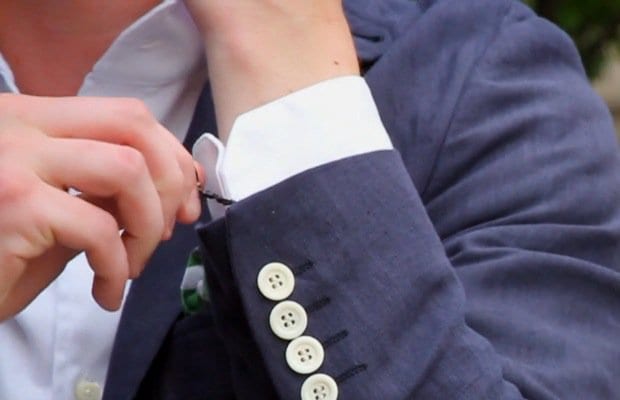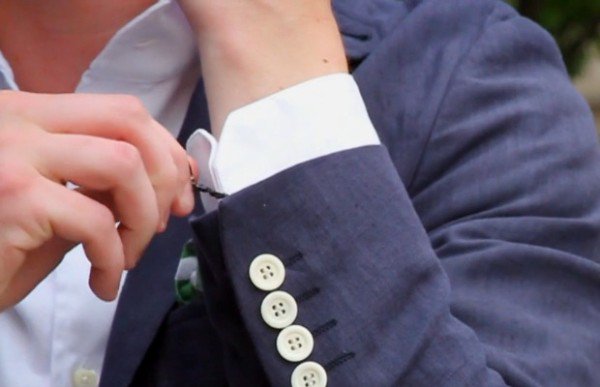 source
9. Getting Lint/pet hair off your clothes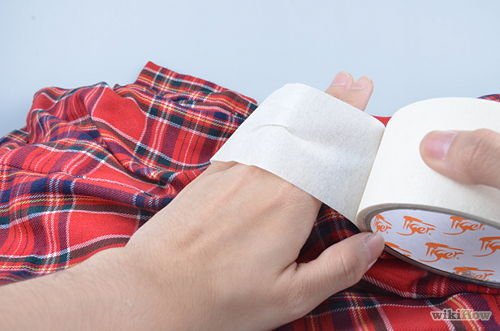 source
10. Avoid runs in your tights
This is one of those everyday life hacks that will save you a lot of nerves and money! If you want to avoid runs in your tights then this trick is a must-try for you. After you try it, you will never have to worry when in hurry and suddenly notice dragged runs in your tights. With this trick, you can easily and quickly prevent the runs from getting larger. All you need to do is to spray a bit of hairspray around the run. It will temporarily harden the fibers of the tights avoiding the run to continue spreading.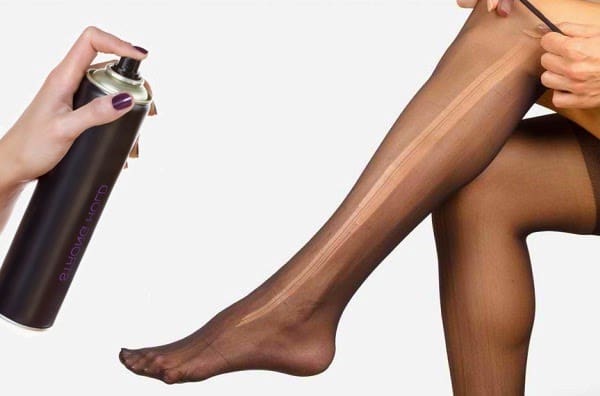 source
11. Cheaters Guide To Fake Ironing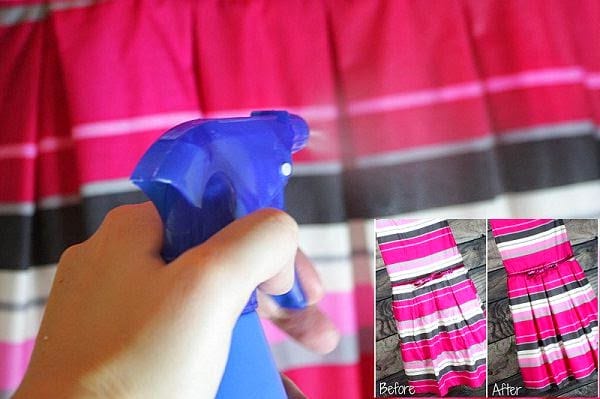 source
12. Get rid of scuff marks on the shoe
We all hate when our sneakers get scuff marks. Not anymore! While searching for some helpful everyday life hacks, we found the following trick that will help you fix your scuffed leather shoes. All you need is a nail polish remover and a cotton ball. Dip the cotton ball or swap in the remover and then gently rub the scuff marks area. You can use this hack to brighter the sole of your sneakers as well.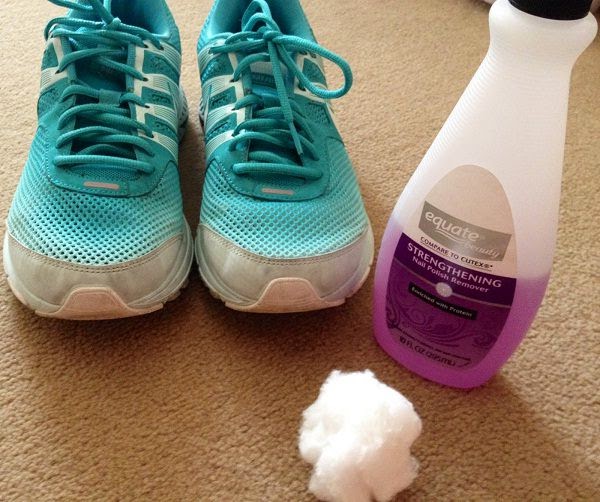 source
13. Remove Sweat stains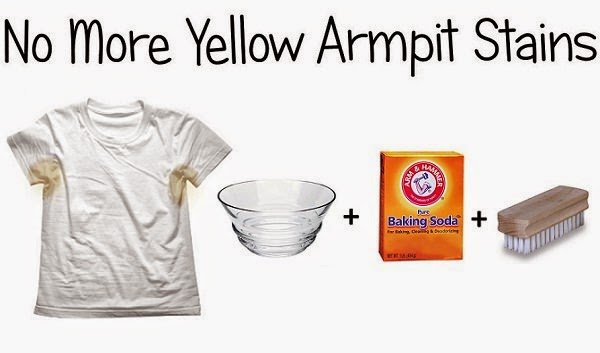 source
14. Handwash sweaters with baby shampoo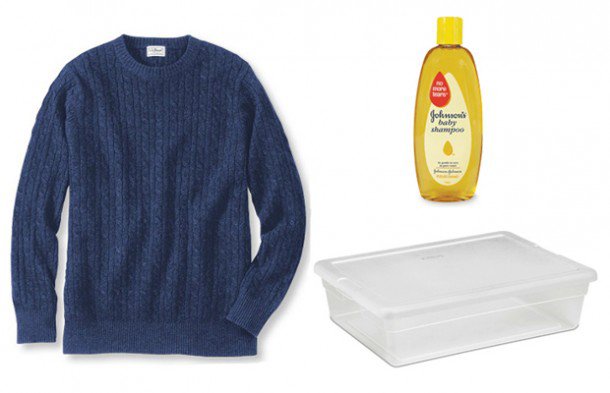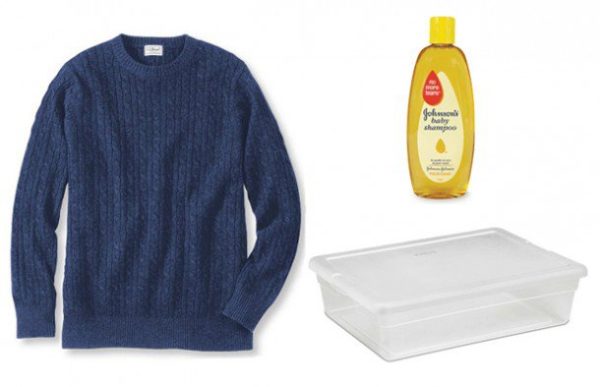 source
15. Corral Bra Straps with a Paper Clip
Not all tops are made for traditional bras.  Some of them expose the bra straps which is really bad for your overall look. So, in order to avoid fashion mistakes, we recommend you wear strapless bras under such tops. Or, if not possible, at least follow some everyday life hacks that will help you hide the bra's straps. One of those hacks is to hook one bra strap through the end of the paper clip under your top. Then, grab the other strap and hook it to the end of the clip. Voila, your straps will stay hidden and your outfit will look simply gorgeous.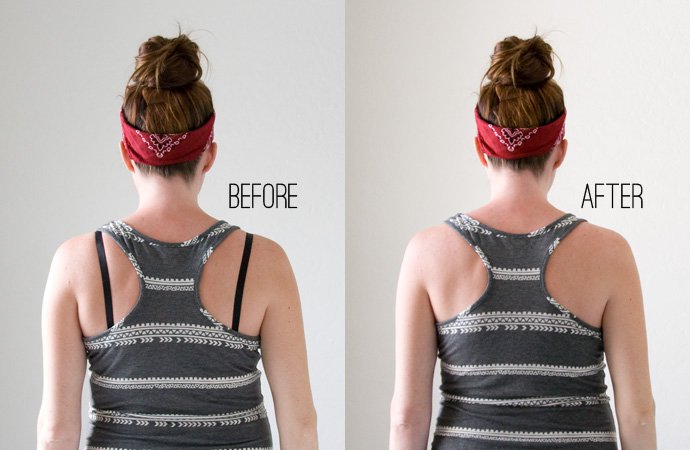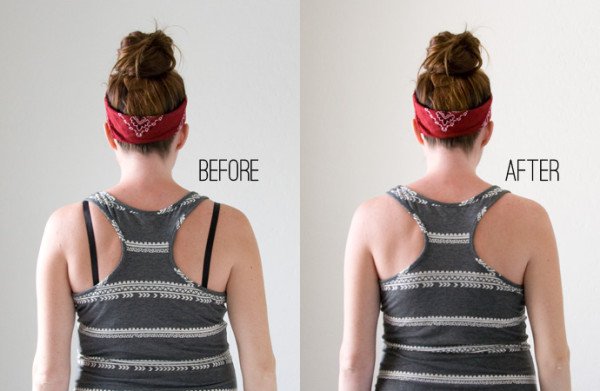 source